Smart entrepreneurs running thriving businesses are always looking for ways to make that business grow. One way is by finding an alternate source/ways to complement and grow the business you have. If you aren't aware of affiliate blogs or affiliate marketing blogs, it's high time for you to consider this a rewarding stream of income.
What is Affiliate Blog Writing?
In affiliate marketing, a product owner increases their sales by allowing others to target more audiences to earn a commission by recommending the merchandise to others. At the same time, they can make a profit out of products already created by the product owner.
Referring to a product or service in affiliate marketing is done by sharing it on a blog, social media platform, or website. The affiliate blogger earns a commission each time someone buys through the unique link related to their recommendation. If done well, this performance-based opportunity can go from part-time to profitable business.
How to Write Affiliate Blogs?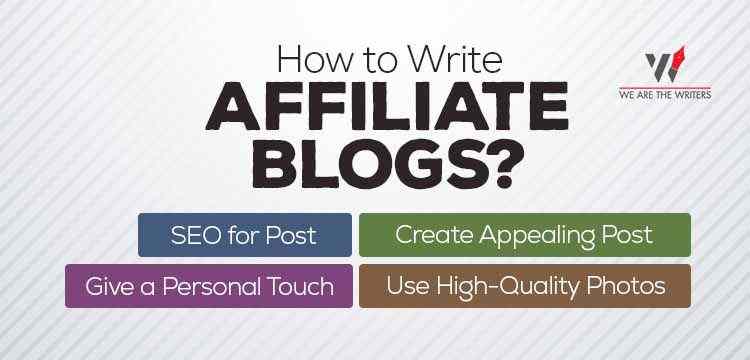 It is important to know the basics of affiliate blog writing to get a higher conversion rate. For that, you should keep important ings in mind to create a highly engaging blog post. You can use the following tips to get a headstart for writing perfect affiliate blogs:
SEO for Post
 A post will gain visibility when the blog gets optimized for search engines. Use relevant keywords, conduct proper research, write error-free content to make your content rank higher. Also, make sure you write high-quality content to make the information valuable.
Create Appealing Post
Your audience should be drawn to your writing. Writing compelling posts also means delivering high-quality content that makes the audience get involved with the post.
Give a Personal Touch
Let your audience know that you are speaking from experience. Describe your personal experience while writing an affiliate blog to let your audience know you are coming from a relatable place.
Use High-Quality Photos
Enriching your blog with media is always a plus. Use high-quality pictures in your blog, but also make sure they don't slow down your website. Use compressed or optimized images to include in your blogs so that they are interactive and engaging.
How to Start Affiliate Blogs?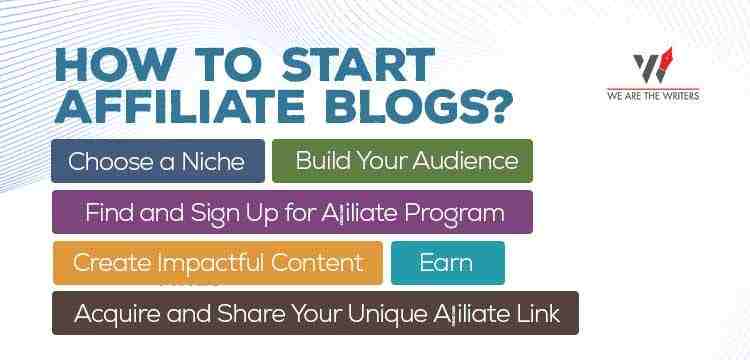 To start affiliate blogs, you'll need to follow these 6 simple steps:
Choose a Niche: You need to develop a niche to set yourself in the affiliate blog writing game. Pick any area that you like and write about it. The more in-depth the better. You need to be specialized in a particular area to write about it.
Build Your Audience: Now that you have defined your niche, build your audience base. You need to have an audience base to start influencer marketing as they are the ones who will engage with your content and help in generating affiliate income.
Find and Sign Up for Affiliate Program: There are many affiliate programs available in the digital domain like the Amazon Affiliate Program, where you can sign up can get started with the affiliate marketing program.
Create Impactful Content: You have to make a strong impact on your readers to make them aware of your product. Craft quality content to make your audience believe and trust the message you are conveying.
Acquire and Share Your Unique Affiliate Link: Your unique affiliate links are provided when you join the affiliate program. Use these links in your blog. You can also track and optimize your blogs according to the analysis and improve your content.
Earn: After creating the content and optimizing it, you can start earning as soon as the users make a purchase.

Commission would be provided when someone uses your links to make a purchase.
Tips for Better Affiliate Blog Writing
The best product for affiliate blogs changes with market trends. When signing up, look for products that individuals are searching for or purchasing at that moment. Such blogs should be handled very smartly, and these tips would help you in maintaining one:
Talk to a Product Expert: write an interview of someone who uses the product or even the person who makes or sells it. This could offer your review additional depth, making a narrative for the reader.
Create a Product Tutorial: Answer to people who often perform "how to" searches on Google. If you offer a tutorial that solves a searcher's problem and shows the value of the product, you'll provide the customer with a stronger reason to purchase the product you're recommending.
Find Relevant Search Terms: While promoting the offer through an affiliate blog, research with relative keywords that would lead to the product. Analyze those keywords someone might use in a search engine to find a solution to a related problem.
Offer a Bonus: Many marketers promote their affiliate programs by offering special bonuses to anyone who buys the offer. Adding a bonus will be a nice way to stand out if several other affiliates are promoting an equivalent product.
Keep Things Legal: Always disclose to the audience that your blog post contains affiliate links. You can also explain the reason for your affiliation to connect with your audience.
Affiliate Blog Writing Services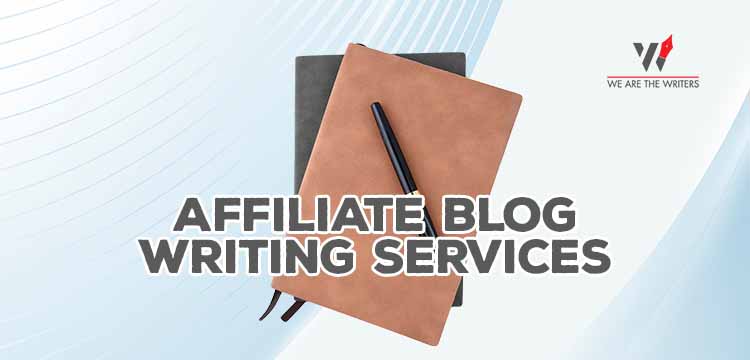 The commission rate is determined by the company and the offer. You can earn anywhere from 5% to 50% of the sale price. Instead of a percentage, many affiliate marketing programmes offer a fixed rate per sale. Making money from affiliate blogs is simple and only takes a small amount of time. You can use affiliate blog writing services to get desirable results for your business. Content writing companies like WeAreTheWriters consists of a team of professionals that craft error-free, unique blogs that reflect your brand and give you the content tailored to your needs.