Menu cards are like those components which capture the essence of the entire perspective. They represent the ideal behind a creation. Menu cards are primarily used by restaurants to present the items that they can create. People view it and decide what to order, they form opinions about the food services that are provided. They are supposed to be informative and precise at the same time. Making a menu card also includes discussions with the chef and management.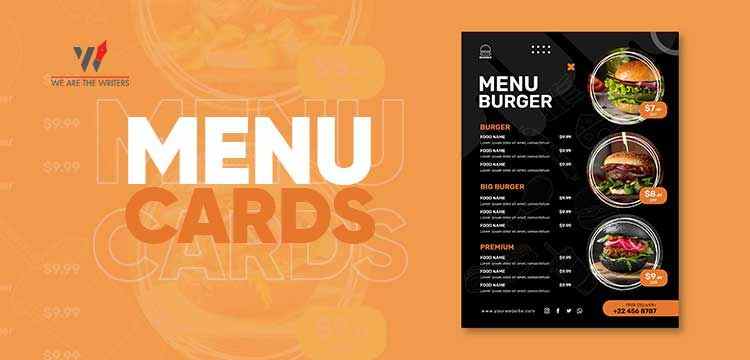 Menu cards are made according to the theme, aesthetic and services of the restaurants. A Chinese restaurant will give have dragons and Chinese artifacts as its aesthetic, the menu card will be designed in a similar way whereas a cafe in the town will give a youth centric and exuberant vibe, the menu card here will not only differ in terms of contents but also in terms of colours, fonts and size.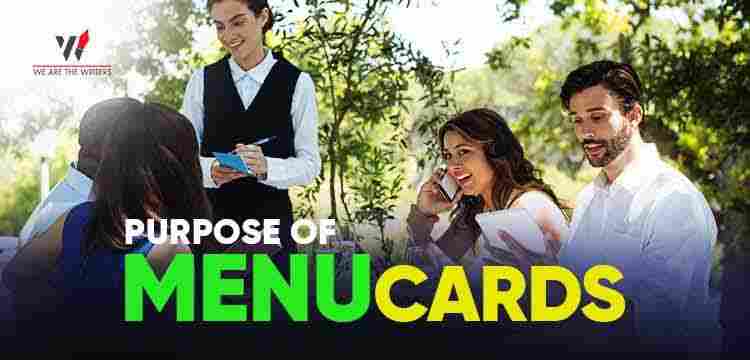 The job of the menu cards is to mainly attract the customer to the contents presented by the place. A majority of work depends on the quality of the product but as the first impressions carry a lot of weightage, a creatively drafted menu card will suffice this condition.
While there is a notion that these cards are primarily used by the hoteliers and restaurant owners, it is not surprising to know that these are also used by a huge number of event managers and entrepreneurs. Event managers use them for the purpose of wedding menus or official meetings.
For such events the card has to be drafted and changed quite often according to the choice of the client. Entrepreneurs use menu cards mainly, in order to specify their range of services and products. Beauty salons and travel agencies use certain menu cards which are known as brochures which are circulated online these days for supplying information about their services.
While a lot of ideas are considered for deciding the look of these cards. There are certain tips that one should keep in mind.
Aesthetics play a major role, so one should include novice design techniques while drafting.
Images should be used as they attract the customers and often mouth watering images ignite them to order something.
Mention the money, this should be done with a great amount of clarity so as to avoid confusion while issuing the payment.
Create clear divisions, this will segregate the dishes according to the food type and will make it easier for the people to choose.
Ingredients should be mentioned clearly as the customer can choose what to order if they are allergic to something.
While these tips can be accounted for while drafting a menu card, one must use their own creative notions for developing a card for their own business. It is also important to acknowledge the emergence of online menu cards especially during the pandemic as people mostly subscribe to online delivery and indulge in an all round experience from the confined spaces of their homes.