Writing news articles is a skill that is commonly required of journalists, but it can also be useful for other types of writing, even if you are only running a website. This is because writing a news article is all about telling a story in a concise and accurate manner. 
What is News Post Writing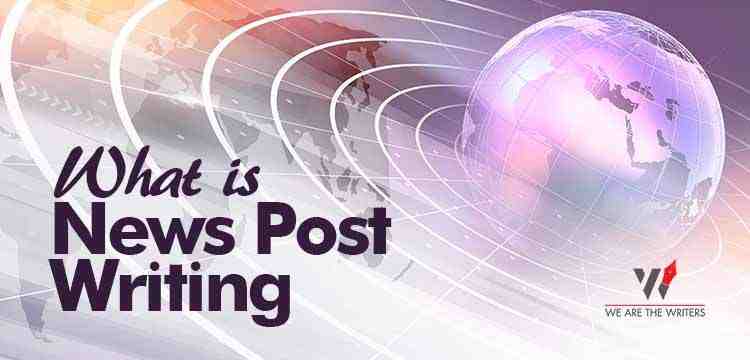 News Post Writing or online news sites is a type of professional writing that involves writing for publication in newspapers or online news sites. It's the most efficient way to emphasize the most important points, features, aspects, or even services of the news you want to spread to your target audience.
News post writing can be a highly effective tool for marketing and communicating your message to the right people if properly written. It can even help you improve your online presence and gain recognition for your company on the internet.
Features of a News Post
Key features of a good News Post Writing generally includes:
Catchy words to create descriptive titles so that it catches the attention of the target audience.

Compelling news summary that gives a short description of all you have to convey. Integration of the right keywords for 

SEO

 optimized content.

Interlinking of content with related and relevant web pages is critical to the news. Using your business as a contextual background to make it relevant to the bigger picture.

Five important "Ws" of the news, i.e., Who, What, Why, When, and Where of the news.
Apart from these features, news post writing generally follows the same vein. The writing styles may diverge depending on the kind of story, for example, a feature story may look and sound very different from a piece of hard news. But all news post writings essentially are cut from the same cloth.
Structure of a News Post
Delivering the news is the first and most basic element of news post writing. The rest is a matter of determining when and how to present details and facts to a reader so that the end result is a unified storyline. Whether in long-form journalism or feature stories, these elements may be applied differently or subtly, but they are present.
Lede
The first sentence or two of a story is referred to as a lede, which is a journalism slang term or the word "lead." This is crucial for attracting readers while also explaining why the story is important. Depending on the story you're covering, a good lede may change.
Nut Graf
Another journalism slang term for the story summary is a nut graf. A nut graf can be a single sentence, a paragraph, or your entire lede. A nut graf explains why the story is being written, what it is about, and what the subject is in general.
News Post Writing Services
From the above information, you now know what a news post is, its features, and how it is structured. It is, however, insufficient to simply post the news. You may require a professional touch in addition to using the key points in your news post writing.
You need a post that can attract readers, enhance the appeal of your business, and prove it valuable. In such cases, you may need news post writing services from a content writing company/agency. WeAreTheWriters is one of the leading content writing agencies that create excellent, structured news posts.
The professional writers at WeAreTheWriters are seasoned in news post writing, and they can touch up your post with skilled presentation and effective wordings.
Your content not only stands out from the rest but also stays error-free, plagiarism-free, and proofread to ensure that the content is refined and speaks the tone of the company.