Every businesses and brand want their name known at the top when searched for in search engines. However, this is not possible. Why? Because of the metric that decides who stays on top and who does not. Take SEO article writing as an example; When you search for How-Tos or look for specific information, you see millions of articles, but you only go through first or at max the second page. These articles that appear on the first page are high ranking articles by search engines and are "SEO Optimized."
What is SEO Article?
SEO articles are mainly those articles that are part of the website blogs containing a unique URL. When we say SEO Article Writing, it normally presents those articles that are SEO driven, high in quality and mainly written by experts. The foremost important thing about SEO Article Writing is that it helps the blogs or content of the website rank in Google. If you find yourself searching 
Importance of 
SEO Article Writing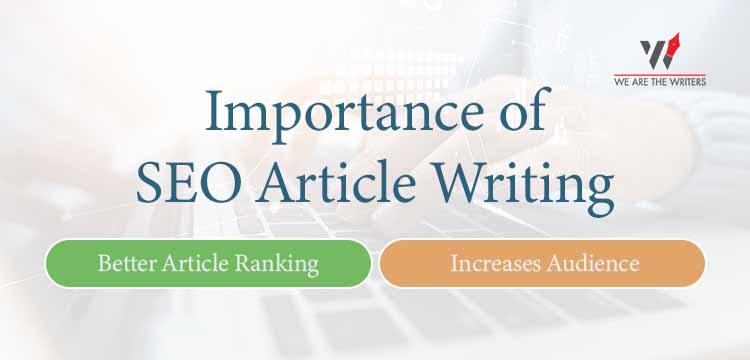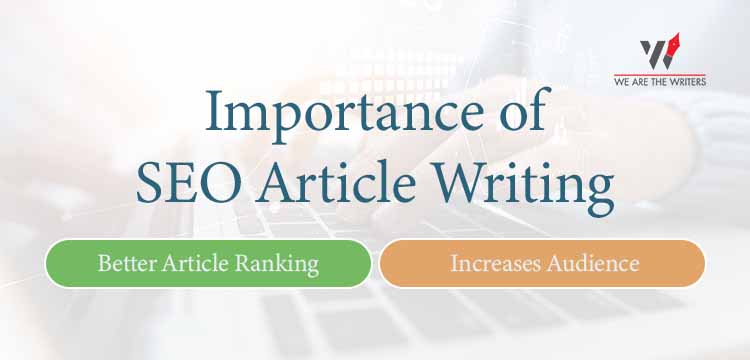 You are aware that high-quality content will gain attention from the audience. However, having top-notch, wonderfully drafted content won't reach the views/audience it deserves unless it uses optimization techniques to get noticed. Therefore, the articles must get optimized to increase their chances of getting viewed.
Better Article Ranking 
The most important part of SEO(Search Engine Optimized) article writing is that it helps the content rank better on the Google search engine. After all, who does not like to come at the top of Google results? One of the best ways to reach the top of google searches is through well-constructed SEO articles. 
Increases Audience
Another reason why SEO article writing is necessary for any website is the audience. SEO articles ensure the visitor stays more on your website for reading an article or reading about a particular service that your company can provide. The best way to outsmart your competitors is by writing articles that are Search Engine Optimized. Doing so will yield better results for the blogs or content that gets published on the website.
For writing an SEO article, basically, two things are required:
A Writer Who is Professional or a Subject Expert

SEO Tools
How to Craft 
SEO Articles
Efficiently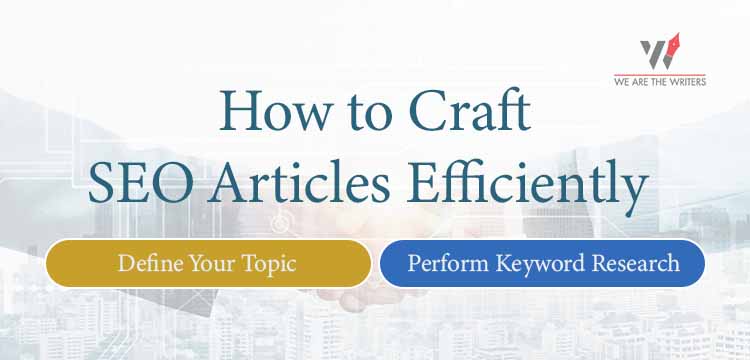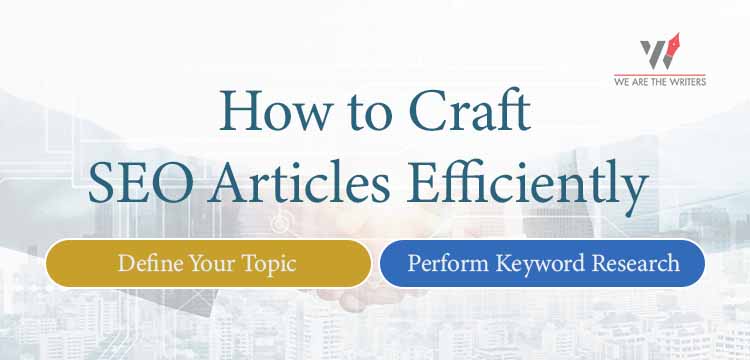 Define Your Topic
One of the most important steps to follow while writing an SEO article is defining the topic properly. Lay emphasis on indicators like Meta Description, Focus Keywords, and Related Keywords/Key-phrases. Make sure you specify Meta Title. Keeping these pointers in check helps the content follow a proper structure, and at the same time, the expert can well construct the write-up. 
Perform Keyword Research
Another step to writing an SEO article is to have proper keyword research before writing. Keyword research helps find the keyword difficulty and determine the traffic for a particular word or topic that you are writing on. In the content, you can also add the related keywords or key phrases that will make the content much more optimized.
SEO Article Writing Tips 
You can follow SEO article writing tips to make your content more engaging and to follow recommended guidelines while writing any content. 
Structure Your Content 
The content structure mainly refers to dividing your content into small paragraphs. You can do so by using headings and subheadings, constructing sentences that are short in length, etc. Following a proper structure helps to increase the readability of a particular blog or article. 
Enrich Articles With Media
Another essential tip that can be incorporated while writing an article/blog/content is using media/images. It ensures maximum engagement of your audience and also makes your content interactive/appealing. 
SEO Article Writing Service
Many businesses take the help of content marketing companies that offer SEO article writing services to get their blogs/articles/content better views. The reason being, Content writing companies are proficient in maintaining article structure, conducting research, write plagiarism free content, write error-free content, and draft articles with a catchy title and heading.
Content writing companies like WeAreTheWriters have expert writers that craft easy-to-read content, explains the complex in simple words, and knows the exact tactics to deliver error-free, original content. Brands must look out for only professional content writing services when looking for article writing services.