When it comes to describing what the company offers, Service Page content comes as the section that says what a brand or a company provides/offers. Therefore, attention must be paid to the services page content writing as it reflects one of the most important elements of your brand/company.
What is a Services Page?
Services can be defined as the activities or benefits that a particular company provides to its customers or clients. A Services Page can typically be defined as a catalogue of various services provided by a company recorded together in one place. Brief descriptions of the services rendered can also be presented on this page, along with the list of services provided. 
The service page is of paramount importance and is the most expository part of the entire website as it includes information about the services rendered by the company. Not only does it give a plain description of the services offered by the website company, but it also provides critical reasoning as to how this particular company distinguishes and stands out from the other competitors.
Elements of a Services Page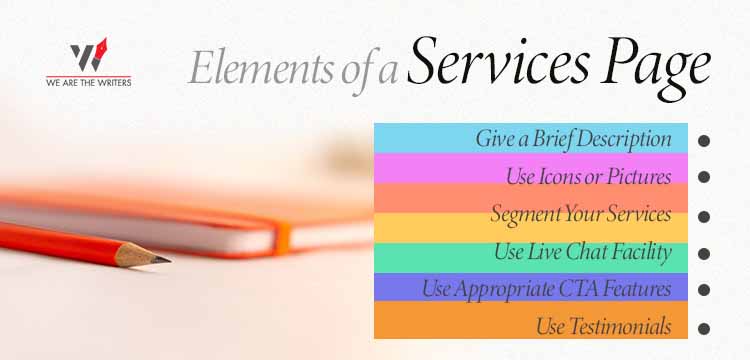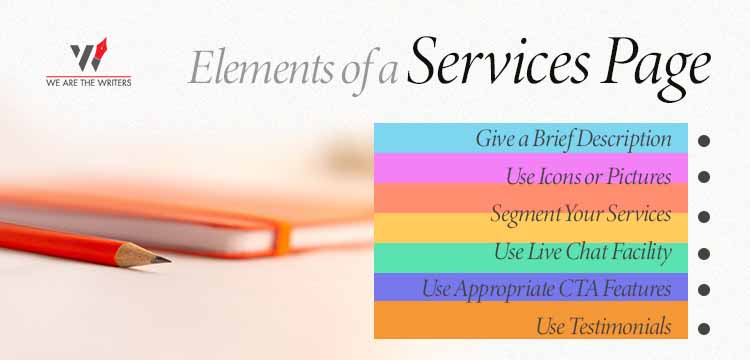 It is of great significance to understand the best possible way to explain the services rendered to the visitors. That is, having a good catalogue of services is unquestionably important, but being able to communicate those offers to the website visitors is of equal importance for the website company. So, how to make the Services Page of a website more appealing to the visitors? Let us find out more about it below.
Give a Brief Description
Firstly, the list of services must also have a brief description of what those services exactly are and how they will contribute to the website visitors for their problem-solving. Sometimes, it works as a brilliant idea to just keep it simple and clean and not overburden the visitors with too much unnecessary information.
Use Icons or Pictures
Secondly, these services shall be accompanied by small icons or pictures that represent the respective services. This works as a visual aid for the website visitors to interpret what services are actually being offered.
Segment Your Services
Thirdly, all the plethora of services rendered by the website company can be strategically divided and grouped. Those services that are naturally availed by customers as a bundle together can be categorized together. This way, it becomes easier for the website visitors to locate and avail the services of their need, as well as it provides an easy mechanism for the company to get more business.
These groups or categories of similar nature of services can be distinguished using colour coordination techniques to make them more visually engaging.
In order to provide a more customized experience to the visitors, the services page can be segmented based on their industry or job profile. And accordingly, the consumers will get directed to the services rendered that match their natural requirements.
Use Live Chat Facility
A live chat facility can also be provided on the Service Page in order to render a quick and real-time response to any queries that a website visitor might have regarding the services offered. 
Use Appropriate CTA Features
Call to Action (CTA) features can be used to make the page more efficient and receptive to visitors' responses. CTAs (such as "Make an Appointment," "Buy Now," "Subscribe to our Weekly Newsletter," or "Contact us for more details") can be strategically placed at appropriate areas on the Services Page.
Once the visitor has finished reading the page, they have options available for any decisions they might want to take.
Use Testimonials
Lastly, customer testimonials and statistical evidence can be used on the Services Page to enhance the trustworthiness and overall integrity of the page and the website.
Services Page Content Writing Services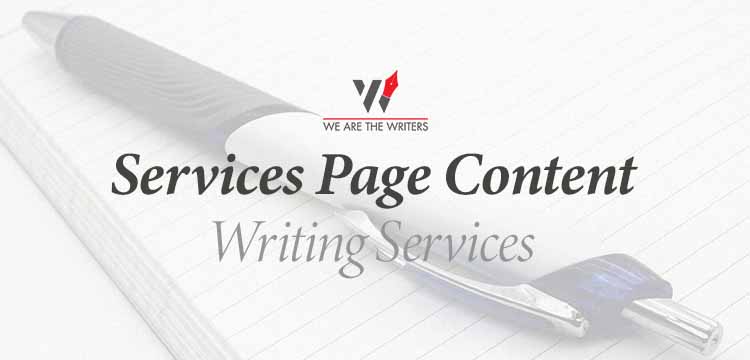 It is only natural for companies and brands to go to a content writing agency to get the best content structure and segments. Consulting a content writing agency gives you the direction to channel your information.
Additionally, companies providing services page content writing will craft error-free, accurate, and appealing content for your brand/business.
Leading content writing companies like WeAreTheWriters knows the perfect balance of writing crispy, catchy content according to the client's need. Companies willing to increase their brand's visibility can count on WATW's professional services page content writing services to get the best results!