Tagline or banner content is the small abstract description of a brand or product. Usually, they do not convey direct information but appeal to the customers on an emotional level. Taglines are used in differentiating the product without naming them and simply creating an impression. Even though the taglines can be abstract, they are not a meaningless or vague group of words.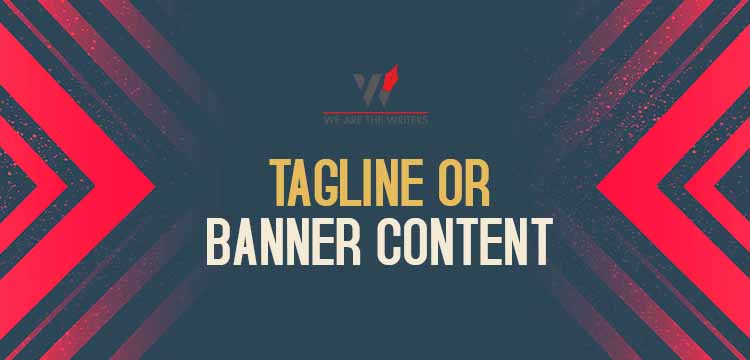 Tagline or banner content is used in marketing campaigns to convey the promotional message to the target market and have them work on it. They display the unique value proposition of a brand when they want to be noticed. The main goal is to create a long-lasting positive impression of the brand. Taglines or banners are formed both to carry the value of products or brands promoted as well as to encourage a positive association of the brand with the audience in a short while. It differentiates the brand from the competition in a snappy way by provoking the target market.
Tagline or banner content can be used by companies in any marketing campaigns such as TV, online, and beyond. Once it is created the company uses it everywhere, be it in print, in radio, at promotional events, or on the website and social media handles. Normally businesses use only one tagline for marketing campaigns but then can reinvent it. The tagline of a company is revised whenever a new product or service is launched, or they break into new markets or want to reinvent themselves. There are 5 main types of taglines used by businesses:
Specific taglines- They highlight the business sector of a firm. For example, "The world's local bank" for HSBC
Imperative taglines- They demand the customers take an action in their favor. For example, "Just Do It" by Nike.
Descriptive taglines- They convey the brand or product's promise to the consumer. For example, "Save money, live better" by Walmart.
Provocative taglines- They usually provoke by asking questions. For example, "Got Milk?" for the California Milk Processing Board.
Superlative taglines- They pose the brand as the best in their field. For example, "The ultimate driving machine" for BMW cars.
One can start writing tagline or banner content by first writing a paragraph about what you do and who you are. Then get into the core of that paragraph and create a one-liner. Keep in mind that you have to make it likable at once. The tagline must have an emotional response for people and convey a feeling. While condensing the tagline, you must not make it vague. After finalizing your work, see how people respond to it and make necessary changes.
The customers may be able to memorize a tagline if they see it often, but that does not ensure if they will like it. A good tagline or banner content must communicate with clarity of the message, creativity of phrasing, and benefit received by the product. No big deal if you are a small or big business, these factors are enough to connect with the target audience.