Twitter is a social media platform that creates highly scrollable content for our attention-deficit generation. Twitter posts are highly effective when it comes to growing a following and providing your audience with curated content before they even become customers. 
Instead of hindering, the character limit helps you create quick and compelling advertisements for your business. While its primary purpose is to allow people to share their thoughts with a big audience, Twitter Posts allow you to increase your business's brand awareness and connect with your audience.
Uses of Twitter Posts 
Simply put, Twitter posts have significant power in influencing trends and generating engagement, which makes the platform a major means of social media marketing. With the right marketing plan, you can use the platform to increase your sales, boost brand recognition and improve customer service for your business. Here's how you can do so:
Advertising
Twitter is free, but if you'd like to pay to promote your account on the platform, you have plenty of advertising options. Promoted Tweets increase engagement and expand your reach to a wider group of users who are beyond your follower base. Unlike the one-post-per-day formula on Facebook or Instagram, Twitter best practices dictate that you should be posting at least 10 times a day.
Brand Announcements
If you have exciting news to announce or an upcoming launch, or new features that your loyal customers are waiting for, this is absolutely the content you want to share with your followers. Better yet, you can pin these Twitter posts to the top of your Twitter profile for new visitors to see as well.
Visual Content
Whether it's photography, graphics for your brand or infographics, sharing visual content on Twitter posts can catch peoples' attention while they're scrolling. You can also make use of GIFs and memes for their unique and often humorous storytelling, especially if it aligns with your brand voice.
Promo Codes or Flash Sales:
Announcing such deals on the Twitter posts, especially if they're exclusively available just to your Twitter followers, is a great way to increase engagement and sales.
Blog Content
Promote your blog articles or post articles on other websites that are relevant to your business, like a customer success story. If you have other content that is appealing to your audience, like a free webinar, you can post links to those too.
Tease Launches
If you have new features of your existing products coming out or an upcoming product launch, a Twitter post is a great place to tease them. This is a great way to encourage conversations around your brand and what to expect.
Trending Topics
Twitter promotes trending topics that are being currently discussed in high frequency on their platform in a given region. Integrating them into your Twitter posts makes it a very good opportunity for your brands to increase reach as well. However, you should always make sure you know exactly what the trending topic is about and how it is relevant to your brand if you tweet about it.
Testimonials
Showing proof that people love your products or working with your business increases the validation for your business. If you have testimonials or reviews on your website, don't hesitate to share them on a Twitter post.
Twitter Post Writing Services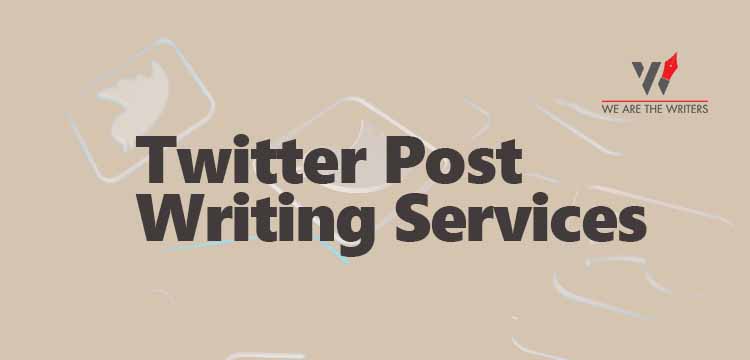 In the era of technology and social media, businesses must communicate with their audiences in a refined, laid out manner. Even their social media communication channels must have an exact tone and structure to appeal to their audience. 
Therefore, it is always advisable for brands to look for a content writing agency that offers Twitter Post Writing services. WeAreTheWriters specifically offers Twitter Post Writing Services to enhance the brand's visibility and form a more refined, personal communication channel. 
Get your brand the visibility it deserves with WeAreTheWriters!