Are you a budding entrepreneur? Or Are you about to start a business? Or… let us guess, you are about to keep your foot in the world or start-up(s)? If any of the above-mentioned questions implies to you, or if you have an entrepreneur hidden in you, this blog is definitely the one you should be reading.
Why? Well, you will get the answer when you read this blog. But we can obviously give you an idea. So, in this blog we picked out Top 20 Business Movies that you should surely watch. These entrepreneur movies or business movies are the ones you will relate to. And of course, will be inspiring for you.
And if you are not an entrepreneur? Well, that is sorted too. These movies might give you an idea of an entrepreneur's life. Or these movies might inspire you. Maybe you get a different perspective for business & businessmen. Or just for entertainment. Or maybe you get to know the journey of famous, successful entrepreneurs. You can decide that once you go through the blog.
Suggested Blogs:
Let's get started with the Top 20 Business Movies!
The Wolf of Wall Street | Entrepreneur Should Watch

Year: 2013 | Director: Martin Scorsese | IMDb: 8.2
This business movie is a biographical crime-drama based on the life of stockbroker Jordan Belfort. The story of success of a stockbroker, Belfort in New York City. And how he ends up in prison on the basis of crime, corruption and fraud. The story of how the success of a stockbroker in Wall Street goes to rags when he gets convicted for fraudulent. The Wolf of Wall street stars Leonardo DiCaprio as Jordan Belfort.
Along with Jonah Hill as Donnie Azoff, Jordan's business partner and friend and Margot Robbie as Naomi Lapaglia, his wife. Well, we are sure the name "Leonardo DiCaprio" in itself is very convincing for you to watch this one. But if not, we would like to mention that this movie got itself a place in the Guinness World Record. A record for most instances of swearing in a film.
This movie is one of the Top 20 Business Movies which is currently streaming on Amazon Prime Video.
In Pursuit of Happyness | Entrepreneur Should Watch

Year: 2006 | Director: Gabriele Muccino | IMDb: 8.0
This one among the Top 20 Business Movies is a biographical drama. The movie stars the farther-son duo Will Smith as Chris Gardner and his son Jaden Smith as Christopher. In the movie as well, the father-son duo plays the same role of father and son. This movie revolves around Gardner being a homeless salesman. And how he struggles to find a job. Eventually, he finds a way to start a new career that will change his life.
Therefore, this struggle and the 'pursuit of happyness' makes this movie an inspirational entrepreneur movie, you wouldn't want to miss. In Pursuit of Happyness secured an Oscar Award nomination. And also for a Golden Globe Award. Teen Choice Award was one award among the many awards that it won. This movie is currently streaming on Amazon Prime Video. One of the best TOP 20 BUSINESS MOVIES.
Padman | Entrepreneur Should Watch

Year: 2018 | Director: R. Balki | IMDb: 7.9
This business movie on Netflix will totally inspire you while making you a bit emotional. The story got its inspiration from a social entrepreneur from Tamil Nadu, Arunachalam Muruganantham. He was a social activist and was fondly called "Padman". We will surely tell you why. He struggled to break a social stigma of women's menstrual cycle. And that a sanitary napkin was nothing to be ashamed of, but a necessity. The story depicts how 'Padman' after many failed attempts of getting support, builds a sanitary napkin machine. He even even after approached a medical college, and all he got was rejection. He designs and builds a machine all by himself that produces inexpensive sanitary napkins for women in rural India.
What motivates Padman the most is the realization that women use an unhygienic rag during their cycle. Which is not just a symbol of unawareness but also dangerous to their health. So, he pledges to educate and sell affordable sanitary napkins to women. And eventually after a lot of struggle & humiliation, he finds success with recognition. The movie starring Akshay Kumar, Sonam Kapoor and Radhika Apte was a success. And received many awards. Therefore, you should watch it now on Netflix.
The Big Short | Entrepreneur Should Watch

Year: 2015 | Director: Adam McKay | IMDb: 7.8
The Big Short which is one of the Top 20 Business Movies is based on USA's mortgage housing crisis of 2005. The movie is took inspiration from on a book with the same name. It is a biographical drama. The story revolves around a few investors who challenge the American mortgage market and claims that this market is built on a bubble. Revealing that the market is corrupt, the bubble will burst soon and the market would collapse.
But what happens exactly to these men? And to the financial market? It will only be revealed if you watch this business movie on Netflix or you can also find it on YouTube. The movie stars Christian Bale, Steve Carell, Ryan Gosling and Brad Pitt among others. The Big Short won the Academy Award for Best Adapted Screenplay among many nominations and awards.
The Social Network | Entrepreneur Should Watch

Year: 2010 | Director: David Fincher | IMDb: 7.7
As the name suggests "The Social Network", the movie is based on the story of creation of the popular social networking site "Facebook". But Facebook too immediately did not reach the heights of success, it rose from scratch. And so, the story is about the journey of Facebook. It is a biographical drama based on the story of how the founder Mark Zuckerberg created Facebook.
How he later got sued by his own brothers on the basis of false claims. And how this Harvard student made a comeback to become the youngest billionaire in history. The movie stars Jesse Eisenberg as founder Mark Zuckerberg, with Andrew Garfield, Justin Timberlake, Armie Hammer and Tyler Winklevoss. The Social Network has won three Academy Awards and won a few Golden Globe Awards. This is a successful business movie on Netflix. So, watch it now! If you haven't already.
Guru | Entrepreneur Should Watch

Year: 2007 | Director: Mani Ratnam | IMDb: 7.7
This Hindi drama movie is a business movie on Netflix. Based on the life of a successful businessman with some other businessmen of Indian Industry. Guru is true to the essence of 'from rags to riches'. As this movie tells the story of a villager and his struggles to become "Guru". This movie will leave you inspired while ringing the bell of emotions in you. Guru stars Abhishek Bachchan as Gurukant Desai or "Guru".
Other cast includes Mithun Chakraborty, Aishwarya Rai Bachchan, R. Madhavan, Vidya Balan and Roshan Seth. This amazing movie was premiered at the 2007 Cannes Film Festival. Therefore, we highly recommend you to watch this masterpiece with fine performances by the star cast. Get it now on Netflix.
Moneyball | Entrepreneur Should Watch

Year: 2011 | Director: Bennett Miller | IMDb: 7.6
Moneyball is a business movie on Netflix is based on a true story of Oakland Athletics baseball team's 2002 season. And their general manager Billy Beane. The story inspiring-ly revolves around the struggle of Beane to assemble a strong competitive baseball team.
With a challenge of the franchise's limited budget that puts Beane in a difficult position. Moneyball features Brad Pitt as Beane and Jonah Hill as Peter Brand the assistant general manager. The movie premiered at the 2011 Toronto International Film Festival. You can find this movie currently streaming on Netflix as well as YouTube. If you are a sports geek or an entrepreneur, this movie is surely for you. Therefore, you shouldn't miss this one out.
Becoming Warren Buffett | Entrepreneur Should Watch

Year: 2017 | Director: Peter W. Kunhardt | IMDb: 7.6
This documentary is currently streaming on Disney+ Hotstar. The plot revolves around the life story of Warren Buffett. Buffett became one of the richest and most respected men in the world. The documentary also shows the business partnership of Warren Buffett and Charlie Munger.
It is a beautiful and inspiring depiction of Buffett's journey & life. So, we really suggest you to watch this movie, and you won't regret it. And to make it more convincing, we want to mention famous quote by Buffett; "Price is what you pay. Value is what you get".
Well, that's not all, he also said "Someone's sitting in the shade today because someone planted a tree a long time ago.". Therefore, someone needs to take a step forward to do something, and that someone can be you. And one last, "I always knew I was going to be rich. I don't think I ever doubted it for a minute.". So, believe in yourself and have faith that you will and so will you!
Rocket Singh: Salesman of the Year | Entrepreneur Should Watch

Year: 2009 | Director: Shimit Amin | IMDb: 7.5
This inspirational movie depicts the story of Harpreet Singh Bedi (Ranbir Kapoor) who has just landed in the world of sales. Bedi is a fresh graduate who joins a company as a sales executive. But soon, his idea and moral of success starts clashing with the professional world's idea of success.
But what happens next? Does Rocket Singh give in to this professional demand? Or he follows his heart and puts his position at stake? You can only find out when you watch this one, belonging to the Top 20 Business Movies. Log into your Amazon Prime Video account and get your hands on this one. This entrepreneur movie stars Ranbir Kapoor, D. Santosh and Naveen Kaushik as leads.
Wall Street | Entrepreneur Should Watch

Year: 1987 | Director: Oliver Stone | IMDb: 7.4
Wall Street is a business movie that shows the story of a young stockbroker. This stockbroker is willing to do anything to become successful in "Wall Street". Even if that "success story" includes taking the wrongful or illegal path. So, he joins a corporate raider. The movie stars Michael Douglas, Charlie Sheen, Daryl Hannah and Martin Sheen. The movie was a commercial success. Won many awards including an Academy Award. Wall Street also has a sequel named "Wall Street: Money Never Sleeps" which was released later in 2010. You can watch Wall Street on YouTube to find out the real story and outcomes.( Source: Business Insider)
Suggested Blogs:
Erin Brockovich | Entrepreneur Should Watch

Year: 2000 | Director: Steven Soderbergh | IMDb: 7.3
This biographical movie is based on the life and struggles of Erin Brockovich. The plot depicts a story of an unemployed single mother struggling to find a job. But later, as a legal professional, she digs out the truth revolving around the Hinkley groundwater contamination incident. Erin investigates and reveals a truth against the energy corporation Pacific Gas and Electric Company (PG&E).
This inspiring business movie was a success. How Erin became "somebody" from a "nobody". We Say that because Erin was never takes seriously and struggled to get a job. Until, she risk everything to expose this incident against a billion dollar reputed corporation. You can witness it yourself, the beautiful inspiring story of Erin Brockovich.
The story of Erin Brockovich is beautifully depicted by Julia Roberts. The movie received many awards. But Julia's fine performance was appreciated with awards like the Academy Award, the Golden Globes, Screen Actors Guild Award, and multiple critics' awards for Best Actress. Therefore, you should definitely get hands on this one, currently streaming on YouTube.
The Founder | Entrepreneur Should Watch

Year: 2016 | Director: John Lee Hancock| IMDb: 7.2
This biographical movie is an interesting and inspiring business movie on Netflix. That tells the story behind popular and everyone's all-time favorite restaurant chain McDonald's. The movie portrays the story of salesman Ray Kroc, who took McDonald's to new heights. How he turned the brother-duo innovative fast-food restaurant, McDonald's into the biggest restaurant chain in the world.
The movie stars Michael Keaton as Ray Kroc, with Nick Offerman and John Carroll Lynch as founders-duo Richard and Maurice McDonald. We all know that McDonald's is everyone's favorite, whether you are a kid, a teenager or an adult. It is your guilty pleasure. But, wouldn't you want to know how a small fast-food business turned into such a huge and promising brand?
Well, now that we have sown the seed of curiosity in your mind, we would tell you to go to Netflix now. Just type in "The Founder" and voila! You can watch it there.
Steve Jobs | Entrepreneur Should Watch

Year: 2015 | Director: Danny Boyle | IMDb: 7.2
You must have already guessed it by the name, it is the biographical drama on the life of legendary Steve Jobs. This business movie portrays the glorious journey of the digital-legend brand Apple Inc. Along with that the movie depicts the journey of the founder Steven Paul Jobs.
The rawness of the movie comes from the interviews and shows the 14 years (1984–1998) of Apple Inc. The star cast of the movie includes Michael Fassbender playing Steve Jobs, Kate Winslet, Seth Rogen, Katherine Waterston, Michael Stuhlbarg and Jeff Daniels to name a few. The movie premiered at the 2015 Telluride Film Festival and won many awards including the Golden Globe, Academy Award and BAFTA Awards. We know you would love to watch this one. So, Go watch it now on YouTube.
Fyre: The Greatest Party That Never Happened | Entrepreneur Should Watch

Year: 2019 | Director: Chris Smith | IMDb: 7.2
Fyre is a documentary movie telling the story of the failure of one of the biggest music festivals; Fyre. The festival was organised by Billy McFarland. And was promoted largely on social media. Many celebrities came on loop for its promotion. But how did it fail? And if it failed, how is it inspiring? And why does the title say it never happened? Well, we know you have such questions in mind.
All we can say is, you need to log into your Netflix to find out. This movie which is among the Top 20 Business Movies list is super entertaining and yet very inspiring. How? Because it tells you that if you are starting or even if you are a great entrepreneur, you shouldn't make unreasonable promises. But we are just making you guess about the reasons. Go find out yourself by watching this business movie on Netflix.
Band Baaja Baaraat | Entrepreneur Should Watch

Year: 2010 | Director: Maneesh Sharma | IMDb: 7.2
This typical Bollywood drama movie will inspire you to fulfill what excites you. In this movie, a girl who wants to make it big in life crosses paths with a guy who likes to chill. But the element of the business movie is how these two with complete opposite nature end up opening a wedding planning company, together. Yup! together. That's why they say "opposite attracts".
This story of Shruti (Anushka Sharma) & Bittoo (Ranveer Singh) will inspire you to make something from nothing to everything. In short, an entertaining movie with typical Bollywood drama showing how the duo's fate is tied together, so, they end up being partners in their venture. And well, let us tell you beforehand, you shouldn't expect a Bollywood movie without exotic songs & a love angle to it. But, one more thing to mention, this movie has a lot to offer and reveal than just this simple-sweet story. So, you can enjoy this movie which is currently streaming on Amazon Prime Video.
Sui Dhaaga: Made in India | Entrepreneur Should Watch

Year: 2018 | Director: Sharat Katariya | IMDb: 6.8
The movie with a sweet and simple story which will leave you overwhelmed but inspired at the same time. Sui Dhaaga is an inspirational business movie in Hindi. The plot revolves around an unemployed man from a small town in India. How he along with his wife struggles to find employment, respect & recognition.
The movie beautifully shows how this poor couple starts a small garment business and eventually makes a space in international platform. Sui Dhaaga covers the struggles and suppressing events this couple face. The movie found its roots from a real-life story. The couple is played by Anushka Sharma and Varun Dhawan. It is a must watch. Therefore, you can find this movie streaming on Amazon Prime Video. This movie will certainly make you believe in the famous saying "Never Give Up".
Maddman: The Steve Madden Story | Entrepreneur Should Watch

Year: 2017 | Director: Ben Patterson | IMDb: 6.6
This inspirational business movie on Netflix is a documentary on the story of Steve Madden. Steve Madden is a billion-dollar designer shoe empire launched by Steve Madden. Steve Madden is a brand that you will find in the maximum number of ladies' wardrobe. If you don't know about this brand, you should definitely ask your sister/mother/friend and so on. Oh wait! Or you can simply watch this movie.
Maddman shows the success story of Steve Madden. And how even after some spending time imprisoned, he made a comeback. Yes, sadly Steve Madden was imprisoned due to a messy situation with the famous Wolf of Wall Street, Jordan Belfort. So, the movie covers how he rebuilt his name and reputation. And therefore, gained back the respect. Now, it is a famous and ladies' favorite shoe brand, yet again.
You can get your hands on this one on Netflix, and thank us later for introducing you to this classic.
Baazaar | Entrepreneur Should Watch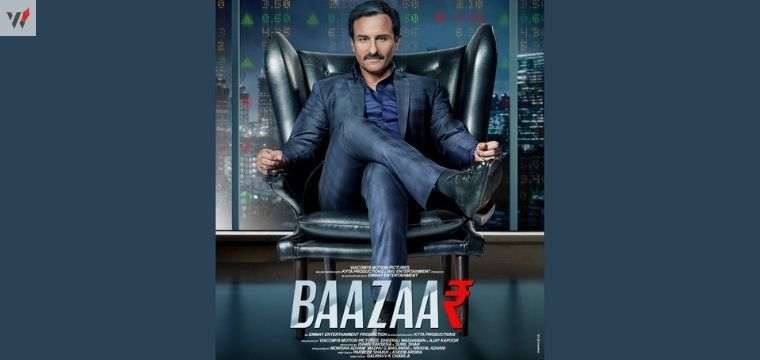 Year: 2018 | Director: Gauravv K. Chawla | IMDb: 6.6
A thriller movie which is a part of Top 20 Business Movies list, is mainly based on the stock market and so, the name "Baazaar". What happens, when a graduate joins a doubtful business. The business of a pitiless Mumbai stock tycoon. When that innocent, inexperienced graduate discovers the ugly and shocking face of money, power and stock market. What happens next? You can only find out when you watch this movie. Therefore, you can watch this business movie on Netflix. Baazaar stars Saif Ali Khan, Rohan Vinod Mehra, Radhika Apte and Chitrangada Singh.
Made In China | Entrepreneur Should Watch

Year: 2019 | Director: Mikhil Musale | IMDb: 6.2
Made in China is a great story of a Gujrati Businessman. The story shows how this businessman struggled and failed miserably in his business. So, eventually moves to China to avail the opportunity of grasping new business possibilities. But little did he know that China has a whole set of experiences that can change his life. The businessman learns a lot and gets an idea of a lifetime. So, this new business idea gives a new dimension to his business and so, to his life too. But what exactly was the idea? What happened to his lifestyle? Well, find it out in this business movie on Netflix. The movie stars Rajkummar Rao, Mouni Roy and Boman Irani.
Badmaash Company | Entrepreneur Should Watch

Year: 2010 | Director: Parmeet Sethi | IMDb: 6.0
This movie is majorly based in the 1900s in Mumbai. Is a Hindi-language business movie which revolves around four middle-class individuals; Karan (Shahid Kapoor), Bulbul (Anushka Sharma), Zing (Meiyang Chang) and Chandu (Vir Das). These four youngsters come together to start a small import business. They together take it to new heights. But the movie experiences a twist when they have to shut it up.
They face a world full of risks and mean situation which breaks their determination into pieces. They might have a plan, though. Maybe with their own rules, just saying. To know more and find out, you will have to watch this one. This movie which is among the Top 20 Business Movies list was a box office success.
And how could you miss the Bollywood spice and exotic songs. This movie will definitely inspire you while entertaining you. Badmaash Company is currently streaming on Amazon Prime Video. So, go watch it now!
Some Other Business Movies That Every Entrepreneur Should Watch Are:
So, we picked out these Top 20 business movies Entrepreneur Should Watch along with some other movies only for you. We really hope these movies help you in any way possible as you are an entrepreneur. We know this list would be helpful in sorting out the movies you should watch. Do watch these now! And let us know what you think in the comment section below.
We really hope you become a great entrepreneur!
Until next time, Happy entrepreneur-ing! And be inspired!