A cover letter is a one-page document that you send along with your CV serving the purpose of shortly telling your background information and why you are fit for the role. For freshers this might be tiresome but you don't have to think out of the box to write one. A good letter should have the following format –
Cover Letter Format :
Header – Place your contact info
Greeting the manager
The first paragraph – Showcasing your top achievements
Second paragraph – Why you are fit for the role
Third paragraph – What things can you bring to the table for the company
Conclusion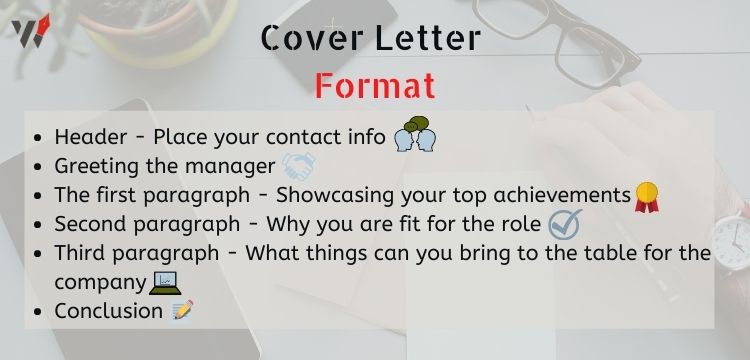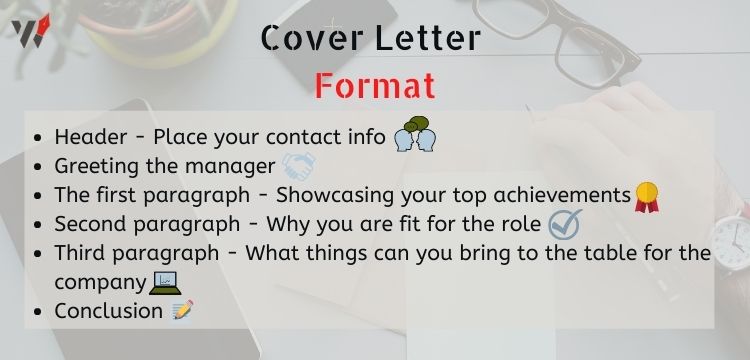 Cover Letter Sample :
To – janedoe@gmail.com

XYZ Company phone number

Address of company city, country

Email address of the company website/LinkedIn

Date social media

Dear concerned authorities,

Greetings to the manager

First paragraph

Second paragraph

Third paragraph

Conclusion

Yours faithfully,

Jane Doe.
Read about Rules of Writing A Letter for Job: Proven Rules of Writing A Cover Letter For A Job
Cover Letter Examples :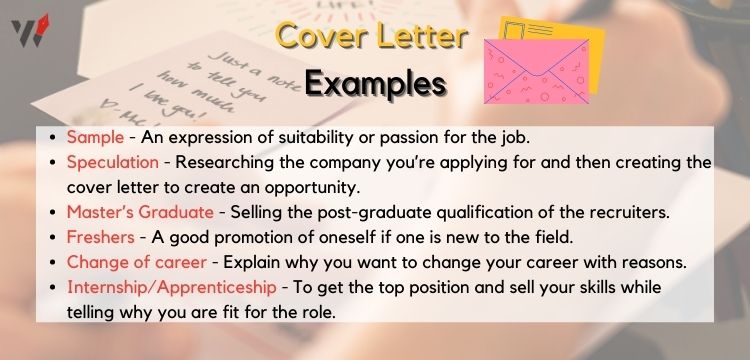 Sample – An expression of suitability or passion for the job (as shown above).
Speculation – Researching the company you're applying for and then creating the cover letter to create an opportunity.
Master's Graduate – Selling the post-graduate qualification of the recruiters.
Freshers – A good promotion of oneself if one is new to the field.
Change of career – Explain why you want to change your career with reasons.
Internship/Apprenticeship – To get the top position and sell your skills while telling why you are fit for the role.
Tips for a good cover letter template –
Specific to the organization.
Format, good communication skills, making it as precise as possible.
Including evidence of your achievements.
Cover Letter Example :
Applying for a job as a teacher at a school –

To – janedoe@gmail.com

XYZ School phone number

Address of school city, country

Email address of the school website/LinkedIn

Date social media

Dear concerned authorities,

I have been passionate about teaching children since the time I started getting pocket money by tutoring children in high school.

Since then I have had 6 years of experience in teaching, both middle school and high school children in English and History. I have taught children who are diverse in the range of their abilities. I have been successful at being a good role model at school., boosting the morale and achievements of the students. I have been successful at increasing the average percentage of my class at my present school by 18%. I believe that makes me a good candidate for the role.

I can be contacted at 5-8 pm starting tomorrow. Expecting to speak with you soon.

Yours faithfully,

Jane Doe.
Conclusion :
Finally, when you are finishing your cover letter you can conclude by –
Wrapping points/ briefly summarise what you couldn't describe in the above paragraphs.
Thanking the concerned authorities.
Finishing the letter with the sentence which calls for the call to action purpose.
In order to stand out above the competition, you have to make a compelling and unique resume and cover letter that suits the job position you are applying for. To speed up the process, you can avail our writing services.
FAQs :
Purpose – Elaboration of one's achievements which has or has not been discussed in the CV.
What should it include? – Background of yourself, why you are qualified for the job, why you want to work with the company?
Length -Short with relevant information.
Do the recruiters read the cover letter? -Depending on the company and its schedule recruiters, read cover letters. However, it is better to write one because you never know which part will be taken by the recruiters.
References
Cover letters, Author Jemma Smith, Editor | Posted April, 2021
16 Frequently Asked Questions About Cover Letters, By Indeed Editorial Team, March 2, 2021