Digital platforms provide everyone with access to various forms of content. While youngsters and teenagers are the prime consumers of social media, even adults spend their time on the internet. The content on social media consists of posts, memes, photographs, blogs, or vlogs. A lot of people watch vlogs that highlight the lifestyle of a group or an individual. At such times you must have wondered— how to start a vlog and make money out of it?
Vlog, apart from being a hobby, can also be a career option for people interested in travelling, gaming, fitness, cooking, lifestyle, beauty, and so on. Apart from thinking about starting a vlog, one must even wonder— what is a Vlog? What is the best equipment for vlogging? How to start a vlog with phone camera, or do I need a vlogging camera?
People willing to start their vlogging career but clueless on how to begin and are searching for the right gear for their vlog will benefit from our in-depth analysis of the topics like — vlog meaning, vlogging tips, vlogging kit, the best camera for creating a vlog, etc. So keep on reading our blog to know how to start a vlog and make money from it!
WHAT IS A VLOG?
One of the most common questions that people ask while they venture into vlog creation is ''WHAT IS A VLOG?'' A vlog, in simple terms, is a continuous process of creating a video blog on any topic one can cover according to their liking. A blog is a regular process of expressing thoughts, views, or ideas through words; similarly, vlogs are a daily record or series of videos that a person makes to express themselves, give reviews, educate, or entertain.
You can review a movie and inform people whether to watch it or not. You can show people a place they have never seen. We can talk about social differences and make people aware of what goes on in society and create a spark of change. You can also review a new technology to pique the interest of tech enthusiasts. Everything depends on your area of interest!
Vloggers showcase their videos on their social media handles and on personal websites. The vlogs can be about travel, food, product review, discussion about social issues, etc. However, you need to understand how to select and deliver the right content to your audience. Now that you know "What is a Vlog?" let's get to the part of "how to start a vlog."
---
HOW TO START A VLOG?
Now that you've made up your mind to begin your vlog journey, what's stopping you? Read our easy-to-follow guide on how to start a vlog and make money! First things first, there's no rush to absorb everything at once; take your time and learn everything. Keep in mind these core values because they will make you go a long way!
HAVE A CLEAR IDEA!
Now that we have a clear picture of what a vlog is, we should know how to start vlogging. Anyone anywhere with an idea can create a vlog! The process of vlogging is as simple as putting in an input- that is your core idea and converting that idea into a refined output, which is a well-framed and edited video.
START FROM BEGINNING, GET A RECORDING DEVICE
Do not worry if you do not have the expensive gears to record and edit your videos; you can pretty much start with something as general as the camera of your smartphone and use natural lighting for the initial stage of the vlog. After that, you can gradually increase the production quality of your videos and invest more after gaining experience.
However, you should note that creating a vlog requires content to be highly-engaging and should give people an outlook that stands out from the rest of the vloggers. For instance, brands advertise to gain the attention of their audiences; similarly, vlogging demands an approach that attracts and creates a loyal audience base.
SURE-SHOT GUIDE TO GET STARTED WITH A VLOG CAREER
Everything begins with baby steps and later becomes refined. We are here to help you with some of the vlogging tips which will make you a pro and distinguish you from the general vlogging crowd:
1. SET YOUR GOALS
Identify the goal you want to achieve through vlogging. Be it getting over your camera shyness, video editing, reaching several likes and subscribers. Setting targets to achieve will help you plan and execute effectively. Don't create videos to get more views, but something that you love to do. The most successful vloggers are the ones who followed their passion.
2. BE YOURSELF
With so many vloggers out there, what you gotta do is stand out and be unique in your way through speech delivery, editing style, and your uniqueness. Don't forget to be yourself because vlogs are very personal. You do not have to be someone else; instead, be a different/unique version of yourself.
3. ENGAGE WITH YOUR AUDIENCE
Do not forget- YOUR AUDIENCE MAKES YOU WHAT YOU ARE! Keep interacting with your audience to let them know you're here for them. Also, keep on looking for feedback as they'll improve your vlogging.
4. GET BEST EQUIPMENT FOR VLOGGING — VLOGGING KIT
A Vlogging Kit is essential for creating an impactful video. The kit will consist of a camera, mic, lighting equipment, and editing software to enhance the vlog quality. Your start can be as general as it can be and then progress to more professional equipment when you gain experience.
HOW TO START A VLOG AND EARN MONEY WITH BASIC VLOGGING EQUIPMENT ?
Whether you create vlogs on your smartphone or use professional equipment, there are some must-haves for effective vlogging:
Camera: You need a camera to record the video! You can vlog using a smartphone or buy a video camera or an entry-level DSLR for your vlogging requirements. Don't worry about creating 4k or 8k videos, but make sure the vlog has good video quality.
Camera Tripod: Keep your camera/smartphone on a tripod stand to stabilize your videos. Shaky videos will disrupt the video quality, and we don't want that for our vlogs. You can shop through a variety of gimble and tripod stands through several websites to suit your needs.
Microphone: Vlogs consist of both audio and video. One should make sure that the audio quality is as good as your video. Use earphones while recording your vlog on smartphones and invest in microphones to use with their camera. There are several types of microphones available to cater to vlogging needs like- Lavalier mic, a USB mic, shotgun mic, etc.
Lighting: A good light can always make a difference. Invest in portable lighting equipment or use the light resource available in your home to create an impressive lighting effect in your room.
Editing Software: You can add transition effects and sounds in your vlog with the help of editing software. These come in handy in blending in the audio and video. Moreover, editing software can change the overall vibe of your vlog with filters. You can use free editing software like Filmora or use professional software like Premiere Pro to edit your video.
BEST CAMERAS FOR VLOGGING
Keep your options open while choosing the best vlog camera. The camera for vlogging will come with a higher resolution, microphone input, and more control options. For shooting indoors, you may opt for a static camera. Whereas for recording an adventure or a sport, you may need a camera that can capture action sequences easily.
Below are some of the categories you can consider as the best vlogging camera in 2020 or the best camera for creating a vlog:
Mirrorless Camera
These cameras belong to the big names in the industry- Canon, Lumix, GoPro, etc. These cameras are available in shops and also on the websites. You can go through the pricing and specifications and even compare them to select the camera that fits your needs.
HOW MUCH CAN WE EARN BY VLOGGING?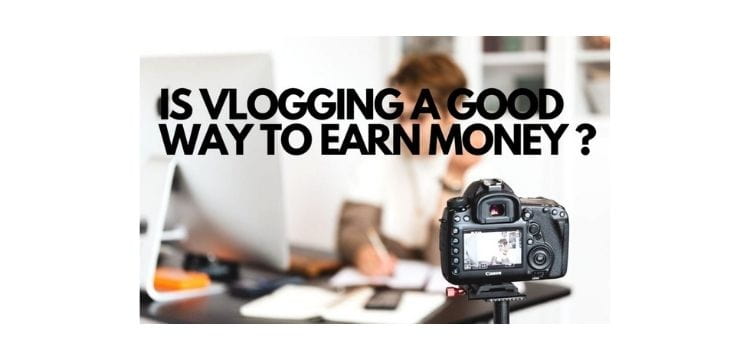 Vlogging is a rewarding career option as you not only enjoy the creative process but also endorse brands and promote products through your vlogs. A well-established vlog maker can earn up to an estimated value of 10-12 lakhs in India! (Source: Content Creator)
Vloggers not only get paid from their subscriber count but also earn a decent amount through cross-platform promotions, advertisements, attending events, and so on. Furthermore, you can even collaborate and sell your merchandise to bring in extra income from your craft.
CONCLUDING NOTE
We know the Vlogging life feels like a world of excitement and a carefree approach. However, vlogging requires DEDICATION, CONSISTENCY, and HARD WORK to keep on producing quality content. Keep on pushing forward with originality & uniqueness and grow as you create a bond with your viewers.
The journey might be long, but it will be a fruitful one. Vlogging has a scope full of possibilities and potential that you can unlock with your passion. So keep on following your goals with patience and the right tools to receive the rewards you deserve.