Meghalaya, the "abode of clouds," is rich in culture and tradition, which also gets reflected in its art and craft. Handicrafts and handloom industries in Meghalaya are vital to the state's development. Meghalaya is one of the most beautiful states in northeast India, and there is plenty to see and do there. People get enchanted by this beautiful state for several reasons, including its diverse flora and fauna, friendly tribal people, and cultural heritage.
---
HISTORY OF MEGHALAYA
Meghalaya was previously a part of Assam, but on January 21, 1972, the two districts, United Khasi Hills and Jaintia Hills and the Garo Hills, came together and formed the current state of Meghalaya. Meghalaya is mostly inhabited by the tribal population, with the Khasi tribe being the largest group, followed by the Garos and then the Jaintias. The British referred to these prominent tribes as the "Hill Tribes." The Hajongs, Biates, Koches and related Rajbongshis, Boros, Dimasa, Kuki, Lakhar, Tiwa (Lalung), Karbi, Rabha, and Nepali are among the other groups.
TRADITIONAL APPROACHES
Rather than following stagnant traditions, Meghalaya stays a step ahead with its progressive approach. Meghalaya historically follows a matrilineal system. The system allows the lineage and inheritance to get traced through women. The youngest daughter of the family inherits all wealth and looks after her parents. Most of the Northeast Handlooms in different states follow the tradition of handing down the culture and the traditional values to their daughters. Most women can be found practising handloom and even get considered eligible for marriage only after they've learned to weave.
---
TRIBES OF MEGHALAYA
Meghalaya is home to many indigenous tribes, but the Khasi, Jaintias, and Garos are the oldest existing communities. Each tribe has their own traditional values, clothing, and cultures to follow. English is the most prominent spoken language in Meghalaya, and the houses are built close to each other. Meghalaya, one of the cherished Northeast Handloom states, majorly practices crafting and weaving as their traditional occupation. The Endi silk produced in Meghalaya is famous for its texture and durability. Meghalaya also is skilled in producing Muga and Mulberry silk.
KHASI TRIBE
The Khasi tribe are one of Meghalaya's oldest indigenous groups and are also linked to the Mon-Khmer people of Southeast Asia. The Khasis are one of the world's few remaining matrilineal cultures. They are known as Ki Khun U Hyniewtrep, which translates to "Children of the Seven Huts." The tribes of Meghalaya are deeply connected to nature and have several mythical stories linked with weaving and the creation of looms. The cultural influences of each Tribe, including the Khasi tribe, is visible in their weave pattern.
PNAR OR JAINTIA TRIBE
The Pnar, also known as the Jaintia, are a Khasi sub-tribal group of Meghalaya, India. The Pnar, like the Khasis, are matrilineal people. They speak the Pnar language, which is closely related to the Khasi language and belongs to the Austro-Asiatic language family. The Pnars are Meghalayans who live in the West Jaintia Hills and East Jaintia Hills districts. The Pnars, like the Khasis, go by the name "Ki Khun Hyniew Trep" (Children of the Seven Huts).
TRADITIONAL CLOTHING OF KHASI TRIBE
JYMPHONG
The traditional Khasi male dress is called a "Jymphong," which is a longish sleeveless coat without a collar that is fastened in front with thongs. However, most men now wear western clothes. They now wear "Jymphong" and a dhoti with an ornamental waistband on ceremonial occasions.
JAINSEM AND DHARS
The Khasi traditional female dress is rather complex, made up of several pieces of cloth that form a cylindrical shape around the body. On ceremonial occasions, they wear a silver or gold crown on their heads. A spike or peak, corresponding to the feathers worn by the menfolk, is attached to the back of the crown.
---
WEAVING IN MEGHALAYA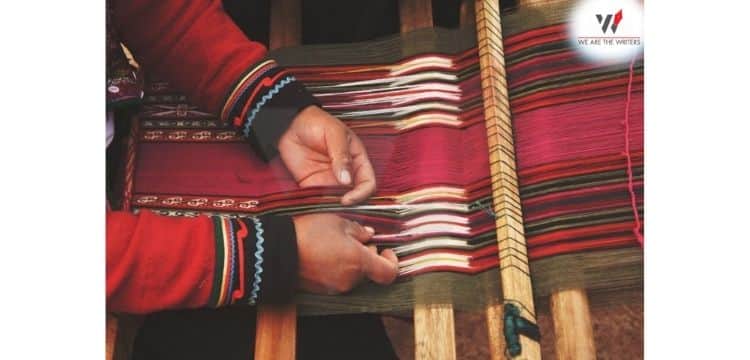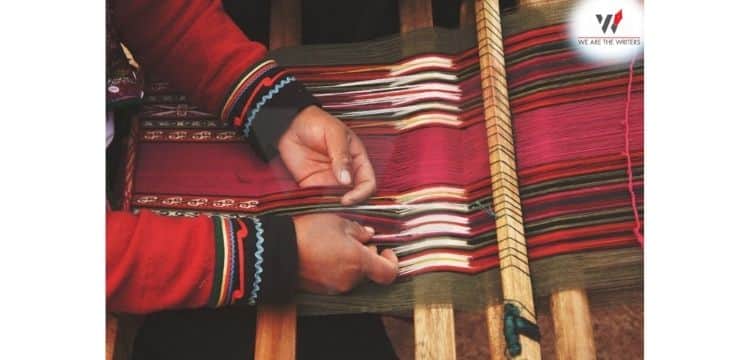 Weaving is an ancient Meghalayan tribal craft. It has a wide range of hand-woven textiles, each with its own distinctive characteristics that reflect the state and its skilled artisans.
MATERIAL
The state produces three types of silk: Eri (from the castor plants that the silkworms feed on), Muga, and Mulberry. Weaving specimens from Meghalaya's various districts represent a diverse range and demonstrate a high level of design and processing.
Wrappers and shawls, waistcloths and bodices, girdles, scarfs, skirts, aprons, and lungis are a few of the unique costumes and apparel available in Meghalaya. Patterns in clothing are created by combining different coloured warp and weft threads.
EMBROIDERY OF NORTHEAST HANDLOOM
Traditionally, the embroidery gets crafted on a handspun and handwoven Eri silk shawl, with the pattern created by counting the warp threads. This embroidery technique is both an expression of local cultural identity and a physical representation of Meghalaya's historic trading routes.
In Northeast Handloom, thread count is one of the most important aspects of working with embroidery. The thread count results in motifs evenly distributed on the fabric. The craftspersons, then, begin stitching the motifs in the centre of the Khneng and work their way out, count by count and part by part.
---
HANDICRAFT OF MEGHALAYA
Meghalaya is home to beautifully crafted Handicrafts. The state has a long tradition of art and handicrafts. Meghalaya has long mastered the art of weaving, whether with cane or cloth. You can find their amazing handicraft in the state's markets.
Because the state produces a lot of wood, the most popular arts here are woodcarving and cane and bamboo work. Cane mats, winnowing fans, caps, umbrellas, stools, and baskets are woven by the artisans. The Khasi tribe weave a unique type of cane mat known as "Tlieng," which is extremely durable. They are also known for producing household knives, utensils, and even firearms.
BAMBOO AND CANE WORK
"Tlieng," a popular type of cane, is in high demand due to its durability and high-quality finish. Bamboo and cane are used to make sleeping mats, baskets, rain shields, lamps, side tables, sofa sets, trays, winnowing fans, containers, and dried flower arrangements. Fishing nets are also made from bamboo sticks.
The excellent cane bridges that cross the swift-flowing stream attest to the native craftsmen's abilities. Pineapple fibre gets used to make fishing nets, bags, and purses in the East Khasi Hill villages of Tynrong.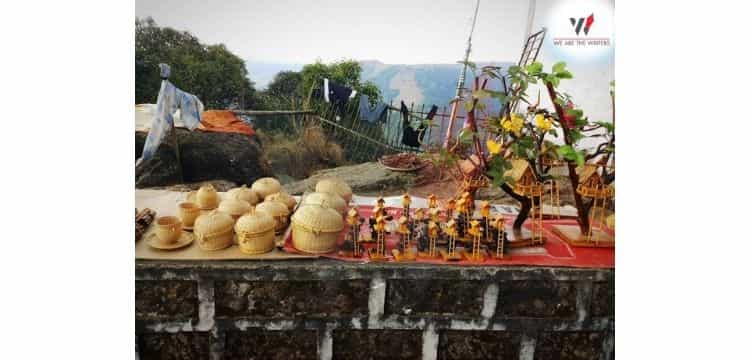 WOODCARVING AND JEWELLERY
With an eye for detail, items both decorative and nifty are made from wood. Nature and everyday life serve as inspiration. The Garo Hills have a long history of wood carving. Decorative items from the East Khasi Hills are popular souvenirs and can be found in Shillong's bazaars.
Meghalaya tribal jewellery and gemstone jewellery are outstanding examples of creativity and craftsmanship. Ornaments such as "Kynjri Ksiar," "Paila," and "Rigitok" are some of the well-known works of art crafted in Meghalaya. Kynjri Ksiar, made of 24 karat gold, and Paila, a string of thick red coral beads, are worn by the Khasi Tribe. Rigitok, a thin fluted glass stem strung by a fine thread, is commonly worn by Garo ladies.
---
CREATING FINEST NORTHEAST HANDLOOM PRODUCTS: ILIKA
Northeast Handloom is world-famous for its exquisite craftsmanship and unique designs. We must recognize the local industry that produces quality material and look ahead of the fast-fashion culture. Homegrown brands take initiatives to amplify the awareness of authentic Northeast Handloom products and promote them in the domestic and international markets. ILIKA is a brand born out of such dedication and passion. The brand ILIKA drives to create the finest handloom and handicraft products with utmost diligence.
UNIQUE MOTIFS AND DESIGNS
ILIKA creates unique motifs and weaving patterns that reflect the cultural influence of the indigenous tribes of the Northeast. Each community or tribe follows different patterns for crafting clothes. Such patterns get reflected through unique motifs and designs found in each weave. ILIKA works to showcase Northeast Handloom to its audience. Each article of clothing is handwoven with attention to detail and by excellent craftspersons.
RESPONSIBLE CLOTHING
ILIKA uses organic materials for the majority of our products, which do not harm the environment with their by-products. ILIKA firmly believes in ethical shopping. Clothes produced in small batches using upcycled materials contribute to the preservation of locally produced artisanal traditions. ILIKA manages its product operations via Instagram and Facebook. You can visit their page to buy their products and gain more information about them.
---
CONCLUSION
As we see a shift of society towards domestic markets, we should support our homegrown brands. ILIKA tries to put forward the spirit of Northeast handloom through their venture. Although the handloom products have created a global presence, the domestic audience should extend their hands to encourage the handloom community. After all, we must be vocal about the local, authentic crafts and their businesses that make our country proud.