Hey! Do you love Hindi movies? We all know that there is a pinch of Bollywood hidden somewhere inside all of us. If not, then we are sure you can somewhere relate to one or other Bollywood movies. Hindi movies do have a great deal of influence on us. We are sure you agree if you are a big Hindi movie fan. We not only watch Hindi movies for fun or entertainment but let's admit it, we feel connected to it to a certain extent. Read our blog on 10 BEST HINDI MOVIES ON NETFLIX.
Well, to cater to your craving for Hindi movies, we picked out these best Hindi movies of all time. Netflix is one of the most popular OTT platforms and so, here we have top Hindi movies that you can currently access on Netflix. In this blog, we covered the 10 BEST HINDI MOVIES ON NETFLIX for you to stream in now.
Prequels to this blog:
Here is our blog with 10 BEST HINDI MOVIES ON NETFLIX.
Taare Zameen Par – 10 BEST HINDI MOVIES ON NETFLIX
Year: 2007 | Director: Aamir Khan, Amole Gupte | IMDb: 8.4
Taare Zameen Par is one of the most overwhelming movies of all time. This movie is a package of very creative & special characters as well as the story. The story revolves around a child Ishaan, believed to be lazy & naughty for not making up for his academic performance. The adults in the movie focus more on discipline & marks rather than accepting their child could have some other problem.
They think that Ishaan is just easily distracted & a trouble-maker until Ishaan's art teacher makes them believe the other way. The movie deals with the struggle in Ishaan's life. And his parents' struggle to accept his reality. You can watch this movie over and over again and still you won't get enough of it. (Source: TimesOfIndia)
The main cast of the movie are Darsheel Safary as Ishaan Awasthi, Aamir Khan as Ram Shankar Nikumbh (Teacher), Tisca Chopra as Maya Awasthi (Mother) and Vipin Sharma as Nandkishore Awasthi (Father). (Source: Academics4Nation)
---
3 Idiots – 10 BEST HINDI MOVIES ON NETFLIX
Year: 2009 | Director: Rajkumar Hirani | IMDb: 8.4
This classic comedy movie deals with a beautiful story of 3 friends, the "3 Idiots" to the rest of the world. This movie is a jump between the past and the present. In the present two of the idiots reunite after years of their graduation in search of their lost companion. The movie alluringly shows their epic college life. And how these 3 idiots manage to live the fullest of their engineering college days. On their way to searching, the duo encounters a deep secret that was kept from them all these years. The secret leaves them stunned and even more curious to find their friend. Stream into Netflix now to find out what happens next. (Source: RottenTomatoes)
This movie is a bundle of interesting situations and will definitely ring the bells of emotions in you. "3 idiots" has a lot more to offer than just this sweet little story. The movie stars Aamir Khan, R. Madhavan, Sharman Joshi, Kareena Kapoor, Boman Irani and Omi Vaidya. (Source: EconomicTimes)
---
Dangal – 10 BEST HINDI MOVIES ON NETFLIX
Year: 2016 | Director: Nitesh Tiwari | IMDb: 8.4
Dangal is a biographical drama. The adaptation of life of former wrestler Mahavir Singh Phogat and his daughter duo. Mahavir Phogat (Aamir Khan) is determined to train his daughter duo Geeta Phogat (Fatima Sana Shaikh) and Babita Kumari (Sanya Malhotra).
The movie focuses on Mahavir training the daughters and their struggle to be a wrestling champion. And how they manage the societal norms to create a history. Geeta Phogat was India's first woman wrestler to see victory at the 2010 Commonwealth Games. She won a gold medal and Babita Kumari won the silver medal. (Source: HindustanTimes)
Movie is mostly based in Haryana. The movie also stars Zaira Wasim and Suhani Bhatnagar as Phogat sisters' younger versions, Sakshi Tanwar (Mother), and Aparshakti Khurana (Cousin). Dangal was a great box office success.It is one of the Best Hindi movies on Netflix. You can definitely not afford to miss it out. It is one of the most amazing movie out of 10 BEST HINDI MOVIES ON NETFLIX.
---
Andhadhun – 10 BEST HINDI MOVIES ON NETFLIX
Year: 2018 | Director: Sriram Raghavan | IMDb: 8.3
Andhadhun is a crime thriller that is full of mysteries. This movie starring Tabu, Ayushmann Khurrana and Radhika Apte will surely leave you thrilled. A lot of mystery unfolds when a blind pianist (Akash) witnesses a crime, Yes you read that right! He "witness" the crime. But the veil drops off a huge secret when Akash (Ayushmann Khurrana) has a one-to-one conversation with Simi (Tabu). How will Akash report this crime when he did not see anything? When he is blind, right? What was the secret? Who murdered who? (Source: Scroll)
You will find the answers to all these questions once you log in to your Netflix and watch this epic movie. Andhadhun has won various awards. And you really can't miss the fine performances of Tabu, Radhika & Ayushmann. Can you? (Source: TimesOfIndia)
Suggested Blogs:-
---
Swades – 10 BEST HINDI MOVIES ON NETFLIX
Year: 2004 | Director: Ashutosh Gowariker | IMDb: 8.2
Swades is a drama movie. Based on a true story of an NRI scientist who returns to his native village. Shahrukh Khan is playing the role of a successful scientist (Mohan Bhargava) working for NASA. On return to his village, Mohan encounters the disturbing situation and issues of the villagers. After knowing the real situation, Mohan starts questioning his roots as a contrast between the developed US and developing India. (Source: RottenTomatoes)
On the other hand, the actual reason for Mohan's return was to find his nanny (Kishori Ballal playing Kaveri Amma). And to take her with him. Mohan has an emotional encounter with his true feelings & realisations for "home". The movie also stars Gayatri Joshi (Gita) who is Mohan's childhood friend. Later, love blossoms between them during Mohan's short stay.
---
Article 15 – 10 BEST HINDI MOVIES ON NETFLIX
Year: 2019 | Director: Anubhav Sinha | IMDb: 8.2
Article 15 is a bollywood movie released in 2019. As the name suggests, the movie revolves around Article 15 of the Constitution of India. This prohibits discrimination on basis of religion, race, caste, sex or birthplace. The movie is based on a few true events of discrimination and wrongdoing to people based on caste & class.
The movie stars Ayushmann Khurrana as IPS Officer Ayan Ranjan. Ayan solves the cases of violation of Article 15. Two major incidents that the movie deals with are the 2014 Badaun gang-rape allegations and the 2016 Una flogging incident. The movie also stars Nassar, Manoj Pahwa, Kumud Mishra, Isha Talwar and Sayani Gupta. We really recommend you to stream into your Netflix now to watch, if you haven't already. (Source: HindustanTimes)
---
Drishyam – 10 BEST HINDI MOVIES ON NETFLIX
Year: 2015 | Director: Nishikant Kamat | IMDb: 8.2
Drishyam is a crime mystery, which will surely make you curious if you start watching. In the movie, a man desperately tries to save his middle-class family from a complicated legal situation. Which technically is a crime his daughter commits unknowingly. A boy goes missing and his mother, a headstrong cop does everything in her power to pull the truth out. (Source: FirstPost)
On the other hand, that man finds himself tangled in the dark side of power and influence. The star cast of the movie includes Ajay Devgn (The Man), Shriya Saran (Wife), Ishita Dutta (Daughter) and Tabu (Cop). (Source: TimesOfIndia)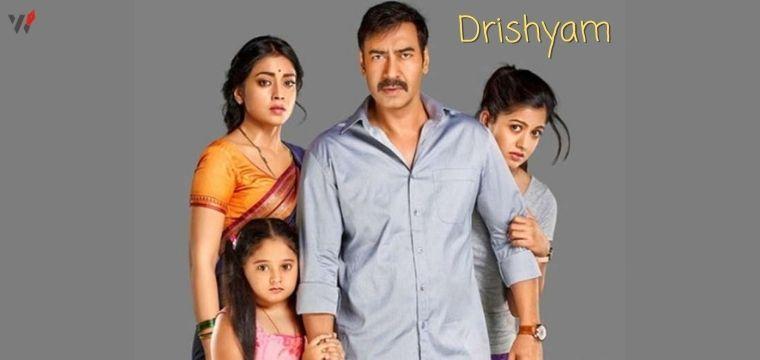 ---
Suggested Blogs:-
Queen – 10 BEST HINDI MOVIES ON NETFLIX
Year: 2013 | Director: Vikas Bahl | IMDb: 8.2
Queen is a comedy drama that you shouldn't miss. The movie deals with the life of a Delhi girl Rani (Kangana Ranaut) belonging to a very traditional family. Rani plans her honeymoon after getting dumped by her fiancé just before the wedding. The interesting twist is that she goes on the honeymoon all by herself. Yes! You read that right, she gifts herself a solo honeymoon. (Source: TimesOfIndia)
The movie is about her little trip and experiences. And how she deals with her conservative family. Interesting, right? Tune into Netflix to have a taste of this amazing story "Queen", a self-reliant girl. Lisa Haydon and Rajkummar Rao are also a part of this amusing movie.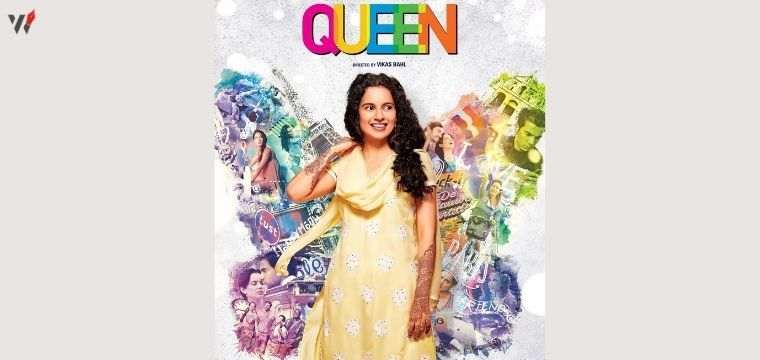 ---
Udaan – 10 BEST HINDI MOVIES ON NETFLIX
Year: 2010 | Director: Vikramaditya Motwane | IMDb: 8.2
Udaan movie deals with the story of Rohan (Rajat Barmecha) and his oppressive father (Ronit Roy). Rohan returns back to Jamshedpur after getting expelled from a boarding school. His dominating and authoritarian father make Rohan work in his steel factory. He also forces him to pursue engineering when he dreams of becoming a writer. (Source: TimesOfIndia)
The movie revolves around the life of the father-son duo, their differences and Rohan's struggle. Rohan also finds out that he has a younger half-brother. Udaan also stars Ram Kapoor, Manjot Singh and Anand Tiwari. To find out whether Rohan makes it as a writer or stays stuck in that life, stream into Netflix now. (Source: Scroll)
---
Masaan – 10 BEST HINDI MOVIES ON NETFLIX
Year: 2015 | Director: Neeraj Ghaywan | IMDb: 8.2
Masaan is a drama movie is set in Varanasi. The movie depicts a story where four people meet along the Ganges River and share the tragedies of their life. They also bond over the conflicting and punishing situation of the caste system. A simple yet emotional story you would love to watch. And also, how can you miss the amazing performances by talented actors this movie stars. (Source: HindustanTimes)
The cast includes Richa Chadda, Vicky Kaushal, Shweta Tripathi, Sanjay Mishra, and Pankaj Tripathi. Therefore, watch this movie streaming on Netflix to find out the real story and the struggles that character faces. (Source: TimesOfIndia)
---
Some other Hindi Movies on Netflix
Barfi! (2012)
A Wednesday (2008)
Sanju (2018)
Special 26 (2013)
Madras Cafe (2013)
Udta Punjab (2016)
Guru (2007)
Kahaani (2012)
Badla (2019)
Jaane Tu…Ya Jaane Na (2008)
These were the 10 BEST HINDI MOVIES ON NETFLIX you shouldn't even think of missing. We got it sorted for you. Only thing we can't help you with is to decide which one you should go first with. All of these are creatively amusing. Do let us know what you think of these in the comment section below.
See you next time. Until then, Enjoy Binging!