Top businesses need the best tools to flourish. And, Lead generation software is a popular tool to help you with that progress.
The term Lead generation refers to a lot more than some casual traffic and everyday visitors. It entails transforming those casual daily visitors into dedicated customers.
Searching for something of such stature is a challenging job. But we will help you find not one but ten of those for you. So, sit back, read and decide for yourself.
---
BEST LEAD GENERATION SOFTWARE | POPULAR LEAD GENERATION SOFTWARE
The most popular lead generation software are put forward in the section below.
DRIFTROCK | LEAD GENERATION SOFTWARE
Let us start with Driftrock, which helps leverage lead quality and boost lead volume. Its price deal brings a bundle of lead generation software under a single roof. Every software serves an individual purpose. Altogether, they form a powerful tool. Besides, it also helps you to reduce the cost per lead. It also elevates downstream conversion leads with your lifecycle marketing technology.
Today, social media is nothing but an advertising battleground for companies. And, this software promises your companies to create optimized ads for social media platforms like Facebook and Instagram. It claims to give you an advantage on these advertising campaigns. This way ad stands out from the rest of the crowd.
Their pricing starts at $149 per month. It offers a quote-based pricing model. The pricing is flexible and depends on the number of features you want to include. This Lead Generation Software for Small Business supports big enterprises as well. It also nurtures leads with your dynamic rules engine.
It enriches leads with third part APIs of your choice. Besides, Driftrock has a unique feature where it provides enterprise-grads uptime and backup syncs. Besides, they offer to let their users learn strategic advice and support from their ad solution team.
• Read our blog "Free Email Marketing Tools".
---
CALLPAGE
Each visitor of your site is a potential customer who is interested in your offer. And, today users can amaze them with an instant call. This software helps you in converting visitors to happy customers.
It has an innovative way through which you conduct your business through phone calls. It allows an automatic callback to call your potential customers in 28 seconds. Besides, users can also get an extra 30 to 125% of leads right over the phone.
Their exemplary dashboard is power-packed with insights into its portal. There is a dropdown menu to look at the stats you are interested in. check your average call duration, status, and percentage of success calls, and many more in the form of chats. This software is helpful to get as many inbound calls from your website.
Their customer service team is helpful. Their most valued feature list consists of third-party integrations and quality campaign management. It helps in reducing the response time. Besides, you can easily integrate it with your CRM.
The pricing differs for both basic and professionals. $29 per month for basic and $119 for professionals is the deal (to date). The B2B Lead Generation Software is well-suited for B2C and other online stores. Use this software to elevate sales calls and conversion rates.
---
LINKEDIN SALES NAVIGATOR | B2B LEAD GENERATION SOFTWARE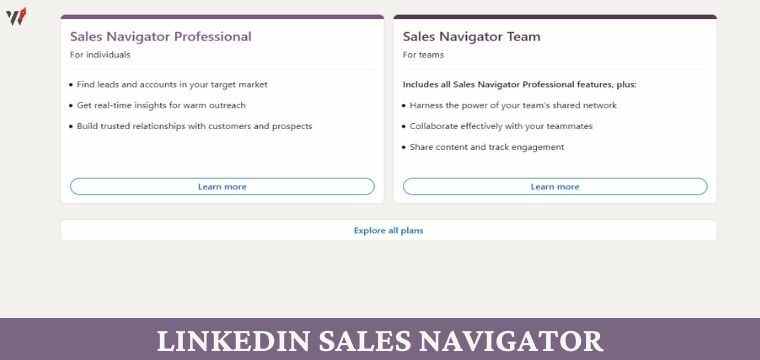 LinkedIn sales navigator is one of the best lead generation software in use today. This irreplaceable tool finds leads for you right on your most-liked B2B social media platform. Also, it uses several filters such as keywords, seniority level, company, and size.
It garners customers based on your search history, preferences, and interactions. It provides users with customized recommendations of people on their accounts.
This software integrates with your CRM. It enables you to exchange data between them. Besides, you can view it as a widget within your CRM applications. People often under utilize this social selling platform. It has a well-known real-time sales update feature that offers updates on your accounts and leads.
Hence, getting updates means you get to know them properly before approaching them with offers. Besides, you can organize leads and accounts accordingly with lists. Further, users can take notes that you can sync back to CRM.
This B2B lead generation software works for every B2B marketer's life. It has a reliable customer support team which is an added benefit. The pricing for professionals starts at $79.99 billed annually. The plans differ across different scopes.
---
HUBSPOT
This easy-to-use tool helps users get complete visibility into their sales in real-time. It helps track your sales lead's visits and determine your most potential customers. You can keep track of companies that engage with your site in real-time. HubSpot then directs those prospect actions into your database.
This feature helps you prioritize your potential leads instead of going down the wrong road. Further, it helps you sort prospects by filtering them down using several criteria. These criteria include the number of visits and location.
Besides, the tool has several rich resources that are helpful for the users. Their webinars are fun and focused. This cloud-based CRM helps boost your ROI and optimize your inbound marketing strategy. As a result, you get quality leads.
You can use their CRM s a Launchpad for multiple marketing sales. It holds every company leads that every department can have access to. Its CRM is efficient and provides the best solution for budget and time constraints.
Perhaps the best thing about this tool is that it is free for everyone. You can store a million contacts and companies on this platform. This B2B Lead Generation Software works well for B2C businesses in different segments like marketing, retail, and more.
• Read our blog "Social Media for Business in 4 Effective Ways".
---
HELLO BAR | LEAD GENERATION SOFTWARE FOR SMALL BUSINESS
More often, visitors leave your site without taking any action. It can be aggravating, but it reminds you of the importance of loyal customers. So, use this Lead Generation Software to boost your sales and signups and gain some loyal customers in the way. You can write engaging copy for the hello bar and design a great pop-up.
Also, do thorough A/B testing of different versions of the pop-up to ensure their optimization. You must then use these pop-ups to direct traffic. Once you see your leads coming in, start targeting them with proper email marketing.
Their service enables enterprises to design messages for their visitors. They have features that ensure that these messages get delivered on time. Many find working on this platform to be intimidating. But it works wonders for businesses. It is straightforward to set up. You can easily customize it for different pages accordingly.
Their typical customers include freelancers. Besides, it is lead generation software for small businesses. It offers a free plan and a free trial for its users. The pricing of this tool starts from $29 per month.
Besides, it is devoid of any long-term contract. It gives business owners several opportunities to explore and set up the perfect setup for their company.
---
LEADFEEDER
Leadfeeder is a lead generation software that identifies companies that visit your website. Therefore, no company stays anonymous to you. You get access to the company's name, contact, and LinkedIn data. It knows how they visited your site and their intent of purchase. It helps keep track of website traffic.
Also, you can easily filter out any unwanted company. In this way, users pay for quality leads. Users can integrate this best lead generation software with Pipedrive. They can access the search history of the customers in Pipedrive.
Users can also manage their leads by sending them to their CRM. Its best feature consists of conversion tracking and campaign management. Besides, it also helps to capture, distribute and nurture the leads.
It has competent customer service and is reliable with rich functionality and database quality. This tool also has a feature that scores your potential leads under specific criteria like browsing behaviour for form completions.
This B2B lead generation software works exceptionally well. It is a Free Lead Generation Software that offers a free trial. The pricing usually starts from $63 per feature every month.
---
HOOVERS | LEAD GENERATION SOFTWARE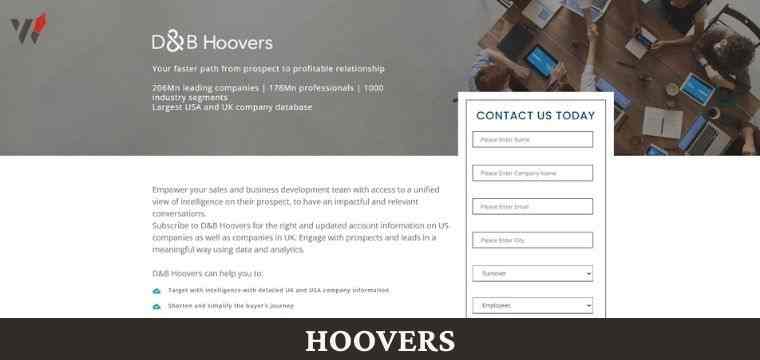 Hoover lets you run your searches and boost your sales. It helps to grow your business faster with sophisticated analytics. Its intelligent analytics helps deliver B2B sales leads which are full of insights. It provides striking features which assist you to gain customizable intelligence at your fingertips. This best lead generation software has a dynamic user interface with alerts and triggers.
It promises the best user experiences and serves you with relevant data to help boost your sales productivity. The tools also help to sort out your potential customers and engage them across different channels.
It has a robust database that contains details of nearly every company. Users can adapt to its intuitive user interface. It also has an email address lookup tool. The tool enables users to find someone's email address.
Besides, the software has different subscription plans for all kinds of users. But the essential subscription starts at $89 per month. It allows you access to all of their data. This Lead Generation Software for Small Business is well-suited for any business enterprise.
---
SKRAPP
This lead generation tool claims to be the most reliable email finder that you need for outreach. Users can build appropriate B2B email lists with the help of this tool. It helps users to gain valuable prospects.
Also, it assists you in generating targeted leads through LinkedIn searches. The tools help to find your prospect's email and save it for future use. It prides itself on its email-finding capability in milliseconds.
It integrates with various other applications and services like Google chrome and sales robots. This software has a simple user interface which makes it easy to use. Also, it has a powerful export feature. The tool is beginner-friendly who prioritize generation bulk data from platforms like LinkedIn.
This free lead generation software is available for every user. Also, the prices vary according to the features. The starter pack for this software starts at $49 per month. It is also a good Lead Generation Software for Small Business, mid-size businesses, and Freelancers. It is also well-suited for NGOs and the government.
• Read our blog "Best Video Marketing Strategy 2021".
---
LUSHA | BEST LEAD GENERATION SOFTWARE
At present, Lusha assists enterprises in establishing a quick and authentic connection with their leads. You can put your trust in this tool's ability to find the correct contact details of your prospects. Their smooth integrations enable users to sync contacts to the CRM efficiently. Thus, you don't have to play with offline excel sheets anymore and keep track of your leads progress in the CRM.
Lusha has prospecting tools that enable you to filter out cold prospects so that your attention is on the valuable customers. It is fast and easy to use. It offers an application programming interface (API) that helps businesses modify the system and integrate it with third-party apps.
They have an expert customer support team who are quick in their responses. It also complies with the set standard by GDPR and CCPA.
This free lead generation software offers a free trial for all its users. And, the starting price is $39 per month. Besides, businesses of all sizes make good use of this software.
---
AEROLEADS
This CRM tool is arguably one of the Best Lead Generation Software available out there. This powerful software also helps users find relevant customers and their contact details. It also helps gain other information like social media profiles and email addresses if it is available.
You can download all the relevant information in CSV format. It provides accurate data so that you score leads easily with the help of this tool.
This robust lead generation tool is user-friendly. Its customer service is skilled. They offer instructions and specifications that you may need. It updates its data constantly and brings new tools regularly as an update. You can choose to export your data to some leading CRM applications like HubSpot and Zapier with great ease.
This free lead generation software also has a premium version available for its users. It works well for B2B and other lead generation businesses.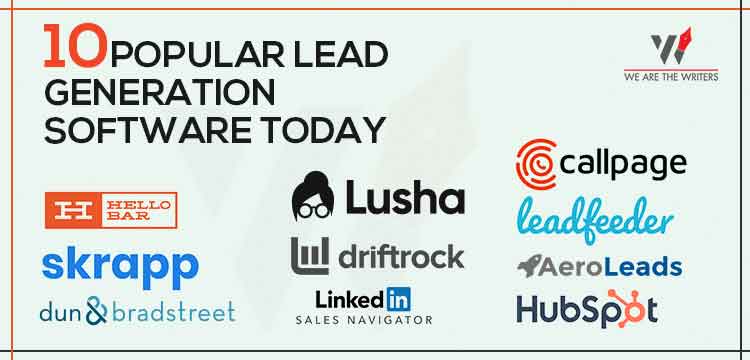 ---
CONCLUSION
Every company recognizes the value of generating quality leads. Bad leads can often lead their efforts to drown in water. After reading this article, you may have drawn an idea of good software obtainable in the market. So choose one accordingly.