Being a job seeker, all you want is to have a superpower that allows you to land an interview for the desired position. Having a well-structured professional resume is that kind of superpower for you!
You won't get very far without a professional resume, whether you're networking, applying for internal positions, or looking for opportunities online. However, the question 'How To Write A Resume' often haunts the majority of job seekers.
To get the designation of your dreams in a reputed firm it's crucial that you know the important building blocks of How To Write A Resume. Get your resume game right and you will be occupied by interviews daily. However, A weak game will lead you to nothing but disappointments.
Choose wisely!
Let's not dodge around and come to the exact point: resume writing can be a daunting task. The pressure to make an exception makes fingers near the keyboard feel even more perilous.

Having a well-honed resume, on the other hand, isn't rocket science. You will be able to create a perfect resume with finesse, awareness, and a thorough understanding of how to write a resume.

Still hovering over the thought that you might ruin it, this How To Write A Resume guide highlights the most relevant tips and steps to come out with a resume in a way that will stimulate the HR manager to know more about your profile. After you close this blog, go through resume samples that are available online in plenty.

Suggessted read
What is a resume ?

First and foremost, before getting into the step-by-step guide on How To Write A Resume,
let's see the definition of a resume and learn What is a resume ?
A resume is a generally utilized document in the recruitment process. It should include information about your background and qualifications, as well as the most crucial, relevant information about you in a clear, acceptable way for employers.
The idea is to swiftly express why, based on your abilities and experiences, you are uniquely qualified for the job. A Resume is the only thing standing between you and your ideal job! Get what you deserve by mastering
the art of resume writing.

A resume is the most requested document in any job search — followed by the cover letter, of course. In fact, recruiters scrutinize job candidates' resumes more closely than their cover letters. So let's move on to how to structure it right.
Clear with what is a resume? Let's move ahead.
Before moving further with How To Write A Resume, let's understand the difference between What is a CV and What is a resume.
For better understanding read the blog from resumegenius
The basic difference between a resume and a CV | How To Write A Resume

A curriculum vitae (CV) is a comprehensive look at your career that encompasses every facet of
your education, job, and experience without regard to length. A resume, on the other hand, is a
summary of those experiences and talents, and it usually only covers the previous ten years of
employment. A resume, unlike a CV, should be updated and edited for each specific job you
apply for, and it should be no more than one or two pages long.
Three commonly used types of resumes

Before we hit the tips of How To Write A Resume, have a look at the different types of resumes.
There are mainly three categories of resumes. Glance below to determine the best format for
you! Move a little further in your mission to How To Write A Resume that would leave all your competitors behind.
Chronological resume- This style prioritizes the professional history section and is an
excellent choice if you have a lengthy professional job history with no gaps.
Functional Resume- This format focuses on the skills section and is a suitable choice if
you're changing industries or have gaps in your work record.
Combination resume- If you have some professional experience and your abilities and
job history are both significant, this is a fantastic alternative.
Read our blogs on
Steps for writing an attractive professional resume | How To Write A Resume

A resume can be written in a variety of ways. I have tried to be concise and listed eight simple
ways to prepare a resume that would lead you to your dream job. These tips are suitable for all the resume format we've discussed.
Choose the suitable resume format

We have already discussed the three standard types of resumes: chronological,
functional, and combination. For most job seekers, a combination resume format works
the best. Whereas, some might think of chronological resume format or functional resume format as a better
option. The choice depends on how you want your resume to be! You can get resume
templates free, in your desired resume format which decreases your burden to some extent.
Include your name and contact details

Now that we have got the basics right, let's dive into the important aspects of How To
Write A Resume. Resume templates free may have all these basic details areas in-built.

Your resume should begin with:

Name-
Contact number-
Location-
Email id-
Link to online portfolio(optional)-
LinkedIn profile URL-

Tips to follow

● Write your name in bolder font than the rest of the document with a maximum of 14
point size.
● You are not required to add your full address. However, add your state, city, and
zip code. Recruits prioritize local candidates.
● Create a strong LinkedIn profile before you include the URL in the resume.
Read our blogs: How to become a content writer : Step by step guidance
Write a unique resume summary or objective
You can either add a resume summary or an objective statement. A resume summary is
a brief statement that describes your relevant work experience and talents using active
language. An objective statement is a fantastic choice for those with less professional
experience because it instantly communicates your career aspirations. In both instances,
you need to be concise.

Tips to follow

● It's merely a one-line description. Therefore don't exceed more than 15 words.
● Make it shorter but informative to grab the recruiter's attention
● Make use of the title case(first letter of each word in the capital) and make the font
bold to make it stand out.
Craft a professional summary

The professional summary is a brief, one- to three-sentence sentence piece on your
resume that succinctly describes who you are, what you do, and why are the perfect
choice for the job position. For some job applicants, summary statements are not the
best option. If you don't have a lot of work experience or are changing careers, you can
utilize the extra space to build on your work history, talents section, or compose a
compelling resume objective statement.

Tips to follow

● Add your most relevant skills to the specific job.
● Keywords from the job description should be included.
● Mention your most noteworthy accomplishments.
Enlist your most notable skills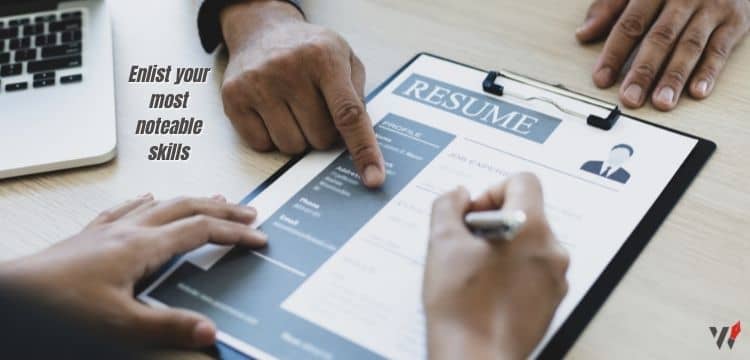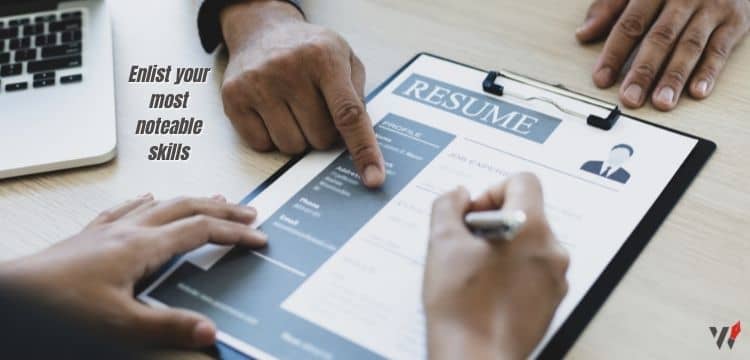 The more relevant abilities you have on your Resume, the more probable it is that it will
be accepted by an applicant tracking system (ATS).
Here are different skills you would want to add to your resume
● Soft skills- Personality characteristics that help you excel in your career.
Some skills you can use – Multitasking, creativity, problem-solving, etc.
● Hard skills- Sills that can be learned, taught, or measured.
Some skills you can use- Presentation skills, Writing skills, Project management,
etc.
● Technical skills- Skills are tailored to a certain sector or program. They either
necessitate a certain level of education or certification and/or are industry-
specific talents.
Some skills you can use- Google suite, Adobe, etc.
Job related blog : Best SEO marketing insights [SEO jobs + SEO course ]
Highlight your work experience

It's critical to include not only your job responsibilities but also your previous work
experience. The job experience area is your opportunity to demonstrate to recruiters and
hiring managers how you have provided value to other businesses.

The job titles you've held and the level of firms you've worked with are the first items a
recruiter looks for on your resume. Stick to a familiar structure to make this information
easy to find.

In reverse-chronological order, list each job. Each job should have its own subheading,
which should include the following details:

Company
Job location
Your job title
Start and end dates
If you don't have enough job experience, you can also add internships and volunteer
assignments using the same format.

Tips to follow

● Use traditional section titles
● Include measured results where possible
● Use keywords from the job description
Read more from us : Proven Rules of Writing A Cover Letter For A Job
Add educational or other certification details

If you have little work experience (such as recent college or high school grads) or are
transitioning to a new industry, and education section will be extremely useful. You may
provide details such as:
Name of institution
Location
Degree
Year you passed in
Percentage/Rank
Awards, achievements, or certifications(to increase credibility)
Format and Proofread your resume
Though you select a resume format at the beginning, designing is equally
important. You need to ensure that the font size, font style, alignment, etc. Formatting
your resume makes it look clean, professional and improves readability.

Tips to follow

● Keep your font between 10-12
● Select fonts like Arial or Helvetica, avoid stylish fonts.
● Make your name and section headers bold or large
● When listing multiple different pieces of information, use bullet points.

After you are done with everything, scan each word in your resume. Analyze the grammatical
errors, punctuation marks, and spelling mistakes. Take third-party help from your trusted
friends, colleagues, teachers, and family members. A third-party overview can reveal
information you might have skipped.

Suggested Blog : Rise of Jobs in the Agrarian Sector Post COVID-19 in India
How To Write A Resume : And let's wrap it up…

If you have minutely read all the points mentioned in this guide to How To Write A Resume, Congratulations! You have
mastered the art of How To Write A Resume. Considering all these points, prepare your resume,
and there you are! Finally, you are good to go on your job search.

In order to understand more precisely refer to resume samples online. Some points that we
have covered here might differ from the resume samples. However, you can make adjustments
according to your preferences.

If you follow all the aforementioned steps and tips properly, you will probably ace resume
writing. Break all the barriers between you and your dream role!
Also read: