Traffic Collision in India is a major source of death, injury, and property every year. The National Crime Records Bureau (NCRB) reports states that Road collisions accounted for approx. 4.96 lakhs collision which caused almost 1.48 lakhs traffic-related deaths in India. The State of Uttar Pradesh, U.P recorded the highest number of road accidents, where on the other hand, Tamil Nadu sets an example by recording the least road accidents.
Every day, somebody loses their precious ones in the unfortunate road mishaps. It would be right to say that the life we are living is a Bloody life!
A lot of people are left on the road bleeding to death and only very few people come to the rescue. But have we ever thought what can be the cause of these common accidents nowadays? Yes, there isn't any single reason but a lot of them. However, the government is taking steps to impose strict rules to curb the situation. Below are some of the reasons for these mishaps
Read our blogs :
Lesser strict rules regarding traffic and road
Humans tend to take things casually, until and unless there is somebody to monitor them. Lack of strictness is one of the possible causes for the growing road mishaps.
Potholes
The shifting of climate and low-quality roads leads to increasing potholes. These holes are a major concern as they attract unwanted incidents.
Bribery practices even when there is traffic
Bribery helps to cover up the mistakes of rash fewer drivers, hence promoting severe accidents in the future.
Suggested Reads:
Drinking and Driving
Despite knowing that driving after drinking is not only dangerous for the person itself but, even for the other person. From celebrities to the general public, drink and drive cases aren't new. It often leads to "Drinking and dying."
Rash driving in the Traffic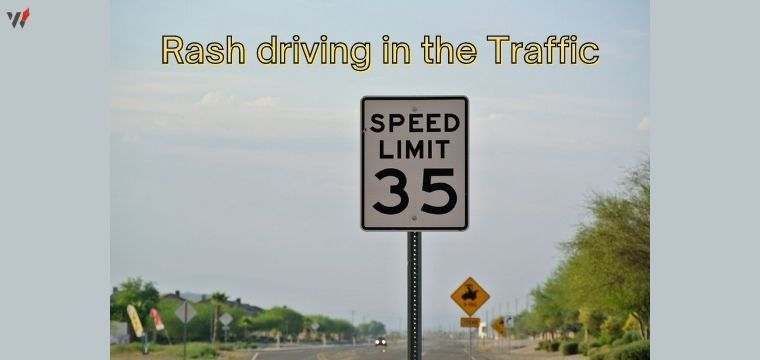 The simple hurrying of reaching your loved ones can drive you away from them forever. Reckless drivers risk innocent lives every day.
Over speeding
So, this one is the culprit behind major accident blows, over speeding is driving beyond the average speed limit. It says, 'Speed thrills, but it kills,' this phrase holds true as we may like adventures, but they do leads to lifelong damages.
Mobiles
The use of mobiles while driving also contributes to growing road accidents. With the constant need to upload and update social accounts, we as people have lost contact with our safety standards.
Apart from the above reasons, there are other minor reasons too. However, if we emphasize on improving the situation, a lot of the issues can be sorted out. We all are familiar with the helmet concept, although no one wants to implement it. Traffic officials are quite happy with the new rule of "Challan", as these fines are actually affecting people. The high fines for breaking traffic rules is creating a hype among youths.
Thus, helping them to go in the right direction. With lots of memes about 'challans', people are enjoying going through this change. With a hope towards contributing our part, we together can make the difference. Learning the importance of life will surely reduce the death toll.
Even if you hit someone by mistake, it is the human ethic to rectify that and not flying from the crime scene. The day we understand this, life will be more beautiful!
Some topics to read on,