Have you ever wondered why certain words in blogs are highlighted in blue or underlined? They distinguish themselves from the rest of the content. When you click on those words, you'll be sent to a new page that goes into specific topics in greater depth. You may also be directed to another section in the same blog. These are links that a writer or web developer incorporates into their text to improve their ranks on search engines.
Link building is one of the SEO tactics for increasing website traffic. HubSpot claims that 51% of marketers report seeing favourable results from typical link building methods within 1-3 months of implementing them. In this article, we will go over some of the most important SEO link-building tactics in depth.
WHAT IS LINK BUILDING?
Link building is simply the process of connecting one website to another using HTML hyperlinks. They are often known as backlinks or external links. Bloggers and SEO experts love link building tools since the more the popularity, the higher will be the domain authority. Some popular tools are Ahrefs, SEMrush, Linkody, Moz Link Explorer, NinjaOutreach, etc.
Internal links, or links between sites inside the same domain, provide your website with the same results. As long as the linking is done genuinely and not in a way of spamming, you are bound to reap the benefits out of it. A significant number of internal links going to a certain page on your site will encourage Google to rank your website on SERPs.
IMPORTANCE OF SEO LINK BUILDING STRATEGIES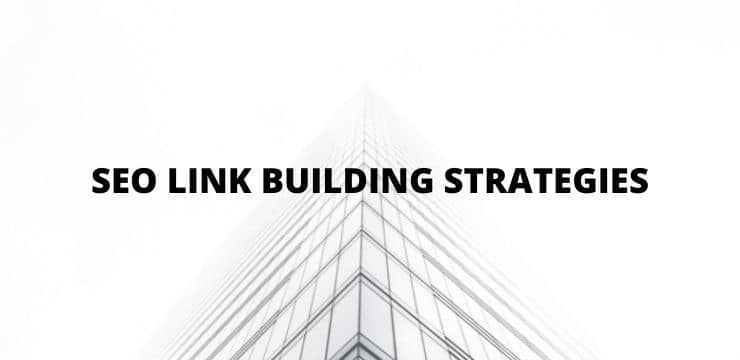 Why do you need to develop links? Google's algorithms are extensive and constantly changing. But something that is constant is the effectiveness of implementing link building strategies . Backlinks continue to play a significant role in how search engines assess whose websites appear for which keywords.
You have created content that has useful information intended to help your target audience. You have implemented all the methods necessary for search engines to find your content. But these alone wouldn't necessarily mean that your blog will rank on Google or any other search engines. According to Search Engine Land, Google's page ranking algorithm considers links as one of the top two factors.
SEO link building strategies are one of the numerous methods employed in search engine optimization (SEO). As a result, sites with more backlinks tend to rank higher. However, there is a correct way and a wrong way to develop links to your website.
Building links strategy indicate Google that the website is a trustworthy source of information worthy of referencing. This is when it will start showing up your website on the search engine results much better. Backlinks, according to 58.1% of SEO experts, have a significant impact on search engine rankings.
SOME KEY ASPECTS OF LINK BUILDING TECHNIQUES
Link building is a vast and elaborate process. All major SEO experts advise their clients to adopt these techniques as part of their SEO strategy. If you are unfamiliar with the basics , you may find yourself drowning in a sea of information. But don't worry – we're here to save you!
This is the ultimate list of key aspects related to SEO link building strategies that will guide you on your SEO journey. You are free to consult it at any time.
LINK BUILDING CAMPAIGN
When you are thinking about managing a link building campaign, there are several kinds of links that you need to be aware of. These may be the links to your website homepage, links containing your company or brand name, etc. You may also want to include links to the "deep pages" i.e. the products and services pages. Another type of link that you need to consider while on your campaign is the link to the keywords that you are aiming for.
The content that you're going to utilise to attract and earn links is at the centre of any link building campaign. It may be anything – images or visuals, infographics or any other type of content. This is something that will make people interested in your material and click on them to discover more.
LINK BUILDING TOOLS
Next in our series are tools. What are these? These are the weapons that you should use to win the game. Be it broken link, infographic promotion, backlink analysis of competitors – they will do it all.
There are extremely efficient link building tools you will come across while planning your strategies. Some of our favourite are as follows:
Ahrefs
GroupHigh
NinjaOutreach
BuzzStream
Linkody
JustReachOut
Moz Link Explorer
Link Prospector
BuzzSumo
Majestic SEO
These tools will make your life easier by planning out the best campaign for you. These pro tools will also save your time by analysing the metrics of those campaigns.
LINK BUILDING SERVICES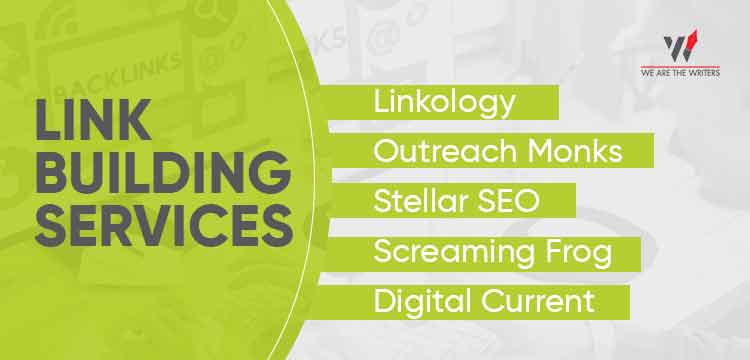 Link building services are online marketing services that are provided by professional SEO experts or well-known SEO agencies. These services enable a business in generating backlinks through building link practices. Organic outreach, guest blogging, and broken links are just a few of the strategies used to build links.
Some famous services are:
Linkology
Outreach Monks
Stellar SEO
Screaming Frog
Digital Current
Sure Oak
ESSENTIAL SEO LINK BUILDING STRATEGIES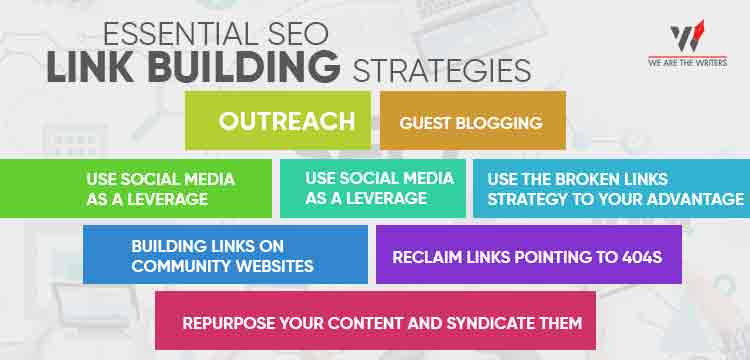 The primary goal should be to create customized campaigns that perform extraordinarily well on search engines. You should be able to organize, execute, and engage with these techniques. There are some excellent steps to follow in order to implement proper backlink strategies. Keep reading to learn more about them.
Outreach
Guest Blogging
Use Social Media as a Leverage
Use the Broken Links Strategy to Your Advantage
Building links on community websites
Reclaim Links Pointing to 404s
Repurpose Your Content and Syndicate them
OUTREACH
Outreach is at the heart of almost every successful SEO link . Let us understand what outreach is. It is a strategy where you contact people in your industry and tell them about you or pitch your business ideas. With an outreach marketing strategy, you plan to build working relationships or collaborations with other businesses or influencers.
All you need for outreach backlinks is just some material worth linking to. It might be your product, service, company, brand, etc. A marketing team can benefit greatly from such a resource. After you have finished writing or composing it, use email outreach to get links. Send a quick email to everyone whose blog you used within your list. Since you've already linked to them, email outreach works better than the standard broken link or link requested email.
GUEST BLOGGING
Guest blogging is one of the simplest and oldest way to bulding link . You write an article for another blog, you link it to your own website – it's as simple as that. However, you must be creative and sincere if you want to gain the benefits of guest writing. Keep in mind you're writing something distinctive for the other site, for example, a case study. Therefore it should be informative, trustworthy, and appealing to your core demographic.
Always guest post on websites that are extremely selective about the content they publish. Avoid using related keywords anchor text in your external links and instead concentrate on promoting on popular websites. Look for websites that are relevant to your industry and run by authentic bloggers. Choose those niche-related writers that you can trust to properly promote your material. When you discover the ones that are appropriate, contact and invite them to collaborate with you. This will fulfil your goal of increasing your online visibility and reputation.
USE SOCIAL MEDIA AS A LEVERAGE
Social media has transformed business, and it may be a tremendous help with your backlink strategy and guest posting efforts. You will be doing your brand an injustice if you are not active on social media.
Even if you are a newbie to social media, you may quickly increase engagement by being more active. As a result, more individuals will be exposed to your brand and site, and they will be more likely to share your finest pieces with their target audience.
Share fresh posts, photographs, and company news to become more active. By publishing it on social media, you may make it easier for your fans to find what they prefer to see. Find influencers in your field, such as renowned bloggers or people with a significant social media following. Urge them to promote it by getting your product, service, or website in front of them.
USE THE BROKEN LINKS STRATEGY TO YOUR ADVANTAGE
Find dead links or broken links that don't work on blog sites. Recommend their authors to replace them with a link to related content on your own site. When you discover a relevant broken link on a website, keep in mind that you have to create a resource that is similar to the broken resource. After that, when you request anyone linked to the dead resource to redirect it to your working resource, they will readily agree to do so. This is how you can leverage the broken links strategy to your advantage.
GETTING LINKS ON COMMUNITY WEBSITES
The next in our list of strategies is the process of engaging in community link building practices. It is critical to establish links from other places. Discussions, message boards, Reddit, Quora, and other similar platforms are excellent venues to promote your website while also building relevant connections to diversify your backlink profile. There is a combination or mixture of "followed" and "no followed" links throughout all these organic backlink networks. Furthermore, on popular discussions on platforms like Reddit, the "no follow" property on links is often removed.
Another smart technique to get a few bonus links is to provide intelligent comment threads on blogs. Almost all links in blog comments are "no follow." Posting comments on popular and trusted blog pieces, on the other hand, will promote your content to reach a wider audience. As a majority of people who visit your material will definitely link to it, this approach can result in additional links.
RECLAIM LINKS POINTING TO 404S
There are most likely a few broken links connecting to your website. Perhaps you shifted the webpage. Maybe the one who connected to your website made a mistake with the URL. Search for those using the Ahrefs tool. Then, transfer these broken links to another similar website. Broken 404 links and name drops that don't lead to your blog can be reclaimed.
Check your Google Analytics for 404 pages that people are linking to, then redirect them to a more active and relevant page while you work on fixing the 404 pages. You might also simply go ahead and update your broken page to retrieve your links.
REPURPOSE YOUR CONTENT AND SYNDICATE THEM
Let us assume you have quite a fantastic animated infographic. It took you a lot of effort into creating it and you just wished it could reach a larger audience. There is a way. It is called repurposing your content.
Why not turn your valuable material into something of another format, like an illustration or a YouTube video? This information can then be sent to visual or video-sharing websites. You can also make a short video on it for Instagram Reels – there are a lot of options.
Another strategy that you can adopt is – syndication. This term simply refers to your content being reposted on another website. Find out relevant websites and syndicate your content there. Make sure your website and the blog post you're syndicating both have a consent form for collecting contact details (e-mail IDs). Syndicated content sites often receive a lot of traffic and publish a lot of articles every day. Companies like HuffPost, Slate, Inc., and Thrive Global all practise content syndication. LinkedIn and Medium are excellent content syndication platforms as well.
FINAL THOUGHTS
Link building is one of the fundamental aspects to consider while marketing your content online. You will have a hard time gathering organic traffic if you procrastinate on your SEO backlink strategies. It is no surprise that having more backlinks gives you more ranking power. To acquire momentum, your content marketing ventures should rely on these links. Experts believe that backlinks and mentions can bring a lot of valuable traffic back to your site. Thus, it should take up the majority of your time and effort. Luckily for you, you can get a few precious tips from this blog itself.