Content is made up of several elements like text, images, animation, videos and graphics. When it comes to designing content, virtual creation has reached to the next level. One of the breakthroughs that have happened lately in that arena is UI UX.
Not everything that is there is created in a conventional manner, i.e., using a camera for images or videos or text for written content.
There are now means to create everything on computers. Those things don't even need to exist in real life. Your imagination can go anywhere with technological advancements.
What is UI ? Learn about UI UX
The UI stands for "User Interface." The User Interface is the graphical blueprint of an application. Input buttons, entry boxes, texts, images and every other item that helps the user interact with the interface.
Not only the components of the screen, the layout of the screen is also a huge part of the UI design. Screen layout, animations, transitions, and even the minutest interactions in the visual elements (micro-interactions) are included.
UI works with aesthetics in close proximity. The aim of UI designs is to create a visually appealing and attractive interface. The work is similar to a graphic designer's. All the visual elements that are present on the screen have a purpose. It could be a part of user interaction, such as sliders and menus (Hamburgers or Meatballs) or it could be a design to cater to the aesthetics.
Suggested Blogs:
• Content Development – The No. 1 treatment of Content
• Content Creation vs Content Curation | An instructive 8 minutes read
What is UI ? Purpose & Types
The UI has opened some unchartered territories in the realm of designing. UI designs all the screens through which a user will navigate while using a website or an app. The aim of UI design is to make the user's interaction simple and efficient.
The UI design begins after the website or the app is created. You can also call it the fixing and beautification or enhancement stage. The wireframes are connected to the visual designs that make the software of the website.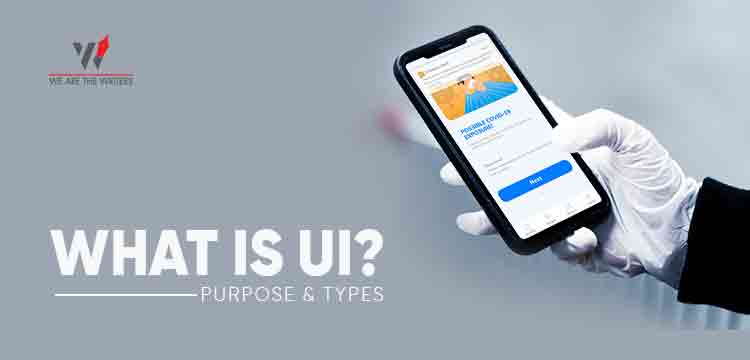 The most popular User Interface designs are:
Graphical User Interface (GUI) – The users interact with visual representations on digital control panels. It is a comparatively lesser technical and more simple interface with attractive visual elements. A computer's desktop is a GUI.
Touchscreen GUI – Touch Screen Graphical User Interface is basically used in portable devices. It is easier to use for almost everyone and can perform a bunch of actions with just the use of fingers.
Voice User Interface (VUI) – The means of interaction or input is voice. Most smart virtual assistants for e.g., Siri on iPhone, Alexa on Amazon devices and Google Assistant on Android are VUIs that take command via voice and deliver the results.
Menu-driven – The menu-driven interface displays a series of screens, or "menus". When a user makes a selection by tapping/clicking on the list format or graphics, it takes them to the next menu screen.
Does UI really make your content design better?
When you present your content along with a well developed User Interface, you make it stronger and more attractive.
How? Read this.
Imagine your content as the most amazing expedition spot in the town. It is a place that has the potential to show the visitors a good time with what is offered.
Now, when you pair it up with a well structured and aesthetical UI design, you are making the most beautiful, informative and resourceful map to reach that expedition.
While the visitors (users) can't stop gushing over the expedition spot, you've given them the joys of the way leading up to that spot.
User Interface is predominantly about creating an interaction between the content platform and the user. The use of design and other elements aesthetically makes the overall look and feel of the content richer.
Thus, having a good UI backing your content actually makes it stronger for the audiences.
Suggested Blogs:
• WHAT DOES A CONTENT STRATEGIST DO ?
What do UI Design makers do?
User Interface is the visual language of your content space. It communicates to the users in a manner that aims to attract them and further retain their attention. UI designers need to make sure that visual language syncs with the class of the platform.
UI designers want their interface designs to stand out and be memorable. For doing so, they can choose any aesthetic they want to but you must not forget about the balance of purpose with aesthetic. People should recognize the purpose of the elements that are placed on screen.
What is UX ? Learn about UI UX
UX stands for "User Experience." A user's experience of the app or a website is determined by how the interaction between the app and the user went. User experience simply is the experience that the user has come across while using the app. It can be good, bad or decent.
There is no single definition of a good user experience. A good user experience is one that meets a particular user's needs in the specific context where he or she uses the product.
Good user experience is something that is easy, efficient and unambiguous. It should not be confusing for the user. The navigation, the interaction, the placement of several key items like control units should be easy to understand and use.
Although there are some aspects that remain the same for every user. Nobody likes ad interruptions, pop-ups and recurring notifications while using content. Constant disturbances caused by such items make it harder for the content to be cherished by the user.
User Experience is highly influenced by the interface. The better the interface will be, the better will be the user experience. It is the personal, internal experience customers go through when using a product's interface (here Content).
An example of an e-commerce website will help you understand it better.
If a customer finds the buying process to be long, complex and complicated, then the User Experience will be a bad one.
UX Design is User-Centered
UX design encompasses the entire user journey which makes it a multidisciplinary field – UX designers come from a variety of backgrounds such as visual design, programming, psychology and interaction design to design for human users.
What is UX? Purpose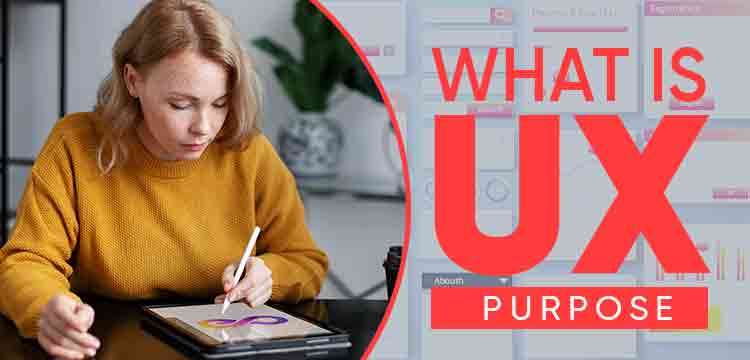 UX designs are an amalgamation of market research, product development, strategy and design to create immaculate user experiences regarding products (here content), services and processes.
They build a bridge to the customer in order to help the company to better understand and fulfil their needs and expectations.
So, what's the deal between Content and UX ?
For understanding the relation between Content and UX, first you will need to understand what Content Strategy is.
In the simplest terms, content strategy is the proper creation, delivery, and governance of useful, usable content.
The content should be valuable, accessible, findable and credible for having a good user experience. Specifically talking about content here, we have mentioned the qualities of content that promise a good user experience.
Useful- Your content should be useful in order to be able to provide a good user experience. The usage of the content doesn't necessarily depend upon the knowledge quotient. Many people identify usage with non practical attributes as well. The audience should not feel like a waste of time after gouging through your content.
Valuable- Value is an intangible attribute that is offered by the content. Even if your content does not educate, inform or entertain, if it is able to add value to the audience, it will provide a good user experience.
Findable- Imagine coming across a great piece of content and not being able to find it again. Frustrating, right? Video and music streaming services like YouTube or Netflix that have millions of files. It's easy to find that particular content as well, which is just one of the reasons why they are media giants. The user experience of these platforms will decline in spite of having a variety of great contempt if the user is not able to find what he/she desires.
Accessible- Why does Youtube have much more users than any other video streaming service? Because it's comparatively better accessible than any other of them. Although it has a premium membership option it still provides great content free of cost and subscriptions. It has multiple options of like, share, subscribe, save, download and even upload that make it a much more interactive space with regards to content as well as users. Thus, it provides a better user experience.
Credible- credible content is always well received. Credibility of content is an attribute that can turn the tables if found otherwise. High quality content, if found cheated or fraud, will start losing the audience that it gained in no time and vice versa.
Suggested Blogs:
• BEST CONTENT WRITING JOBS IN 2021
• 20 Best YouTube Content Ideas
• A well described guide to Social Media Content – 7 minutes read
Summing Up
"It's inherently impossible to design a great user experience for bad content."
If you're passionate about creating better user experiences, there is left no choice other than delivering useful, usable, engaging content because good content is innate in a good user experience.
Good design is good business
— Thomas Watson Jr., CEO, IBM
If you look at it from a business perspective, designing top notch User Interface and User Experiences (UI UX) is the absolute key to ensuring customer satisfaction and building brand loyalty. The customer will only notice or return to a product or service (here, Content) if it is hassle-free and enjoyable.