The third decade of the 21st century has commenced with digitalization. The post pandemic year started with even basic jobs turning techy. New innovations and creativity in this field is leading to a digital upsurge all around the globe.
Pointing towards one of the most rapidly growing areas of digitalization, digital marketing is hugely dependent upon communication. Communication in the digital world is propagated via different channels called the communication channels. All the businesses that practice digital marketing use these communication channels for best results.
Related reads: What is Content Strategy and why do you need it right now ? – 10 min read
What are Communication Channels ?
Communication channels are the mediums that you use to disseminate your message to your target audience. As a brand, you need to communicate your products and services along with the brand perspective in order to boost the sales process.
These channels include emails, social media, videos, blogs etc. all of these are used to promote to the consumers what the brand has to offer.
There are several acronyms constituting communication channels that are hard to decipher for the common people. SEO, PPC, SEM, KPI, CPC and CTR are some of the practices that are important in the digital marketing sphere.
Any and all kinds of online marketing comes under digital marketing.
Communication Channels in Digital Marketing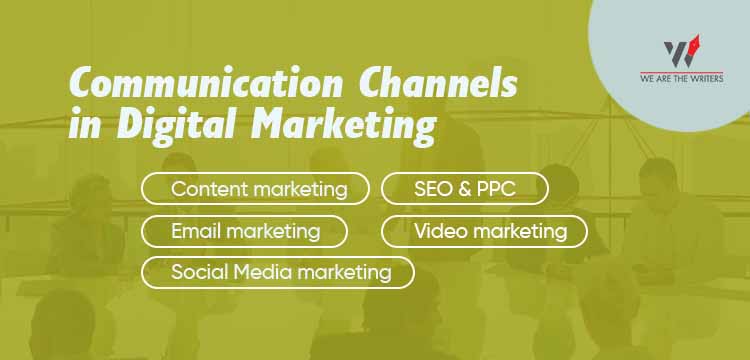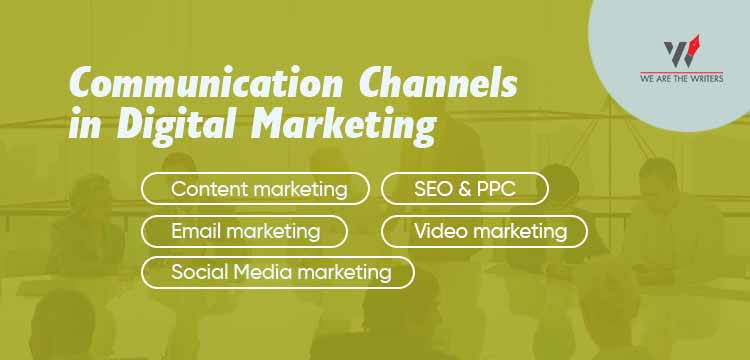 There are various digital marketing channels that you can use in your business. All of these have been proven to deliver promising results. You might have to explore and find which one is the best suited for your brand and what are the various ways of implementing them into you communication strategy.
Content marketing
It can be easily said that Content marketing is one of the most rewarding channels of digital marketing. It also promises excellent return of investments. It has been reported that content marketing has the ability to generate up to 60% more leads as compared to the conventional marketing channels. As a result, after the relationship is nurtured the business gains loyal customers who are very likely to purchase products, more than the usual traffic that visits the website.
Content comprises blogs, video content, news, infographics, case studies, etc, all of these are terrific lead generators. All these promotional content are highly effective in communicating to the target audience.
After you have created or curated exceptional content, it is the time to promote it. You can opt for personalised emails or social media for promoting it on the web space.
Read more at: What is content marketing |4 Best Content Marketing Strategy
Email Marketing
The second channel of communication is Email marketing. The latent supremacy of this communication channel is that it delivers the highest ROI in the marketing methods. The method knows its way to the audience's direct inbox and a little personalisation in the content of the message can make a lasting impact. It can directly deliver relevant content to the inbox that is generally hard to miss in the professional world.
Email campaigns can prove extremely beneficial in increasing the number of customers and sales as well.
You can also use email newsletter to make announcements or just disseminate information. It is one of the best ways to interact with customers and increase the volume of traffic on your website. The frequency of the emails can be daily, weekly or even monthly and it can prove to be a consistent way of strengthening the customer base.
More from us: FREE EMAIL MARKETING TOOLS OF 2021
Social Media Marketing
With about 4.55 billion social media users in the world, Social media marketing has been one of the terms that is on every marketer's mind. People want to incorporate the tactic into their content strategy but are a little ambiguous about what the new technology can do for them.
A brand that has a powerful social media presence is far more easily accessible and fun to use. With the huge population that is on various social media platforms, the credibility on those platforms is considered imperative if the brand seeks a successful growth. About 71% of consumers have recommended brands with strong and active social media handles to others.
In social media marketing, content creation holds the centre stage. The brand can create original social media content that can be shared on the platforms. Various content units like blogs, images, videos, etc are some of the really good options. Such content enables audience engagement unlike the other channels because of the easy access and various features that can be used to express the feelings. The like, comment, share, subscribe, and follow options have changed the whole game for the audience as now they communicate what they want in a much easier manner.
Do Not Miss: 13 USEFUL SOCIAL MEDIA MARKETING TIPS – We Are The Writers
SEO & PPC
Search Engine Optimisation and Pay Per Click marketing are 2 of the channels that are perfectly equipped and capable of streamlining and optimizing the results.
Marketing statistics have shown that about 65% of the marketers are actively investing in SEO. The traffic generated by SEO has a higher rate of conversion than conventional traffic generating methods.
The keywords in SEO are extremely important as they drive traffic organically into the business. SEO also promises a higher ranking of the websites in the search engine results page.
Even if your website is not landing in the top searches in the organic manner, Pay Per Click (PPC), also known as search advertising, promises and enables you to be near the top searches. Every single time that a user clicks on the ads, the advertisers pay for it. You as a brand will be charged only when someone deliberately clicks on the ad posted by you.
Video Marketing
Video marketing is emerging to be one of the channels that will have massive prevalence and popularity. Video content makes an appeal like no other communication channel and thus impacts various strategies.
What do the statistics say:
About 70 % of users have shared a brand's video
72 percent of businesses have witnessed improvement in their conversion rate
52 percent of consumers feel more confidence in a product after watching a video related to it.
It's important to know where to market your video content. You can't expect it to rank best on the results page that is showing all the blogs. Platforms such as Youtube or Vimeo are dedicated video streaming giants that are best suited for marketing video content.
To enjoy social engagement of the video content, promote it on the various social media platforms of the brand. It's a great way to promote the infotainment content and can even go viral.
Video content evidently caters more to the human mind than plain text or an image. It has text, images, audio, everything that you need for targeting the customer for best results.
Suggested Reads:
Importance of Communication Channels in your brand.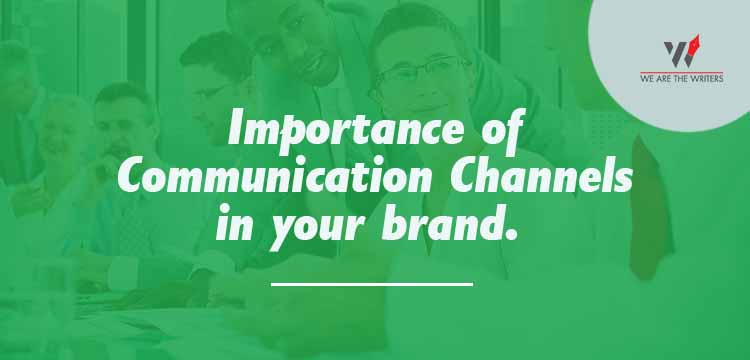 Prevalent online presence
Prevalent global outreach
Cost-effective
Provides visible results in real time
Promises great return on investment (ROI)
Smoothens communication between the business and audience
Better prospecting procedure
Highly interactive can interact with targeted audiences in real time
Highly approachable
Facilitates customization and personalization
Though all the communication channels can be used in your business, there are some that fit better than the others.
Why should you choose for more than 1 communication channel?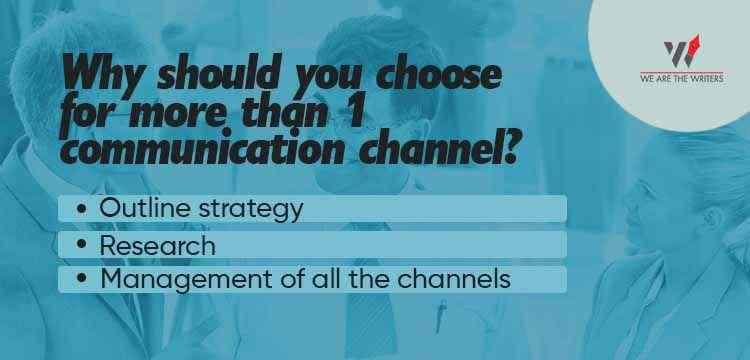 It's imperative to opt for the best suited communication channel if you wish the success of your brand. Employing more than 1 communication channel is necessary and advised as well. The reason being, there is such a diversified audience out there that you need to try your hands on every channel to ensure maximum reachability.
Having said that, you should also not blatantly do every channel, that's just unnecessary work. Explore the best 3 channels that work for you and see the results after putting in effort and time.
It is very important that you fully understand your customers and are able to clear their every query as well as you receive their suggestions or the feedback. Try these all the while you work on any of these channels.
Outline strategy
In order to keep your customers updated, keep an undivided attention to all the channels of communication. To guide everyone it's very vital to add new content once every 7 days and have a proper editorial calendar.
Research
Stay aware and updated. To stay informed about the main events of the digital market, create a daily reading habit, so when you have to give a write up or a content this is very helpful.
Management of all the channels
As this is very difficult to manage all the communication channels because people generally don't remember about it which later on make the customer's messages very cluttered.
To keep this thing in check one should follow a proper routine or habit to keep checking for every new message.
Wrapping Up
A business runs on communication channels. The whole customer relationship is dependent upon the channels that are being used for interacting with the customers. The best practice is to choose 2-3 channels and provide content on them to the various types of audience that you have earned.
Appeal to the millennials with social media marketing and use email marketing for the professional corporate market. The amalgamation of these channels will ensure good returns and will be an asset in your digital marketing strategy as well.