Heroes, Warriors, and Legends are the epitome of a strong legacy created by Marvel and DC comics. Let's face it: we all grew up watching DC or Marvel animated movies or television series based on our favorite superheroes. If not all of the DC or Marvel animated films, we're confident you've seen at least one of their live-action films.
And that's not all; you've probably witnessed fan wars or debates over their favorite comic book publisher— Marvel vs. DC. One thing is for sure, if Marvel is the King of live-action films, DC is the prince of high-quality animated films. That isn't to say that the Marvel animated films aren't entertaining or lack quality.
A few Marvel animated movies stand out as absolute gems, adored by fans all over the world. This blog is for anyone who enjoys Marvel animated films, regardless of fandom. We combed through the best-rated (as ranked by IMDb) Marvel animated films to bring you the real deal from Marvel. So, with our list of the best Marvel animated films, let's dive into the Marvel universe.
SPIDER-MAN: INTO THE SPIDER-VERSE
2018 | ACTION/ADVENTURE | IMDb RATING: 8.4
Among the Marvel animated films, Spider-Man: Into the Spider-Verse is the best of all time. This movie was an instant hit with the general public. All of this is thanks to the 140 artists who worked together to combine computer animation and traditional hand-drawn techniques. Thus, making Into the Spider-Verse a visual marvel for everyone.
The Spider-Verse is a one-of-a-kind blend of comedy, narration, action, and animation that rightfully earns the top spot among Marvel animated movies.
BIG HERO 6
2014 | ACTION/ADVENTURE | IMDb RATING: 7.8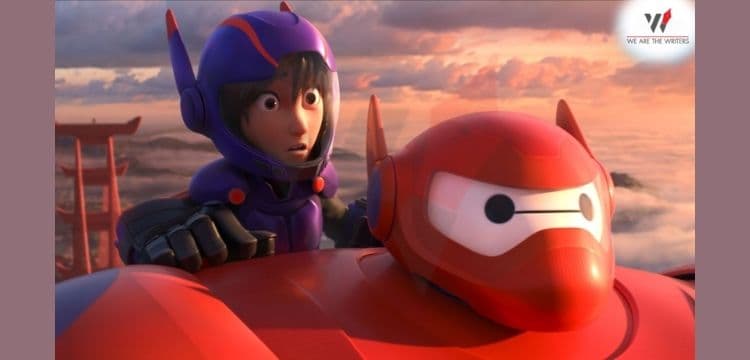 Everyone is a fan of adorable Baymax. Right? Big Hero 6 is one of the most popular Marvel animated movies that did exceptionally well at the box office. This Marvel and Disney animated film tugs at the heartstrings while providing fun moments and sweet action. The best part about Big Hero 6 is how well it handles the mature theme.
Coming to the plotline, it is pretty simple yet entertaining for kids and adults alike. Apart from its simplicity, the audience also found the dynamic duo of Hiro and Baymax entertaining. Overall, Big Hero 6 is without a doubt one of the best Marvel animated movies. So, don't think much; turn on Disney+ and watch it!
HULK VS.
2009 | ACTION/ADVENTURE | IMDb RATING: 7
A great man once said: "Hulk Smash," and he did smash the villains. We love our angry green guy who battles villains, and sometimes, friends. Hulk vs. gives the audience the taste of two epic fights: Hulk vs. Wolverine and Hulk vs. Thor. Yes, this is what you want to see! Hardcore action, destruction, more fighting, and some more of that.
Hulk vs. is a powerhouse of Marvel animated movies that feed you with the best fights. You better watch this film if you love action-packed Marvel animated movies.
PLANET HULK
2010 | ACTION/ADVENTURE | IMDb RATING: 6.8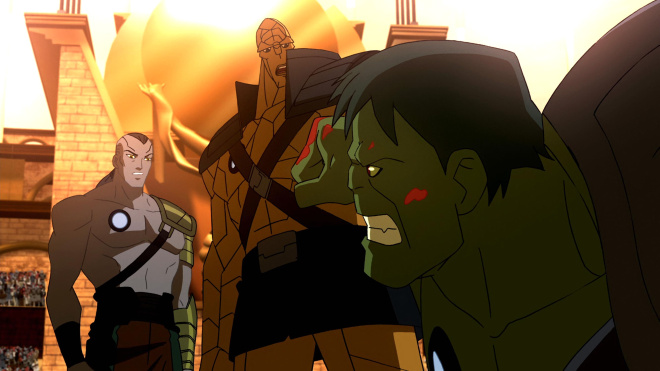 Out of all Marvel animated movies, The Hulk has two high-rated animated films under his name. Our angry big guy leaves earth as it is too dangerous to have him around. He, on his journey, encounters an accident that leads him to become a slave.
Now, Hulk will fight to get out of the system and defeat the bad guys. We think you are going to find Hulk a bit of sweet here and there. Planet Hulk is one of the most popular Marvel animated movies, and we think you should give it a go.
ULTIMATE AVENGERS: THE MOVIE
2006 | ACTION/ADVENTURE | IMDb RATING: 6.7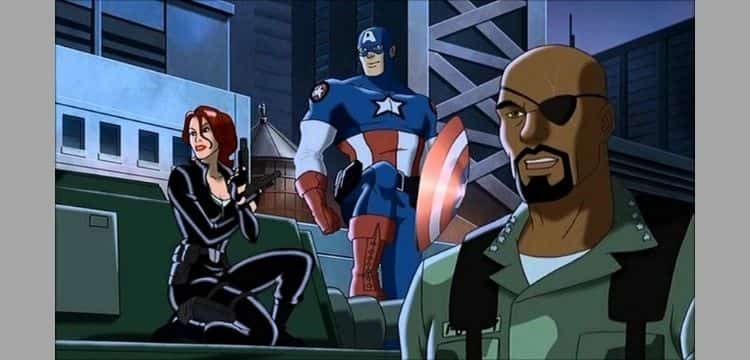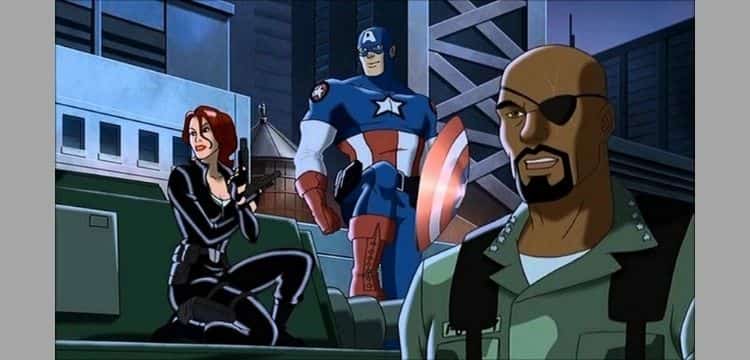 We've arrived at the original Marvel Animated movies universe. Though there are several unsung heroes in the Marvel universe, you are probably familiar with the most well-known ones: Iron Man, Captain America, Thor, and Black Widow. Most moviegoers were even unaware of Gaint Man/Ant-Man and the Wasp, but it is okay.
The film stays true to its comic representation and is a must-see for comic book fans. Watch Ultimate Avengers: The Movie to witness the brilliant animation and spectacular action that existed before the live-action franchise.
DOCTOR STRANGE: THE SORCERER SUPREME
2007 | ACTION/FANTASY | IMDb RATING: 6.7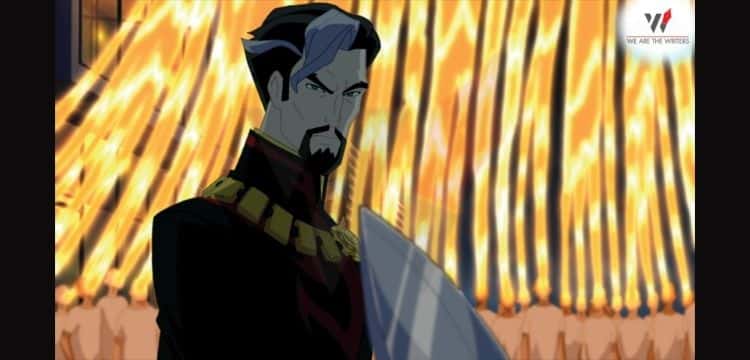 Doctor Strange may sound familiar to you if you've seen him in the Marvel Cinematic Universe (MCU). Yet, he got introduced in Marvel animated movies in 2007 as the supreme sorcerer. Doctor Strange is Marvel's most powerful sorcerer, having learned his craft from the Ancient One.
The film tells the story of Doctor Steven Strange's journey to gaining magical powers while handling his internal struggles. The film also features a battle with Dormammu as well as some stunning visuals and animation. If you want to know the origin story of Doctor Strange, watch this movie.
---
ULTIMATE AVENGERS II
2006 | ACTION/ADVENTURE | IMDb RATING: 6.6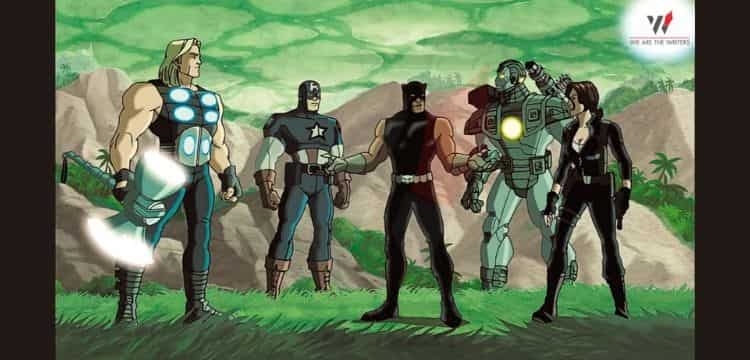 Ultimate Avengers II is a follow-up to the first Avengers movie. And this time, we have a new addition: The Black Panther. When T'Chaka dies fighting Herr Kleiser, T'Challa must take up the role of the King and protect Wakanda. The enemies are still out to steal Wakanda's treasure. Black Panther must join forces with The Avengers to defeat Chitauri.
The artwork and animation are brilliant, and every hero gets to be a part of the action. Overall, we think this is one of those Marvel animated movies that an Avengers fan should definitely watch!
NEXT AVENGERS: HEROES OF TOMORROW
2008 | ANIMATION/ADVENTURE | IMDb RATING: 6.3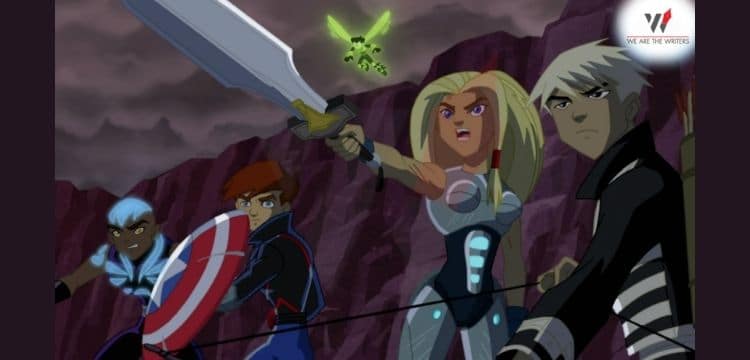 The Avengers are no more, and Ultron is to blame. The children of Avengers must take their revenge and defeat the enemy. But they are not alone; Tony Stark and Hulk, who are now old, step up to guide the new generation.
We think it is a refreshing concept to see the new generation get the spotlight. The animation is excellent, and the narration is fun. Overall, Next Avengers: Heros of Tomorrow from Marvel animated movies will make a good watch.
THOR: TALES OF ASGARD
2011 Video | ACTION/ADVENTURE | IMDb RATING: 6.3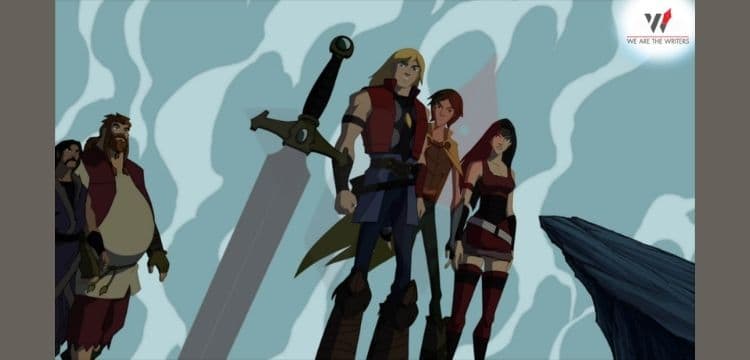 It is time for our Asgardian go to shine in the Marvel animated movies universe! Thor: Tales of Asgard. Yet, sadly enough, it is also the last Marvel Animated Features. Our hero, Thor, is young and still trying to prove himself worthy.
You'll see him wielding a sword, and it feels different, right? But worry not, think of Tales of Asgard as a coming-of-age movie. Thor embarks on a new adventure with his brother Loki and faces enemies. And he must rise to the challenge and protect Agard! It is a perfect watch for Marvel fans and a definite entertainer.
THE INVINCIBLE IRON MAN
2007 | ACTION/ADVENTURE | IMDb RATING: 5.9
Iron man for Marvel cinematic universe is what Batman is for DC animated films. Yet we fail to see a high-rated or fan-favorite Iron man movie from the bunch of Marvel animated movies. The Invincible Iron Man is the origin story of Iron man in the animated universe, where Iron man fights his prominent enemy: Mandarin.
Our hero, Tony Stark, is a rich tech-billionaire who gets his way around everything. Now, he must suit up as Iron Man to save the world from Mandarin. This movie will let you enjoy the essence of Iron Man. It serves as an enjoyable watch for everyone, which is why we think Iron man fans should give this one a go!
IRON MAN: RISE OF TECHNOVORE
2013 | ACTION/SCI-FI | IMDb RATING: 5.3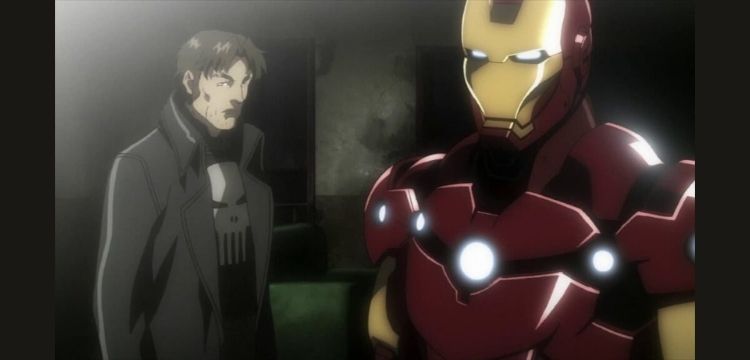 Out of all the Marvel animated movies, Iron Man: Rise of Technovore is the anime-like Marvel work by studio Madhouse. The film also has other Marvel heroes like War Machine, Hawk-Eye, Black Widow, and The Punisher.
Our tech-genius Iron Man gets framed for killing War Machine. Now, he must clear his name and battle the techno virus developed by A.I.M. (Advanced Idea Mechanics).
You are bound to see some great action with the incredible action team-up. You will definitely dig the anime style of the movie and be ready to get enchanted by it!
---
AVENGERS CONFIDENTIAL: BLACK WIDOW & PUNISHER
2014 | ACTION/ ADVENTURE | IMDb RATING: 5.8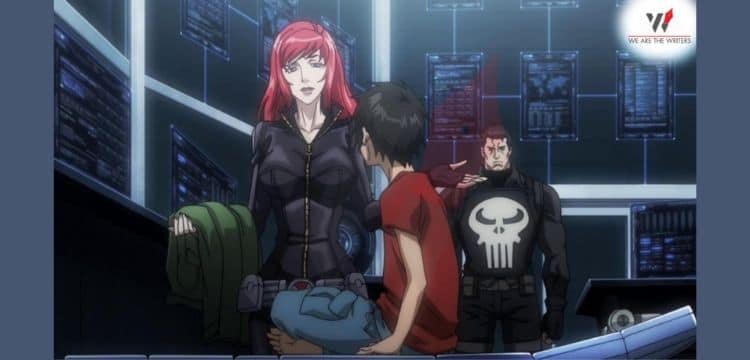 Avengers Confidential: Black Widow & Punisher is one of the Marvel animated movies released as a part of the Marvel Anime project. Studio Madhouse reimagined our favorite Marvel character in an anime-like flow.
Levithan, a terrorist organization, is set to sell a powerful S.H.E.I.L.D weapon that can cause mayhem. Black Widow and The Punisher must track them down and stop their ploy before it too late. With the unusual hero-pairing and great animation, Avengers Confidential: Black Widow & Punisher makes up for a good watch.
---
CONCLUDING NOTE | FINAL THOUGHTS
While Marvel excels in delivering action-packed live-action movies, we believe that they need to focus more on the animated front. Marvel can create outstanding animated films because they have fun characters and crossovers to incorporate into their storytelling.
We hope that Marvel pays attention to the potential plot winners and serves Marvel fans better-animated movies in the coming future. Meanwhile, you can enjoy the best Marvel movies from the list we curated for you.