The 1992 stock market scam is one of the biggest stock market scams in the history of Indian Economy. The man behind this biggest 1992 Indian Stock Market scam was none other than a popular stock broker Harshad Mehta. Indian Stock Market Scam 1992 by Harshad Mehta.
The stock market scam was a systematic scam which led to the collapse of the whole Indian Stock Market. Yes, that's right, the whole Indian stock market collapsed. Though, this scam also led to a more reformed & secured system of Indian stock market. (Source: TradeBrains)
• Read Our Blog BEST HINDI MOVIES ON NETFLIX
About Harshad Mehta: A journey from Harshad Mehta to The Big Bull
Harshad Mehta was a popular stock broker back in 1992. The world used to know him as "The Big Bull" back then as he was one great stock broker. However, he never lagged behind to exploit the Indian Stock Market. (Source: MoneyControl)
Resulting in cracks and then finally crashing the Indian Stock Market. In other words, he burned it to ashes by withdrawing funds from banks fraudulently and presenting fake bank receipts. And then, investing this liquidity to buy huge amounts of shares & bonds across many industry verticals.
Harshad Mehta or Harshad Shantilal Mehta was born on 29th July, 1954 in a Gujarati Jain family. He spent most of his childhood in Kandivali, Mumbai where his father managed to run a small textile business. Later, the family had to move to Raipur, Chhattisgarh.
Mehta completed his schooling there only. After that, Mehta moved to Mumbai again a few years later to complete his education and to work. He has done B. Com from Lajpat Rai College and worked here and there to fill his stomach. He took up jobs related to sales like selling hosiery, cement, and sorting diamonds. What drew his interest in the stock market was his time as sales person in New India Assurance Company Limited (NIACL). Later, he joined a brokerage firm as per his interest.
Mehta after that, rose with increasing responsibility in a few brokerage firms. By 1990 he secured a firm position in the Indian Stock Market and media fondly addressed to him as "Amitabh Bachchan of the Stock market". From there, he was having his time of life, and gaining popularity each day as a successful broker. (Source: EconomicTimes)
He gained a reputation and a number of companies started investing in his firm while utilizing his services. Finally, he was in headlines with the name "The Big Bull".
• Read Our Blog Can Helicopter money be the solution to revive the Indian economy?
Mehta took his last breath in police custody in Thane prison. On 31st December 2001, he complained of chest pain and was taken to Thane Civil Hospital. At the age of 47, he died due to a heart ailment.
How is Harshad Mehta Family currently doing?
• Read Our Blog Will Work From Home Become the New Normal
Harshad Mehta's family too has fought a few legal battles, even after Mehta's demise. In February 2019, the Mehta family finally breathed a sigh of relief. His wife Jyoti Mehta got victory on her side in a case against stock broker Kishore Janani and Federal Bank.
They owed ₹6 crore to Mehta since 1992, as per Jyoti's claims. In addition, Jyoti got an entitlement to receive the whole amount, that too with an interest of 18%( Source: India Today).
In the same month, after a legal battle of 27 years, Mehta's wife Jyoti and his brother Ashwin took another burden off their shoulders. It was when the Income Tax Tribunal scrapped almost the entire tax demand of ₹2.014 crore. (Source: IndianKanoon)
Ashwin Mehta, Harshad's brother, a stock broker in his firm, is now a practicing lawyer in Mumbai. Ashwin was also a constituted attorney for Harshad. He pursued the legal degree in his 50's.
As Harshad's brother, he had to pay about ₹1,700 crore to banks and also fought a few legal battles. Ashwin was also acquitted in a case against duping the State Bank of India. (Source: MoneyLife)
Talking about Harshad's son, Atur Mehta, there is still no assured information. Though, according to a report by Business Standard, Atur got some attention in 2018. When he bought a stake in a textile company, Fair Deal Filaments. Harshad Mehta The Man behind the Biggest 1992 Indian Stock Market Scam.
A Little to Know About the Stock Market
A Stock Market is a place for buyers and sellers of stocks/shares. A stock/share represents the ownership claims of a business or company. Basically, a place where the stocks/shares of a business or a company can be traded. It includes stock brokers for the trade of stocks and securities.
A stock can only be eligible for trade if it is part of an exchange list. India has two exchanges; National Stock Exchange (NSE) and Bombay Stock Exchange (BSE).
National Stock Exchange (NSE) is the leading stock exchange located in Mumbai. NSE is the trading exchange established in 1992. It is the first automated screen-based electronic trading system offering easy trade facilities. Vikram Limaye is serving as the Managing Director & Chief Executive Officer of NSE.
Bombay Stock Exchange (BSE) is a stock exchange located in the Indian Wall Street – Dalal Street, Mumbai. Established in 1875, is the oldest stock exchange of Asia. Shri Ashishkumar Chauhan is serving as the Managing Director & Chief Executive Officer of BSE. Chauhan is also one of the founders of NSE.
• Read Our Blog CAN COMPUTERS OR TECHNOLOGY EVER REPLACE BOOKS
The Fraud – Indian Stock Market Scam 1992 by Harshad Mehta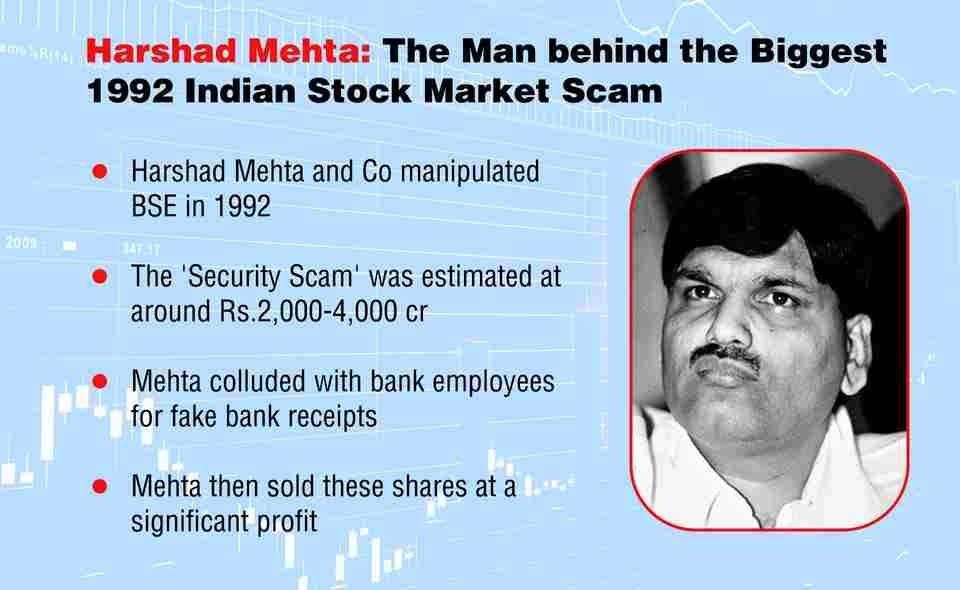 Mehta exploited the loopholes of Indian Stock Market and used them for his advantage. However, having multiple criminal charges for stock manipulation and the 1992 scam, he was convicted only for 4.
Until the 90s, the banks in India had no authorization to invest in the equity markets. Mehta cleverly took advantage of it and as a mediator, took money from banks. After that, He then invested this money in the share market. Mehta used this approach on several banks and scooped out money from them. He demanded the transfer of the money directly to his personal account on a promise of higher interests.
In a Ready Forward Deal, a bank sells its securities to another bank. In this process, a broker acts as a bridge between the two banks. The broker takes the securities of one bank and tries to sell it to another bank.
• Read Our Blog Immunity: The Only Known Medicine to Coronavirus
Mehta back then was a popular, reputed broker and so, used many banks as his pawns, violating their trust. He used to take the cheque in his name and used to invest that money in the stock market. However, when the bank demanded the money for their securities, Mehta used to approach another bank. After that, it became a never-ending process. (Source: TradeBrains)
Similarly, Bank Receipt was another tool to commit fraud for Mehta. However, it was a part of the ready forward deal. In a ready forward deal, the buyer issues a Bank Receipt to the seller. Mehta cleverly took the help of two small banks to fetch out the fake Bank Receipts. And in return of the receipts, he received money from the banks.
Mehta managed to fraud for thousands of crore rupees until journalist, Sucheta Dalal exposed Mehta's intentions through her article in The Times of India. On 23rd April, 1992 Dalal's article in TOI spoke the actual truth and the scam of millions got exposed. After that, CBI investigated the matter and took "The Big Bull" & his brother into custody in November. They fraudulently used the shares of over 90 companies including Associated Cement Company (ACC), Apollo Tyres, Reliance, Hero Honda, Videocon and so on.
Bombay High Court convicted Mehta. He was stated five years of rigorous imprisonment along with a fine of ₹25,000. Later, The Supreme Court of India also confirmed this judgement.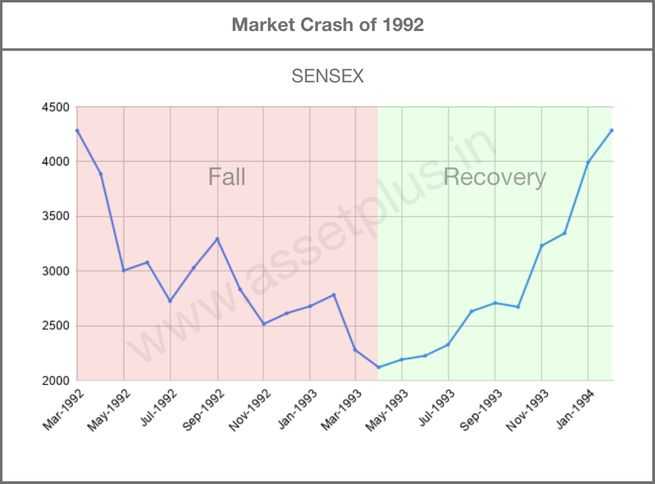 The whole scam crushed the Indian Stock Market and it collapsed. There was a huge fall in share prices. The flaws in the whole system came into limelight, speaking volumes for the need of a security system. The scam also crushed the control system within banks. (Source: ForbesIndia)
The whole Indian Economy faced a huge impact by this scam. The demand and supply were also drastically impacted. The chairman of Vijaya Bank committed suicide, P. Chidambaram had to resign, a lot of arrests were made, many banks were exposed and the whole system collapsed.
Above all, The scam led to the reformed system. It was then that the National Stock Exchange (NSE) of India came into force. A committee was also appointed to look after corporate governance. This led to formation of a new regulatory body; Securities and Exchange Board of India (SEBI). Finally, the Indian Stock Market had a body that became a watchdog to look after the structure and the securities.
• Read Our Blog Cyber-Fraud Insurance Is Need Of The Hour
Screen Space Given to the 1992 Indian Stock Market Scam
Aankhen (1993)
In this drama-comedy movie, the character of Natwar Shah got an inspiration by the story of Harshad Mehta. Natwar was allegedly responsible for a ₹5,000 Crores scandal in the movie. Actor Gulshan Grover is playing Natwar and the director of the movie is David Dhawan. This movie stars Govinda along with Chunky Pandey as leads. The movie got an IMDb rating of 6.7. Watch now on Amazon Prime.
Gafla (2006)
The 1992 Indian Stock Market scam inspired this crime-drama movie. Sameer Hanchate directorial movie Gafla received nominations for many awards and ended up winning third Cyprus International Film Festival. Gafla also got premiered in The Times BFI 50th London Film Festival 2006. It banged an IMDb rating of 7.3. Watch now on Prime Video.
SCAM 1992: The Harshad Mehta Story (2020)
This biographical crime-drama SCAM 1992: The Harshad Mehta Story currently trending on SonyLiv. It is a 10-episode long web series inspired by the 1992 Indian Stock Market scam. (Source: HindustanTimes)
As the name suggests, it is based on the story of stock broker Harshad Mehta. The IMDb rating for this series is 9.5. Scam 1992 is directed by Hansal Mehta.
And stars Pratik Gandhi (as Harshad Mehta), Anjali Barot (as Jyoti Mehta), Hemant Kher (as Ashwin Mehta), and Shreya Dhanwanthary (as Sucheta Dalal). This series is currently the highest rated Hindi-language web series.
The Big Bull (2020)
An upcoming biographical crime-drama which will premiere on 23rd October, 2020 on Disney+Hotstar. The Big Bull is a Hindi-language film directed by Kookie Gulati. It is based on the life of Harshad Mehta and the 1992 Indian Stock Market scam. The film stars Abhishek Bachchan as Harshad Mehta. Also stars Ileana D'Cruz and Nikita Dutta. Due to Covid-19, the film will be released on the OTT platform.
The Bull of Dalal Street (2020).
This Hindi language web series is based on the the 1992 Indian Stock Market Scam. It started streaming in February 2020. It is streaming on The Ullu App. This series stars Iqbal Khan, Naina Chhabra and Priyal Gor.
Where to watch the show Online – Scam 1992 watch Online
You may watch this show online on SONY LIV.
Below are the steps to watch it online:
Visit SONY LIV website or Open the App
Register or login to you account
Select "Originals" from the top menu
Click on "Scam 1992"
Start Binge watching the show
Well watch the show, and you may thank us later.
Some Studies on 1992 Indian Stock Market Scam
THE SCAM: from Harshad Mehta to Ketan Parekh
A book by Debashis Basu and Sucheta Dalal. This book is based on the story of the players that shook the Indian Stock Market. This book is available on Amazon Kindle.
The Harshad Mehta Scam in India (1992)
A study by Management Study Guide covering the topics of stock market, financial strategy, Forex market, exchange rates and so on. This study also covers many stock market frauds including the whole of 1992 Indian Stock Market Scam.
Conclusion
In conclusion, This article has all you should be knowing about Harshad Mehta and his fraud. He was the man who changed the face of Indian Stock Market. His 1992 Indian Stock Market Scam changed the outlook of the stock market. And impacted the Indian Economy drastically. It was after this scam that SEBI came into force. A shocking case in the history of Indian Economy that should be known by all.
Hope you all enjoyed reading it.