Building a blog from scratch can be difficult. There are numerous blogging platforms, but only a few provide user-friendly features. In this article, we will guide you through the process of starting a blogging career online. An independent blogger focuses on writing and building the blogging site. The best blogging platforms help writers to start writing and earn money online. Blogging is only one part of the job. Choosing the right blogging platform to write on is key to reaching out to your audience and earning money by writing. So, here are the 8-best blogging platforms of 2022 to help you get started-
WordPress
Over 90% of bloggers use WordPress around the world. Among all blogging platforms, it has the best user-friendly interface. There are two WordPress controlled platforms with different services.
WordPress.org provides a wide variety of options compared to WordPress.com. It offers free WordPress hosting, unlike the wordpress.org platform and gives the user a free website domain. WordPress.com places ads on your website, which can be removed by upgrading to a premium plan. If you plan to only post blogs, this is the better option.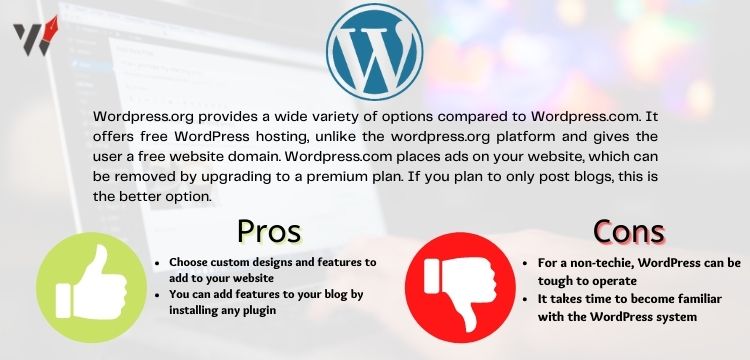 Advantages:
Choose custom designs and features to add to your website
You can add features to your blog by installing any plugin
Disadvantages:
For a non-techie, WordPress can be tough to operate
It takes time to become familiar with the WordPress system
Web.com
It is a beginner-friendly website builder with the option to add a blogging section to your online store or website. The main feature of web.com is its drag and drop feature, which even a non-techie can use to build a blogging website without understanding a single code. The offers start at $2, which is affordable compared to other blogging platforms. Web.com has built-in security and website SEO analytics to increase traffic to your blogging site. However, an upgrade is required to avail of these offers.
Read about How to Rank a Blog on Google: HOW TO RANK A BLOG ON GOOGLE IN 5 EASY STEPS
Advantages:
Easy to set up the blog and start writing.
Affordable plans for beginners.
Disadvantages:
Cannot add custom plugins and features.
Limited templates are available for creating the website.
Blogger
Blogger.com is a free to use blogging platform. It is one of the best blog builders online for beginners, as it handles all the technical aspects of blog creation. It is a WYSIWYG ( What you see is what you get) website where there is no website building knowledge required to run the blog. The platform provides hosting and domain. To start writing on Blogger.com, all you need is a Google account. Google hosts these blogs and provides a BlogSpot domain name.
Advantages:
Most easy blogging platform with security support from Google.
No coding is required to run the website.
Disadvantages:
No plugins or other app features are allowed.
Ads are run on your website by blogger.com.
Know what are Travel Blogs: Writing The World: What Are Travel Blogs ?
Medium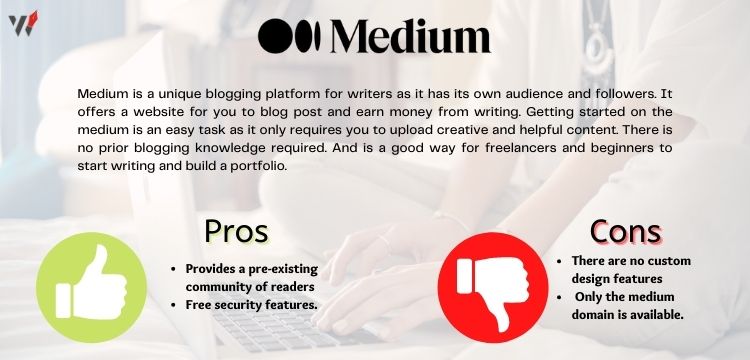 Medium is a unique blogging platform for writers as it has its own audience and followers. It offers a website for you to blog post and earn money from writing. Getting started on the medium is an easy task as it only requires you to upload creative and helpful content. There is no prior blogging knowledge required. And is a good way for freelancers and beginners to start writing and build a portfolio.
A writer can also promote their website and gain leads and followers. To write articles related to your niche, you can sign up at medium.com and begin writing.
Advantages:
Provides a pre-existing community of readers
Free security features.
Disadvantages:
There are no custom design features
Only the medium domain is available.
Read about Branding on Medium: Branding on Medium : 19 Best Strategies
Ghost
Ghost (blogging platform) is a free blog building website. It offers self-hosting and cloud hosting options. The main objective of the site builder is to provide a user-friendly interface and several design options. SEO and social networking are built-in to make it easy to navigate.
One of the main aims of Ghost.org is to avoid complex navigating options and provide a great experience to the user. Ghost (Blogging platform) is an ideal option for personal blogging websites but not for-commercial blogs. All types of artists use ghost.org to create custom-designed blogs.
Advantages:
Simple blog writing platform that does not require technical skills to build.
No requirement for external plugins for SEO purposes.
Disadvantages:
Limited design templates and themes.
Self-hosting is not easy to set up.
Squarespace
Squarespace is not an open-source platform like WordPress and other blogging platforms. But it still allows you to insert codes to enhance the design and interactivity of the website. With the WYSIWYG editing tool, the handling of the blog becomes easy. This blogging platform also has an integrated E-commerce tool to help you build a store online. Creating E-commerce stores is easy with up to 200 plugins. Squarespace helps to make business and portfolio websites. It also offers custom domains.
Advantages:
It gives a domain name with an SSL certificate and other security features.
You can create your domain name with hosting.
Disadvantages:
Limited options for custom designs.
Very few options for integrations or plugins.
HubSpot CMS
With a drag and drop feature, HubSpot CMS is used to build blogs and business websites. Digital marketers often use HubSpot's marketing and CRM tools. These tools give insightful information to increase customers and send a newsletter to the leads. The blog editor helps create SEO content that ranks higher on the Google SERP. HubSpot has an automatic optimization feature for mobile devices. The chatbot builder and HubSpot's live chat feature are free with the plan.
Advantages:
HubSpot's SEO services are available for free with the plan.
Easy setup and hosting by HubSpot.
Disadvantages:
High pricing in comparison to other blogging platforms.
Hubspot does not offer a free version.
Wix.com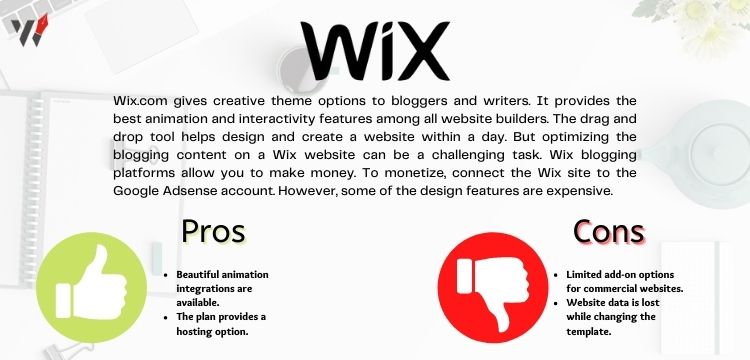 Wix.com gives creative theme options to bloggers and writers. It provides the best animation and interactivity features among all website builders. The drag and drop tool helps design and create a website within a day. But optimizing the blogging content on a Wix website can be a challenging task. Wix blogging platforms allow you to make money. To monetize, connect the Wix site to the Google Adsense account. However, some of the design features are expensive.
Advantages:
Beautiful animation integrations are available.
The plan provides a hosting option.
Disadvantages:
Limited add-on options for commercial websites.
Website data is lost while changing the template.
Conclusion
Selecting the best blogging platforms can be a strenuous task as each of the blogging platforms listed above have their unique benefits and features. WordPress.org is an open-source platform with endless plugin options. Custom themes and blogging websites are easy to build using WordPress. But it requires in-depth coding knowledge if you want to scale up your website. Wix.com is the best solution for creating portfolio websites. With the help of Wix, artists and photographers can make creative sites.
Hubspot is one of the best blogging platforms which allows the integration of CRM and SEO tools. It forms the best source to increase traffic to your website. Ghost.org and medium.com promote minimalistic design. Both of these blogging platforms have simple writing options. Medium.com has its audience and makes earning easy through its premium offers. Through Medium.com, the writer can promote their newsletter and gain dedicated followers.
To sum up, each blogging platform has its unique features. And choosing the best blogging platform depends on the users' requirements.
FAQs ( Frequently Asked Questions)
How do I start a blog, and what are the best blogging platforms available?
Create a blog on a suitable blogging platform. Choose from WordPress.org, Medium.com, Blogger.com after reading the features. WordPress is the best platform for customized options and various themes. Every blog on Blogger.com is hosted and secured by Google.
Which is the best blogging platform- WordPress.org or Blogger?
Both of the websites have their unique benefits. WordPress.org offers various features related to the design and interactivity of the website. Blogger.com is a specially designed platform for blogging and has limited features.
Which is the best blogging platform for startups?
WordPress.org is the best blogging platform for creating commercial websites, stores and blogging websites for startups. It has various plugins and themes. 90% of the population uses wordpress.org. Squarespace is used to create E-commerce websites. And wix.com is used to create attractive business websites.
What is the best blogging platform?
Wordpres.org— For various plugin options and customized designs
Ghost (blogging platform) — Minimalistic design and simple blog features
Blogger.com — Free domain and hosting with Google security
Wix.com — Provides beautiful designs for portfolio websites
Squarespace — User-friendly and best for artists
Hubspot — SEO and CRM tools integration provided
Medium.com — Best for independent writers and freelancers
Web.com— Built-in features with no coding skills required
What is the best blogging platform for affiliate marketing?
WordPress.org is considered one of the best blogging platforms for affiliate marketing as it provides various features and plugins to integrate affiliate marketing into your website. Place highly customizable ads using WordPress plugins.