A brochure is an official way to deliver information, often designed in a visually appealing manner. The first thing we are presented with while seeking services from any organization is the company's official prospectus. We can also refer to a brochure as a leaflet, pamphlet, flyer, catalogue or booklet. They are one of the most widely used marketing tools for attracting the attention of potential clients.
They can be hand-delivered, mailed, or emailed, or displayed on magazine/flyer racks. Catalogue designers usually create various templates on single tri-fold pages of thick glossy paper with logos, photos, and other graphics on them. The brochure design depends on the size, structure and purpose of the catalogue. Let's read about them in detail in the following paragraphs. WATW provides amazing Brochure Design services.
---
WHAT IS A BROCHURE USED FOR?
Brochures are promotional publications that are typically intended to promote a company or organisation's products or services. Online brochures are also in much use these days. They serve the purpose of enlightening potential customers or members of the public about the respective company benefits.
Well-designed pamphlets help in conveying the mission and services of your organisation in a professional manner. They can answer some of the most often asked questions (FAQs) about your company. If you want to teach people about a specific, step-by-step procedure for performing a certain task, these leaflets are the best.
---
HOW DO WE CREATE A BROCHURE DESIGN?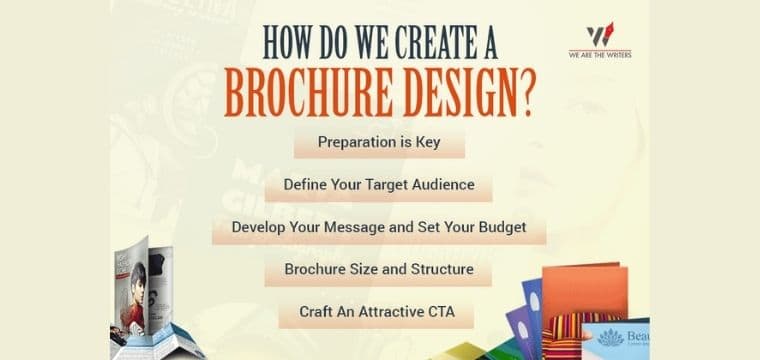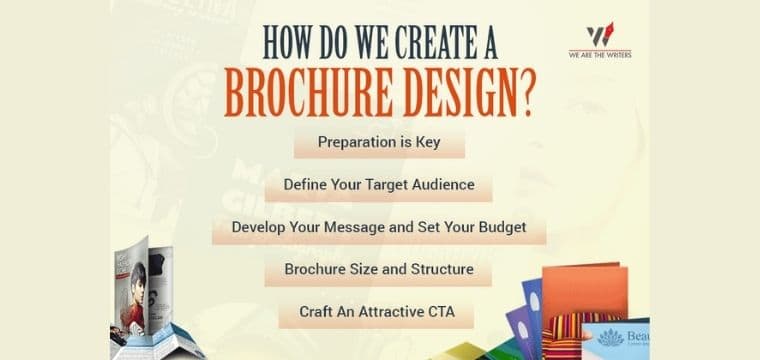 The simplest way to make a brochure design stand out is to make it unique. And the responsibility to make an awe-inspiring pamphlet design falls on the catalogue maker. A superb design will fascinate your readers to read what you have to say. Whereas, if a pamphlet design isn't up to the mark, it will be easier for people to throw it away.
Sizes matter a lot when it comes to designing the perfect copy of a catalogue. Although there is no compulsion to design them in squares or rectangles, a basic structure should be maintained. You are free to experiment with different leaflet sizes and patterns until you discover one that suits your needs. Often, pamphlet maker software offers several templates or flyer examples for you to choose from.
Here are some design tips that will let you stay ahead of the game while making pamphlets or catalogues:
PREPARATION IS KEY
The key to creating a fantastic design begins with planning and preparation. You will find the design process going a lot more smoothly if you prepare before you start creating. Keep in mind the details of establishing your brand identity, theme, and target audience.
DEFINE YOUR TARGET AUDIENCE
Get absolutely clear on who you are designing for before you start designing. Target audience refers to the group of customers or potential clients who are most likely to opt for your products or services. Various audiences demand different designs, and if you don't know who you are designing for, your efforts may go to waste. Ask the right questions:
Who are you designing for?
What are you trying to communicate through your design?
Why are you designing it or what is your purpose for the design?
How will you get them to notice your design? (Or) How will they get attracted to the design of your pamphlet?
DEVELOP YOUR MESSAGE AND SET YOUR BUDGET
Before you even start designing, you need to figure out a clear message you wish to communicate to your audience. That is because the most crucial thing is your message. Figure out what you want to say and how you want to say it, so you can make design decisions based on it.
The next big thing is knowing how much money you have on hand for the design and printing process. Prepare a step-by-step budget detailing how much money you can spend for each part of the designing process. This can help you make the best economic choices and get the best value for money.
BROCHURE SIZE AND STRUCTURE
A catalogue doesn't need to be a thick book of information that only serves the purpose of boring the clients. Make it simple, effective and functional by choosing the pamphlet size efficiently. The smaller the layout, the more probable it is that someone will keep it with them. Make it small enough to put inside a purse or back pocket.
There are different sizes and shapes of booklets or catalogues to take into account. For example, there are catalogues of 4 page bi-fold sizes, tri-fold sizes, 8 page bi-fold sizes, gate fold, accordion fold etc.
Here are some brochure sizes for you to choose from:
Letter size: 8.5" x 11" (or 21.59 x 27.94 cm)
DIN A4: 8.3" x 11.7" (or 21.0 x 29.7 cm)
Legal-size: 8.5" x 14"
Memo size: 5.5" x 8.5"
Tabloid size: 11" x 17"
9" x 12"
11" x 25.5"
These are some of the standard sizes of catalogue that you'll find in free catalogue templates or notice in the online catalogue examples.
Create colorful graphics to highlight and convey your main message more efficiently. Depending on the purpose of the booklet, the materials utilized can be quite relevant. Recyclable materials provide your company with a more environmentally sustainable and "green" appearance. Use headings and subheadings in your brochure copy to make it an easy read.
CRAFT AN ATTRACTIVE CTA
The purpose of creating a pamphlet is to encourage your readers to take some action. You need to tell them prominently if you want them to buy your products/services or take any other action in your business. Give your CTA the limelight in your catalogue copy. Include it in several places throughout your catalogue so that it is hard to miss.
Make it big, bold and easy to notice. Make sure they don't miss your CTA no matter how farther into the flyer they are reading. Because the more prominently you place your CTA, the more likely it is that people will respond to it.
---
POPULAR BROCHURE MAKER SOFTWARE IN 2021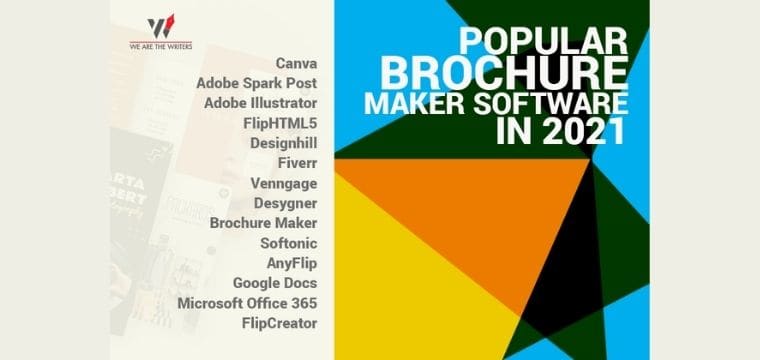 Let's say, you have a message or a design in mind and a clear purpose of your pamphlet copy in mind. However, you need something to give shape to it – a brochure maker software. Don't worry, here are some popular software examples you can access to design pamphlets in 2021.
Canva
Adobe Spark Post
Adobe Illustrator
FlipHTML5
Designhill
Fiverr
Venngage
Desygner
Brochure Maker
Softonic
AnyFlip
Google Docs
Microsoft Office 365
FlipCreator
From these offline and online brochure maker software, you can make, download or print excellent copies of free catalogues. You can also go premium if you want the best services. You can customize them according to size, shape, font and typography, etc. Some of these catalogue maker apps and software also allow you to put your digital articles on your website directly. This makes professional browsing or flipping through online catalogues or e-catalogues extremely efficient.
---
FREE BROCHURE TEMPLATES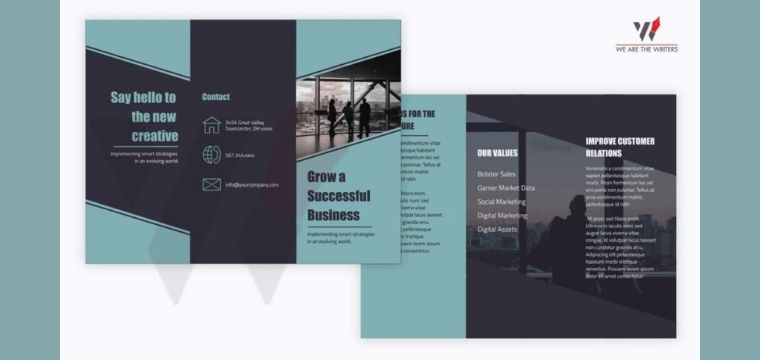 If you are looking for some free brochure templates to download, you have come to the right place. Here, you will find a list of companies or websites where you can get free templates of catalogues. There are customizable pamphlet layouts that may be tailored to meet your needs. For each brand or company, these needs are different. Read the list below to discover amazing websites to procure free leaflet templates.
Microsoft Office Templates – Office 365 is one of the most popular places for free brochure templates.
Canva – choose from hundreds of customizable, free leaflet templates.
Pngtree – has 3900+ free catalogue templates for download.
Venngage – 130+ entirely customizable pamphlet designs to choose from.
Lucidpress – get printable, free templates of attractive-looking pamphlets here.
Here is a tip: to give every design a personal touch, add photographs, symbols, illustrations. Change the colors and theme of the design to stand out in the crowd. You will find some pretty amazing online catalogues for your personal reference on these websites themselves.
---
WHY IS IT NECESSARY TO DESIGN BROCHURES?
There are numerous types of leaflets we tumble upon, daily. How many do we go through in detail and how many do we end up throwing away? Good pamphlet examples are those types of corporate marketing material that companies use to promote a product or a service. Creativity and planning are the two things you need in order to successfully design a catalogue. 
Catalogues can be quite useful on professional fronts. Most of the time, a brochure is transformed into a guide, giving the design value. A potential client or a customer may flip through the booklet to take a quick look at your company services and workings. Functional design is a huge trend right now, and it will continue to be for a long time. We have clearly discussed the importance of creating a unique catalogue design.
A well-designed catalogue is an excellent way to introduce your company. When delivered correctly, they can increase your company's visibility. When it comes to reaching out to new customers, they are an excellent advertising tool. Hence, it is of utmost importance to design exceptional pamphlets or catalogues.
---
FINAL THOUGHTS
A brochure is quite literally the mouthpiece of any company or organisation. Unless you have exceptional catalogue examples to showcase, your pamphlets will not receive enough attention. Instead of just being a means of communication, consider what your catalogue may become in the long term. Make it a statement. In conclusion, let's end this topic of discussion with a quote:
"Design is not just what it looks like and feels like. Design is how it works." –Steve Jobs