Content is deemed as the king, and that is because of its power to have an impact. Content has been here for a very long time but the storm of social media has burst it open and is now for everyone. As the demand of content has increased because of easy availability, the producers have improvised the means of supply.
There are two ways of producing content, Content Creation and Content Curation. But these practices are very different in a number of bases. Its Content Creation vs Content Curation when it comes to deciding the better of the two. In any case whatsoever, both are important for content strategy.
Suggested read:
Meaning – Content Creation vs Content Curation
Content creation is the process of producing your own content from the beginning and marketing it to your own followers or subscribers or audience. The content could be a blog, social media post or thread, video, image, reel, story, TikTok video and so on. Content creation implies the exact same thing as it sounds. It refers to the brand new content on your site that has been created by you, specifically for your purposes.
Content creation involves adding fresh content to your site. This was certainly the original way of thinking when it came to conventional content marketing. Posting unique content worked wonders for the brand, but it also became very challenging to keep up and stay relevant within the brisk -paced world due to social media.
Social media content creation has become extremely popular these days. There are mostly videos and images that account as content on social media content space. Engagement is the most important thing that fuels social media content creation. Engagement is equivalent to marketing in this sector.
Social media has become such a massive market for content because of the fact that it brings content to the customer and not the other way round.
We all have at least a little knowledge about Created Content, but what is Curated Content ?
Content curation is the process of collecting existing information like blog posts, social media posts, videos and images written and shared by other people and sharing it with your followers and audience. Content curation does not require anyone to devise new content, instead it involves taking intriguing content from other sources. It is the process of gathering content from other sources that suit your business's purposes and sharing it through your own site or social media networks for better results.
Curating content still requires effort, but it is believed to be less intimidating and difficult than actually creating content via conventional methods. Curated content works well for small business owners who don't have much time, while content creation can help boost rankings and increase traffic to your site.
If you want to know more about it you can read it here : Content Creation vs Content Curation: A Guide for Social Media Managers
About the Content – Content Creation vs Content Curation
Created content is unique and authentic content that is produced by your company and goes on your social media and online networks like YouTube channel or website. Created content is your own content, you have got all the rights and entitlements. Content creation simply means that you create original content that you market and promote to your audience.
Created content is more imaginative, comes directly from your perspective as a creator. It is more personal and has a purpose of influencing or entertaining the audience more than informing them.
It strengthens your position as a creative producer of content, because you craft it by yourself in such a manner that is beneficial for your own brand. This is a much more personal approach linked to content creation that rests on your vision, perspective, skills and ideas with respect to your company.
On the other hand, curated content is content taken from other sources. It is the content that is already there on someone else's online address. It is not yours to claim, its original rights and entitlements remain with its creator. Gathering existing information related to a topic relevant to your niche and sharing it with your audience defines curated content.
Curated content is predominantly based on research and analysis of a foreign source. It can not entirely be yours though there is still room for customization.
The primary objective of curated content is to inform.
The curated data helps you grow your library of content. Everything that it encompasses might not be original but it has a plethora of content to offer. It proves helpful in solidifying your position as active industry professionals by sharing immense trivia and information. Curated content is produced with a view to generate revenue because of its vast volume.
Also read about:
FACE – OFF : Content Creation vs Content Curation
| Serial | Basis | Content Creation | Content Curation |
| --- | --- | --- | --- |
| 1 | Basic Procedure | Creating content | Sharing content |
| 2 | Source | Self – produced | Foreign Sources, Researches |
| 3 | Nature | Conceited in a healthy manner | Less egotistical, recognises value that the other sources bring to your brand |
| 4 | Scope | Allows you to get creative, take risks and take the content to different places  | Sets a limit to the content. Little scope of further development  |
| 5 | Objective | Creation, influencing, generate leads, showcase the creative skills | Informing, build relationships, builds a library  |
| 6 | Ownership | All the rights and entitlements remain with the creator | Even after customizing and making alterations, the legal rights and entitlements remain with the original creator |
| 7 | How to Use | Can be used in any way, catering to any of the creator's objectives being legally correct | Should be used in a legally correct manner with an acknowledgement of the creator |
| 8 | Promotion | Self – promoting | Cross – promoting |
| 9 | Target Audience  | Custom – made for the target audience, for answering specific inquiries | Provide wholesome knowledge about a number of generic topics. |
Differences between Content Creation and Content Curation
Mentioned above is a table of differentiation between Content Creation and Content Curation. Below are the pros and cons of both.
Content Creation – Pros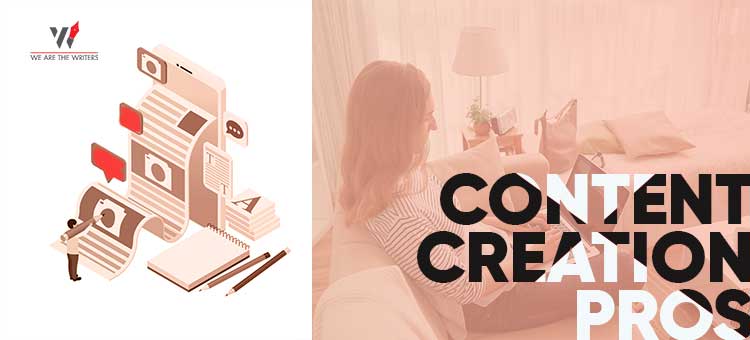 The authenticity of the created content is more trustworthy and has better chances of attracting potential marketers. Both types have their advantages and tend to work better in certain situations. Created content predominantly drives organic search and is a major key to lead generation.
Other benefits are:
Exemplifies your position as a creative thought leader:
Creating content, even on a small scale, solidifies your position in the creative diaspora. Your brand might not have a massive volume of content or followers but it has originality in its content that caters specifically to whatever number of audience you have. It's not generic content that can be used for various reasons. Producing such content requires you to put thought, creative skills and a vision.
Showcases your brand's unique voice, opinions, skills, and knowledge
It is found that 45% of a brand's image can be accredited to what the brand says and the manner it says it in. Original content is a reflection of your brand, its voice, its values and beliefs. As the content is created by you, you have all the liberty to experiment and explore it. You can showcase your skills through it without any barriers. Your opinions, knowledge, perspective and vision will be constituting your content.
Boosts your credibility
Based on its authenticity, your content will gain credibility and so will you. It builds trust and authority. If your audience starts reaching out for your content, it will give you a major boost in making a mark in the content space with your brand.
Cultivates deeper relationships with your existing audience
Your brand has an audience because it connects with the content that you offer them. Creating content prospers that relationship with your audience and makes them await for new content.
Generate leads and drive traffic
More than half of the content marketers feel that generating traffic and leads is the biggest challenge in hand. But it's the most important as well.
Content creation is believed to be extremely helpful in driving traffic. First of all, original content is needed for SEO practices. Google loves original content and if it is optimized for search engines, it is top notch. Original content also has much better rankings on the Search Engine Results Page. You can also add images, logos, links and call to action buttons that would help generate leads.
Content Creation – Cons
Content Creation is rewarding and gives good results, but it comes with a price. It is a highly demanding job as well.
Time Consuming
Content creation takes thorough planning, preparation and pre production hustle of creating. Doing it on a regular basis is very hard to keep up.
Expensive
Creating content can be expensive. You require various things, equipment and technical aids necessary for creating content can cost quite a lot and they need to be updated as well from time to time in order for your brand to stay updated.
Distribution is a hard task
Distributing original content is a hard task because you have to cater to your niche and the audience is scattered. You have to pick up the audience from various places and strategically distribute and avail the content to them.
Content Curation – Pros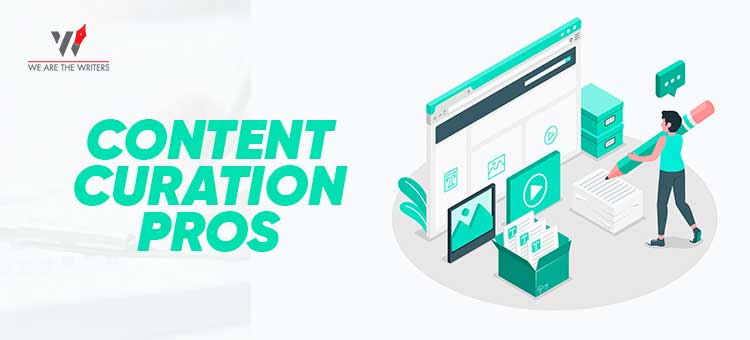 Sharing content from other sources that suit your brand's relevance and is useful for your audience can be a fruitful job. It's hard to create content that is SEO optimised and takes a lot of time. Sharing that content with your audience in a fair manner is the next best alternative.
Time Efficient
Curating content means sharing foreign content that suits your brand in a strategic manner without actually having created it. It's not an easy process but it's definitely less time consuming.
Large volume and variety of content
Curated content is mostly generic content that is made with a purpose to inform. There is a plethora of content that can be taken from other sources to share on your brand. It gives a large volume and variety to your brand in terms of the content that it has to offer.
Low investment
Curating content is basically a research based job. You don't need tools and equipment especially designed to create content.
Eligibility
Curating content is a simpler job than creating content. You don't need to be a highly skilled professional for curating content. Professional creative and imaginative skills are not mandatory to curate content.
Builds new relationships
Curating content and researching help in building new relations. When you share someone's content legally and do not hamper the name attached to it, you form new ventures. The creator and the curator of the content are eventually promoting the same content.
Content Curation – Cons
Curated content is widely used but has a lesser number of followers or marketers than created content. A few reasons can be:
Lack of trust
The curated data should also come from credible sources. It's very easy to lose trust in curated content because it is not original anyway.
Claims and Entitlements
It's a bitter truth that many content creators do not prefer or like curators. They find the act of curation unethical, which legally is not. Curated content is bombarded with claims, copyrights and entitlements from the original creator. It's the biggest limitation of content curation and one of the main reasons people don't opt for it. You need to give proper credit to the original creator else the content will be called a Plagiarized Content.
Content Curation: The fair way to do it
Content curation needs to be done in a correct manner, else it would invite a lot of problems your way. Here are some practices you should follow for a fair use of existing content and perform content curation:
Link and tag the original source
Content creation is all about sharing the existing content. Do it the correct way by giving credit to the original creator of that content. Failing to do so will be called stealing of the content and displaying it as your own. Make sure you link the original source into your content and also tag their social accounts.
Run a deep fact check before sharing
Share the existing content only when you find it adding value to your brand. Do not do it just for the sake of getting traffic and leads. Run a background check on the original source for its credibility before you inculcate their content on yours so that you can stay out of any legal trouble in the future.
Do not insinuate the original content or source
It's highly unethical and frowned upon to insinuate or demean the original content or the source. This is a malpractice and can land you in grave trouble. Do not use the content if you don't like it or find it useful.
Is it really Content Creation vs Content Curation ?
Despite having a constant comparison between the two practices, the truth of the matter is that content creation and content curation actually go hand in hand and can't function without each other. They both are complementary to each other. No one only creates and curates content nowadays. With such connectivity that the world has, you will have to stay updated with your content if you want to prosper.
The rule of thumb is, you need 60% content that you have created in order to have 40% that you can curate and share with your audience. The ratio is justified and is proved to offer best results in content marketing. Created content will give you credibility and a much more dedicated audience whereas, curated content will give the audience a break from branded content and self-promotional content that will have the main purpose of informing and educating.
The key to having the most successful content marketing possible is simply knowing when, where, and how to coherently blend the two.