Fastest Growing Foodtech Unicorn Swiggy. Started in 2014, today the fastest growing food tech unicorn Swiggy has over 10M installations on smartphones. Moreover, it has become a common name to order food from your favourite restaurants.
Every start up and entrepreneur's story is different containing his or her ups and downs. But a well saturated passion and be positive attitude never lets a story felt down. Same goes with the story of founders of the fastest growing foodtech unicorn Swiggy. Alumni of BITS Pilani as Nandan Reddy as well as Sriharshan Majety were on of those successful entrepreneurs. They worked together to start a start up called Bundl, a logistics aggregator. The business was smooth, however within a year they made a realization. They finally realizes that they need to focus on food industry rather than courier services.
This leads to the birth of Swiggy: The fastest growing foodtech unicorn in India. On 14th August of same year, finally their dream came true. They further then roped in Rahul Janimini, as a coding programmer, later as a founding member.
---
FOUNDERS – Fastest Growing Foodtech Unicorn
As mentioned above Nandan Reddy and Sriharshan Majety founded this unicorn start up. Although Rahul Jamini has also been associated by Swiggy, but he resigned recently. Let's have a brief look on both of their lives:
NANDHAN REDDY
Nandhan Reddy is an alumni of BITS Pilani and co founder of Swiggy. His first work remains as the consultant before Swiggy. Along with, he has built a startup, a tablet based POS restaurants. He was also one of the core members of Source Pilani. This was the first rural BPO in India. He then, team up with Sriharshan Majety to found Bundl before starting Swiggy.
SRIHARSHAN MAJETY
Again an alumni of BITS Pilani. He graduated from degree in electrical and electronics. His first work remains as an associate at Normura International in London. After serving there, he came back to India, where he co founded Bundl with Nandan Reddy. This company basically used to solve the shipping problems for a courier company.
RAHUL JAMINI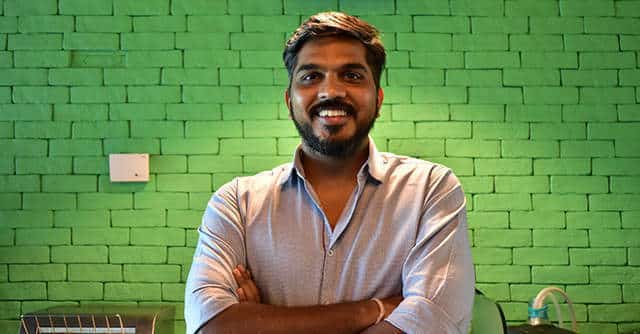 An alumni from IIT Kharagpur has a great history in working field for business and marketing. He was although roped in for technological work in Swiggy, building software and IT for the same. But before that he worked at Philips and Virginia as an intern. He got spotlight in this industry while working with Myntra an ecommerce giant. He made some fast designs for the company which led his entrance to Swiggy. The company bid adios
---
GROWTH – Fastest Growing Foodtech Unicorn Swiggy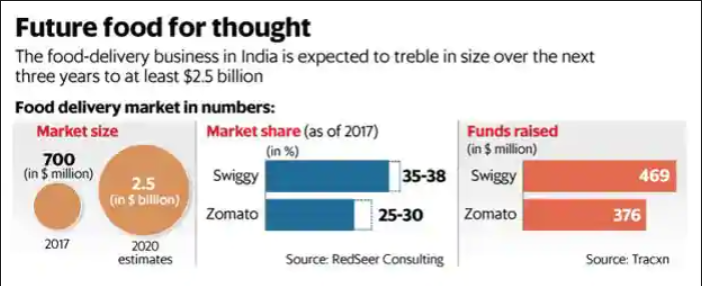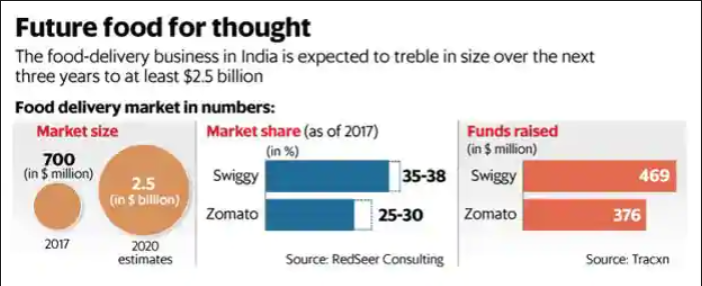 In starting this start up they followed the basic principles of success. Hence, this unicorn start up made a great outcome with great revenue as well as reviews. The customers started dealing with a great delivery system company, which comes in favour of the founders. Within the first eight months they received a 2M dollar acquisition from Accel and SAIF partners. After this venture, its clear that there's no looking back for this unicorn start up. Growing of 15%-20% every quarter is a big thing in terms of food order on daily basis. According to a stats, the Indian Food Online Industry will be valued over 33M dollars by the end of 2020.
---
BUSINESS MODEL – Foodtech Unicorn Swiggy
The business model of the fastest growing foodtech unicorn swiggy is quite simple. They emphasis on the on demand food ordering operations. In short, they work as a connection between the customers and their favourite restaurants as well as cafes. With a great use of innovative technology the team works on single click. A list is updated at the swiggy app consisting urban foodies and cafes. The prices are mentioned just in front of the products or food items.
---
HOW IT IS MAKING MONEY
There are various services through which the Swiggy earn or makes money. Services like advertising, affiliate marketing, swiggy access and pop etc are some main outsourcers. With 20% of commission given by eateries to Swiggy is also one of the main source of income of the unicorn start up. The company hires affiliate which is the newest source to grow income. Furthermore, aspiring affiliate also gets chance to image themselves while working on. Hence, it also allows customers to credit different cards from financial companies.
Ever taught how the fastest growing foodtech unicorn swiggy makes money ?
---
WHAT'S IN THE NAME ?
---
TIMELINE – Fastest Growing Foodtech Unicorn Swiggy
August 2013: Sriharsha Majety and Nathan Reddy Founded Bundl – a company connecting courier companies across India.
2014: Bundl Shut Down
August 2014: Sriharsha, Nathan, and Rahul Jaimini founded Swiggy to connect foodies with local restaurants
August 2014: Started with six delivery executives and 25 restaurants in Koramangala, Banglore
Throughout 2015: Partnered with 100+ restaurants, delivering over 70,000 orders per month.
April 2015: Received its first significant funding of $2 million from a prominent investor named Accel and SAIF partners
June 2015: Raised $16.5 million in Series B funding by Norwest Venture Partners (NVP)
January 2016: Raised $35 million in Series C funding from New York-based investors Harmony Partners and Singapore-based RB investments
March 2016: Swiggy faced 65 times losses by the March-end
April 2016: Swiggy got down to work on cutting costs and strengthening logistics network
Throughout 2016: Partnered with third-party logistics players to build a sustainable network.
Throughout 2017: Swiggy invested in core engineering, automation, data sciences, machine learning, and personalization to understand customers' need of the hour.
May 2017: Raised $80 million, one of its most significant fundraisings in Series E by South African Internet and media conglomerate Naspers
By December 2017: In addition, Swiggy reached 10+ cities, tied-up with over 20,000 restaurants, and accounted for 4+ million transactions per month
August 2018: Swiggy acquired Scootsy to diversify its business in categories other than food.
September 2019: Above all, Swiggy clocks around 1.4 million orders per day, connected with 45000 agents, partnered with 1,30,000 + restaurants and has a presence in 325+ cities of India(Source: Tristate)
According to Reuters, Swiggy, raised $1.25 billion which was led by SoftBank's Vision Fund 2 and by Prosus an technology investor. Now, the foodtech unicorn is valued at $5.5 Billion as reported by TechCrunch.
---
FOUNDERS THOUGHTS
---
WRAPPING UP – Fastest Growing Foodtech Unicorn Swiggy
In conclusion, So without any doubt the fastest growing foodtech unicorn swiggy is the greatest food delivery company in India. They have actually changed the way the country eats. They have played a major role in making food tastier and eating more fun. Swiggy isn't a long way from taking a colossal piece of India's food-tech market. It has been shown through Swiggy's plan of action. So that's all for the topic.
Therefore, This is our thoughts on "The fastest growing foodtech unicorn swiggy". Till then stay home and keep eating healthy food.
Please read through the below mentioned blogs for more of our masterpieces:
KNOW MORE ABOUT THERE STARTUP JOURNEY AND STORY :
Follow Us on Our Social Media Platforms for more Interesting Stories