Enjoy reading blogs and articles online? Does have plenty of ideas for social media content? Hey, you can become a professional content writer. If you can think creatively and pen them down it's a rewarding career choice for you. Want to know more about how to become a content writer? You are at the right spot!
Firstly let me clarify how do we pronounce the word exactly? The majority of people pronounce it as cun-tent and not con-tent. Cun-tent in the English language means satisfied. So it's very important to know its pronunciation write before we look at how to become a content writer.
Well, you reading this blog gives me a hint that you must have been the "one" that is always called to word anything or create anything that needs perfect vocabulary, grammar, and expressions.
Keen to share your wordplay? Love to write on vivid topics? That's how most content writers are before they start their journey as professional content writer. Let's take you on an informative journey at the end of which you might be more focused on becoming a content writer.
Suggested blog:
What is content writing?
As an aspiring content writer, you must know what is content writing all about. "Content" is a broad phrase that refers to the use of words to communicate information to others—whether it's about your company, a concept or a project.
Content writing, in the context of digital marketing, is the process of creating content, usually for marketing goals. Even though this term may conjure up images of blog entries and homepages, it may apply to any type of material that requires careful planning, producing, and revising.
Who is a content writer?
Content writer meaning
Writers who work in content writing provide written material for websites and other forms of media. The content team of a corporation, which strategic marketing planning specialists, project managers, and top executives, assigns projects to writers.
To know content writer meaning is necessary to excel in the field. A content writer's job is to create web search optimized content that promotes the firm's goals and thoughts while also reaching out to prospective consumers. Various kinds of online content exist in today's times. Namely: blog posts, website content, creative writing, scripts, and many more.
A proficient content writer is a self-taught self-learner who speaks fluent English and can meet deadlines. These are the fundamentals if you want to be one! Interested to go ahead in this profession? You can either write content for companies or brands or try yourself as a freelance content writer. Whatever it is before you proceed get yourself clear with all the other details.
How to become a content writer?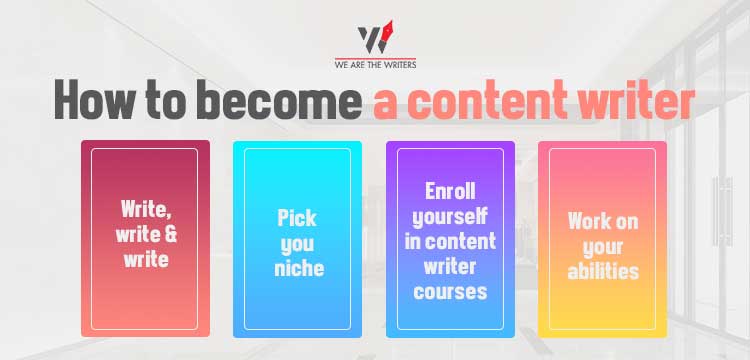 Thankfully there are multiple ways to enter into this field. You just need the required skills and abilities to become successful. The beautiful thing about content writing as a career is that there are no set routes or prerequisites to get started.
While this may seem intimidating at first, it gives you a lot of freedom because you may start content writing at any point in your career, through any path, and in many roles. Following are a few steps that can help you understand better how to become a content writer. Glance it through!
Write, write and write – Many aspire to become writers. But only those succeed who have their hands free on writing. Writing is no exception. It takes a great deal of effort to become competent in almost anything. Lots of folks can write to a respectable standard, but being good takes time and hard work.
Learning never ends. You can either start with your own blog or look for internships with companies. This will give you quality practice and you will become more proficient day by day. While you're at it, you also can learn about other facets of digital marketing.
Pick your niche– Exploring different niches is great but you must choose a specific niche to attain certainty. Wondering how to choose a specific niche?
It's easy to become bored when you're working on something you don't care about. As a result, selecting the area of your preference is a wise decision.
Discover the problems that are simple to resolve. Content writing is mostly about solving your audience's problems. Understand your comfort zone and decide which solutions are easy for you to resolve.
Enroll yourself in content writer courses– No one can teach you how to be creative since it is a natural process. However, the other abilities, such as managing time, communications, and editorial standards, are learned by firsthand experience.
Many online content writing courses are available to assist you in learning the fundamentals of web content writing. They also give you the chance to work on real-world projects, allowing you to get practical experience.
Many websites encourage beginners to write content and have created complete courses to assist them in learning how to write web content. Big names like Udemy, Internshala, ECT, SkillShare, etc. have good and affordable content writing courses that provide certification. Some also link you up to a few internships.
Suggested Blog
Work on your abilities– Being good in writing is enough to achieve success as a content writer? Well, no! You need to act on your other abilities as well.
Problem-solving- In any position, problem-solving abilities are essential, and writers are no different.
Communication skills- You'll need to communicate your thoughts clearly and to a large audience. Communication and teamwork abilities can help a lot in this situation.
Research- Any competent writer needs to be able to locate and verify the information. Focusing on a project will help you go to the bottom of a problem.
Flexibility- As a content writer, you should be robust and adaptive, ready to shift your attention and concentrate on many projects at the same time.
For more skills that you should have as content writer , go through the blog written by Entrepreneur
Content writer interview questions
After the content writer resume has been authorized, you must pass the interview, whether it is for a job or an internship. As a fresher, you might be nervous and want to have a list of common interview questions. This is for your help. Below are a few very common interview questions that you will be asked to get a content writer job or internship.
What do you consider to be the most important elements of quality content?
What are the steps you will take to create content for a client or brand?
How do you find topics to write about?
What is keyword research? And how will you do that?
How do you do SEO to your content?
What is the difference between blog and article?
How will you manage deadlines?
Which format of writing do you prefer?
How to analyze your content performance?
What do you know about content management systems?
Which book are you currently reading? Why did you choose it?
What inspired you to choose content writing as a profession?
Once your content is published, how would you promote it?
What are the steps in the proofreading process?
How will you handle feedback? Negative and positive, both?
Content writer resume
Almost every recruiter in today's firm hires candidates with positive experience and talents, according to the trends and the passage of time. And the most essential thing you can do to get the attention of recruiters while looking for a Content Writer job is to create a well-designed Content Writer Resume.
Have a look at the following samples of a content writer resume and your resume is just a few hours away!
Your name Contact details
(content writer/freelance writer) Address
Email id
Professional skills
As I content writer I plan and work on a project following the below-given steps:
Choosing a topic to write about or understanding the given topic
Finding out keywords for the topic
Doing thorough research and noting down bullet points.
Structuring the paragraphs and begin writing
Properly distributing the keywords in the content
Personal skills
Good time management skills
Team worker
Good conceptual and analytical skills
Willing to learn new things
Strengths
Leadership skills
Punctuality
Prioritizes work over everything
Hobbies
Reading
Writing poems
Singing
Summary
A short summary of your about yourself with the content writer keyword in it.
Academic qualifications
Add your educational details.
Work experience
Enlist all your previous work experiences. Full-time or internships all should be included.
That's all, you are ready with your resume. However, the above-mentioned is just one of the formats that are commonly used. There are many other formats you can prepare your resume from.
Suggested blog
Becoming a content writer necessitates a set of skills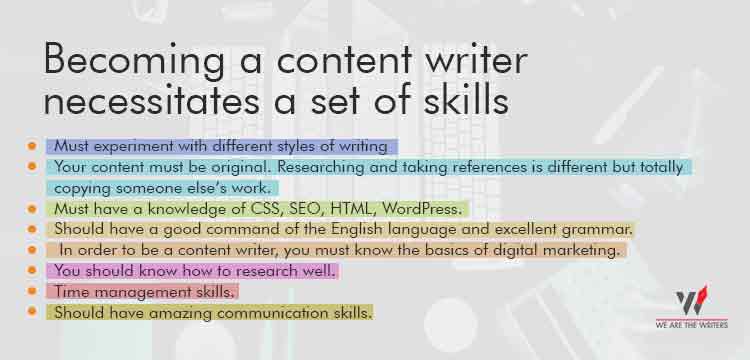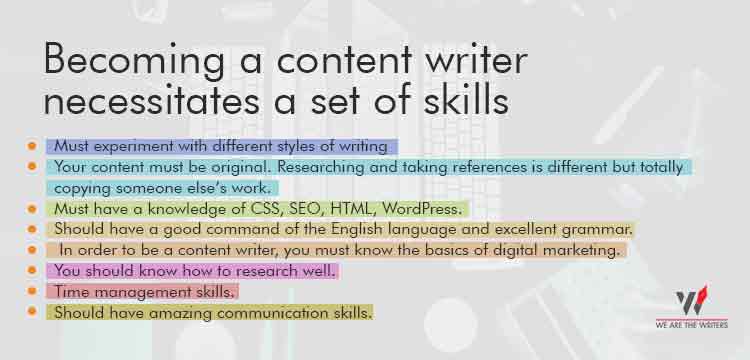 Must experiment with different styles of writing
Your content must be original. Researching and taking references is different but totally copying someone else's work.
Must have a knowledge of CSS, SEO, HTML, WordPress.
Should have a good command of the English language and excellent grammar.
In order to be a content writer, you must know the basics of digital marketing.
You should know how to research well.
Time management skills.
Should have amazing communication skills.
Conclusion
The greatest part you can do initially is to work on your blog as a content writer. There, you have the freedom to express yourself, interact with a worldwide audience, and establish a significant online presence. Furthermore, a well-written blog increases the quality of your profile.
With that, we come to an end. Hope you have learned every detail about how to become a content writer.
See you again in the next blog with yet another engaging topic. Happy writing!