Infographics are rich media that enhance the quality of your content. An infographic is made up of various elements like design, pictures and information. The main reason why you should use infographics in your content strategy is because they can entice the audience to go through your content in depth. They divert traffic your way and increase more views on your website.
While we will surely provide details about the best and most used infographic creator tools later in the blog, you should first understand and learn how to make an infographic. There is no set blueprint that you can follow and learn how to create an infographic, but you can always follow these steps to create the most amazing, informative and optimized infographics for your brand. Jot down your infographic ideas and follow these steps and become the very own infographic creator for your business.
How to make an infographic ?
Step 1: understand your audience
The first thing you need to learn if you want to be a good infographic creator is who you are creating the infographic for. Who is the audience you are targeting? Who are the users that would want to actually consume the content that you are communicating with your creation.
Infographics are highly informative, creative and yet brief. You need to incorporate all the important facts with the best designs and creativity and still have to make it compact. Do not put all the information you collect and find useful in the infographic in order to please every type of audience.
One more thing to focus on is how knowledgeable the target audience is. Infographics about important company data will require a different kind of intellect fior the audience to decipher.
Careful analysis of your audience will not only help you make content for them but will help you in understanding their personas. You can use that information to decide and create infographics for them in the future as well. For example, the corporate audience will want minimal, professional and informative infographics with pictures and text in equal ratio. Whereas, if your target audience is students, you can rope in some creativity and pictures more than simple text.
Blog you may like to read :
Step 2: Get your goals straight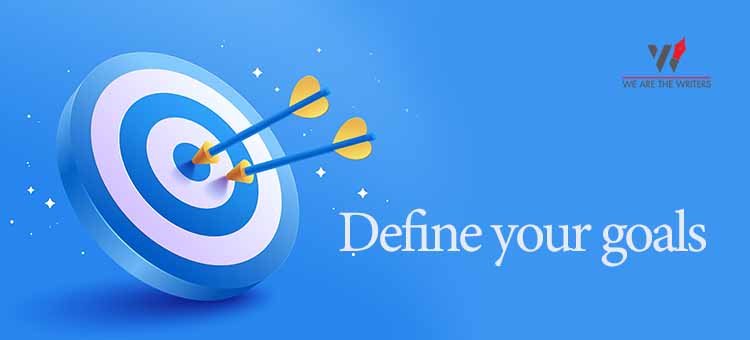 Similar to your audience, you need to understand your goal in order to communicate your messages. If the goal of your infographics is to promote then you must design them with that viewpoint and purpose. Your infographics will look ambiguous, unfocused and scattered if you fail to associate the designing process with a goal.
Goal setting is crucial because you don't want to be directionless while providing your business's perspective and brand voice in the form of various content such as infographics. [ How to make an infographic ? ]
Step 3: Gather all the data
Having a clear picture of your audience and a goal in your mind of what you want to provide are 2 extremely important steps of the infographics creation process. Proceeding with the next step you need to gather all the data. All the data that you collect should be synced to your goals and your messages.
Research your data from all the credible sources. A very important thing to remember is to keep your research limited to just the most important stuff. Overstuffing your infographics with too much information will make it boring and even harder to decipher than articles, blogs or pictures.
Instead of crowding your infographics with everything you find, include points that cater directly to your goals and target your audience in the best manner possible. The more optimised your data is, the more chances it has of getting good results. Include various forms of content such as data points, lists and images to make it more informative and attractive.
Keep a track of your sources and strengthen your infographics content with the credible links to the source pages.
You may also like to read :
Step 4: Select a type of Infographic – How to make an infographic ?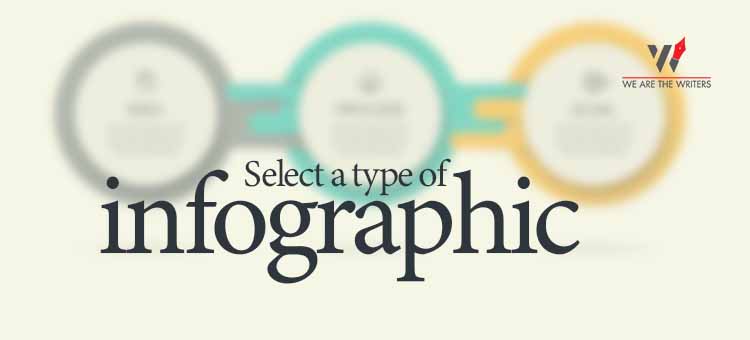 Infographics can be of various types. Every infographic caters to a different kind of audience. The various types of infographics provide you with different layouts in which you can showcase your content.
Different types of Infographics are:
Comparison infographics
Timeline infographics
List infographics
Informational infographics
Visual article infographics
Interactive infographics
Each type of infographic has a distinct way of presenting the information. Visual representation infographics will have more pictorial content as compared to text. List infographics will have data displayed in the form of a list having data points and columns.
Or a process infographic that will have indicator arrows that ease the understanding of the content.
Step 6: Pick and customize a template that fits your message
An infographic maker doesn't necessarily need to create it from scratch, there are tools that have a lot of pre designed templates also. You can choose any template from the endless options and can add information to it. Infographic templates have changed the game of infographics creation for the designers.
Add images and icons
Infographics that are filled only with text are not real infographics. The graphic quotient of the nomenclature is not fulfilled. It must contain image(s) and icons that make it more descriptive, informative and attractive.
Be sure of the images and icons that you include in your infographics [ How to make an infographic ? ]
For the complete guide you may go through the blog on copy press : The Complete Guide to Infographics
Best infographic maker tools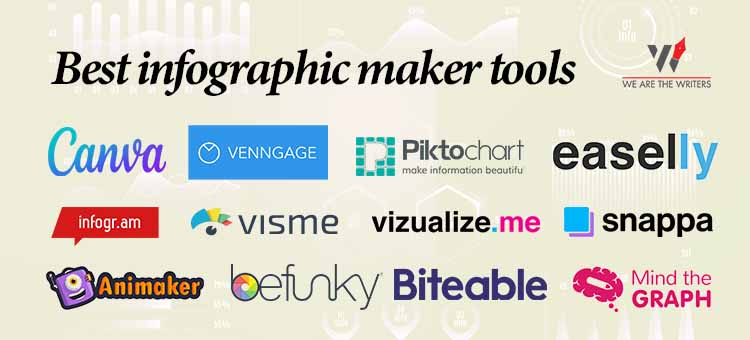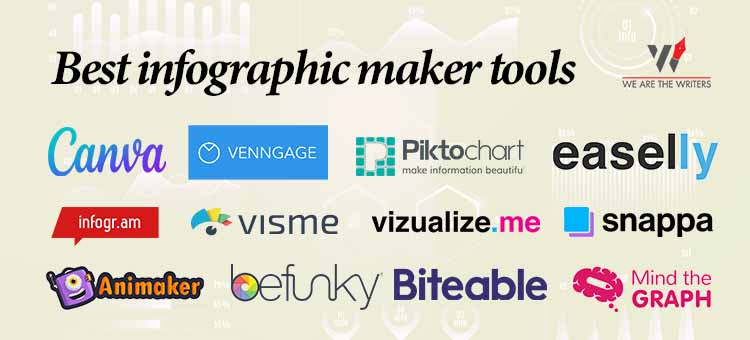 Creating or designing an infographic is not a child's play. There are alot of softwares through which you can create infographics. These infographic maker softwares provide the best options that are used worldwide.
Canva
Canva is one of the top online design tools and a really cool infographic maker. It's so simple that you can just look into the interface and understand what needs to be done in order to make a good design. It has a massive range of templates and you can design a number of things like resumes, social media posts, stories, images and much more.
Venngage:
Venngage is a great library of various content forms including infographics, posters, reports etc.
Piktochart – Best infographic maker tools
Piktochart is a good tool to make infographics and other designs. You can find the typical infographic style: tall and narrow.
Visme
Visme greets you with your designs that you have created on it. Just click on the create button to start a new project. It can be used for many purposes. You can create banners, mock-ups, presentations and infographics as well.
Infogram
Infogram is the best infographic maker for ones who give more precedence to data and numbers instead of text. You will find more analytic and professional templates than the creative and artistic ones.
Vizualize.me – Best infographic maker tools
Vizualize.me offers you much distinction than any other tool. It lets you make an infographic resume. All you need to do is login and you can create resumes in the same way as in Word. it even enables you to connect with LinkedIn and auto-feed some information.
Snappa
Snappa provides you with similar features in the paid and free version. You do not miss out on anything just because you haven't paid for the tool. It also is amazing for ameteur designers.
Animaker
It is best for creating animated infographics. You can create animated infographics step by step and use other elements provided by them.
BeFunky – Best infographic maker tools
BeFunky is an infographic maker tool that helps non-designers in creating professional designs and editing photographs as trained designers would do.
Biteable
Video infographics using this tool can be done very efficiently. It is a video creator tool and enables you to create high definition videos, and that too free. Choose from their wide variety of video infographics templates. Experience the best of both worlds with video infographics.
Mind the Graph – Best infographic maker tools
Mind the Graph is the most scientific of them all. This infographic creator can give you more than 3,000 options in scientific infographics layouts.
You may also like to read :
Wrapping Up
With the whole marketing world putting their best foot forward, you can redesign your business' content by incorporating infographics in it. You can create your own infographic with the help of various infographic design and infographic maker tools.