Well, many of you aspire to become a content writer or maybe a blogger, or some might be looking to brand their product! But some of you may find it confusing about the technical aspects? Like some are confused about keyword research!
How to find keywords? What is the benefit of an SEO platform? Don't know the various sources and available tools for keyword research? Or maybe some of you would like to know, why do we need keywords? And why are they important!
So, folks, I would be sharing some of the beginner's secrets with you and hope you go with an enthusiastic mind, after reading this blog!
Content is not just a medium rather it has become a platform of learning, knowledge, and growth. "Keywords" are considered to be one of the most vital aspects of content management and structure regulation. The implementation of Search Engine Optimization following keyword research and keyword research tools has always been the path of organizing the content also including long-tail keywords and SEO keywords.
I would also give you a brief introduction to terms such as SEO keywords, long-tail keywords, and a few credible keyword research tools.
So, what are you waiting for ?! Scroll down for interesting pieces of information and mind-blowing facts!!
You may also like :
KEYWORD RESEARCH: THE BASIC CONCEPT
To understand the concept of keyword research, we need to know first the sole concept of keywords. Keywords are specific phrases or words that help in increasing the ranking of the online article or blog which you would like to publish or share through google or any online network.
Keywords or SEO keywords play an important role in enhancing the Search Engine Optimization or SEO algorithm of the required online content by matching it with the algorithm of the search engine. Keywords enable the browser to increase their "crawling" and in turn increase the "indexing (the ranking of your published content) i.e., helping you to get your blog on the top of google search.
To rank your online content, you need to research and find the required keywords that help your search engine to crawl more in your content and spread them through various sources on the browser and on the so-called worldwide network.
Although this may seem an easy process to execute, rather the deep prospect of the execution is very important to learn and understand. So, let's begin from the grass level and try to learn each topic very carefully. Moreover, the task becomes easy when you understand it!
"Keywords are like a compass for your SEO campaigns: they tell you where to go and whether or not you're making progress" says backlinko. (Source)
TYPES OF KEYWORDS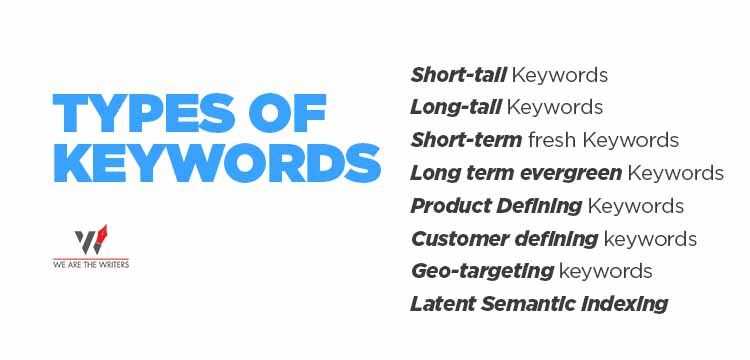 Short-Tail Keywords
They are also known as short or head keywords. These SEO keywords compromise three words or less.
These are very competitive, and also confine them to a large amount of search volume. Having a short size makes it quite complicated to define the exact search intent. They don't convert well, due to their incapability in matching searcher intent. Primarily it has been found that short Tail keywords are used by beginners for researching relevant pieces of information.
Long-Tail Keywords
Consists of three or more words and are more specific when compared to short-tail keywords.
They have much lower search volume but are benefiting as they are very less competitive.
The most important benefit of this type of keyword is they have a high conversion rate and can be applied easily for specific search intent.
They are mainly marked towards clear intended pages such as product description pages and blog contents.
Short term fresh keywords
Application of a fresh keyword works upon the explosive volume of search options and keyword research to attract more organic views and hence increase trafficking. But also, you need to be prepared for a deep fall when the hype for the search is over.
Accompanied by Explosive search volume with a medium competitive rate.
Targeted search intent along with a high conversion rate
Mostly used to create up-to-date engaging content for view.
Long term evergreen keywords
Evergreen keywords are specific SEO keywords that can be applied to any type of content and any time. The search volume might fall and rise respectively, but the changes won't be very extreme.
The views may not be very engaging and may also not meet the expectations, but they will be consistent throughout.
Increasing and doubling those with time, you will have a sizeable and good number of views with your online content.
The more educative content you bring out, the more authoritative position you gain on your content. It also indicates a higher position in SERP, thus providing you more exposure, more organic views, and in turn more loyal readers.
Apply them to create craft detailed informative pieces that can be enhanced and refreshed regularly.
These SEO keywords mainly come with specific search intent provided by a high conversion rate.
You may also like to read :
Product Defining Keywords
These are the targeted SEO keywords that explain and represent your product.
The best way in obtaining your product targeting keywords is a very simple task, i.e., just observe your product list, then create a brief description for each of those. Now look at those depictions and choose two fundamental keywords. Then adjoin them with your product name, and that's it! Your product keyword is ready!
For example: when you want to write about a that you want to sell online, let's take "a mountain bike" now when you describe it, you can put some targeted keywords like "framed alloy mountain bike" or you may also add the colour as a product defining keyword like "Diamond black mountain bike". In this way, the user or the customer would get more attracted towards your product and you will have more user interaction and view on your content or product.
Apply it efficiently on the product pages that give you a stand-out from the generic crowd and effectively match your user intent.
[Accompanied by low search volume and low competitive rate, the correct use of this keyword provides you with a catchier user experience, and remember to detail your product description]
Customer defining keyword
The basic aspect of using this SEO keyword pre-requisites you to have a target audience or target segment. If you don't have any, I would advise you to create an imaginary persona or audience, as the real potential of these keywords becomes more capable then!
Well, when you ask me how? I would say it its quite easy!
Just narrow down your list, think of a particular segment of the audience you want to target your product or content too! Narrow them down by their job, age, their locations, and accessibilities.
Then as you create your audience or target, use that particular segment in your product which would then create your "customer defining keyword"
Didn't get it? Here is an example for you: you create an SEO analysis tool for students and you named it SEO processors. Now suppose your target audience is students, so what you do is, write it as "SEO processors especially for students" so, in this way you reach your audience, and your planner, content, or tool reaches out to the respective audiences.
You can also provide customer or user testimonials, which in turn may provide credibility and attract readers with the same portfolios towards your content or product, and hurrah! You have increased the trafficking of your content!
[ provided by low search volume along with the low competitive rate, and specific search intent. Has a high conversion rate; use it to approach your customers directly to instill a sense that the product or content is specifically suited for them.]
Geo-targeting keyword
Using this SEO keyword, you can target a specific neighborhood, city, or even country for drawing potential clients and customers towards your product or content!
This is very useful in cases of local businesses, small products with less branding and content which you want to promote locally or at an initial stage.
Thinking about how can you get this keyword? Well, that's pretty easy! Well, the area in which your business serves or the region from where you want to market your content or product is your geo-targeting keyword.
You may already spot your location on display located at the sidebar, but integrating it with the content itself can bring out a big difference.
Can't get it, how it works? Let me explain to you! Suppose you have newly opened a local café named "eat and drink" in your region, for example in Los Angeles, and you want to attract customers and let them know about it. So, what you do is insert your area name with the café name, which would be shown as "eat and drink at Los Angeles" so this is how you spread your business or product through this local SEO keyword.
Geo-targeting keywords are crucial for local businesses that aim to establish and enhance their local SEO.
[Having a deficit search volume with a comparatively less competitive rate, defines targeted search intent, also has an elevated modification rate; beneficial for local dealings, and delivery setup retails.]
Latent Semantic Indexing
LSI (Latent Semantic Indexing) Keywords are theme-based keywords that are closely referenced and associated with the base keyword.
Let's see to it through an example, suppose your main keyword is ice, then respectively its LSI keywords could appear to be depleted ice, deep freeze ice, ice shrinkage, etc.
To note the lists of the LSI keyword, you need to first decide and think about the main keyword.
LSI keywords are useful in a way, that it helps to create topics that fit a broad theme and they also target all the smaller branches of the main SEO keyword, based on one root keyword.,
In other words, your blog link will be linked up with vivid keywords that other users seek. This keyword will work efficiently for e-commerce or blog posts structures.
[efficiently provides you with a low search volume, also has a low competitive rate, specific search intent, along with high conversion rate; they mainly boost the ranking signal for the main keyword and also help in indexing and ranking up for your blog article]
KEYWORD RESEARCH
The sole aim of the keyword research through SEO keyword based is to bring more visitors or attract more audiences to your online content so that the trafficking of your content, product, or online content increases and the chances of ranking increase more. Although how complex or extensive this process may seem, but with the advancement of technological keyword research tools and development of ideas and software along with proper thinking and understanding of the logical aspect of the algorithm, the process becomes a bit easy to execute.
Keyword research is one of the most vital aspects of content creation, product expansion, or any online/ e-commerce ranking. As a content creator, you must be very specific about the type of keywords to be used and also may focus more on correct researching of these keywords from credible sources.
Remember, as a content or online blog writer you need to focus more on finding suitable keywords for your blog, irrespective of the type of keyword research tools you know because the choice of the keywords is entirely dependent on the writer.
You may ask me there are various sources and tools for keyword research, but how do we start? and what are the various factors affecting these searches?
I think you also want to know some of the credible and result-gaining tools or places to research keywords from right!
So, hold on, I will try to answer all your thoughts and queries on keyword research, through the next section!
TYPES OF KEYWORD RESEARCHES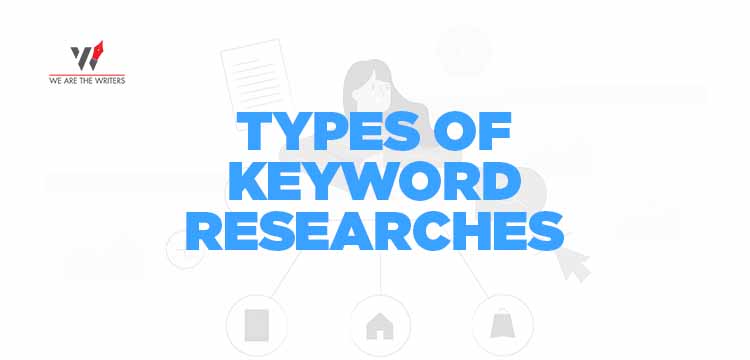 Traditional:
When you work with the traditional keyword research method, you generate research keyword ideas from a root or main keyword.
The root keyword, in this method, is referenced to be stated as the short-tail keyword.
Well, simply to put it in this way, what you do here is extract the long-tail and medium-tail keyword phrases or ideas that contain your root keyword.
More importantly, focus on finding SEO keywords that make ranking comfortable on an organic search basis and attract a huge volume of monthly look-ins and quests.
Most importantly, you can easily identify these keywords using different stats and tables available on your self-preference keyword tools.
Competitor based:
Normally here you master ideas from keywords dependent upon your competitors ranking through them.
You then type the domain URL of your referenced competitor on the premium keyword tool and wait to see the keywords ranking in organic research.
You then look out for the keyword SERPs position and extract them to optimize according to your own needs.
This research type best suits published blogs with having pages for specific sought terms.
You also get to observe the volume and asperity of each keyword, but rather you also learn about the position of the page and its ranking on Google organic search.
You may also like to read :
STEPS TO PERFORM A GOOD KEYWORD RESEARCH
As many of you would be thinking about how to exactly approach or learn the process of keyword research? Even, what are the goals you need to know about, apart from factors and types that affect them? There would be many queries looming around your head!
But yeah, don't worry I will be discussing it here briefly!
Step 1 : Realize your niche
Before you hurry up to find out what are the suitable keywords to optimize your page, content, or expand your product. I think it would be best for you to start by going deep and learning more about your topic or niche.
Having sufficient knowledge about your topic or product helps you frame up your strategy. You can know more by:
Talking to your potential customers or learning more about your audience.
Get in access to various sites or discussions related to your niche!
You can go with online forums, discussion groups, or even take reviews for your product or content relating to the same niche on other platforms.
Step 2 : Establish and define your goals!
You need to set your target parameters and goals before you start anything. Especially in the fields of e-commerce, you need to be sure of some introspective questions, like:
What makes your content or product special?
What is your product, website, or content about?
What makes you different from other competitors?
How do you evaluate your audience?
Where do you want to share your brand?
Once you have these answers with yourself, it provides you with a clear mind and you can plan for SEO optimization and keyword research in a proper direction!
Step 3 : Ready a list of relevant topics with you
Referenced with your main product or topic, and after you set your goals, try to break your main topic into various small segments. This would help you to make a list of those segments or aspects which you would like to rank on Google.
Let's say, for example, you want to write content on "hurricanes", then some topics related to this can be:
What are hurricanes?
Devastation and damage of hurricanes?
How do hurricanes occur?
These topics must be very much related to your product or brand, and should also connect your target audience or reach your designated parameters!
Step 4 : Make a list of your root or seed keywords
After you break your topics into small related ones and you have defined your audience or customers, then it's high time that you focus on creating your main or root keyword from where it will help you get your related keywords too!
Wondering how can you get your seed keyword, pretty simple! You just need to put your need on google search as simply as possible!
Step 5 : Use efficient keyword research tools
Well, many of you would ask yourselves that whether to start research from a keyword research tool or search using normal google searches (as they are also sources of keywords), but I would suggest that the use of keyword research tools A your brand or content with an obvious business advantage. Although the choice is completely yours!
It prevents you from getting slowed down in dealing with a bunch of keywords and helps you plan efficiently your content and SEO execution.
You will have options like :
Google keyword search or Google Keyword planner: As various users search for different products, contents on google so, google has a directory of stored keywords or sometimes they pop up as "topics also searched for", " related topics also" etc.
There you can get your desired keywords also. Unfortunately, Google only provides you with fixed search volumes and fewer keyword analysis options such as keyword density, CPC, keyword difficulty, and other factors.
Keyword Tool: Tools like these and various others research tools like Ubersugget, SEMrush, etc will give you many more stacked details like CPC, strength, associated domains, and links. These tools also help you provide a clear direction for progressing on the right path for your intended search phrases. Moreover, it can also provide you with creative and professional ideas on related keyword phrases.
All you need to do is :
Open the tool
type in the main (or seed keyword) into the keyword search box
It will then give you a list of related keywords, including also those that contain prepositions, conjunctions, and questions
You can also check out other features such as finding keyword strength, CPC, keyword difficulty, and ranking.
Step 6 : Uncovering the search intent
For a content creator or a product distributor or even sharing your brand content on the network and reaching your target audience or parameters, require you to understand the "Search Intent".
Search Intent is the reason that drives people to search for a specific term. Those driving factors can be:
What are they searching for?
Are they searching for buying something?
Do they seek answers to their questions?
Do they seek a particular website?
All these factors help you narrow down your content audience and help you re-evaluate your target goals and parameters.
Step 7 : Look for long-tail keywords
Long-tail keywords as already mentioned are more descriptive than short-term keywords and also have a high conversion rate thus, in turn, helping increase traffic for your content and thus increasing the ranking of your content.
Step 8 : Have a look at your competitors
Just looking upon your content or brand isn't enough; you also need to see what your competitors are doing. You can look through the search volumes and fluctuation in keyword strength and difficulty through your free keyword research tools to find out what new keywords are searched.
To completely analyze the competition, you need to use the premium features of keyword research tools, as the pro-analysis features are mostly available there.
FACTORS AFFECTING KEYWORD RESEARCH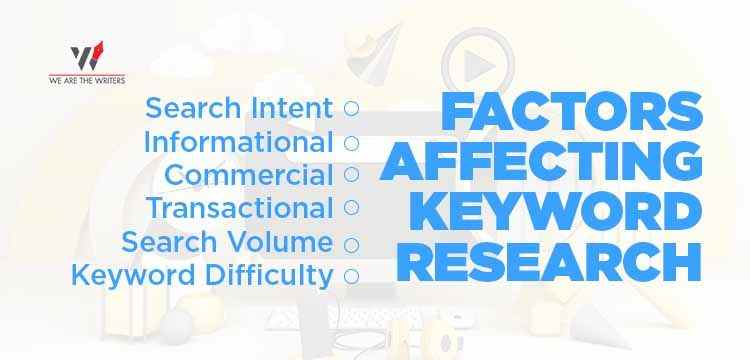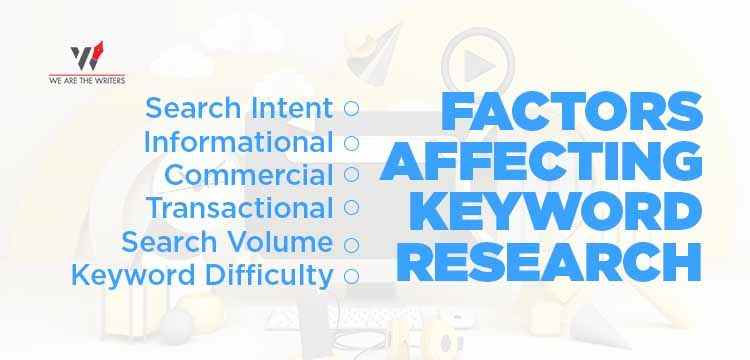 Although most of the keywords share most of the phrases, rather they are still fundamentally unique in their sense.
Yeah, I understand, things are getting quite too deep, but hold on, it's sorted! Just scroll and uncover the secrets!
Some of the SEO keywords are easier to rank than others, whereas some are searched more often compared to the less searched ones. Some of the affecting factors of keyword research are:
Search Intent
To do keyword research effectively you must choose keywords that should reach your target audience and in turn will help them in finding your content. When you research a keyword with the matching search intent for your blog it helps in drawing more qualified traffic to your pages. This follows by more spreading of your content, more increase in sales, greater audience reach and sometimes subscribers also!
Informational
Most of us search for informational key phrases if we want to know something on the internet. For example, "buy jackets" is a keyword phrase, but it doesn't clear upon the exact type of information you want to know. So, for making a good informational intent keyword, you can use the 5w's: who, what, when, where, and why! Adding these prefixes makes the keyword more informative and more reaching out.
Commercial
This factor of keyword research best works for people when they plan on buying something while they are unsure about it. For example, if you search "best shoes for running", the search result will provide you a customized search result in an order of best to good product range, isn't that awesome! Well, this was possible because adding prefixes like best, top, perfect, etc brings you results directly from e-commerce and many reviewing sites that allow you to enquire and look through the product in an elusive depending upon your added prefix.
Transactional
This factor of keyword research helps you pinpoint keywords with financial intentions, leading you to links and sites, where the product can be bought! They are often represented by suffixes such as discount, coupon code, deals, shipping, etc. This is a very effective factor for marketing and e-commerce of your content and product.
Search Volume
Indicates the number of times the specific keyword was searched; search results can be seen in any keyword research tool.
Keyword Difficulty
This depicts the degree of competition one has to face for indexing and ranking your blog on the network and through the search engine.
TOOLS FOR KEYWORD RESEARCH
Ubersuggest
This new keyword research tool developed by "Neil Patel" is one of the most efficient and easy to research keyword researchers which comes along with ON-PAGE SEO and OFF PAGE SEO features also. You can type your main keyword in the keyword overview and then get the related keywords in keyword ideas, that too along with ranking, CPC, and keyword difficulty, and also keyword ranking!
SEMrush
Another one of my favorite keyword research tools, which provides you with the same features as Ubersuggest. But this tool has been also providing a wide variety of profitable results for keyword research. Similarly, here also, you can find about the keyword density, the cost per count (CPC), pages linked to your related keywords. Even you can also understand concepts of backlinking, creating traffic through optimized SEO keywords, marketing your product and content thoroughly through it!
---
Although both of these tools are paid tools, that means you can't use them for free, although using paid tools and platforms is always a better platform for understanding and getting a detailed analysis of their exclusive features. But I got to tell you some free or to say kind of free tools!
Yeah, they exist! hopefully, tools like normal google search where when you type a single word you would get a list of related searched words. So even you get your main keyword and related keywords.
One more tool is "Answer the public", although you can only use it for free 2-3 times a day. So, it also provides you with related keywords, informative keywords, and a wide variety of vocabulary prefixes and suffixes. Great handy tool for your need, especially for bloggers!
THE BOTTOM LINE
Keyword research and SEO have become an integral part of today's future shaping world, opportunities in content-related topics are in high demand. So, I hope that I was able to clear out some of your queries and shed some light on mastering the art of research through keywords.