Gandhi Ji, an unforgettable personality, an unquestionable mind and an unbreakable soul. People of India and the rest of the world knew him as Bapu or Mahatma. All of us, from the very childhood, have read loads and loads about Gandhi Ji, his struggle for an Independent nation and his ethics. From history to headlines, we have always come across this one name, Mahatma Gandhi.
The incredible person who fought for India, till his last breath. Mahatma Gandhi is an iconic figure, remembered for his fearless and undauntable role in the freedom struggle of the Indian history. But, there is also a lot more to know about this beautiful personality. Therefore, let us walk you through the biography of Mahatma Gandhi; our dearly Bapu.
The Baby-Steps and Education
Mohandas Karamchand Gandhi was born in a Gujarati family on 2nd October, 1869 in Porbandar, Gujarat. His father, Karamchand Gandhi was a diwan (chief minister) of Porbandar and mother, Putlibai. Gandhi was the youngest among the four siblings. Mahatma Gandhi was born into a Vaishnava family – the worship of the Hindu god, Vishnu with a very strong influence of Jainism. That's where his strong depth and belief in ahimsa (non-violence), satya (truth), and self-discipline came from.
Gandhi has completed his basic education from a local school and then a high school in Rajkot. He got into a school at the age of 9. Later, he lost a year of his academic ladder due to his wedding. Gandhi got married in 1883, when he was just 14 years old. Gandhi got married to Kasturbai Makhanji Kapadia, later, Kasturba Gandhi who was just 14 years old at that time. In 1888, after completing his schooling, he got admission in Samaldas College in Bhavnagar, Gujarat. But, he never got any satisfaction with his education there, so he dropped out. After that, at the age of 19, Gandhi decided to leave home and study law in London. And so, he did. [Source- Gandhi Gov]
Mahatma Gandhi as a Lawyer | South Africa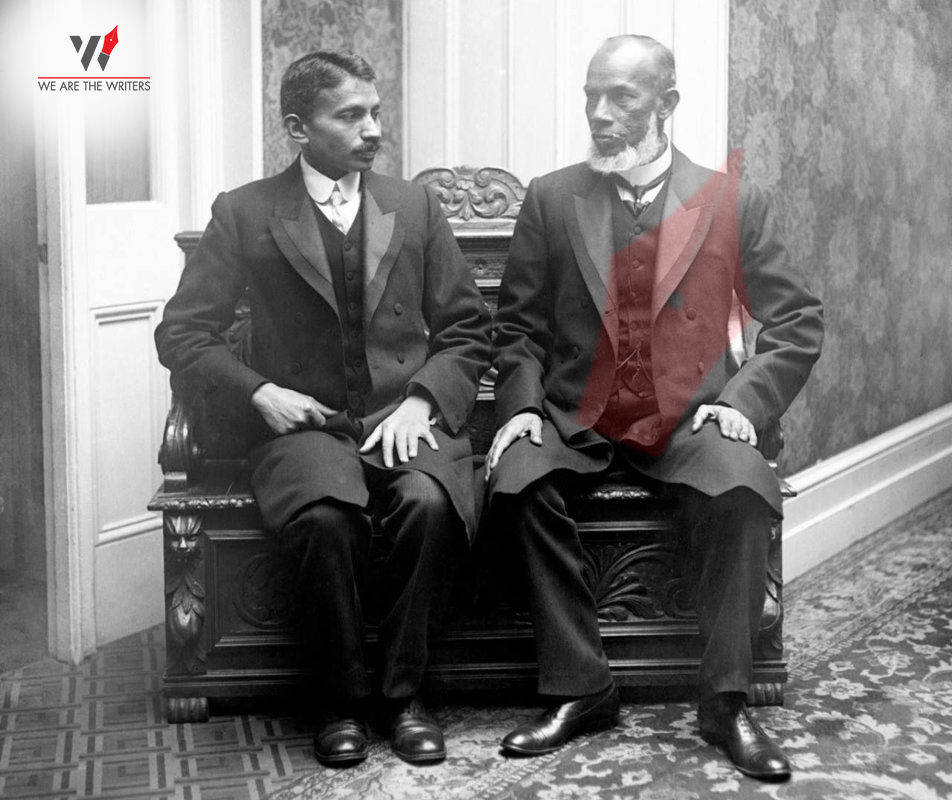 Mohandas Karamchand Gandhi returned to India in 1891. He got to know that his family has kept the news of his mother's demise from him. Shattered Gandhi, tried to move on with his life and make peace. He tried to establish a law practice in Bombay, but gained no success. Therefore, he started to try and make a decent living in Rajkot.
Soon, Gandhi got a proposal from an Indian firm for a job in South Africa, which he accepted. So, he moved to South Africa in 1893 with his wife Kasturba and their children. Gandhi and his small family spent about two decades there. But it wasn't as smooth and easy as it sounds. Gandhi did face a lot of challenges and hurdles of which one major was the discrimination. Citing an incident, white people threw Gandhi out of a first-class train compartment, even though he possessed a first-class ticket. And the reason being; the reservation for white people. In addition, they beat him up when he tried to resist.
This was the point that hit him hard and rooted deep in his psyche. At this point, Gandhi developed the idea of satyagraha (truth and firmness), and decided to take a stand against this racial discrimination. Soon, the same situation and behaviour towards his fellow Indians got Gandhi Ji's attention, when he decided to fight it.
Mahatma Gandhi – The Natal Indian Congress (NIC)
In 1894, Mahatma Gandhi established the Natal Indian Congress (NIC). An organization to fight for the rights of Indians and their empowerment in South Africa. In 1906, Gandhi led a non-violent protest. This fight lasted for a few years. In 1913, the officials took hundreds of Indians into custody, and some, even shot.
The fight wasn't easy but due to the pressure of the Indian government and the British government, the South African government had to compromise. It was then, that they accepted concessions, civil rights and recognition of the Indians. In 1915, Gandhi Ji returned to India after spending and struggling for rights for over two decades.
Mahatma Gandhi- The Iconic Role for Indian Independence Movement
In 1915, when Mahatma Gandhi returned, he joined Indian National Congress (INC) led by Gopal Krishna Gokhale. He got the idea of Indian politics & issues. During 1918, Mahatma Gandhi led two campaigns. One, in Champaran district in Bihar to support the farmers against the injustice where they forcibly had to grow Indigo and sell it at a fixed price. And the other, in Kheda district in Gujarat, it was a tax revolt where he stood for the justice and cancellation of taxes for peasants.
Rowlatt Act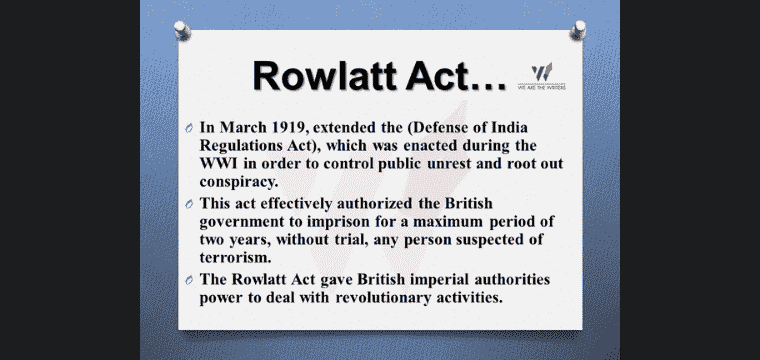 During the First World War, an act was passed for preventive detention without trial and censorship of the press by a committee chaired by Sir Sidney Rowlatt. The act known as the Rowlatt Act, passed in 1919. This gave powers to the British led Government to arrest any person and imprison them without any trial. [Source- Britannica]
The act came into force, on the other hand, Mahatma Gandhi opposed this act. On 13th April, 1919 thousands of people gathered in Jallianwala Bagh, Amritsar, Punjab to peacefully protest. The reason was the arrest of two national leaders; Satyapal and Saifuddin Kitchlew. Back then, the acting Brigadier-General Reginald Dyer ordered his troops to open fire at these civilians. This scary event of the Jallianwala Bagh massacre took place, leaving hundreds of Indians dead and thousands of them injured. On the other hand, during a proceeding in Punjab, the officials detained and arrested Gandhi Ji.
It was this fight against this act of social injustice, The Rowlatt Act that made Mahatma Gandhi a rebel and a true national leader. And Mahatma Gandhi took the responsibility to lead the INC in 1920.
Non-Cooperation Movement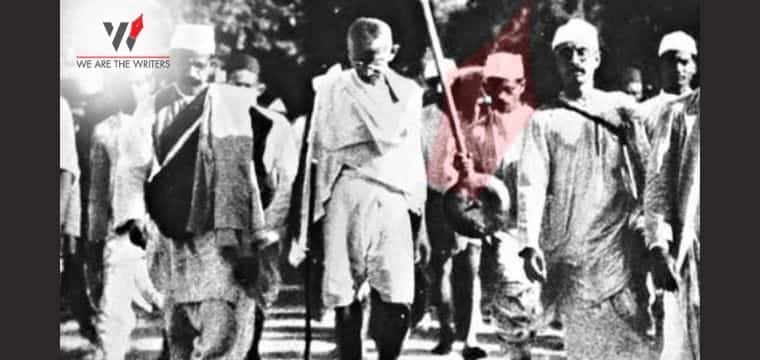 The movement launched on 5th September, 1920 and was led by Gandhi Ji, when INC withdrew its support from the British-Indian Government. The movement called for Indians to withdraw their indulgence from any activity which was directly or indirectly related to the Britishers including the educational institutions.
The Indians stood together to "non-cooperate" in any and every British Industry and boycott British manufactured goods. This movement also promoted the idea of self-reliance. Self-Reliance included encouragement to buy goods made in India, dumping the British made clothes and spinning khadi instead.
This movement was the major turning point and the beginning of many movements & protests that finally led India to breathe free of the British rule. Mahatma Gandhi had to call off this movement when a group of protesters clashed with police leading to an open fire. Looking at this violent situation in Chauri Chaura, Uttar Pradesh, the non-violent national leader Gandhi Ji, called off the movement.
Unfortunately, the officials arrested thousands of Indians during the non-cooperation movement. They even took Mahatma Gandhi into custody in 1922 and tried him for sedition. After his release in 1924, Gandhi Ji worked towards social reform, Hindu-Muslim unity and an independent nation.
Salt Satyagraha | Dandi March
Salt Satyagraha or Salt March or Dandi March was called for, in 1930. It was led by Gandhi Ji; it was a non-violent civil disobedience act. A 25 days long march started on 12th March, 1930 and lasted till 6th April, 1930. This march was a result as an act of opposition for the British Monopoly; the law that empowered the British solely for salt manufacture and its sale. Whereas, Indians were compelled to buy salt at higher prices. And as salt being a necessity, they had to pay higher taxes.
Mahatma Gandhi started to march with his most trusted volunteers, from Sabarmati Ashram to Dandi, which is about 384 km. During the march, people kept on joining in. Gandhi Ji along with the Indians gathered and picked a handful of salt from the shore of Arabian Sea, which technically meant "producing" the salt. Hence, breaking the British Law.
Later, the officials made thousands of arrests, including Mohandas Karamchand Gandhi, in May. However, the march did not come to a halt. But soon, Gandhi Ji was free after an agreement for negotiations with Viceroy Lord Irwin at the Second Round Table Conference. The release of the thousands of prisoners was included in the negotiations, only if Gandhi called off the march. Which he did. This gave birth to the Gandhi–Irwin Pact.
The Gandhi–Irwin Pact was signed and sealed in March 1931. According to this pact, the British-Indian government agreed to release political prisoners who got arrested during the march. Along with returning their confiscated properties. Withdrawal of all ordinances and ending the prosecutions. Granting the permission to manufacture and sell salt to people near the shore. And lifting the ban over INC that curbed the impositions made by the Congress. These were some negotiations which officials accepted.
In 1934, Gandhi Ji decided to leave politics and so, he resigned from the INC. The INC was then led by Jawaharlal Nehru. Gandhi Ji wanted to focus on rural issues, minorities and untouchability. But later, Gandhi Ji had to return and take charge of INC again in 1939, due to the outbreak of the Second World War.
World War II provoked Mahatma Gandhi to launch the Quit India Movement. Demanding Britishers to pass the authority back to Indians and leave. Gandhi was against the support of British in the World War II.
Quit India Movement
A movement launched by Mohandas Karamchand Gandhi in August, 1942. That demanded the withdrawal of British Rule over India. As the Second World War started, the non-violent national leader, Mahatma Gandhi refused to support this act of violence. And so the name "Quit India" Movement.
As a result, the entire INC leadership was arrested. Thousands of people were in prison until 1945. During the two-year course of Gandhi's imprisonment, his beloved wife Kasturba Gandhi died on 22nd February, 1944.
The Quit India Movement faced a drastic failure. In May, 1944, before the war came to an end, Gandhi got his freedom from custody because of health issues and a needed surgery.
The Partition
The Muslim League demanded a partition on religious grounds and formation of a new nation, Pakistan for the Muslims. However, Gandhi Ji opposed the partition and wanted a peaceful, united nation. INC called for the withdrawal of British rule. But, The All-India Muslim League headed by Muhammad Ali Jinnah, intended for an independent nation of their own too. Therefore, they supported "Divide and Quit India".
Gandhi Ji as opposing the partition, released an agreement, but Muhammad Ali Jinnah rejected the same. The agreement did want both the religions to co-operate and work together to achieve freedom. But rejection resulted in calling for Direct Action Day on 16th August, 1946.
The Direct Action Day included Muslim gatherings in support of partition, mass murder and the confiscating the property of Hindus in Calcutta. This led to riots and numerous corpses all around. The flame of violence between Hindus-Muslim were getting hotter and bigger. Gandhi Ji appealed to halt the massacres.
Finally, the British accepted the demand for independence. So, they granted independence but with splitting the land into two nations. India; divided into India and Pakistan on 15th August, 1947. Muslims went to Pakistan and Non-Muslims came back to India. Unhappy with the partition, Gandhi Ji spent his day fasting to stop the riots. And wish for peace.
The Good-Bye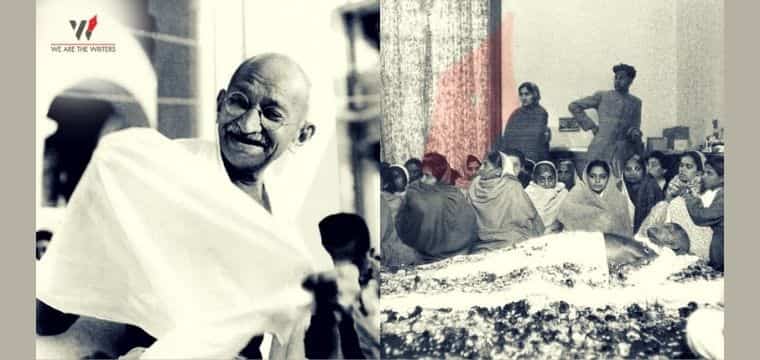 On 30th January, 1948 Mahatma Gandhi was on his way to Delhi to attend a prayer meet. On this day a Hindu political activist, Nathuram Godse shot Mahatma Gandhi with three bullets in his chest, leaving him dead. Later, Godse was hanged on 15th November, 1949 in the Ambala Central Jail.
The cremation of Gandhi Ji's body took place with Hindu Tradition on the bank of Yamuna River in New Delhi. His ashes were carried around India for memorial services, for which millions of people were gathered.
Birla House, the site where Gandhi Ji was assassinated, was turned into Gandhi memorial. The name of the memorial is Gandhi Smriti. And the place Near Yamuna River also turned into a memorial, named Raj Ghat. It is said that Gandhi Ji's last words were "Hey Ram". And so, in his memory, these words are engraved on a black marble and placed in Raj Ghat.
Also Read :
Pranab Mukherjee- The Bharat Ratna