SEO content writing is the application of keywords and other web tactics to make your content rank on the search engine result page. Without SEO, ranking on Google and being found by people who might like your content is impossible. It is the reason why writing Search Engine Optimized content is vital. In this article, we will study the basics of SEO and its uses in content writing.
What is SEO in content writing?
Over millions of blogs are written every day on a certain topic. With this high number, ranking on the first search engine results page can be difficult for blogs that are not search engine optimized. If you want to rank higher than your competitors, then your content needs to be well-researched and strategized. Below we have listed 10 Tips & Techniques to make your content search engine optimized.
Tips & techniques for content writing
Here are some of the important Tips & techniques for SEO content writing to help you rank higher on Google-
Keywords Research and optimization
"Keywords are everywhere"
Are they?
Keywords are nothing but the questions a user types on Google or other search engines to get information related to their doubt. For example, A person searching for a Burger restaurant nearby would type one of the following-
Burger restaurant near me
Best burger restaurant near me
Best Burger restaurant in Amsterdam
Fried chicken burgers in Amsterdam
Read about Keyword Research and Benefits: KEYWORD RESEARCH ? A BEGINNER'S SECRET!
If you run a Burger restaurant in Amsterdam and are not ranking on Google's first page for any of the above keywords then your customers don't even know you exist. It is true that serving tasty burgers is the most important thing while running a Burger restaurant. But if people don't find out about your best burgers in Amsterdam then serving tasty burgers is of no use.
Companies with mediocre products compared to their products vs companies with great products and a team of SEO marketers.
Whom do you think will make more profits?
The latter one obviously.
SEO content helps in delivering your best burgers to your customers via the internet. After which, the customer visits your restaurant to have a real burger. It is like giving out burger samples for tasting. The more people you reach, the more profits you make.
So now you know how important keywords are for your brand.
But How do you use keywords for your prospects?
Do you insert keywords in your blog content as many times as possible?
Or is there a specific keyword strategy?
Yes, inserting keywords in your blog as many times as possible used to work. But now it doesn't.
Google in fact has marked this practice as illegal.
So, you cannot expect to rank high on the SERP based on the number of times you insert a keyword in your content.
To know what works, keep reading.
Research keywords and make a list of the first.
To get the most popular keywords you can use some of the tools mentioned below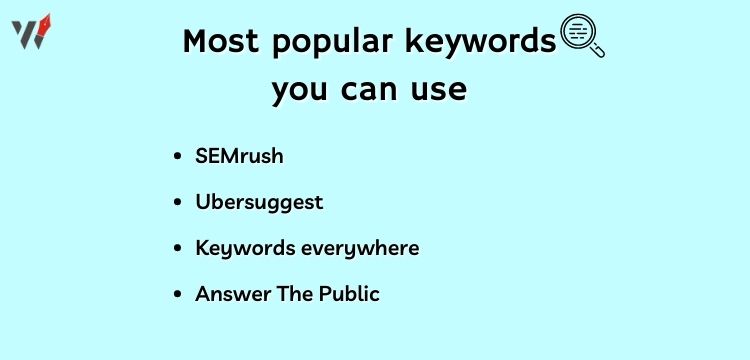 SEMrush
Ubersuggest
Keywords everywhere
Answer The Public
Read and know about Best Keyword Research Tools: BEST KEYWORD RESEARCH TOOLS
Once you find keywords related to your audience queries and interests, go ahead and search for more specific keywords that are also searched by your audience but are more specific. For instance, keywords like pink top are more specific than the top, these focused keywords are called secondary keywords. And the broad keywords are also known as Primary keywords. Blog content must include a combination of primary and secondary keywords to make the content Search engine optimized.
Link Building
If a famous celebrity is your best friend, your credibility increases in front of people. This is because you are valued to have successful people around you. This also applies to online content valuation. If a website's content is being referred to by high traffic websites, then this increases your value for Google and inadvertently gets you more traffic. There are illegal practices people use to get links from other websites but Google penalizes any such practice so it is recommended to use healthy practices to generate healthy and consistent growth.
Read about Linking Building: ALL ABOUT SEO LINK BUILDING
How to ask other websites to link your content?
It's simple.
Create content that is useful for the readers.
Blog content gets linked by other sources organically if it provides valuable and insightful information to the audience. But you also request for other websites to take a look at your content and see if it might help them. This way you reduce the time it takes for them to discover you organically. And it also generates good contact with other creators on the internet. The website you want to get a link from must also have some needs to increase its traffic. So, try to find out about their interests and see if you can have a mutual agreement to promote both websites.
Read about Value of Quality Content for ranking No.1: Value for quality content for ranking No.1 on Google
Optimize title tags, meta descriptions and alt text
Metadata is the most important element in Search engine optimization. It helps Google bots to understand your content and categorize it accordingly. For the title tag, only one H1 tag must be used in an article and the characters count should be below 75.
The meta description appears under the title on a search results page. It must be 160 characters or less and should make the reader interested to click on the article.
Alt-text is tags used with the images. As Google cannot see images it needs text to understand the context of the images. For this purpose, using alt text is necessary. Using keywords in the alt text can be a good practice. However, don't overdo it. Keep the alt text below or equal to 125 characters.
Read our Blogs:
Conclusion
Hope you found the article helpful. SEO is not difficult to include in your writing. However, it requires basic knowledge about keywords and other web-related techniques that help in reaching out to people. Tools like keywords everywhere, SEMrush, Ubersuggest and Ahrefs can be helpful to find out keywords and also perform an SEO audit to understand the current statistics. To get more information related to SEO and content writing, you can contact us anytime and also get content-related services to help your business.
FAQS
How to use SEO based content writing in a blog?
To use Search Engine Optimized content writing in a blog, first research keywords related to the topic of your blog. Primary keywords are broad keywords like "burger'' or "pizza''. Whereas secondary keywords are specific keywords like "fried chicken burger'' or "Margherita pizza". Include a combination of both these types of keywords in your blog.
What does SEO content generation mean?
SEO content generation means creating or generating content that is search engine optimized. It means to make or curate content that will rank higher on Google and will help bring in more traffic or visitors to your blog content. Various practices like keyword research and backlink generation are used to develop Search engine optimized content.
How to write SEO Content for a Blog?
To write Search Engine Optimized content for a Blog include keywords and internal links in your content. Internal links are links that refer to the content on the same website and keywords are search queries people search for in the Google search bar.
What is SEO content writing for a website?
When keywords and backlinks are included in the content, it is called Search Engine Optimized content. This is because keywords and link building help in ranking higher on the search results page.
How important is SEO for content writing?
It is equally important to content writing. If a well-written blog does not search engine optimized then the content cannot be found by people on Google. So, to reach out to people and also gain traffic, It is a valuable practice while writing content.
What is the difference between SEO content writers and normal content writers?
SEO content writers create blog content that is search engine optimized. This type of content ranks higher on the Google search results page. Normal content writers do not include keywords or links in their content, but only produce the writing part of the article. Optimizing the content is handled by SEO experts in the field. But every content needs to be search engine optimized for it to be found by people online.
References
[1] Malaga, Ross A., (2008), Worst Practices in Search Engine Optimization, Association for Computer Machinery.
[2] J. B. Killoran, (2013), How to Use Search Engine Optimization Techniques to Increase Website Visibility, IEEE Transactions on Professional Communication.
[3] Ron Berman, Zsolt Katona, (2013) The Role of Search Engine Optimization in Search Marketing. Marketing Science.