Electric vehicles aren't just for showing off your cool factor; they're the need of the hour. We have recklessly exploited the environment without any consideration. While it is true that nature provides us with abundant resources, this does not mean that we should disregard its well-being.
For that, auto companies are adopting environment-friendly strategies. This strategy increases the scope for innovation for electric vehicle companies. And, without a doubt, electric cars have become a hot topic, thanks to Tesla's promotion. But Tata electric car is the talk of the town and the prominent player in the domestic market.
Tata electric cars have given a lot to look forward to in this emerging segment. Tata is always the change-maker in the Indian market. From introducing Tata Nano to launching Tata electric cars, Tata Motors has come a long way. Even though with the limited reach of electric vehicles, electric vehicles company are not shying away from marketing an affordable range of electric vehicles to attract consumers.
Talking of Tata Motors, you must be wondering about the Tata electric car price in India. Well, you are not alone. Most people are eager about the Tata electric car price in India. So, let's jump right into the know-hows of the electric car companies and the overall EV market in India, with our target, Tata Motors.
Also, in our blog "TATA ELECTRIC CAR," we will give you accurate info about the Tata Electric Car 1000 km rumour in the market. What if it is true; What if it's not? Keep on reading to know more about the range of electric cars by Tata Motors.
---
THE NEW ECO-FRIENDLY VISION: TATA ELECTRIC CAR
Few cars by Tata Motors have piqued the interest of auto enthusiasts around the country, even about the Tata electric car 1000 km rumored car. Also, the Tata electric car price in India is pretty impressive in terms of its competitors pricing.
From the existing market, two EVs by Tata Motors are available in India: Tata Nexon EV and Tata Tigor EV.
TATA NEXON EV
The Nexon is a strong figure as a feasible car, even in the electric vehicle market. Again, we have to mention that Indian consumers are not too much into the electric vehicles company. Yet, Tata has made a significant mark in the segment. In a masterstroke, Tata turned its familiar car into an environment-friendly vehicle. Given the expensive batteries used in producing an electric vehicle, Tata Nexon EV has a considerable price. Nexon EV, without a doubt, is a fan favourite in the EV segment!
DESIGN
Tata Nexon Ev takes everything up a notch, with its premium interiors design and impressive ground clearance. Tata Nexon has enough road-to-body gap to protect the battery. It comes with an AIS 48 rating, which includes testing the car in the harshest environment: crush test, a fire test, and much more. Also, Tata Nexon can be in contact with up to a meter deep water for 30 minutes.
BATTERY
The Tata Nexon comes with a 30.2kWh battery, covering a distance of 312 km in a full charge. It takes 60 minutes with a fast charger to reach from 0-80% charge. Additionally, Tata offers an 8-year/1,60,000km warranty on the battery and motor, apart from the 3-year/1,25,000km general warranty.
TATA ELECTRIC CAR PRICE IN INDIA
This electric beast comes under a price range of Rs. 13.99 – 16.56 Lakh depending on the model you choose. Tata Nexon is available in three variants: Nexon EV XM, Nexon EV XZ Plus, and Nexon EV XZ Plus LUX.
Oh, and don't look out for the Tata Electric Car 1000 km rumor here; this is not "that" car.
---
TATA TIGOR EV
You must've heard of Tata Tigor back in 2017 when Tata Motors supplied 10,000 electric vehicles to the Govt. of India. Tigor, then, was not available for the public. Now, Tata Tigor is available for general sale . Tata Tigor EV comes from one of the change-makers of electric vehicles company.
Tigor EV is a sedan car with a promise of next-gen technology and absolute comfort. Also, the car comes with attractive pricing that makes you want to check out the EV(electric vehicle) market.
DESIGN
Tata Tigor EV comes with a premium interior design and fabric that elevates the look and feel of the car. The car is spacious, even for the passengers in the back seat. You will also see badges and stickers (decals) that confirm Tigor as an EV. Tata Tigor EV comes with premium safety features like dual Air Bags and EBD(electronic brake distribution) system to keep maximum brake while keeping control over the vehicle. Additionally, the car also comes with Safe and Reliable architecture with an energy-absorbing body structure for complete safety.
BATTERY
With a 16.2kWh lithium-ion battery, Tigor EV assures you of a 142 km Tata certified range. Additionally, it comes with many benefits as the Govt. laid out schemes to promote EV in the Indian market.
TATA ELECTRIC CAR PRICE IN INDIA
Tata Electric Car Price in India for Tigor starts from 9.53 Lakhs. This pricing includes the Ex-Showroom Price, DPCC Incentive (In Delhi Only), and Govt. FAME Incentive. You can expect three variants of Tata Tigor: TigorXE+, TigorXM+, and TigorXT+.
---
TATA ALTROZ EV
So Tata Motors is bringing most of the known and loved Tata cars as an electric version in the market, which can be a favorable move. Tata Altroz EV will hit the markets somewhere in December 2021. Even though the name is the same, you will see some changes in the design of the car. Here's what we know so far:
DESIGN
So far, from the images, Altroz looks refreshing, albeit the same as the non-EV version. The design exudes the EV energy: Tri arrow motif on grill and bumper, and new alloy wheels. You can see a new look and probably the signature look of electric vehicles from Tata Motors. The interiors are pretty spacious and have all the necessities covered.
BATTERY
Tata is aiming for more with Altroz EV. The 30.2kWh lithium-ion battery of Altroz will go from 0-80% in an hour with a fast charger and cover a range of 200-312km. The car will also come with a ZConnect app to inform about the charging level, history, and nearby charging destination.
TATA ELECTRIC CAR PRICE IN INDIA
You can expect Tata electric car price in India for Altroz between Rs 11.50-13.00 Lakh. Note: the price range will change according to your model variant.
---
TATA SIERRA EV
Unveiled in Auto Expo 2020, Tata Sierra EV is the revamped version of Sierra. We mean that through Sierra EV, Tata is acknowledging the classic Sierra(1991). However, this is nothing like the classic vehicle of past. With a perfect blend of iconic design and futuristic elements, Sierra looks very classy. Here's what you can expect from the concept model of Tata Sierra EV:
DESIGN
The futuristic approach and elements make Tata Sierra a hot topic among consumers. Also, the sliding doors of the car and the cameras on the mirror panel cast a style statement. You can expect the Tata Sierra to be revealed in late December 2020 or around January 2021.
BATTERY
Although no specifications are out on from the official front regarding the specifications, you can expect Tata Sierra EV to cover a range of around 400km/single charge.
TATA ELECTRIC CAR PRICE IN INDIA
While there is no clear picture regarding this visionary concept, Tata electric car price in India for Sierra can be around Rs.14-20 Lakhs. It may also be higher depending on the variants.
---
TATA ELECTRIC CAR PRICE AND RUMOURS
Now that we know more of the prominent electric vehicles, we shift on to the last Tata EV on our list. Also, this is the part where the Tata Electric Car 1000 km rumour got circulated. Even though the Tata electric car price in India may not give you a clear picture, you must check out EVision as it comes from one of the top electric vehicles company in India.
---
TATA EVISION ELECTRIC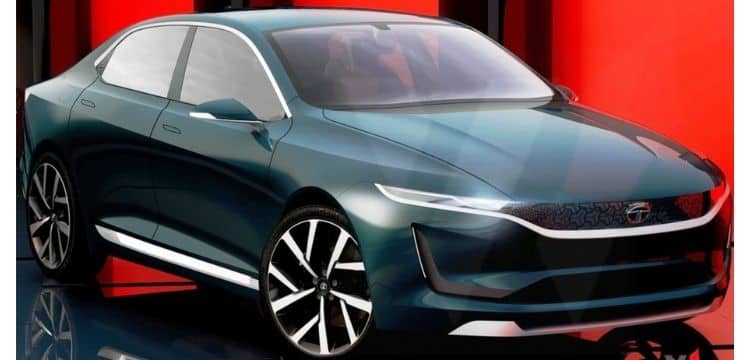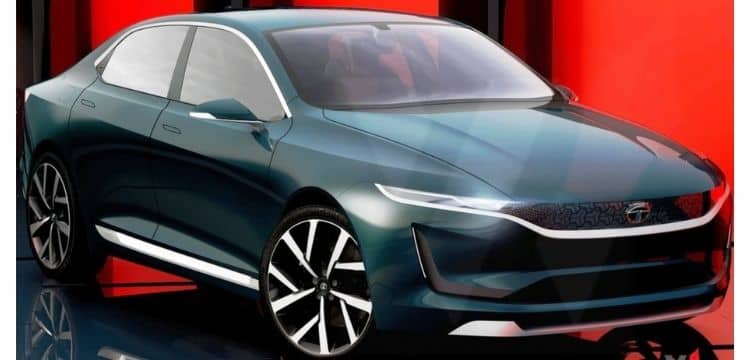 One of the most futuristic design concepts from Tata Motors, Tata EVision is just a perfect innovation for the new electric vehicle-centered generation.
With the promise of Tata electric car price in India as the most feasible in the EV category, EVision raises the bar of our expectations from this rising star as the electric vehicles company.
DESIGN
Tata EVision looks spectacular as a Sedan concept car. The car is spacious, has an elegant and premium design, and the signature Tata EV motif on the front grill. It looks sporty and loaded with all next-gen necessities.
Battery: With no clear picture of the Sedan battery specs, one thing is out in the market: Tata EVision will be able to cover 0-100kmph in under 7 seconds and reach a top speed of 200kmph.
TATA ELECTRIC CAR PRICE IN INDIA
As ambitious it may sound, Tata electric car price in India for Tata EVision can be around Rs. 25Lakhs. The car prices can also go up as there is no official confirmation about the price bracket.
However, there was a rumor that got circulated in the media for a long time.
---
TATA ELECTRIC CAR 1000 KM PROMISE FOR EVISION
Some information sources started circulating information that the Tata electric car will offer a 1000km range and face Tesla. First things first: EVision first came up in the Geneva Motor Show(2018). It was a concept Sedan car to venture into the EV market.
TATA ELECTRIC CAR 1000 KM PROMISE FOR EVISION: THE TRUTH
As of now, producing powerful batteries that can offer a range of 1000km is pretty expensive, basically, a no-no at the moment.
TATA ELECTRIC CAR 1000 KM PROMISE FOR EVISION: THE REALITY
Even if you can touch such specs, Tata electric car price in India for EVision will not be limited to 25Lakhs. It is quite impossible to replicate everything mentioned in the concept into a real-world price bracket.
So, as of now, queries and rumours of Tata Electric car 1000km stays untrue and unrealistic.
---
CONCLUDING NOTE
While we see the Tata electric car price in India as pretty impressive, some rumors make some concept cars appear as a far-fetched idea. We also have debunked the Tata Electric car 1000km rumor for you by revealing the real deal about Tata EVision.
Also, we request you not to believe in content that circulates on social media unless stated by official sources. Till then, let's keep watching what Tata has to bring more on the plate of innovative vehicles in the Indian market.