Gadgets are small devices that make our lifestyle a bit luxurious. Gadgets are surely a want. If you want to amp up your lifestyle, gadgets can help you. Many gearheads love to try new gadgets. If you are someone who loves to explore and find gadgets that works efficiently. There is no better platform than Amazon. Amazon gadgets are very famous across the globe.
Amazon is a relatively easy platform to buy and sell things. This is the reason why many brands across the world want to sell on Amazon. Thus you can find many cool Amazon gadgets from small brands. Even though they are from a smaller brand they perform admirably. Thus there is a separate fan base for Amazon gadgets. As the year passes by, technological advancements are also blooming well. This article will list the best Amazon gadgets available.
You may also read our blog:
Amazon Research Tool: A Profitable Guide with Tips & Tricks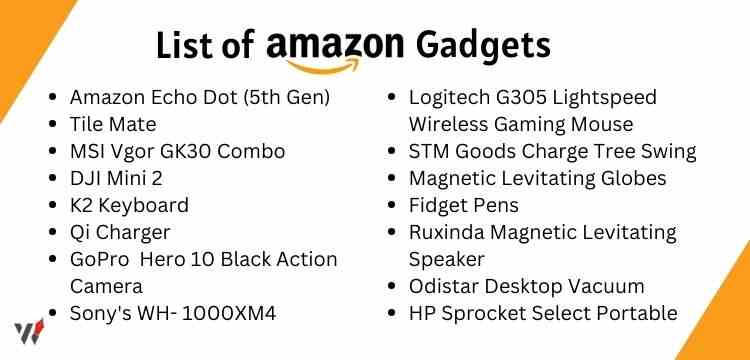 List of Best Amazon Gadgets
Amazon Echo Dot (5th Gen)
It is Amazon's gadget. It is addressed as Alexa. Amazon has a series of Echo dots. The most recent launch is the Echo Dot – 5th Gen. It has amazing features. It is a smart home device. It works as a smart speaker. Music and audiobooks can also be played. It can take up your voice command. It can operate lights, set alarms and give announcements as per your command. Alexa routine is another very helpful feature.
It is the only gadget that you will need if you trying to make a smart living space. It looks spherical with a rubber bottom to prevent it from falling. It is covered by the fabric. It comes with a clock. There will be LED lights that will show the timing. It looks great.
There is a kid's version which is called Echo dot Kids (5th Gen). It comes in two looks. One is an owl and a dragon. The body of the Echo dot Kids is stronger than the adult ones. It has all the features like the adult ones. But for kids, Amazon Kids+ can be a subscription. With this, you can get access to Disney music station. There are many more activities that will entertain the kids. It is one of the best Amazon gadgets for the home.
Tile Mate
Misplacing keys and not being able to find them is a never-ending saga. It happens in almost all houses. It can tense us. It must be one of the reasons why you are late for work or a party. So to avoid that there is a gadget called Tile Mate.
Tile Mate is a small square plate. It is made up of plastic. It has a hole. You can use this as a key chain for your keys. You can also add this to your bag or wallet if you have the habit of misplacing them. Download the AirTag app to use Tile Mate. If you are a Samsung user, go for SmartTag. The app is very easy to use. You can set up Tile Mate within minutes.
Once set, if you miss your keys or bag that has Tile Mate, just go to the app and initiate a search. Once found there will be a loud siren from the Tile Mate. You can find the lost item. For people who misplace things and people with memory loss issues may find this helpful. Thus, it is one of the best amazon gadgets in 2023.
MSI Vigor GK30 Combo
It is a combo of a keyboard and mouse. It comes with 8 light effects. Hence it looks attractive as well. This combo is mainly for playing games. The keyboard comes in white and black. It has plastic keys and rubber stoppers so that it does not slide while using them. It is splashproof as well. The mouse looks normal with some light effects. It can be a perfect gift for gamers. This will add to the gaming experience. Hence it is on the list of best Amazon Gadgets.
DJI Mini 2
One of the best Amazon gadgets available. It is an expensive and new-age trend. It is not a gadget for everyone. If you are a photographer or videographer, you can invest in this. DJI Mini 2 is a drone with a 4K camera. It is small in size. It can be operated very easily. It weighs below 250g so you do not need a registration to use this drone.
This drone needs to be charged. It has a USB-C charging port. A full battery can stand for up to 90 minutes with the camera on. The controller is very easy to handle with a clean and vibrant screen. There are many shooting modes that are available. Overall, a great drone to invest in. Thus it is on the list of best Amazon gadgets.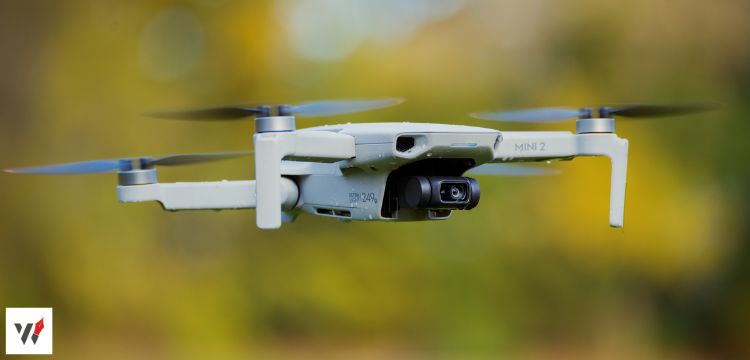 K2 Keyboard
It works like a normal wireless keyboard. It has excellent build quality. Even if you drop it various times it will still not break. It is small and compact. It is perfect for travelling as well. It has Gateron Brown keys. It gives a great typing experience. This keyboard can connect to three devices at once. You can connect it to mobile, tablets, computers and laptops.
So if you have a job or a business that will involve two monitors like medical billing or coding. You can try this keyboard out. It is also best for programming and gaming. It has RGB backlighting. The keyboard is compatible with both macOS and Windows. It is one of the best Amazon gadgets to own in 2023. Anyone who is looking for a good keyboard can invest in this. This will not disappoint you.
Qi Charger
Qi chargers are wireless chargers. Wireless chargers are one of the best Amazon Gadgets available. They can be used to charge mobile, earbuds and smartwatches. They look like a small plate. It can be square or circular, it depends. Connect the charger to a plug.
Just place your smartphone, earbuds or smartwatch on the plate. It will charge. There are plenty of Qi chargers available on Amazon. Most of them perform well. Wireless chargers will look less messy and hence they are preferred. If you have never tried a wireless charger you must try it in 2023. Some of the best wireless chargers available on Amazon are as follows,
Belkin's Boost Wireless Charging Stand
Apple Magsafe Charger
Anker 10W Wireless Charging Stand
Yootech Wireless Charger
Anker PowerWave 15
Belkin 3-in-one Wireless Charger
Iniu Wi-211 Wireless Charges
Samsung KZ-02 Wireless Charger
Aukey 10W Wireless Charger
Samsung PFast Charger Stand 15W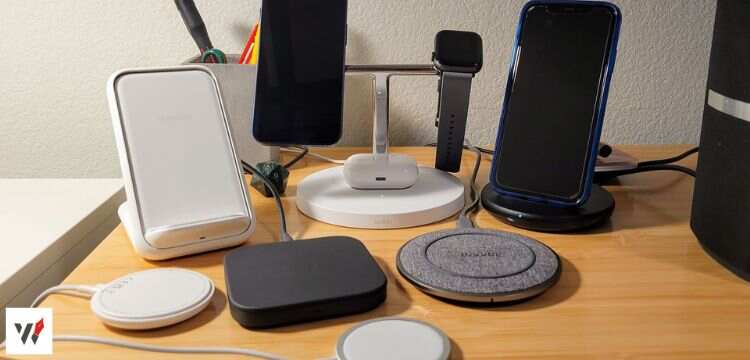 GoPro Hero 10 Black Action Camera
GoPro is a famous camera. The recent launch of the series is GoPro Hero 11. But GoPro Hero 10 is the most valuable buy. Hero 10 almost has all the features that Hero 11 has. But the only additional feature of Hero 11 is the vertical video mode. But, Hero 10 is the best to invest in.
Hero 10 comes with a variety of shooting modes. It is best for filming videos. It also has slo-mo in this gadget. It comes with a 23MP lens. It can provide a maximum of 5.3K video resolution. It is waterproof. Hero 11 also has an app called Quik. This will help you to edit some videos. You can charge the battery. The total life of the battery is 3 hours. It is a must-have gadget for people who goes adventurous on a trip. It is one of the best Amazon gadgets to buy in 2023.
Sony's WH-1000XM4
This headset is one of the most luxurious one available. If you are planning to get good headphones, then have a look at this. It is a wireless headphone. It uses Bluetooth to connect to devices. It can be connected to two devices.
Some of Sony's WH-1000XM4 best features are,
Noise cancellation
Great sound quality
Bluetooth multipoint
Autopause, when you take them off and when you are talking.
Good battery life
It has memory foam padding, which makes it comfortable to wear. You must download an app called Sony Headphones Connect. This headphone can also be controlled using Alexa and Google Assistant. It is a chargeable headphone. It comes with USB-C charging port. Once the battery is full, the headphones can stand for 24 hours. It has a quick charge feature. Charging it for 10 minutes can give 5 hours of battery life. It is a great headphone to invest in. Thus, it makes it to the list of best Amazon gadgets.
Logitech G305 Lightspeed Wireless Gaming Mouse
As the name reads, it is a gaming mouse. It is smaller in size when you compare it with the other normal mouse. The body of the mouse is strong and well-built. This is the perfect mouse for gaming. It is a wireless mouse that needs to be charged. It comes with a USB charger. It has a single AA battery.
It can be connected with devices that have macOS and Windows software. There are buttons on both sides that will facilitate gaming. It can suit professional purposes but may not be the best option. It can suit gamers who play FPS and MMO games. The size of the mouse is the only con. It is smaller. It may not suit people who have big hands. It is a good buy for hardcore gamers. It is one of the best amazon gadgets to buy in 2023.
STM Goods Charge Tree Swing
STM Good Charge tree is a wireless charging device. You can charge the iPhone, AirPods and Apple Watch at once in this. It is a very convenient charging device. It will not create a mess on the table. The device also has an indicator which will display the charge state. It will also indicate if there is any issue with the chargers.
The device can be assembled in whatever way you want. If you are not charging the watch. You can dismantle the watch rest. Likewise, you can make it a flat top to lay all the devices. You can also make it like a slanting stand. This feature also adds to the aesthetics. In all, if you are an Apple user, this is one of the best Amazon gadgets.
You may also read our blog:
TOP 10 MOVIES ON AMAZON PRIME VIDEO
Magnetic Levitating globes
Magnetic Levitation globes are a home decor piece. Amazon has some of the best levitating globes. You can see many options. Basically levitating globes are floating globes. There will be a base and a globe. Magnets when comes in contact with electricity push the other magnets. The globe will have a magnet which gets pushed. Thus it floats. Some models have colour-changing LED lights.
These are relatively old tech. But the recent levitating globes by the brand Uvehas have raised the bar. It is a 6-inch tall globe. It has LED lights that are powerful enough to be used as a night light. It also rotates automatically. It can be the best decor piece for an office desk. Uvehas levitating globe is one of the best amazon gadgets to buy.
Fidget Pen
When life or your job stresses you out, the best gadget to reach out to is a fidget pen. If you are someone who needs some distraction to overcome stress. Or else, if you need something to play with during break time. Fidget pens are the best things to invest in. These are pens that can be bent and made into any shape. You can also twirl it and play. Amazon has some best fidget pens. Just type fidget pen in the search bar and you will be listed with numerous options. Choose one that you like. Due to its usability, it is on the list of best Amazon gadgets of 2023.
Ruixinda Magnetic Levitating Speaker
Ruixindia is one of the best companies that is known to make good quality products. The body of the speaker resembles UFO. There will be a magnetic base. On top of it, the speaker will float. It is a Bluetooth speaker. The speaker rotates 360 degrees. With attractive LED lights, the device looks extremely beautiful. The sound quality is amazing. The battery life is around 6 to 8 hours. Bluetooth can connect to 10 metres distance. Overall it is an amazing speaker to use. It should be on your list of best Amazon gadgets wishlist.
Odistar Desktop Vacuum
Odistar desktop vacuum cleaner is a small vacuum cleaner that is perfect to clean tables. This will clean the dust. It will also suck up all the food litter as well. So it is a must-have for the office and home space. It is very apt for quick clean-ups.
It is square shaped fits beautifully in your palm. It has tiny bristles for cleaning. There are three models available. They are battery-operated, With USB and wireless charging. It has a power switch on the sides of the vacuum cleaner. The only downside is that the vacuum cleaner does not come with a dust bag. Apart from that, it is one of the best home gadgets on Amazon.
HP Sprocket Select Portable
It is one of the useful and best Amazon gadgets that you will come across. It is a photo printer. It is a very compact printer that prints color photos. It weighs 18 grams. The dimension of the product is around 2 to 3 inches in height and width. It is best to carry them while you are travelling to get instant photos. It will be useful at parties as well. It can also be used for scrapbooks.
There is an app called Sprocket. Connect mobile with the printer using the app. The app can also enable you to edit pictures. The prints are zero ink. It will provide good photos but the clarity will not be that great. But still, it is a good buy for those who want instant photos.
Conclusion
Gadgets are devices that are useful to improve your lifestyle. They may not be the essential thing. But they will make our life a bit lavish. We can call Amazon a powerhouse of cool gadgets. Amazon gadgets are affordable but of good quality. Amongst the n number of gadgets that Amazon have, we have curated a list of 15 amazon gadgets that you need to try out. The Best Amazon gadgets are mentioned in this article have some great features. They are bang for your buck. They have great smart speakers, headphones, gaming consoles and many more. If you are a gearhead Amazon gadgets are a must checkout.
FAQs
What are gadgets?
Gadgets can be defined as small machines. They are electrically operated. Sometimes they are mechanically operated. This will help us to improve our lifestyle.
Are Amazon gadgets worth buying?
Yes, Amazon has some amazing gadgets that are worth the money.
Do Amazon gadgets come with a warranty?
It depends on the gadget. Some brands give a warranty and some brands do not.
What is the best Amazon gadget?
The Echo Dot (5th Gen) is the best Amazon Gadget.
Can we return Amazon gadgets?
Yes, they come with 10 days return policy.