Do you have a desire to sell and make money on Amazon?
It provides an equal opportunity for everyone to list their products on the e-commerce store. But the desire to sell is not enough as there are millions of products on Amazon with backup from well-established companies, strategizing their product listings every day to make exponential profits. The only common thing accessible to experienced and newcomers in the field is information. Information from selecting a product to using the Amazon research tools is required to make it to the top in the Best Selling Rank. Here is all the information you need to understand the basics of Amazon Product research and also the practical ways to use Amazon research tools–
What Is Amazon Product Researching?
Research for Amazon products helps in achieving two main things- finding high-return on investment products to invest in now, and identifying products that will be profitable in the future.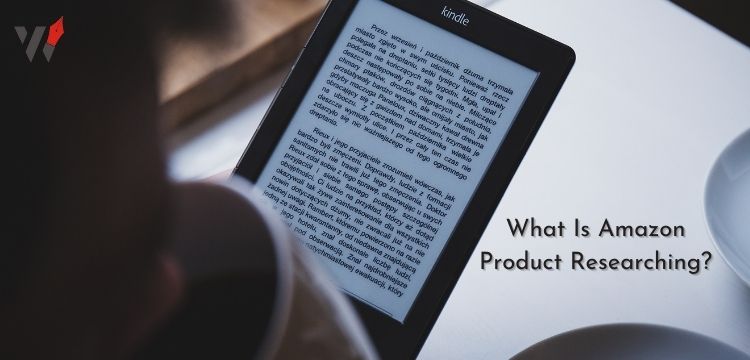 A seller needs to research a product before putting it on Amazon. There are numerous products listed for a specific keyword. So, targeting a category outside of your budget can be disastrous. Also, branding and marketing for a product listed on the wrong result page can lead to customer loss. These are some of the reasons why you should use Amazon Product research. To better understand the Amazon research tool data, let us first understand the importance and properties of product research.
Also read: AMAZON INFLUENCER PROGRAM: MAKE MONEY
Why Is Product Research on this Important?
The brands or companies that invest more in Product research tend to outperform other companies with poor or no product market research. A product might be the best when it comes to quality. But a product can't sell if not discovered by the buyers. Research is as important as building a quality product nowadays. The following factors need to be understood to finalize a profitable product to sell on Amazon.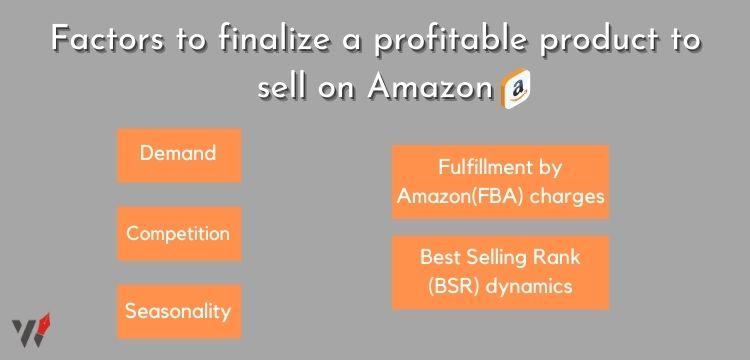 Demand
A product with higher demand is easy to target as the potential of capitalizing on the market is higher. You can find out about the products in high demand- from the Best Seller Rank page on Amazon. It provides data about the best selling products with their categories. From this list, you can research a product with the highest potential. A seller can also access similar information through eBay and other app stores. To get more data about the product, you can make an account on Google Keyword Planner and Google Trends to find the search volume for the product you have selected.
Also Read:
Competition
Amazon provides you with valuable data related to your competitor's best-selling products on the platform. You can use the Amazon search bar to check whether your competitors' products are appearing for the right keyword or not. Your competitor's product details and demand volume will guide you to find new ideas to target their product position on the e-commerce platform.
Seasonality
Products that are in demand all year round have great returns. For example, a jacket or sweater will sell in certain months only. After the demand period is over, the seller needs to rebrand the product in the time between the two demand periods. It is because newer competitors get a lot of time to strategize and list their products in the same niche. With all-season products, it is different as the product research needs to be updated regularly. And when a product achieves high demand, it is tough to destabilize its position in the listings.
Fulfillment by Amazon(FBA) charges
The fulfillment charges on this help the e-commerce platform to make money by leveraging shipping services like picking and packaging. The packing service charges you money for storing your product. The cost to store differs as per the weight and the proportions of the product. Focus on lightweight and small-size products if you are a new Amazon seller. Because its fulfillment charges are higher for large and heavy products, this leads to a reduction in the profit margins. Apart from this, products stored for a long time charge an extra cost for the storage facility.
Best Selling Rank (BSR) dynamics
The best Selling Rank list gives you free access to products that perform well on Amazon. But there are certain tricks to make profit from this data. If you choose 3 to 4 products to sell from the BSR list, your profits will tend to increase. In addition, selecting a product that ranks at #200 in the list of broad keywords is better than a product ranking #20 in a specific niche keyword.
How to Perform Product Research with Top Amazon Research Tools?
There are plenty of tools used to study market trends and profitable product categories. Under this topic, we will list the Top 2 Amazon research tools and how to use them to perform product research on them-
#1 Seller app
The seller app provides you with data from 100 million products and helps you to build long-term rewarding plans. It gives you the option to search for keywords based on the category of the product. Below is the process to perform Amazon Product research:
Enter the keyword you wish to target and click on the search icon.
The app divides the data into four sections- overview, keywords, long-tail keywords and keyword difficulty.
You can apply filters on the keyword data and fetch insightful data about your product.
It also gives you the option to filter data based on Cost per click, relevance and search volume for the keyword. Once you apply filters as per your need, you can copy or export the keyword data from the app.
Know What is PPC? and know its Fundamentals: What Is PPC? Know the Fundamentals of Pay-Per-Click Marketing
#2 Helium 10
Helium 10 has various tools, but its Cerebro keyword research tool- is used to get comprehensive data about Amazon keywords. To use the Cerebro tool follow the steps listed below-
Download the Helium 10 app.
You will see an option to enter a single ASIN number or multiple ASIN nos. (Find the product ASIN number through Amazon product details).
Click on the search icon, and the screen will then display all the keyword data.
Keywords are categorized into sponsored, organic and recommended by Amazon.
There are multiple filter options available to try out.
Once you filter the unnecessary data, you can download ASIN reports.
The Cerebro tool also lets you access the relative rank of the product to the competitor's product. Its reverse ASIN lookup tool lets you know the top-ranking keywords of your competitors.
Read blog about Harvard Style Referencing for Research Paper: Harvard Style of Referencing for a perfect Research Paper
Conclusion
Listing your product on this with proper research and information opens profitable opportunities for a seller. Specific product categories have no famous brands, and hence finding out about these categories can turn into a good chance for growth and profits. Data from research tools help to make your dream into reality. It gives you product comparison data and lets you choose an active market to sell in.
To implement a full-proof Amazon marketing strategy, download its product research apps and use them to do a data-rich background search for your future product.
FAQS
What are some of the best Amazon product research tools?
Helium 10 and the Seller app are some of the best tools to research product keywords for Amazon. Once you enter the ASIN number of the product, the tools help you obtain data about the keyword. It gives you a competitor's relative ranking and lets you finalize a keyword in an active market.
How to research a product on Amazon to sell?
You can use manual or automatic methods to search for profitable products to sell on Amazon. Helium 10 and the Seller app are some of the best tools for Amazon keyword research. Just enter the ASIN number of the product from Amazon and find in-depth product data.
How to do Amazon product research using Helium 10?
To use Helium 10 follow the steps listed below-
Download the app- Helium 10.
Enter a single ASIN number or multiple ASIN nos.
The screen will then display all the keyword data.
Keywords like- sponsored, organic and recommended by Amazon are on display.
Use the filter options available to eliminate unuseful data.
Now, download or export the ASIN keywords report.
References
[1] Knape, Dominic Alexander, (2020), Evaluation of the Effectiveness of the Amazon Product Listing Optimization Tool.
[2] Feng Zhu, Qihong Liu,(2018), Competing with complementors: An empirical look at Amazon.com, Strategic Management journal.
[3] Chen, Le and Mislove, Alan and Wilson, Christo, (2016), An Empirical Analysis of Algorithmic Pricing on Amazon Marketplace, International World Wide Web Conferences Steering Committee.
[4] Federico Etro, (2021), Product selection in online marketplaces, Journal of Economics and Management Strategy.