In 2022, having a strong brand value matters a lot. Having an online presence is much more considered than your offline presence. Your business matters a lot when it's online. Medium will help you in that process. It will take you on a roller coaster ride full of ups and downs. To position your brand for success, you need to learn the skill of branding on Medium. These tips are not going to expand your empire in just one day. It will require consistent efforts of several days.
There's no alternative for hard work if you wish to gain a reputation in a branding career. You need to work exceptionally well with others. It might be the case that the products or services which you will provide through your brand are already there in the market. Then why would customers buy or use your products over others? To expand your brand, you need to be extraordinary in this field. Make people buy your products with these 12 best strategies. If you follow it properly, then your brand is surely going to gain benefits.
What is Medium used for? | Branding on Medium
Medium is a platform used to share and read articles. It's similar to blogging and WordPress. This platform mainly consists of professional and skilled writers. If you are a writer, then Medium app is your one stop destination. The best platform for writers, editors, and bloggers is the Medium app. It is a hub of content creation. To take a free ride of this app, read this blog and enjoy the ride.
Medium Logo:
You will find the logo with three big dots. The dots are colored white, while the background is black. The Medium logo has evolved a lot from 2012 to 2022.
Steps to use Medium:
Download the Medium app from the Google play store or App store as per convenience.
You need to do Medium sign up with your Google account .
Choose the topics which interest you like crypto, art, music, dance, or crafts.
You will find several writers on this platform. Follow the writer of your interest.
Press the Finish button. Lo and behold, you have stepped the first stepping stone of your branding career.
Read about branding on Facebook: Branding on Facebook | 10 Easy Steps to use Facebook Branding
Importance of Medium:
Medium is the perfect platform to share your real-life stories, your feelings, your thoughts, and what you feel? It's made up of a series of topics that might impress you. The content is full of informative and interesting kinds of stuff. You will find multiple interesting topics and catchy headlines through this app.
Features of Medium App: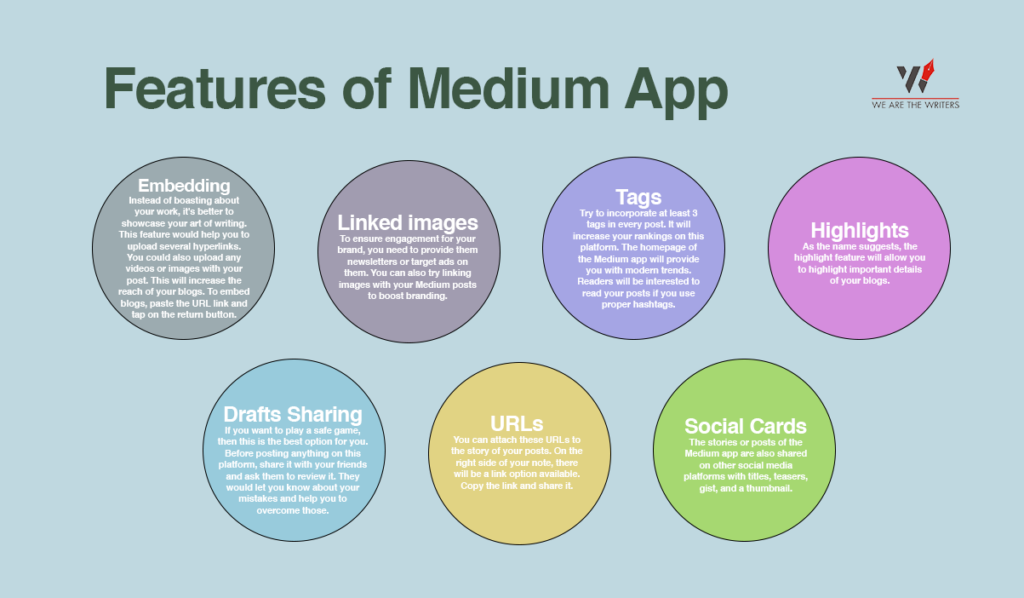 Embedding
Instead of boasting about your work, it's better to showcase your art of writing. This feature would help you to upload several hyperlinks. You could also upload any videos or images with your post. This will increase the reach of your blogs. To embed blogs, paste the URL link and tap on the return button.
Linked Images
To ensure engagement for your brand, you need to provide them newsletters or target ads on them. You can also try linking images with your Medium posts to boost branding.
Tags
Try to incorporate at least 3 tags in every post. It will increase your rankings on this platform. The homepage of the Medium app will provide you with modern trends. Readers will be interested to read your posts if you use proper hashtags.
Highlights
As the name suggests, the highlight feature will allow you to highlight important details of your blogs.
Drafts Sharing
If you want to play a safe game, then this is the best option for you. Before posting anything on this platform, share it with your friends and ask them to review it. They would let you know about your mistakes and help you to overcome those.
URLs
You can attach these URLs to the story of your posts. On the right side of your note, there will be a link option available. Copy the link and share it.
Know more about URL slug: URL slug : A Key to Master
Social Cards
The stories or posts of the Medium app are also shared on other social media platforms with titles, teasers, gist, and a thumbnail.
Branding Strategy- Medium:
Medium is a bit different from other apps. Hence, you need to understand the audience as well as its algorithm very well before starting branding.
For better understanding of brand strategy, follow these 19 amazing steps.
Branding Strategy Guidelines: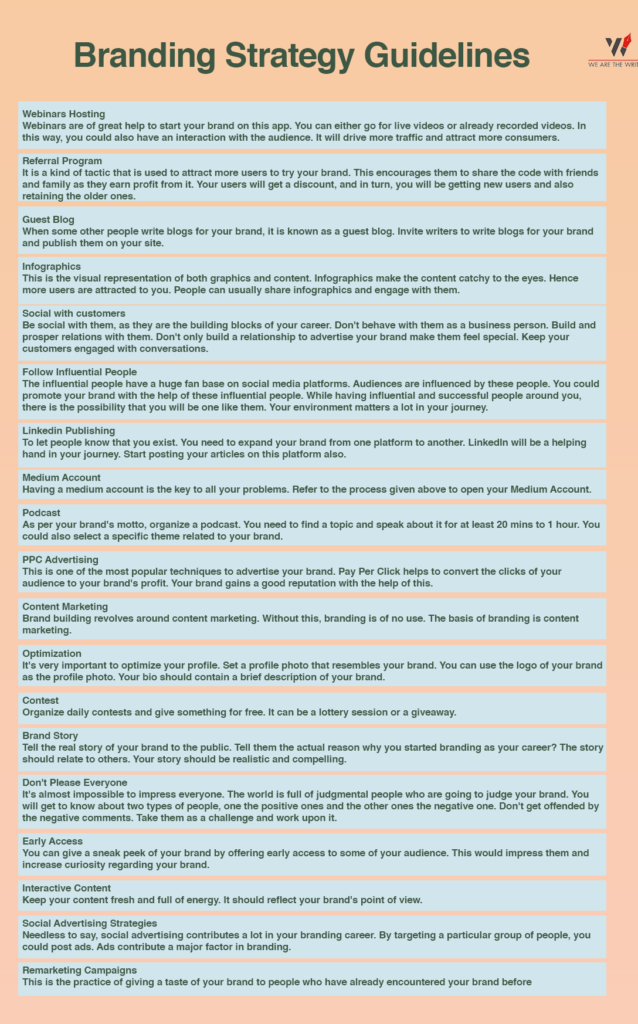 Webinar Hosting
Webinars are of great help to start your brand on this app. You can either go for live videos or already recorded videos. In this way, you could also have an interaction with the audience. It will drive more traffic and attract more consumers.
Referral Program
It is a kind of tactic that is used to attract more users to try your brand. This encourages them to share the code with friends and family as they earn profit from it. Your users will get a discount, and in turn, you will be getting new users and also retaining the older ones.
Guest Blog
When some other people write blogs for your brand, it is known as a guest blog. Invite writers to write blogs for your brand and publish them on your site.
Infographics
This is the visual representation of both graphics and content. Infographics make the content catchy to the eyes. Hence more users are attracted to you. People can usually share infographics and engage with them.
Social with customers
Be social with them, as they are the building blocks of your career. Don't behave with them as a business person. Build and prosper relations with them. Don't only build a relationship to advertise your brand make them feel special. Keep your customers engaged with conversations.
Follow Influential People
The influential people have a huge fan base on social media platforms. Audiences are influenced by these people. You could promote your brand with the help of these influential people. While having influential and successful people around you, there is the possibility that you will be one like them. Your environment matters a lot in your journey.
Linkedin Publishing
To let people know that you exist. You need to expand your brand from one platform to another. LinkedIn will be a helping hand in your journey. Start posting your articles on this platform also.
Read more about Linkedin Marketing: LinkedIn marketing :The Best Professional platform
Medium Account
Having a medium account is the key to all your problems. Refer to the process given above to open your Medium Account.
Podcast
As per your brand's motto, organize a podcast. You need to find a topic and speak about it for at least 20 mins to 1 hour. You could also select a specific theme related to your brand.
PPC Advertising
This is one of the most popular techniques to advertise your brand. Pay Per Click helps to convert the clicks of your audience to your brand's profit. Your brand gains a good reputation with the help of this.
Content Marketing
Brand building revolves around content marketing. Without this, branding is of no use. The basis of branding is content marketing.
Optimization
It's very important to optimize your profile. Set a profile photo that resembles your brand. You can use the logo of your brand as the profile photo. Your bio should contain a brief description of your brand.
Contest
Organize daily contests and give something for free. It can be a lottery session or a giveaway.
Brand Story
Tell the real story of your brand to the public. Tell them the actual reason why you started branding as your career? The story should relate to others. Your story should be realistic and compelling.
Don't Please Everyone
It's almost impossible to impress everyone. The world is full of judgmental people who are going to judge your brand. You will get to know about two types of people, one the positive ones and the other ones the negative one. Don't get offended by the negative comments. Take them as a challenge and work upon it.
Early Access
You can give a sneak peek of your brand by offering early access to some of your audience. This would impress them and increase curiosity regarding your brand.
Interactive Content
Keep your content fresh and full of energy. It should reflect your brand's point of view.
Social Advertising Strategies
Needless to say, social advertising contributes a lot in your branding career. By targeting a particular group of people, you could post ads. Ads contribute a major factor in branding.
Remarketing Campaigns
This is the practice of giving a taste of your brand to people who have already encountered your brand before.
Medium Brand Guidelines:
Just sitting and reading the theory of any subject is not going to take you anywhere. Implementation of the strategies efficiently will matter to you the most. There are two components in every field, the first one is understanding and the second one is the practical application of that. In the same way, with this blog, you have learned the concept behind branding. The field is all yours now. Go and practice. If you are still waiting to take your brand online, then mind it you are missing a lot.
References