Did you find an 'O' represented on your face by seeing so many unknown users demanding your brand? Or felt happy after your product sold out through your online shop? In a world where innovations and inventions never stop, it has become easy to grow one's venture too. And how do we do this? It is through 7 C of digital marketing. Digital marketing has made it easy for us to promote, sell and grow our venture. This is the basic digital marketing meaning. There is a lot to find out.
Applying a digital marketing strategy requires one to take note of different and other factors too. Not every venture has to execute a similar kind of digital marketing strategy. But first thing first, you need to know digital marketing and how to execute it well. Let us familiarize ourselves with digital marketing through understanding its different aspects.
Read on how AI is game changer in Digital Marketing:
What Is Digital Marketing?
A digital marketing introduction refers to the use of the internet and digital communication mediums to promote brands. It is the virtual promotion of a product or service which brings in potential and more customers. Digital marketing meaning also refers to the inclusion of one medium or many mediums to generate prospects for the ventures. This means that the digital marketing strategy may focus on generating growth through one platform or multiple platforms.
Digital marketing is also called internet marketing. It belongs as a component to the overall marketing concept. It initiates the brands and ventures promotion using the internet and on various electronic devices. Today, due to digital marketing, the shops have shifted on a virtual platform from the physical spaces. Moreover, this virtual shop is easy to access as it reaches out to different corners of the nation or world.
Suggested Blog : What is Social Media Marketing ? Best 6 types Of SMM
There are 8 types of digital marketing. These are:
Pay-Per-Click
Email Marketing
Marketing Analytics
Affiliate Marketing
Content Marketing
A digital marketing strategy is a vast combination of various strategies. It may have a blend of search engine optimization, data-driven marketing, search engine marketing, and others. Another best part of digital marketing is that it stretched to non-Internet channels too. It can be executed through television advertisements, mobile ringtones, SMS, and more.
Check out our blog on Digital marketing strategy with AI: Artificial Intelligence: Revolutionize your Digital Marketing Strategy in 2022
Enforcing a digital marketing strategy needs you to have practice and ample knowledge about the subject. It must be understood that other factors must be in sync with the strategy you apply through digital marketing.
How To Do Digital Marketing ?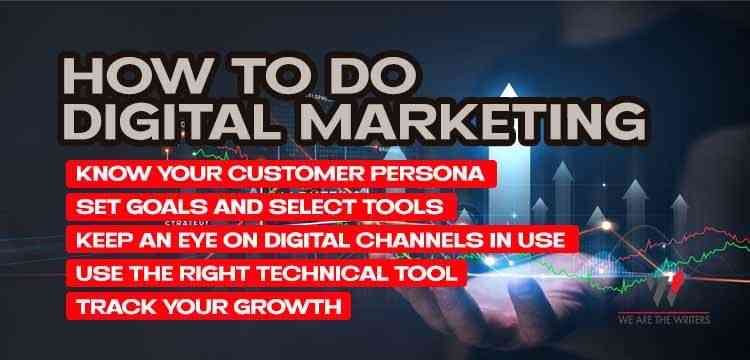 Digital marketing for beginners appears to be a very hectic task, as it dominantly includes knowledge of technology. However, if you know the steps and make sure of them in the process, it would be easy to apply. Here are the ways to know how to do digital marketing.
Step 1: Know Your Customer Persona
You must understand and assume your next target customers. This can be analyzed with tracking the preferences of the current customer group. For the new ventures, this step can be done by understanding the customer base of similar existing ventures.
Read this to know about user Experience, important factor in 2022: Why is User Experience an important Ranking Factor in 2022 ?
Step 2: Set Goals And Select Tools
If you are choosing the digital marketing strategy, set your goals inclined to. The strategy you apply should achieve the goals you set for your brand's growth. Align the tools you want to use to achieve the goals.
Step 3: Keep An Eye On Digital Channels In Use
You must be aware of the digital channels that you are using before choosing a new one. This will help you to set up the digital marketing strategy apart and give something new to users.
Check out Best Communication Channels for brand in 2022: Best Communication Channels for your brand in 2022
Step 4: Use The Right Technical Tool
Whatever technical tool you use in promoting a brand digitally, must be efficient, understandable, and appropriate. Using inappropriate tools will only create complexities and cause deviation from the marketing goals.
Step 5: Track Your Growth
Always keep in check with the progress after applying the digital marketing strategy. This will elongate a clear understanding of your venture's current standing and how it can be stretched optimistically.
These are the steps to follow for digital marketing for beginners. Along with knowing these steps, there must also be the acquisition of digital marketing skills. Acquiring these skills further furnish the application of the steps required for digital marketing. Below are the digital marketing skills that you must work on:
Data Analysis: This skill is required for having an understanding of varied informational procedures and online interaction of the target market.
Content Creation: This skill enables the generation of unique, targeting content which is the core of digital marketing.
Customer Relationship Management (CRM): This skill enables the efficient monitoring of growth in the customer base. It also enables in applying strategies to maximize the customer base.
Communication Skills: It prepares you to generate digital content which is interactive with the users and promotes the goal indirectly.
SEO and SEM: Knowledge about SEO and SEM is required to generate high-ranking content and create more visibility.
These are the digital marketing skills required besides knowing the steps to apply a digital marketing strategy.
Read this blog to Get more ideas or tips: 10 HELPFUL TIPS FOR DIGITAL MARKETING
What Are The 7 C Of Digital Marketing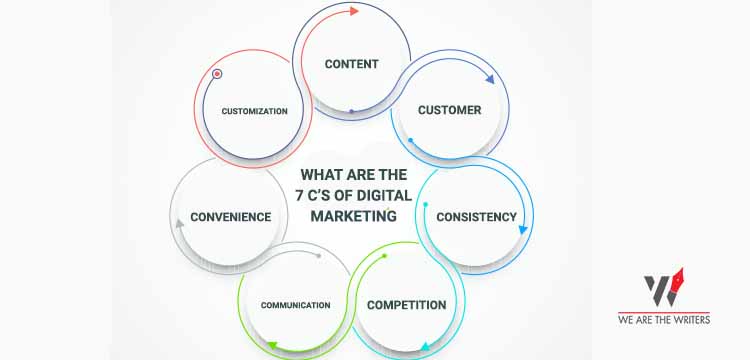 Just like the 4 P's of entrepreneurship, digital marketing also includes the process of 7 C's. This helps you in understanding the tools, their application, and execution while shifting to digital marketing. Having an idea about these 7 C's further amplifies the understanding of what digital marketing is. It also aids in designing the crust for digital marketing that is efficient and promises growth.
Here are the 7 C's of digital marketing that you should know:
Content
Content is the central crust to lay growth for more customers and swell it more. It requires you to generate something about your venture which is unique. A unique content requires an equal amount of creativity and promotion of the venture. The more the content is unique, the more visibility your venture will have online. Also, the content you develop for the website or social media platform should differ. On the websites, it must be more informational and on social media platforms, it should be catchy and creative.
Sugessted Blog : What is Content Strategy and why do you need it right now ? – 10 min read
Customer
Understanding your customers is a must in digital marketing. You must understand that digital content is a means to amplify your customer base. You can make out about the customers' choices with the initiative of tracking, surveys and online polling. Once you lay the step in shaping the content, you must acquire the knowledge about the target groups at priority. Customers are the sole purpose responsible to grow out your venture.
CTA importance in business, read this to fin more: Call to Action | CTAs Importance in Business website -2022
Consistency
Maintain the constituency of your digital marketing. If you are opting for multiple digital marketing channels, consistency is a priority. Remaining off from a particular platform for too long will obstruct your venture's growth. Posting about your products or services consistently on different platforms will bring in greater prosperity.
Competition
With world forging in technology in manifolds, knowing your competitors in the digital field is also a necessity. Different brands, apply a different digital marketing strategy. It is very essential for the venture to know what is new in the digital world. This is essential for your venture to sustain itself in the digital world for the long term. That is why knowing your competition in the digital market world should be an important task.
Communication
Communication in the digital marketing world is very essential. It can be either one-to-one or many-to-many. Communicating with the end number of users aids ventures to understand what exactly their status is. It also makes them understand the loopholes and how to strategize well. SMS, E-mails are ways to enhance communication in the digital market world.
Suggested Blog :
Convenience
Providing convenience to the users is very essential. Make your venture and its products or services available via multiple devices. This boosts the sales of your products and users can find it ordering in easy steps. Also, providing innovative options like wishlists, add to cart, payment options enhance the customer base for your venture digitally.
Customization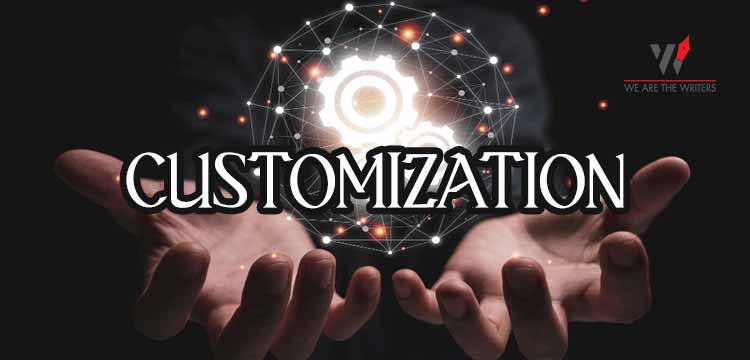 Availing with customization options on your digital websites and pages should be done. If you provide the users with the customization filters, it becomes easy for them to navigate their needs. Customization also brings in more growth because it essentially works in favor of the customers.
Read our blog on UI/UX for webpages: All about UI UX | Learn to make your Content Design better in 2022
All the above are the essential 7 C's of digital marketing. Applying them to how to do digital marketing steps can work efficiently. These 7 C's give you the lead in shaping the best frameworks for your digital venture.
Parting Note
Digital marketing has changed the mode of marketing in diverse directions. It has operated efficiently for both the users and the owners of the digital platforms. Before jumping into using the digital market, always know what digital marketing is. All the types of digital marketing are diversely operated by ambivalent brands.
To step into the world of digital marketing, always be familiar with the steps of applying its strategies. These steps include knowing your customers, tools, applications, and the digital technology that you will use. Besides these steps, you must also be proficient with digital marketing skills. You must possess knowledge about data analysis, SEO, SEM, communications, and CRM.
Get to know more on How to Effectively Implement the 7 Cs of Digital Marketing? by devrix
Lastly, always be in sync with the 7 C's of digital marketing. These are Content, Customer, Consistency, Competition, Communication, Convenience, and Customization. These C's help you in starting with the basics of digital marketing and further branching it. They help you in forming the fundamentals of your digital marketing plans and executing them soundly.
So, what to wait for? Know all these 7 C's of digital marketing and find your spot in the digital market world.