There is plenty of blogging sites that make the internet a wonderful place to be. It is a luxury to be able to write on the internet. There are blogging sites free of cost to help the bloggers.
Some best free blogging platform allows you to make money while writing. There are some that are paid but extremely good to use. The online publishing business is evolving and fast-paced.
Hence bloggers get several platforms where they create content and fill their pockets a little.
---
Best Free Blogging Platform
It is the age of connectivity. Today, bloggers have the front row seat for any event. More people wish to start their blog. Sometimes, topics become a hit online. But specific technical writings need a little push. Since writers need to start from a point, there are specific blogging sites free to help them. It helps budding bloggers to kick start their careers in the blogging world.
WordPress.com
This platform has all the tailored features that a blogger needs to run their successful blogging sites. Since it has a much more streamlined interface, the bloggers will find it easy to use. The templates available on this site are strictly for blogging purposes. A writer may struggle if they try to do anything else with it.
It is an excellent site for amateurs because it is uncomplicated. It enables them to get the hang of everything. This blogging site is living up to its blogging reputation with its eye-catching features to make writing look easy. If you are serious about blogging, then this site should be a standout choice.
Besides, the basic version of this platform remains free of cost for the bloggers. But occasional site ads and branding will appear. Also, bloggers can update their plans for $4 per month. Users can bill in yearly. It will help the writers to remove the site logo and advertising. Likewise, their multiple price plans allow the writers to write freely without worrying about emptying their pockets.
• Read our blog "What is a Blog? How to Become a Pro Blogger in 2020? ".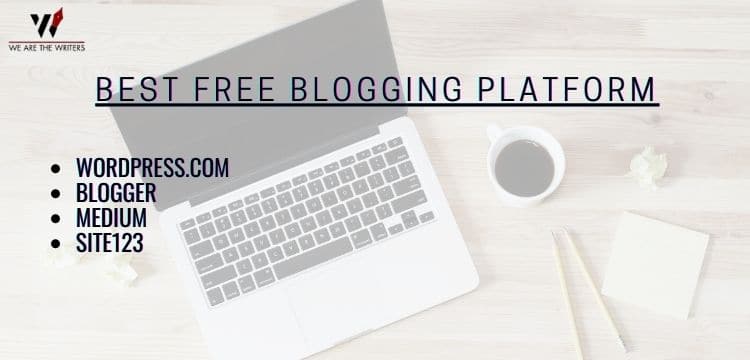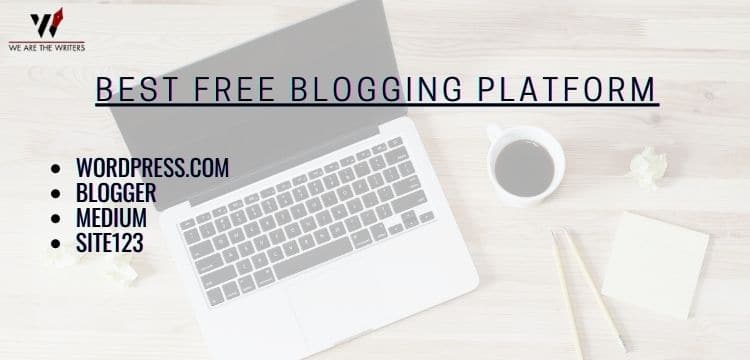 Blogger
It is another popular free blogging platform. It is also known as the grand old man of publishing on the web. Bloggers often ignore this classic blogging platform due to its age. Google has acquired this platform which makes it trustworthy and reliable. Google also takes care of its speech and security. Thus, bloggers can focus on their blog and its promotion.
Writers who are not passionate about technology can construct their websites one step at a time through their uncomplicated features. The overall functions and design of this platform work as a platform altogether. It is this feature that enables the site to have a drag and drop layout and content.
The site is SEO-friendly. Since the website offers several options for customization, one can purchase various templates from external websites.
It is on the list of available blogging sites free of cost. It means their writers get unlimited resources to run their blog successfully. Writers are privileged to buy a custom domain and point it to their blog free of cost.
Using this classic blogging site means that writers are free from endless pop-up ads and extra charges for upgrades. Bloggers often use this best free blogging platform.
You can also join as a freelancer with us at We Are The Writers. Visit our Freelancer Page to know more.
Medium
Medium has undoubtedly, became a household favorite for both bloggers and readers alike. It allows the bloggers to create their unique stories freely in their blogs. There are also various writers, publishers, and journalists who have grown interested in this blogging site.
It has a limited social networking feature and is easy to use. Since bloggers do not need to publish solely on medium, they can keep working on other sites.
They can import their work and then re-publish them easily. Bloggers also get to evaluate their metrics for every post they create. It will help them gain an insight into how their posts are performing.
Since medium enables their audience to link their account to other social media handles, bloggers will gain a new audience while also allowing social media to discover them.
It is one of those blogging sites that lacks API that makes it calmer. Since it is an authentic site, the bloggers need not worry about any fake followers. It will also allow them to view how their content is performing in reality away from the noise. It is a free platform for bloggers. They are just a sign-up away to enjoy blogging on this platform.
Site123
It is another heavyweight blogging platform that new bloggers can use. It is easy to use since they ask bloggers a series of questions. They are user-friendly and offer one of the best customer support. It takes pride in its live chat feature. Also, this platform works even on smartphones and tablets. They have a drag-and-drop editor. Bloggers will find it to be one of the modest website builders.
It allows the bloggers to create a completely free-of-cost website. Besides, this blogging site also has covered a wide range of fundamental features that any blogger would need for their writing. They have modern templates that allow users to build their websites without any support. They have great social media integration and comments section for the bloggers and audience to interact. It is known as newbie-friendly since one can publish blogs in simple steps.
One merely needs to pick their website type and choose their preferred blog and they are ready to start. This website is available free of cost for bloggers. But storage plan remains limited to 250 Mb. This site also offers premium plans. But they are affordable and have great layouts and features.
---
Popular Personal Blog Sites
Choosing a noteworthy blogging site might be difficult for a blogger. However, one can select a platform by weighing the benefits and drawbacks of their specific need. Here is a list of some popular personal blog sites for bloggers to try.
Tumblr
Tumblr is one of the most basic yet popular personal blog sites. Also, it allows bloggers to create and post multimedia and other content. The social networking platform status of this platform is its merit. Once a blogger has created their account on this site, they are ready to connect to users. It will recommend several blogs of other bloggers.
Likewise, your blog would be visible to others. People can reblog, like, and share content they like which helps the blog to reach a larger audience. It has a limited customization option. But customization is a simple task on this platform.
Also, bloggers can change their layouts to be more professional. This popular site also has several free and premium themes to pick from. But if bloggers want to have a domain, they need to pay for the registration.
This site is convenient to use for non-tech-savvy. But if you are a tech enthusiast, you can easily change the HTML code for customizing your blog. Bloggers need not buy or register any domain name if they are not willing to. It is a user-friendly site and a simple interface.
This site is not well-suited for long-form content since it shares visually rich content on its platform. Bloggers can post videos, artworks, and also text-based posts on their handles.
• Read our blog on 'Promote Your Blog in 30 Amazing Ways'
Squarespace
Bloggers resort to this well-known site to experiment with stunning photos of various aesthetically pleasing templates. Their template and features allow bloggers to create a responsive and incredible website for themselves. Bloggers who need clean and customizable sites often tend to look up to this platform. People without a single artistic bone in their body can create good sites on this popular blogging site.
They have incredible customer support who will be there for you on every single step. Bloggers here do not need to worry about any updates or hosting since this site handles it all for them. It may not compete with other sites like WordPress, but it has an intuitive UI. It easily marks its place as a business owner's favorite blogging site to mark its presence online.
This site has categories, tags, and also feature posts for the users. They also have everything related to SEO and other social media tools that bloggers require. Bloggers can also add e-commerce functions to their blogs. Their distinct features allow driving the right web traffic to a writer's post.
The plan of this site starts at $12 a month for a website. It is enough for bloggers to power up their websites. While the business plans help in accepting secure payment via online methods.
iWriter
iWriter is one of the most remarkable sites for writers. It is convenient since the writer can start writing immediately on this platform. It does not require any advanced skills and experience levels to write on this platform. Besides, bloggers can always earn some extra cash on this site if requesters like their work. These requesters order content from you.
There is also a deadline set for the work that bloggers need to do. They even tip the bloggers if they love the content. Besides, their features also allow increasing web traffic for the bloggers to help them with their content.
---
Paid Blogging Sites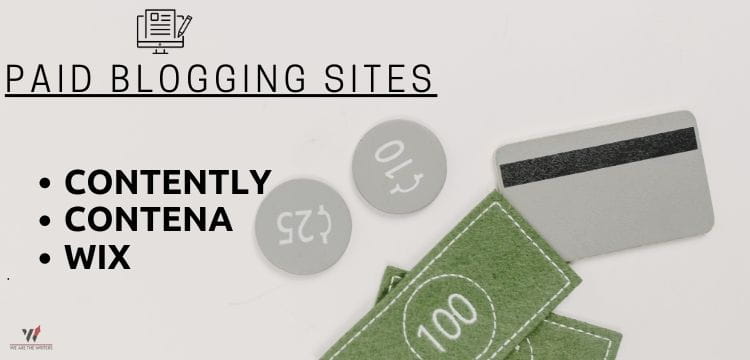 Multiple paid blogging sites allow bloggers to create and earn from their blogs. Some offer a free trial. But you can find the premium content when you pay for their membership. If you want to reap the awards of blogging, these are some best blog sites to try.
Contently
People often link this blogging site with high quality. It is one of the best blog sites for entrepreneurs and firm owners. They use it for ideas on premium content and creation. This platform has a clean interface and is well-equipped with simple collaboration tools for the users. They also help their users to join company giants like Google or Walmart since the site is not limited to writers.
Nervous newbies can also give this premium site a try. But it is mainly for experienced writers with a rich portfolio. Contently has review tools that ensure that your content is perfectly aligned with the brand and is SEO-optimized. Further, they also assess if the work it is going to publish is legally compliant or not. It is also one of the most expensive paid blogging sites for companies. The price usually starts from $3k and goes up to $25k
Contena
Contena is also a well-known blogging platform for all freelancers. Bloggers may write for large corporations and make money that way. It is one of the best paid blogging sites. Further, this blogging platform helps its writers in education and other resources for job seekers. Bloggers need to fill up a short question series where they ask about their writing experiences.
They also offer bloggers their writing guide to teach basics to the new writers. Bloggers who are devoid of time for quality gigs can pitch for this platform since it helps saves a lot of time. Their secret guidebook for writing also has ideas for bloggers to get referrals and how to manage clients.
A year-long membership at contena is $497. On the other hand, for two years, members need to pay $997. It is one of the paid blogging sites that provides a guarantee for money return under specific criteria.
Wix
This blogging platform helps bloggers to customize their sites with different third-party apps. It is one of the best blog sites for amateurs who want to develop a full-fledged website. If you are tech-savvy, the site offers several customizations offers to make your blog look amazing.
They are SEO-optimized and have more than 500 classic design templates for users. Bloggers can edit their images quickly and freely. They have an easy setup. Their premium plans start at $8.50 a month and can go up to $24.50 in a month.
• Read our blog on 'Blogging: The Best Techniques of 2021'.
---
Concluding
It's not easy to create and publish articles. However, these platforms can assist you. There are many paid and free blogging sites available for writers. But every blogger has individual taste, style, and expectations from their blog. So, make sure to choose a blogging platform that suits your needs and taste.