Books take their readers to a different world. It also has the power to bring them back to reality. Best novels to read which may stay in the reminiscence forever. Reading books is a hobby every person should entail.
A room without books is like a body without a soul.

Marcus Tullius Cicero
From improving vocabulary to providing refreshment from daily stress. From giving genuine morals to making boring lives easy, reading books is an easy go-to which gives you the knowledge and entertainment simultaneously.
When it comes to the best novels to read, the list differs from reader to reader. Since each one of us has a different choice and style, our book preferences will definitely differ. Some like horror, some like mixed genre, some like complex structure whereas some like simple language. However, we have compiled a list of the best novels of all times you must have in your library.
This blog is nothing but an answer to your question of which novel is best for reading. Have a look!
Suggested Blog
Best novels to read: All-time hits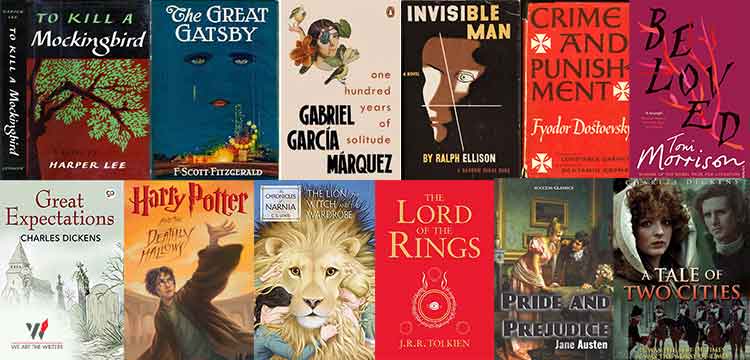 1. To kill a mockingbird- Harper Lee
Published in 1960, this book is a Pultizer-prize winner. This novel emphasizes racism in the American South region. The story is told from the viewpoint of a young yet clever girl named Jean Louis e (Scout) Finch. The work is known for its warmth and comedy while dealing with complex subjects such as rape and racial profiling. This has to be included in the best novels to read, without a doubt.
2. The Great Gatsby by F. Scott Fitzgerald
This book is said to be one of the best works of Fitzgerald. It is regarded as one of the most important works for teaching pupils how to critically analyze literature. Haven't read the book in school times? Though you are late you still have a chance. Bring it home! The Great Gatsby gives readers an insider's view of America's Jazz Age in the 1920s while also criticizing the concept of the "American Dream."
3. Pride and Prejudice by Jane Austen
Published by Jane Austen in 1913, this book was an immediate success. The protagonist Elizabeth Bennet is the best example of character development. This novel can help you understand novel writing more precisely. The romantic conflict between Elizabeth and her pompous beau, Mr. Darcy, is a brilliant display of cultured fighting. This novel is a must-add to your to-be-read list.
4. Invisible Man by Ralph Ellison
This novel was published by Random House in 1952. The work is known for its strange and experimental literary style, which delves into the significance of African American culture and heritage. In 1953, Invisible Man won the National Book Award for Fiction in the United States. Coincidentally, this book is always confused with a similar title novel with just an addition of "THE", published by H.G. Well.
5. Crime and Punishment by Fyodor Dostoevsky
An 1866 novel, is a brilliant read. This work is a brilliant and fully engrossing portrayal of a man going through a terrible psychological breakdown. Raskolnikov's (the protagonist) ethical negotiating will not be enough to liberate him from the parasitic shame that has taken up residence in his psyche. A gripping psychological thriller, a chilling crime drama, and a compelling investigative genre laced with intellectual, philosophical, and sociopolitical critique.
6. Beloved by Toni Morrison
"Brutal, heartbreaking, and beautiful." Tanith. This book relates the story of Sethe (the lead), a slave who escaped to Cincinnati, Ohio, in 1873. Sethe's guilt and emotional suffering after killing her own kid, whom she named Beloved, to prevent her from enduring life as a slave are depicted in the novel. Awarded with Pultizer Prize, this book will take you through a brutal yet interesting journey. 
Suggested Blogs:
7. Great Expectations by Charles Dickens
One of its writer's biggest literary and mainstream hits was indeed the classic novel. It follows the orphan Pip as he grows up, while simultaneously addressing problems like social status and human value.
8. Harry Potter Series by JK Rowling
The movie adaptation of the novel was and is an all-time blockbuster. There are seven books in the series. Warner Bros. has made eight films based on the books. The last novel was adapted into two films. The books follow Harry Potter, a wizard, as he makes his way through Hogwarts School of Witchcraft and Wizardry. The stories relate to his transcendence to overcome Lord Voldemort, the evil wizard who murdered Harry's parents when he was 15 months old. The entire series is a hit among kids and adults, be it the movie or the books.
9. The Lord of the Rings by JRR Tolkein
The magnificent otherworldly trilogy brought a world of munchkins, dwarfs, elves, and trolls to life in a way that had never been seen before. The imaginary universe of Middle Earth has lasted to become far bigger than the sum of its components, ultimately a story of camaraderie and the war between good and evil. Sound interesting? Get the novel on your to-be-read list.
10. The Alchemist by Paulo Coelho
The captivating work by Paulo Coelho has a devoted following all around the world. This narrative about an Andalusian shepherd boy named Santiago, who goes from his hometown in Spain to the Egyptian desert in search of a treasure hidden near the Pyramids, is stunning in its tremendous beauty and life force wisdom.
Confused about which novel is best for reading? This blog is for YOU! The above mentioned are the best novels of all times. Do we end here? No, we have more. Below are more additions to the best novels to read in English.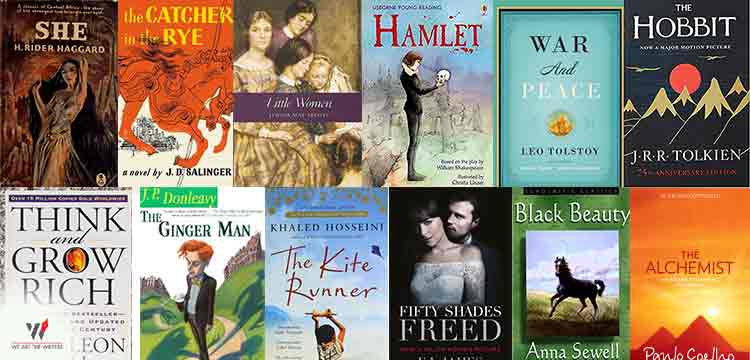 11. One Hundred Years of Solitude by Gabriel García Márquez
12. A Tale of Two Cities by Charles Dickens
13. Black Beauty by Anna Sewell
14. Fifty Shades series by E. L. James
15. The Kite Runner by Khaled Hosseini
16. The Ginger Man by J.P. Donleavy
17. Think and Grow Rich by Napoleon Hill
18. The Hobbit by J.R.R. Tolkien
19. She: A history of adventure by Henry Rider Haggard
20. The Catcher in the Rye by J.D. Salinger
21. Little Women by Louisa May Alcott
22. Hamlet by William Shakespeare
23. War and Peace by Leo Tolstoy
Suggested Blogs:
Best novels for students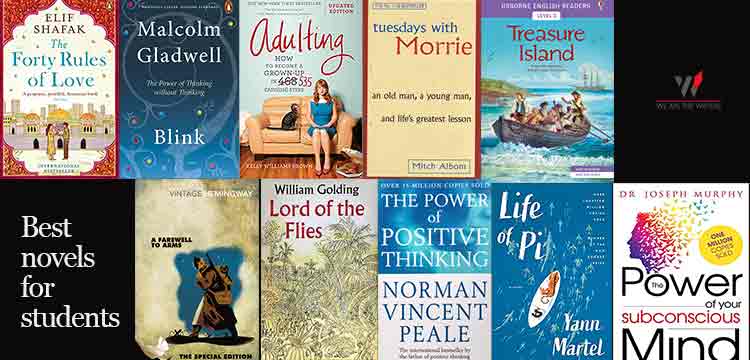 While all the books from the best novels of all times can be read by high school or college students. There are few chosen which should be read by our students. Following are the best novels for students range:
24. The Forty Rules of Love by Elif Shafak
25. Life of Pi By Yann Martel
26. Treasure Island by Robert Louis Stevenson
27. Tuesdays with Morrie (Mitch Albom)
28. Adulting: How to Become a Grown-up in 468 Easy(ish) Steps by Kelly Williams Brown
29. Blink: The power of thinking without thinking by Malcolm Gladwell
30. A Farewell To Arms by Earnest Hemmingway
31. Lord of the Flies by William Golding
32. The Power of Positive Thinking by Dr. Norman Vincent Peale
33. Power of your subconscious mind by Dr. Joseph Murphy
Best novels to read in 2021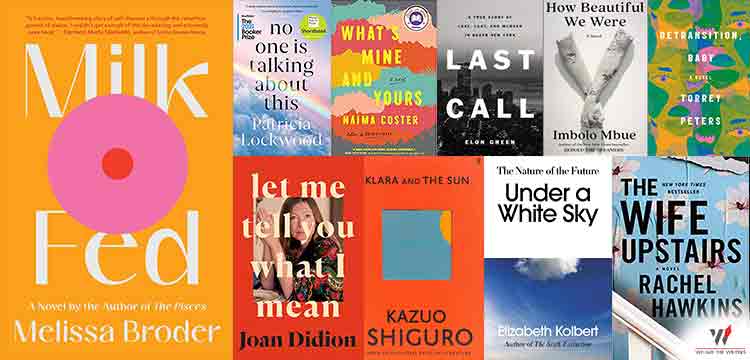 The year is about to end. Already wondering which novel is best for reading? Along with blockbuster movies, book lovers always look for the best novels to read. We are here with a list of the best novels to read in 2021.
34. Last Call, by Elon Green
35. The Wife Upstairs: A Novel by Rachel Hawkins
36. Detransition, Baby by Torrey Peters
37. Klara and the Sun by Kazuo Ishiguro
38. Under a White Sky: The Nature of the Future, by Elizabeth Kolbert
39. Let Me Tell You What I Mean, by Joan Didion
40. Milk Fed, by Melissa Broder
41. No One Is Talking About This, by Patricia Lockwood
42. How Beautiful We Were, by Imbolo Mbue
43. What's Mine and Yours, by Naima Coster
44. The Girl With the Dragon Tattoo by Stieg Larsson (2005), translated by Steven T Murray (2008)
45. A Little Life by Hanya Yanagihara (2015)
46. Chronicles: Volume One by Bob Dylan (2004)
47. The Siege by Helen Dunmore (2001)
48. Bad Blood by Lorna Sage (2000)
49. Adults in the Room by Yanis Varoufakis (2017)
50. Thinking, Fast and Slow by Daniel Kahneman (2011)
51. Nothing to Envy by Barbara Demick (2009)
52. Gone Girl by Gillian Flynn (2012)
53. This House of Grief by Helen Garner (2014)
54. Night Watch by Terry Pratchett (2002)
55. Moneyball by Michael Lewis (2010)
You may also refer to Penguin Books for more interesting read
Conclusion – Best novels to read
No matter what your favorite genre is the above list of best novels to read is neutral and best-selling books that you cannot dislike.
Still, wondering which novel is best for reading? No worries. Take your time. Maybe you can end up having them all!
Happy reading!