With the pandemic sucking out all the fun and entertainment in our lives. OTT platforms have really emerged as saviors for our boredom. Amazon, Netflix, and MX player are amongst some of those OTT platforms that provide a wide variety of content within the comfort of our homes. Technology has made it possible for us to stream endless movies and web series on our mobile devices.
TVF has emerged as an amazing platform form for raw talent and fresh content. The youth-centric making of the TVF web series or has made entertainment really easy and relatable. The series and like TVF Pitcher and TVF Flames have got the youth swirling around the content and the ideation. The majority of the Indian youth has loved the TVF Pitchers and TVF Flames. TVF Aspirants was also a very wholesome web series or TVF series which made an impact on the young aspirants.
TVF Pitchers and TVF Flames in general celebrate the emotions that central to a person's existence such as love, friendship, jealousy, ambition and sadness. TVF series takes people to a world that is very much like their own but is profound at the same time.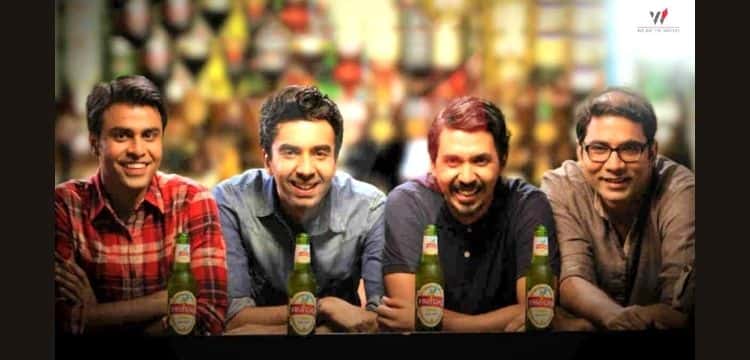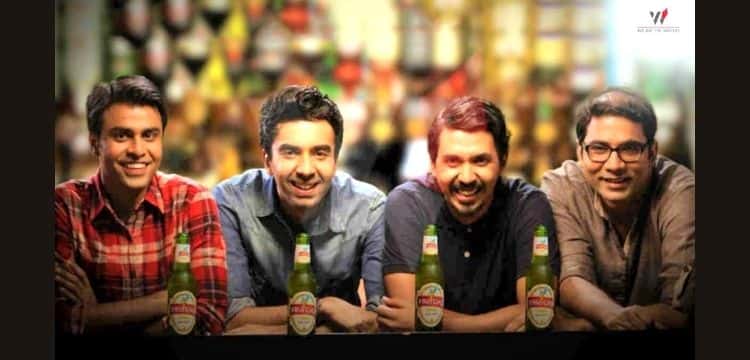 Here's all we know about TVF Pitchers and TVF Flames.
Suggested Read:
---
TVF PITCHERS | TVF web series
The story revolves around the life of four friends; Naveen, Jitu, Yogi, and Saurabh who wish to enter the world of start-ups. Naveen faces failure while working in the company and does not get the adequate opportunity. He thus gets drunk and resigns. He, however, is lured by the company to stay and get a transfer to Beijing. He reaches the airport but decides that he is not interested in doing the regular 9 to 5 jobs, he wants a more amusing and challenging job.
The four friends later decide to open a start-up. They go on a journey where they discover themselves and get to know what they really want for themselves. TVF Pitchers is a series with a total of 5 episodes. This web series called was launched on the portal.
CAST THIS TVF SERIES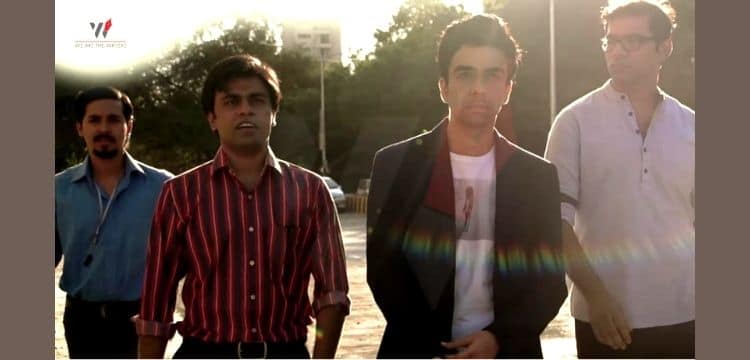 Naveen Kasturia – Naveen Bansal
Jitendra Kumar – Jitu
Arunabh Kumar- Yogi
Abhay Mahajan – Saurabh Mandal
TVF PITCHERS REVIEWS
TVF Pitchers was well received by the audience. The netizens loved the making of the series. The first episode received 7.7 million views. The young graduated working class of India is often asking the question "tu kya hai?" Or "tu kya kar raha hai?" When they get ready for work. Start-ups have become the new 'it' thing, with people willing to pursue their dreams. It is a blend of brilliant acting and direction. This TVF series is very relatable and comforting at the same time. The heavy bits of humour further adds to the glory and failures of the four friends.
Naveen, Jitu, Yogi and Saurabh start afresh by quiting their high paying routine jobs to engage in their 'startup' .
TVF Pitchers has beautifully shown the mentor-trainee relationship. Bhatti, an entrepreneur who gives brilliant advice like "tu beer hai", "aur Teri company bottle", is a gem of a scene. TVF Pitchers stands out because of its research and intellect. The makers of this series have done a great deal of research. Pitchers is a light-hearted buddy-comedy web series. TVF series sticking to its roots develops a beautiful journey of four youngsters through TVF Pitchers.
The OTT platforms and web series especially are known for creating unique, relatable and extraordinary original content. With TVF Pitchers the old overhyped shows will soon see the end. The theme of Pitchers is crafted with such organic beauty and honesty. It attracts a viable target audience with its unique theme and premise. Pitchers might not be thorough with the nuances of entrepreneurship but the makers of this series gave the member of the audience a thorough life lesson.
Pitchers is a pure form of creativity which is far away from the stereotyped characters and melodrama. It is a must-watch for all those who loven web series.
---
TVF FLAMES
We all had our hearts beating when Ishita says "kuch ladaaiyaan na kar leni chahiye". Rishabh and Ishita's story took us back to our school days when some of us fell in love for the first time. TVF Flames is a teenage romance that is made straight out of the TVF series makers' heart. It chases padhai aur pyaar. In the series, class topper Rajat falls in love at first sight with Ishita, who is new to the tuition centre.
Rajat's best friend Pandey and Anusha's casual love story also begins at the same time. Rajat and Ishita face changing equations of friendship and love in TVF Flames season 1. In the series Rajat, Ishita, Pandey and Anusha deal with their lives as students and young lovers.
CAST OF THIS TVF SERIES
Ritvik Sahore – Rajat
Tanya Maniktala – Ishita
Sunakshi Grover – Anusha
Shivam Kakar – Gaurav Pandey
TVF FLAMES REVIEWS (A TVF SERIES)
The first feeling after watching TVF Flames is "been there, done that". It is a magical and youthful journey of love and friendship which we all can relate to. The first flush of love is often felt by most of us in our school days. We are often teased by our friends. The series is the very same story of a boy and a girl who are smitten with each other right from the day they meet. No feeling in this world can replace the feeling of being loved.
First love is central theme of this TVF series. This beautiful series revolves around the little things, the undecided kisses, the butterflies in our stomach when our crush comes closer and those chills that we get while watching them smile. The series restores the teenage romances which are full of flames.
The first season of flames was all about Rajat maturing from the infatuation to dating Ishita. The second season of Flames is about choosing the correct career path and dealing with relationship with parents.
The season 2 of TVF Flames is about fighting to have a mobile and the struggle of meeting the person you love. Ritvik's confusions about career are relatable to a majority of teenagers. The title of every episode defines the romanticism and warmth of the episode.
TVF Aspirants director, Apoorv Kakri creates a wonder on the OTT platforms by introducing TVF Flames.
Flames feels like listening to a beautiful symphony being played at the shore of a quiet beach with the person you love.
The series undoubtedly captures the essence of teenage romances and the trials that a teenager faces.
---
THE FINAL WORD
TVF series have impacted the masses everywhere. With its relatable content and superior quality actors the series and web series have become increasingly engaging. Starting with permanent roommates till pitchers and flames, this portal and YouTube channel has mirrored the anxieties, fun, restlessness and responsibilities of our generation. TVF stories seem like our very own life stories being performed by other actors. It is difficult to imagine our lives without the entertainment provided by this channel.