To achieve great heights in your career, it's crucial to bring your brand to the playground. If you have decided to advertise your brand with Facebook, then I would say it is a very nice choice. Facebook is a world of millions and billions. It's home to so many individuals. The best thing about this is that it connects people from very remote to far-off places. In today's era, if you are not branding on Facebook, then you are ignoring the most used weapon. If you want to make the most out of it, then you need to follow the steps mentioned below.
No one can deny the fact of having a Facebook account in 2022. It's one of the most used social media. According to a census, It has 800 million users who utilize this platform to share information[1]. So, now let's move on and have a look at how to practice branding on Facebook?
Read to know Branding tricks in Linkedin: Learn 15 tricks to Boost Your Branding on LinkedIn
What is Facebook used for?
It is a famous social media platform with ever-increasing users. It is mainly used to share images, videos, and for chatting purposes. You have the freedom to send and receive friend requests to people all over the world. It's an American-based social networking site that was founded by Mark Zuckerberg in January 2004[2]. One can download this app from Google Play Store or Apple App Store.
How to introduce your business on Facebook?
Download this app and do the necessary Facebook login.
If you don't have a previous account, then you need to do a Facebook sign-up.
An OTP would be generated, and that would verify your account for Facebook.
After providing your necessary details, you will land on the home page of Facebook. Your Facebook account is now ready and can use it.
Welcome to Facebook, the world which connects. The profile photo should contain your professional pic or any formal pic related to your brand. Properly choosing the cover photo is a must. The cover photo should contain the name of your brand or any positive note for your audience. Keep updating your profile as per the changes in your brand. Make sure that your users don't feel bored with your content.
Features of Facebook | Branding on Facebook
You will be stunned by the features of this marvelous app.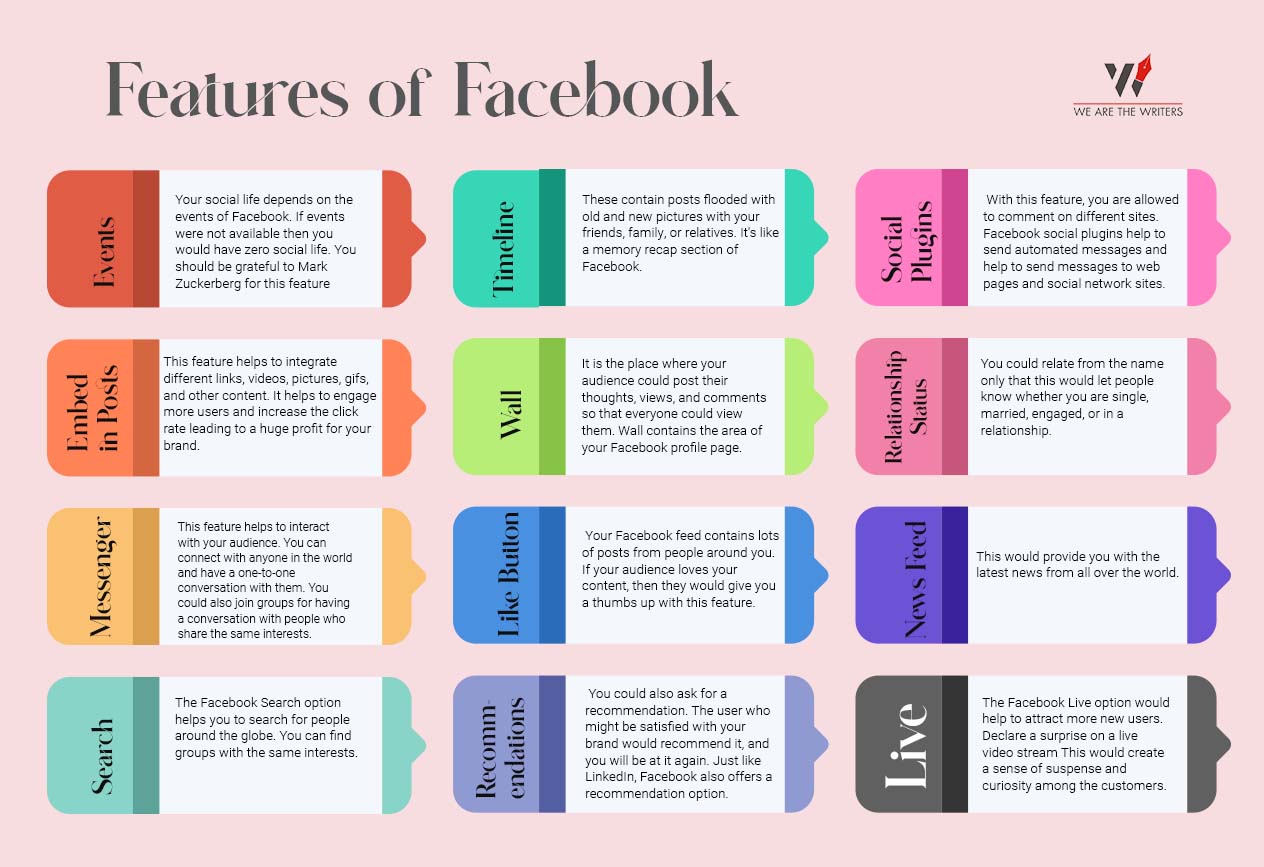 Events:
Your social life depends on the events of Facebook. If events were not available then you would have zero social life. You should be grateful to Mark Zuckerberg for this feature.
Timeline:
These contain posts flooded with old and new pictures with your friends, family, or relatives. It's like a memory recap section of Facebook. You would sometimes be surprised by these timeline images. 
Social Plugins:
With this feature, you are allowed to comment on different sites. Facebook social plugins help to send automated messages and help to send messages to web pages and social network sites.
Embed in Posts:
This feature helps to integrate different links, videos, pictures, gifs, and other content. It helps to engage more users and increase the click rate leading to a huge profit for your brand.
Wall:
It is the place where your audience could post their thoughts, views, and comments so that everyone could view them. Wall contains the area of your Facebook profile page.
Relationship Status:
You could relate from the name only that this would let people know whether you are single, married, engaged, or in a relationship.
Messenger:
This feature helps to interact with your audience. You can connect with anyone in the world and have a one-to-one conversation with them. You could also join groups for having a conversation with people who share the same interests.
Like Button:
Your Facebook feed contains lots of posts from people around you. If your audience loves your content, then they would give you a thumbs up with this feature.
News Feed:
This would provide you with the latest news from all over the world.
Search:
The Facebook Search option helps you to search for people around the globe. You can find groups with the same interests.
Recommendations:
You could also ask for a recommendation. The user who might be satisfied with your brand would recommend it, and you will be at it again. Just like LinkedIn, Facebook also offers a recommendation option.
Live:
The Facebook Live option would help to attract more new users. Declare a surprise on a live video stream This would create a sense of suspense and curiosity among the customers.
Know effective ways to build a brand: What is Branding ? 3 effective ways to build a brand
STEPS TO USE FACEBOOK FOR BRANDING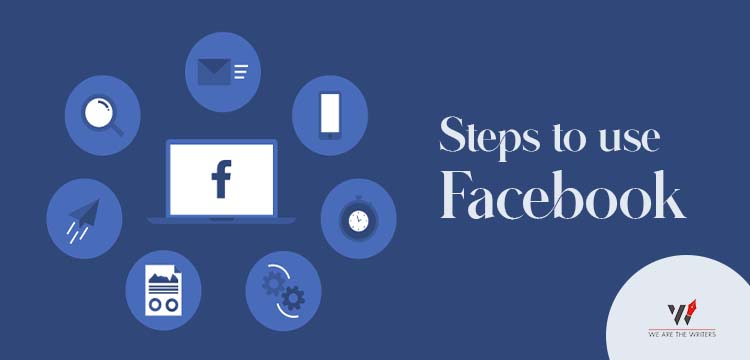 In a world full of people who are crazy about social media, you can also start your career with this. Let's have a look at different ways to get through your branding journey with Facebook.
Get to know your Audience:
Your audience is where the real game begins. Be particular with the audience. If you want to promote your brand for beauty products, look for people who are interested in beauty products. Mostly, the age group of your audience will be 15 to 40 years. It would include ladies and teen girls. They would definitely look for a brand that advertises organic, chemical-free cosmetics.
Interact with them:
Have a full-fledged interaction with your audience. If you are on Facebook to promote your brand, it shouldn't be the case that you are only talking about your brand. Instead, try to post quizzes, contests, and polls related to your brand. Show the personality of your brand and ask interesting questions regarding your brand.
Brand as a focus:
By advertising giveaways, prizes, and discounts, you could easily attract new customers. You should adjust on Facebook according to your customers, but that doesn't mean that you forget to advertise your brand. The way to attract more leads and reach is by pleasing your audience with your brand.
Post timing:
You should be sincere and punctual regarding your branding career. Your audience will respect you and take your brand seriously. Look out for the time when your audience is online, and post at that time. If you keep on posting on the time when users are away from the platform, then it is not gonna benefit you in any way.
Great content sharing:
Your content should reflect the authenticity of your brand. In one word, your content should be a replica of your brand. It should give them a clear idea regarding your brand. People are more attracted to visual content than reading long paragraphs. Try to incorporate more and more points. Videos add the cherry on top of the cake.
Group chats:
It's very important to be a part of the right group. It's the easiest way to find a large group of people who follow the same niche. You can reach out to more people with the help of Facebook connections, but what if fewer people are interested in that particular niche. Here, Facebook group chats play a very vital role.
Video messages:
The video messages are a great start to your fam jam. Try to keep your videos short and crisp. It should contain all the relevant information which you want to deliver to the public. If your brand is organizing an event, give a glimpse of that event with the help of Facebook Videos messages.
Keep Working with influencers:
You must be familiar with social media influencers who have a huge fan following. You could offer your services or products to them. Ask for feedback from them. If they feel that your brand is worth it, then they will advertise your brand. In this way, you could get more followers from them.
Ads:
Use a digital marketing strategy. Target Facebook ads on your audience. It has now become a part of personal space, and everyone is always available on this platform. Retarget your ads. Keep an eye on the people who visit your website and throw ads as per their interest.
Your Mission:
Always declare the aim of your brand in public. Your users will get to know the motto of your brand and will create an impression regarding your brand.
Know Facebook Marketing for Branding: FACEBOOK MARKETING: AN ESSENTIAL GUIDE
Want to create a brand identity:
You could be the next Mark Zuckerberg or Sundar Pichai, the only thing which you need to build your brand is courage. It takes years of hard work to create a brand and only a minute to destroy it. So, never compromise with the quality of your brand and keep your standards high.
Harness your social media as much as you can and achieve great heights in your future with branding. You need to learn a lot about branding on Facebook. Practice is the only way to make you a master in this subject. You fall while you learn but never give up. That's the way to conquer the social world. Your tactics mean a lot in promoting your brand. Exercise your brain and skill in the right place and be futuristic.
References:
[1] Wilson, R. E., Gosling, S. D., & Graham, L. T. (2012). A review of Facebook research in the social sciences. Perspectives on psychological science, 7(3), 203-220.