A content strategist is a person who develops a strategy or a methodology for advertising and promoting the stories of an organisation. A strategist focuses on planning, evolving, curating, analysing and managing the content. the work depends upon the requirements of the company as well.
Many focus more on the development of the content while a lot of them focus on its marketing strategy. It is a role that demands a lot of skills and knowledge, read along to find out and understand what does a Content Strategist do.
Suggested Read:
Content Strategy
Content strategy is the planning, creation, distribution and marketing of usable content. It is an amalgamation of art and science. It is done on both grounds. It requires creativity and technical prowess to develop a successful content strategy which can help achieve the desired goals.
A strategist is believed to be an audience centric marketer, with a purpose to construct an editorial voice of the organisation, analyse content requirements and content distribution, study the content for standard evaluation, and maintain the content upto the stipulated standard. The audience is paramount for them that helps them in garnering attention organically. Content strategy also helps in understanding, constructing as well as displaying the brand perspective and its outlook.
Suggested Blog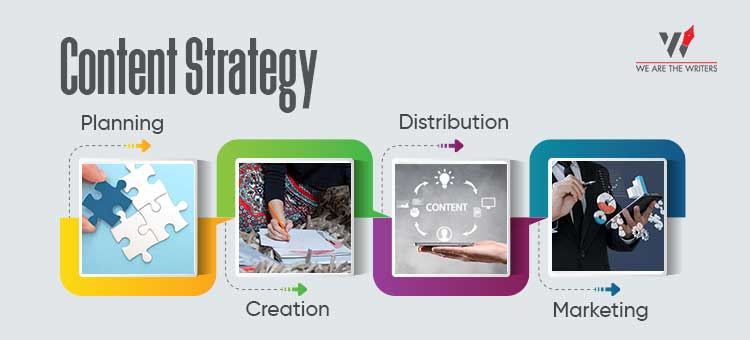 Who is a Content Strategist ? What does a content strategist do ?
A Content Strategist is a professional who works with the very aim of strategizing the content as per the target audience. Along with working on pre-existing content, they create specific and appropriate content for the brand. Their careers usually start from digital content managers, web content writers or content editors. Their strong suits include English, journalism, communications, marketing creative writing, technical writing and information management.
A strategist is not a content producer or a content manager, they focus on creating strategies and placing tactics that will strengthen the content and the returns it brings. Their prime focus is to engage the audience with the use of content. They do not produce content, they create strategies of producing content.
A strategist's Key Performance Index (KPI) is measured by attributes like brand awareness, lead generation and user engagement.
Content Strategist job description
A content strategist is powered by skills, talent and creativity. They work on a consistent note to make a momentum and sail on the targets smoothly. In extremely simple words, the position works to recognize and cultivate insights about the audience and then use the information to develop content specially tailored only for them with the help of a marketing strategy.
Read more about the skills that is required to become a content strategist in uxdesign
Here are some of the roles and duties of a Strategist:
Strategize content strengths
A strategist is the reviewer of the content, the profile will require you to have a thorough knowledge of the standards that the content has to reach upto. Like every other marketing strategy, you will have to identify the strong suits of your content and display them in such a manner that it creates an impact on the target audience.
Study content and perform audits
Regular study and audits of the content help in maintaining the standards of the content. The quality of the content should not be compromised and an audit proves extremely helpful in keeping the check.
Explore customer behaviour and preferences
Understanding the customers behavior and preferences is one the most important parts of this profile. It's extremely creative as well as analytical in nature.
Constructing Brand Perspective
The content that you send out for public consumption will represent the brand. It will be the deciding factor when the target audience is making the brand outlook and understanding the perspective that you're putting out.
Analyse the scope of the strategy
The scope of the strategy should have a vast span, in order to cover all the benefits that it can. Distribution of the content is equally important in strategizing as developing it.
Turn traffic into leads and leads into sales
A strategist is the person who is responsible for monetizing the content and generating revenues out of consumption. Meticulous research of the target audience will help in inviting traffic, converting them into leads and as a result, into sales.
Also read
Skills of a Content Strategist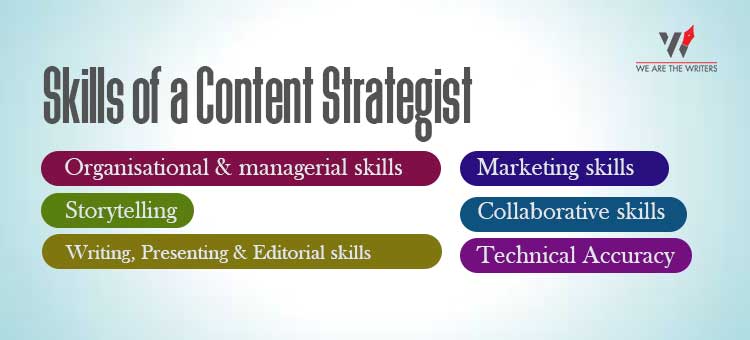 Content strategy development is a complex job, it requires a highly skilled professional to perform the job. The job sure is rewarding but is challenging as well. Client- handling skills, Writing skills, in-depth SEO knowledge, technical skills and alot more. As a SEO strategist, you will be expected to provide creative ideas for the content and how to attract the audience and generate revenue by using SEO best practices. .
Organisational and managerial skills
This is a highly professional job and requires impeccable organisational and managerial skills. It's important in order to get the work done since the person has to delegate the roles to others as well.
Storytelling
Content strategy involves a lot of creativity and imaginative skills. It requires you to paint a picture with a good story that is good enough for the audience to make a lasting impact.
Writing, presenting and editorial skills
A strategist is the one who has to pitch the ideas and promote the content, that requires excellent communication skills via writing and presenting.
Marketing skills
The profile is specialised for alluring traffic (audience) into the content. The goal of this profile is to develop and distribute content that can be monetised. Acute marketing skills are essential to generate revenue out of the content.
Collaborative and team building skills
Such a crucial position makes you work in groups, content management teams, content creators, writers, web designers etc. Strong collaborative and team building skills will come handy while you're at the job.
Technical accuracy
The profile is usually a high level profile that requires exemplary technical skills at your disposal. Knowledge about best SEO practices, usage of tools and implementing those practices for generating an optimised content are essential for a SEO strategist.
Content Strategist – Career Course and Remuneration
Due to the digital adaptation of the world, strategists are in all time high demand. The salary drawn in this role is impressive and offers growth opportunities frequently. Top companies like Facebook, Twitter, Tesla, Google offer fat cheques to their top strategists.
Payscale shows the average salary drawn in early career by strategists in the US is about $ 54,540 annually. Other ranges are in annual income are:
Entry level: $34k – $70k
Mid career: $50k – $98k
Experienced: $58k – $ 132k
LinkedIn Salary Tool shows the average salary at an early stage is $65k in the US annually. Other ranges are:
1-5 years of experience: $40k – $110k
6-14 years of experience: $54k – $140k
15+ years of experience: $65k – $180k
Content strategists are professionals who plan the treatment that will be given to the content in a manner that it assures growth from the anticipated results. It is a highly rewarding job but at the same time demands a high level of skilled approach and professionalism.