Here is an article to ease your worries on business proposals. The first thing a writer needs to acknowledge when writing a business proposal is the purpose.
Writing is that thin line between winning and losing a prospective buyer. Thus, it is the most crucial document one needs to write in the business world.
---
WHAT IS A BUSINESS PROPOSAL ?
Let us get clear on What is a Business Proposal. And Fret not on how to go about Business Proposal Writing. Simply speaking, it is a key to persuasion in the business world. It helps business owners persuade different people from the business world. It also helps to attract investors or an organization to buy your products and services.
Therefore critical thinking and careful planning while writing always serve the purpose. They clarify the vision of a business owner. It also explains the objectives the enterprise aims to achieve.
A clean write-up serves as a piece of evidence that owners have carefully evaluated every aspect of their venture. This proposal is an assurance that the target audience needs. It helps them to consider the plan a company puts out.
Therefore, writers should tailor it to adapt to company needs and requirements. It must single out the strengths of the company.
WATW is well versed in providing the Best "Business Proposal Writing" Services in the town. To avail such exclusive services like business proposal writing, technical content writing visit our website.
---
HOW TO WRITE A BUSINESS PROPOSAL ?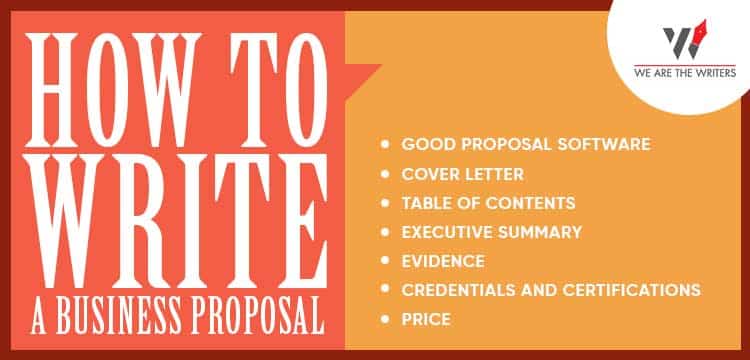 Start with a good introduction
Include a cover letter
List down the table of contents
An executive summary for clarity
Include essential credentials and certificate
Space for price tags
Proper structuring a Business Proposal Writing is like building a house. Here are some tips on how to write a proposal for clarification. While writing it, you need to think about what you want your clients to feel about it at the end. A good business proposal writing includes the information of the company. It has the personal information, qualifications, and why a client should pick you over competitors.
If writers know how to write a proposal, they include how to demonstrate the problem. It also helps in a Short Business Proposal. It should also have the research that your client needs. Crucial information such as pricing and methodology should show how it will solve the problem. It also includes a pricing list. In other words, a business proposal writing is a value proposition on paper. An excellent piece of writing has several components.
START WITH A GOOD INTRODUCTION
The first thing writers can do is to consider a good proposal software. Manual writing can be a tedious task. Then think about the title page that has the basic information about the company. It has the potential client's name, contact information, the company's logo, date, and title. The proposal looks neat, organized, and well put together.
INCLUDE A COVER LETTER
The next thing to consider is your cover letter. People should not walk to a client and dive into the plan's specifics without a proper introduction. Thus, to remove this issue, they should include a cover letter. It should have brief background information about how a company came to be. It should have a short description of what makes your company better than the rest. Writers should write them in a friendly and encouraging manner.
LIST DOWN THE TABLE OF CONTENTS
Then you need to look for the table of contents in an outline form. It prompts about what one can expect to find in the document. The viewers watching it digitally should have a clickable table of content. It makes the revisit to the particular section easy. It also helps in removing the hurdles of going through multiple pages to revisit the page.
AN EXECUTIVE SUMMARY FOR CLARITY
One can also add a page of executive summary in their business proposal writing. This section allows you to summarize your project in a nutshell. But here, the writers merely need to highlight the proposed solution rather than generalizing the whole project. Since this is the ideal opportunity to market your solution to the client's problem, it should be benefit-focused. Then a good proposal needs to have solid evidence to back up your work.
INCLUDE ESSENTIAL CREDENTIALS AND CERTIFICATE
A good proposal also consists of credentials and certifications that the managers and employees possess. They need it to prove their capability. This evidence is to convince the clients and consider your business.
Clients do not click on your website to go through your works since they have a business proposal. Hence, one needs to make sure that there is ample evidence displayed in your proposal. This evidence could be anything such as screenshots, case studies, and testimonials.
SPACE FOR PRICE TAGS
Another necessary element that one must include while writing a proposal is the price. It is one of the most-read sections for any writing you put out. Many clients like to jump right to this section after reading the introduction. Thus, make sure it is easily readable. Always try to simplify your pricing structure for better readability. Always be specific while writing your proposal plan and refrain from exaggerated writing. Writers should remember these things about how to write a business problem
• Read our blog "Social Media for Business in 4 Effective Ways".
---
BUSINESS PROPOSAL EXAMPLE
To write a proposal with precision, writers could always use some inspiration from the internet. Therefore, a writer could always steal some ideas and samples on making their proposal templates. A winning proposal will offer insights and an effective solution to any problem.
There is good and bad submission to every proposal to a potential client. Hence, the writer needs to plan their bid carefully and put them into practice. When you use them with caution, it will appeal to the clients. To integrate them into the proposal and customize it for better effect.
WEB DESIGN PROPOSAL
It is a Business Proposal Example. Web designers should be capable of acquiring new clients through their skills. They need these skills to create a clean web design proposal. Spending a good couple of hours on perfecting the proposal is a tiring job. Hence, choose a web design proposal template to make it quick. This proposal simplifies the entire process. Further, it also helps buy you time to build websites for yourself.
There are several things to remember in a web design template that will strengthen it. Firstly, one needs to ensure that every bit of information is under one page. Hence, you don't have to open a dozen files late on to access anything. This proposal lists each service included with the price of individual services. Doing so avoids putting a price tag on every job since the base prices are present.
This template is enthralling and an opportunity for an individual to showcase their artistic bone. Don't forget to add an option to digitally sign on the file to avoid any obstacles that come across. If you design an eye-catching web design proposal, it lures the customers and displays your skills. Prepare a well-crafted and short business proposal.
CRM IMPLEMENTATION PROPOSAL
The business world thrives on relationships with customers. Also, most enterprises place their customer relationship management on CRM. But it is not enough, so a CRM implementation proposal comes into play. It prioritizes the customer and gives you an edge over the business. It is also a type of Business Proposal Example. Before working on your proposal, you need to have an in-depth understanding of your objectives.
Thus, the template allows you to highlight all the essential points through bullets and persuasive language. You write words in a way that makes the reader nod their head as they read. So the best idea would be to avoid writing based on generalizations. Instead, writers should focus on the business's plans. You can include visually interesting presentations and insert content.
Since customers are the focus, elaborate on the positive effects the plan has on the customer experiences. Besides, you can add imagery and pricing tables with different software. Add a stunning cover since it is the first thing that catches the attention of the viewer.
Use this template to convince people why you are the perfect choice for their needs. There is a section where they allow you to explain what the things you deliver are. Besides, the clients can read past experiences of your previous client. It helps to strengthen their views on your company.
FREELANCE WRITING PROPOSAL
Often freelance writers spend days honing their craft but don't give their proposal a proper acknowledgment. This business proposal example is a chance for them to enter into business relationships. They need to understand the power of good writing. It is a way that they don't miss out on their dream client.
For them, a poor proposal can prove to be a blunder any writer wants to avoid. A financial writing proposal addresses the problem statement. It then gives some solution with regards to it. It also has appropriate pricing information for the clients. If a freelancer forgets to add the problem statement, the proposal loses its entire purpose. It will look bland and lose its edge.
Since you need to understand the client's needs, ensure that the problem statement is not weak. After you have pinpointed the problem, it is time to offer solutions. Hence, a solution is the next step. The proposed solution will have a combination of writing services to address the problem. Finally, the pricing information section is crucial. Keep your pricing section in an easily readable way.
DIGITAL MARKETING PROPOSAL
People use this business proposal if their company offers digital marketing services to their clients. First, the proposal needs to have a column where you introduce the business. Since it is a marketing proposal, give clients a detailed view of the company.
Allow them to choose their preferred services with ease. Make sure that they can sign at the end to accept their contract formally. These proposals are flexible. It allows the clients to add components they want to include in the packages.
SEO PROPOSAL
People use SEO proposals if they are giving SEO services to clients. This type of proposal is necessarily the sales pitch. Thus, one needs to convince the clients to buy from your brand. A general breakdown of this proposal starts with the introduction of your enterprise. Sell your brand with confidence and build credibility. It highlights your proposal and lists down points which make the company a brand in itself.
One can also introduce their team and show how qualified they are in their respective field. One can also highlight the goals that the company aims for. Since this is an SEO proposal, the main highlight is to elevate the traffic for the page. Never try to exaggerate numbers and promise something in the thin air.
CONSULTING PROPOSAL
This business proposal example takes a simple approach. It works for almost every consultant around the globe. Further, it is like every other proposal and needs an appropriate title with relevant information. One can add a high-quality project overview and a goals section to strengthen the proposal. In this type of proposal, you must add your goals in bullet points to describe the client's goal from the project.
This proposal also includes a guarantee section. It contains the guarantee that the enterprise offers for the project for the desired result. There is a terms section that will have the deadline and payment terms from the company. Be precise with the fees to avoid conflict and specify the accepted payment methods.
In this proposal, the main focus is on the buyer. So people should refrain from telling them about the company. Leave out those details and write a Short Business Proposal. A maximum of two to three pages will suffice. You must put an expiration date on the proposal. It ensures that the clients cannot come back months later to accept the proposal. It will avoid any room for confusion. Hence, it allows work from both ends to conduct smoothly.
---
NEED FOR PROPOSAL WRITING
This article answers how to write a proposal. A business proposal writing is a formal document that allows buyers to compare various vendors. They are the heart of the business world. In a way, it defines the goals and purpose of your business.
These proposals are an effective way to present your idea ahead of a product launch or any campaign. Hence, there is a need to write them with care. It is a way the company can reach the clients.