There's a common stigma among the people that consumers, customers, and buyers are all almost the same. But, this is not the case. There's a huge difference between them. Here, we will list out all the differences between consumer vs customer vs buyer with the help of this article. You will also grow a deep understanding of all three terms- consumer, customer, and buyer. This article will take you from the scratch and provide you with the tools which will help you to distinguish between them. So, stay glued to this article to learn more about Consumer VS Customer VS Buyer in full detail.
Know Difference between Branding and Marketing: Branding VS Marketing : With Best Examples
What do you mean by Consumer?
You may be called a consumer if you consume something or use any product for satisfying your own demands. To fall into the category of consumer, it is a must that you don't resell the product. If the first person grants another person to consume that product or goods, then that another person is also known as a consumer. In a nutshell, the person who is present at the end of the goods or services is termed as a consumer.
The persons who are a part of the economy are categorized as a consumer. Let me help you with an example, imagine that you have been to a grocery store to buy vegetables for your family, then you will be only known as the customer. But, when you feed your family members then they will be known as the consumer.
Roles of Consumer
It might be possible that the customer may not use the products or services. But, a consumer will be of great help to you as they consume the product and directly helps you to know about the usefulness of that product.
One of the key aspects to test your product is the consumer's behavior. Their behavior determines a lot regarding your business. To receive huge sales and earn a profit, try to get familiar with the consumer's behavior.
Consumer behavior continued to attract additional researchers and publication outlets from 1993 through 1996. Both general interest and domain-specific scholarly contributions are discussed, along with limitations and suggested areas for future research[1].
Who is a Customer?
You will be a customer if you will pay for a particular product and satisfy your demand. There are various chances when the customer is a consumer, and sometimes it's not. Let's say, for example, you have kids, and you visit a toy store to buy toys for your kids. Then you will be the customer, and your children will be the consumer. A customer is also popular by the term clients or buyers. In just one line, a customer is someone who pays and buys something for someone else.
Who is a Buyer?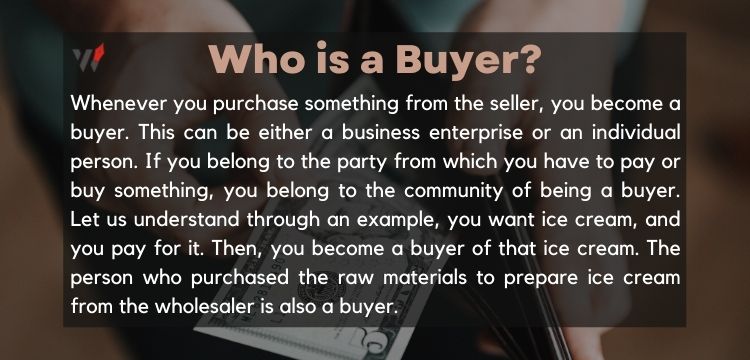 Whenever you purchase something from the seller, you become a buyer. This can be either a business enterprise or an individual person. If you belong to the party from which you have to pay or buy something, you belong to the community of being a buyer. Let us understand through an example, you want ice cream, and you pay for it. Then, you become a buyer of that ice cream. The person who purchased the raw materials to prepare ice cream from the wholesaler is also a buyer.
Know Difference between Customer and Consumer: Customer VS Consumer: Learn to differentiate Efficiently and Quickly
Consumer VS Customer VS Buyer: Difference between them
The differences are based on the terms of the business plan. To draw the line between these three and mark out the differences. First, let us have a look at B2C and B2B marketing. This will help you to make out the differences between these three.
B2B VS B2C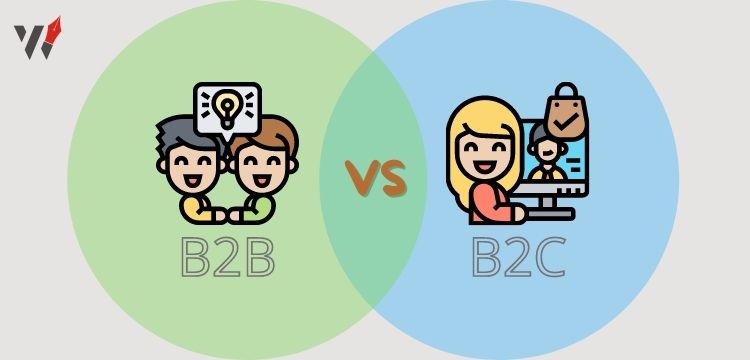 Any company in this world is either a B2B or a B2C. It depends totally upon the company whether the company is B2B or B2C. The term B2B indicates Business to Business while the term B2C depicts Business to Consumer. As per the name of B2B, this clearly indicates that this is the type of agreement made between two business enterprises. If you have the intention of buying any item and then reselling it. This falls into the category of being a buyer. But, if you have the intention to utilize that item for yourself, then it is known as the consumer. According to the B2C arrangement, the relationship is between the end-user and the commercial product.
Other differences between them are provided in the following section.
The customer might be an individual who buys a particular product to satisfy their needs. While a consumer is those who consume that product.
The customer might buy and resell a product, but the consumer ought to use that product without reselling it.
A consumer might not use the money to use a product, but the customer is supposed to use the money to buy a product.
Read about Branding VS Advertising – Techniques to Grow Brand: Branding VS Advertising: 6 Amazing Techniques to Grow your Brand
To Wrap Up
This blog contains information regarding consumers, customers, and buyers. It will help you to distinguish between the three. Learn about the toles and the definition of consumer, customer, and buyers. In order to understand the differences between these three, you must learn about the Business to Business and Business to Customer relationship. Grasp the meaning of B2B and B2C. This will bring an end to the blog. I hope that you are clear with the three terms and now you are all set to practice these skills in your business.
References
[1] Jacoby, J., Johar, G. V., & Morrin, M. (1998). Consumer behavior: A quadrennium. Annual review of psychology, 49(1), 319-344.