Do you want to start content creation but need some assistance? This article can assist you in grasping some of it.
Content creation definition means generating ideas that appeal to the targeted audience. It is at the heart of any businesses' success. A content creator brings ideas alive through both written and digital content. Further, those ideas become accessible to the viewers through different mediums like blogs, infographics, or simple videos. Content creation includes detailed research and innovative ideas. Then creators ultimately craft these in a way that will appeal to the masses. 
---
Content Creation Types
Broadly, there can be two separate categories that are digital and written content. But there is a sea of content creation types that the content creators should know.
Blogging
It has been present ever since the existence of the Internet. They occupy the central position in various content marketing strategies. They are easily accessible, readable, and shareable. Blogs are readily available on Google searches which makes it convenient.
If you need a quick offer value within a limited cost, they are the perfect option. Besides, it is also ideal for building a relationship and trust with your readers. If you don't own a personal blog, you can easily find platforms to write on.
• Read our blog on "Blogging: The Best Techniques of 2021".
Listicles or list posts
These are also popular types. They have risen to fame due to various reasons. Firstly, if people are in a rush, they can scan and go through the list. It thus makes them the perfect pals for short periods. Content creators also find it relatively easier to write.
They merely need to jot down some items and fill up some blank spaces. Some listicles provide the readers with every information they require on that page. Creators get to decide how they choose to prepare their listicles.
Infographics
Content creators may find ample reasons to use infographics in their content strategy. They have a unique appeal to them since human beings are virtual creatures. Images and colors speak to humans since they are emotionally responsive to them. They are also one of the driving factors in many purchasing decisions.
Therefore, infographics are one of the most powerful weapons to attract audiences. Content creators make use of infographics which makes them easy for readers to digest. It enhances the comprehension rates of the audience since they can follow better with illustrated text.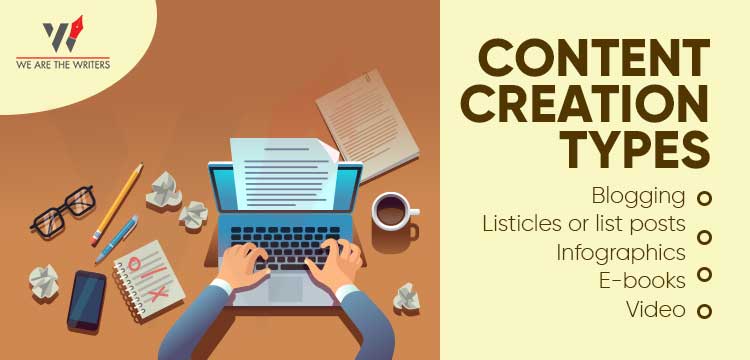 E-books
They have also lure several content creators on their side throughout the years. It creates buzz among the readers, thus, creating profits for the company. They are easily accessible and have superior design capabilities like images and charts. Content creators can link other media to the e-book file that reaches a larger audience. 
Video
This content is also popular type in recent years. Several companies have switched from blogging to video making over the years. With the rise of social media, there has also been an upsurge in people viewing video content. Audiences tend to share video content which in turn increases traffic comments and conversion on your website.
---
Content Creation Ideas
At times, a content creator lacks inspiration and struggles with freshly-baked ideas. It is a big obstacle a person faces in their dream to become a popular content creator. Some of these simple content creation ideas will do wonders to stimulate your mind. 
Read more on The Ultimate SEO Content Creation Guide
Articles and Blogs
The best way for firms to keep their audience engaged is through articles and blogs. Establish a company blog and share those quality blogs on social media feeds. Keep in mind that merely writing these posts is never a big thumbs up. A rich post needs time, effort, and a great deal of knowledge. Play with words and try to make it fun to read. Add images and direct links where you can.
Linking is a basis for a good post since it informs Google about the content of the post. It can be both internal and external. If you add external links, it will talk about similar topics that will be helpful. You must all your text and images are well-optimized for SEO. The curios audience is the magic potion of content creation. If your viewers are curious, you are doing a great job.
Behind the Scenes
In the world of social media, viewers are more interested in what a person does behind the scene. It has transformed how companies share information with their audience. One of these content creation ideas is to give your viewers a little sneak peek.
Usually, companies plan their social media posts and show finished products altogether. But a little behind the scenes is what they do not see otherwise. These sneak peeks act as a catalyst to attract the newer audience as well. Thus, these little snippets are a perfect opportunity for your audience to gain insights into your products. It gives them a chance to learn about the company's work.  
It is also a way to humanize your firm. It encourages people to see your company as a group of interesting people. They get a look at company employees in a friendly way. It also helps in portraying that they are more than mere company employees. A little human side of your company can be fun. It also makes the audience grow more empathetic towards the company.
Contests and Giveaways
Host contests and giveaways because who doesn't like freebies? It not only satisfy your customers but also increases your views and audience engagement. Hence, no matter the size of your business, these things are excellent for brand exposure. It also helps in the expansion of your customer base, thus, earning some loyal customers. Besides, there is a lot of hype around previews and teasers currently.
You can shoot one of these promo videos before launching a product to tease your audience. Make sure that the videos are well-scripted since they can be effective in the scrappiest of budgets. These promo videos also help to drive traffic. They also act as flashing signs to pushing viewers to your website. People can share your videos if they find the content interesting. It thus creates a lot of buzz and gives your product a free promotion.
• Read Our blog "Improve Your Content Creation To Grow Your Business".
---
Content Creation Tools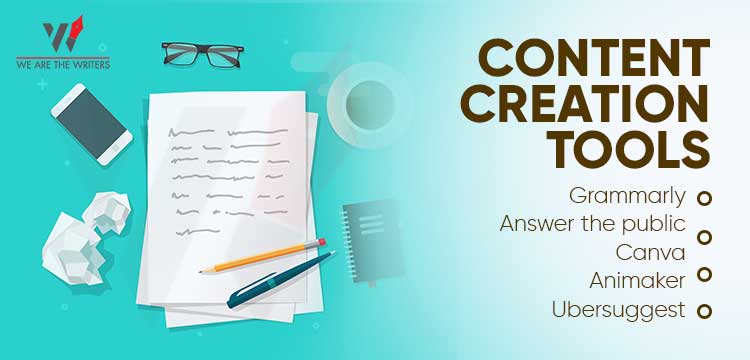 There are some content creation tools for content creators to help them in their journey. They are available for free. But for some, the users need to pay. But if you have appropriate tools to work with, your tasks become smoother. Sometimes these plethoras of tools often perplex the creators. Hence, here is a round-up summary of the most valuable tools for you.
Read here more about The Ultimate Guide to Content Creation
Grammarly
It is a written content creation tool. This online app proofreads your spelling and grammar in your writing. It highlights the mistakes which you may have missed while writing. With this app, you can rest assured of any typos, misspellings, and redundancy. It is available for free. But you can buy the premium version for enhanced proofreading.
Answer the public
It is also a free tool for content idea generation. Content creators can use this tool to generate more traffic to their websites. It helps in visualizing the search queries, thus, recommending autocomplete searches. These automated tools can also generate ideas based on prepositions.
It can also list out the basic questions alphabetically with the use of individual letters. It will enlighten you with thousands of ideas. But a remarkable content creation needs just a few good ones. To winnow out the unwanted topics, choose the ones with the best benefit.
Canva
It is another simple graphic design platform for content creators. It enables the creators to create images for their websites, business cards, or social media. This content creation tool is free. On the other hand, an upgraded version is available for the users. Visual cohesion is necessary for some content creation. Thus Canva saves the day. You can also use several templates and graphics or edit photos through this platform. 
Since this platform connects with every big social media platform, one can customize dimensions accordingly. It is a relatively easy tool to play with and have fun while doing your work. But there are still tutorials available if users find them hard to use.
Animaker
A perfect animation video seems like a challenging task to some. But, Animaker is a video content creation tool to help you create those amazing animation videos. This tool helps in making several videos for the users.
Ubersuggest
It also proves to be an ultimate tool for content creation. This tool has several keyword research options available to the user. It allows you to see how competitive a given term is in the searches. This tool suggests where you are going wrong with your site. It accordingly gives several bits of advice to amend it. It recommends increasing your search traffic.
---
Content Creation Platforms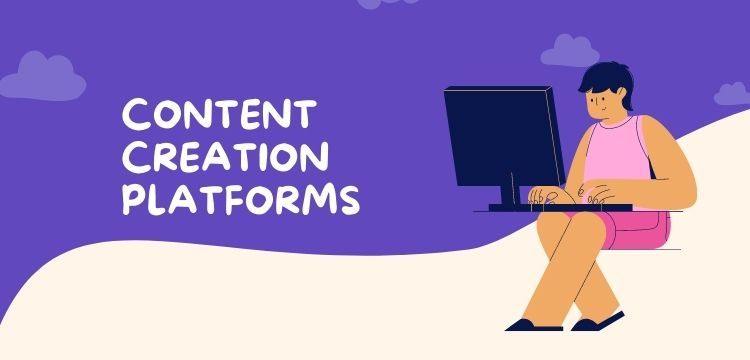 Sometimes interesting content does not get the attention they deserve. Hence, it can be upsetting to the creators. Creating great content is a necessity, but several content creation platforms make the job easier. Your loyal readers always have your back. But at times, getting a higher set of audiences needs a little push. A good content creation platform helps a great deal to give your content a second life.
Medium
It is a fantastic platform for content creators that is in trend today. It is perfect for both beginners and the experiences of content creators. It is somewhat like twitter but for long-form content. The best thing about medium is that it is a crazy import tool. No matter where your content is, the medium is going to import it. You can import the article, can make amends, and play with formatting however you want.
This platform allows you to see the number of people who have viewed your write-up. Besides, it also tells you the people who made it to the finish line in your article. Their algorithmic timeline enables the content to reach various readers who were strangers to you. Besides, big publishers are present here. They may scout you if they are interested in your work.
Foleon
It is also a content creation platform that helps to generate interactive and intelligent content. With this platform, anyone can create engaging content. The platform's drag-and-drop editor helps out the non-designers with their template and pictures. This platform has several features. Features like analytics and user tracking are present for beginners to use. Although this platform does not have a free version, it offers a free trial to the users.
Ceros
It is popularly known to be a compact platform for content creators and marketers. Furthermore, numerous graphic artists utilize this platform since it allows them to create rich material. With classy animations and smooth videos, this app has become a personal favorite for content creators.
The beginner needs to know photoshop and they are ready to begin. A content creator who is eager to publish authentic content without many developments can readily use this app.
---
Content Creation Services
WebFx
One can find various content creation services if one knows where to look. WebFx is one such service platform that makes everything hassle-free for the creators. They have responsible content marketing experts along with rich media citations. These things help in completing your work gracefully. 
Godot | Content Creation Services
Another leading service that content creators can use is Godot. It caters to around 10,000 clients residing around the world. They are experts in various fields like copywriting, blog and article writing, and ebook creation.
Content creators use these services since they are financially worth it. These services are affordable and help you in building your unique brand.
---
To Sum Up
Every creator has their share of concerns when it comes to quality. But if they enjoy doing it, then they can skillfully master it through the years. And over time, it might be one of the leading career options for the upcoming generations. Try to put your all into the quality, quantity, and individuality of your content. It is your stepping stone to success in this field.