Content is the money-maker. It is a sales pitch, banner, portfolio, all rolled into one. However, that content needs to have a structure, in order to have a strategy. The best way to treat content is by practising Content development.
It works amazingly well and gives your content a top notch standard. Content development is the supreme treatment of Content. It is believed because its an amalgamation of content creation and strategic planning.
What is Content Development ?
Content development is the strategic planning, creation, organisation, distribution and editing of content. In simple terms, it is the process of creating content. Web content has a wide variety, it can be infographics, blogs, text, sounds, images, videos, and more. It does not only refer to writing, instead it is the process of generating the content from scratch to the end, including its editing and online marketing. It is a highly creative and technical work.
The process aims to strengthen the relationship with the audience and pique marketing to achieve higher sales. It aids you in providing the audience with the content they are interested in and are looking for, which means creating content that is effectively customised. When you get the knack of the process of developing the content, you can create a comprehensive content strategy especially crafted to the requirements of your business.
Suggested blog:
Importance of Content Development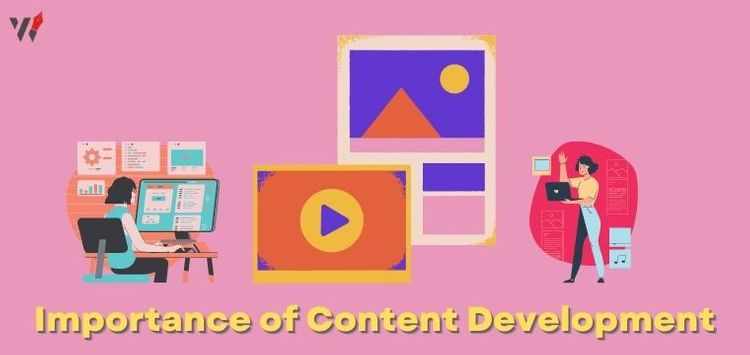 The importance of this practice is measured by the returns it gives to the company. It's a powerful tool if employed and exploited correctly and can help businesses grow exponentially in the world of online marketing. It is considered the best practice after content creation. Well structured content development models make the process of creating top-level content very smooth and unambiguous in nature. Everything that goes in creating good content is well planned, easily accessible and ready-to-use.
It's the blueprint that you follow to visualize the structure of your goals, and the methodologies and calculations to achieve them. It also eliminates procrastination and other distractions that steal valuable time that can be utilised in crafting extraordinary content.
It is also believed that by engaging in content development, you can establish a connection with your target audience like never before. It opens uncharted territories which were never thought of before, when it comes to customer relations.
Content Development Strategy
You should know that content development is not just developing content for the sake of it. You should have a specific goal in mind; a result that you should be striving for, whether it is an increased engagement or increased sales.
A content development strategy is not the same as a content development process. While the latter represents the steps people take to create content, the former defines the organization of these steps.
Think about it this way:
Your content development strategy defines the goals and targets. It should focus on producing quality content, engaging with your audience, and measuring your successes and failures. At its core, it answers the 'why' of your efforts. It delves deeper into the "creation, publication, and governance of useful and usable content." Content strategy often goes beyond the scope of just a marketing strategy, as it helps businesses manage all of the content they have. Content development is very likely to have trial and error involved with planning and content strategy
Process of Content Development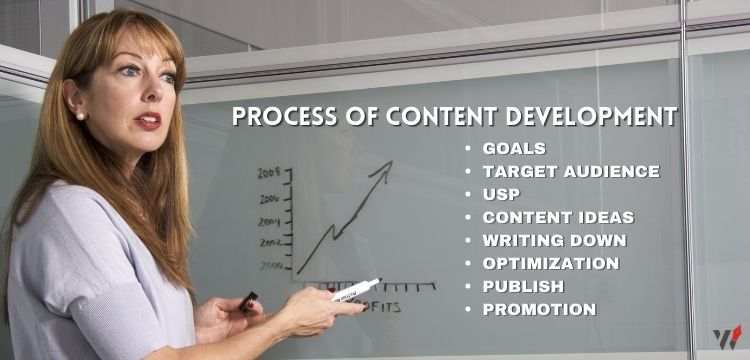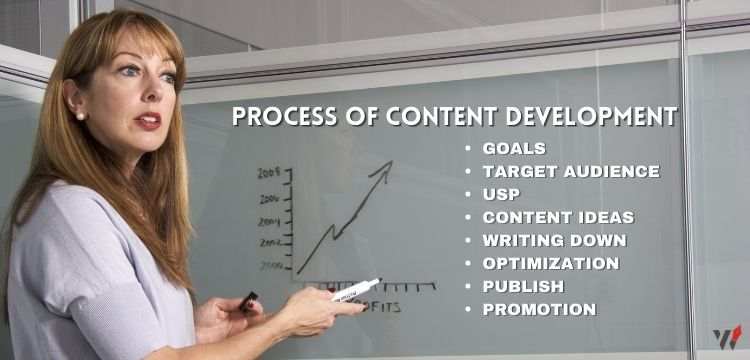 Content development needs a process that keeps you organized and on track to hit all the goals and objectives your organization has set. To achieve this you may develop your own multi-step process that works for your content types and company. This process includes every step that is required to publish a piece of content.
Step 1: Set your goals
The first goal while developing content should be building trust with your target audience and deepening loyalty with the customers
You should work on generating leads and improving the customer experience. The most significant goal should be to be a part of the SERPs.
Step 2: Identify the target audience
The most important thing is to avail your content to your audience. How does the target audience discover your content? Make sure you work on making your content worth a consideration. Find out if your target audience resonates better with a certain type of content. Invest more in that kind of content for better results. Make sure you offer the same content in a better way so that your audience doesn't go elsewhere.
Step 3: Analyse your USP
In order to make the most of your content, find out what it is that you are doing differently. The online space will be flooded with similar types of content, you should have a unique selling point in order to stand out.
Study your competition for analysing what their strategies are. Learn from them and try to inculcate their best practices to your content without losing your touch.
Step 4: Generate Content Ideas
When working on a new content, follow these practices for best results:
Brainstorm a topic to write about, prioritize different topics according to their relevance, impact, and needs, research on it and collect data, analyzing the topic in depth.
You should learn the ingredients of top-performing content. Make them your benchmark and try to hit it everytime.
Step 5: Write the Content
Writing is the actual creation of your content. Outline the structure of the piece. It will give you the dots that you will have to connect later.
Systematize your writing process for efficiency and performance.
Design templates for blogs, white papers, infographics, video scripts, charts, and graphs.
Design writer guidelines for you and your team.
Use Storytelling to educate while entertaining. Storytelling is an unskippable skill that you should master for performing good content development. It has the power to connect your audience with your content and bring them on the page you as a creator always wanted to.
Editing. You should always keep room for editing as it is a creative process and ideas flow at their own pace.
Step 6: Optimize Content for Search
SEO optimised content is mandatory while developing content. To optimize your content, observe things such as word count, keywords, readability, and any other items that make your content more attractive to search engines and your audience and their search intents. During this phase, you also need to create meta descriptions and tags that help increase the click-through rates and visibility of your content. Answer the following questions to find out if you have SEO optimised content or not.
Is the keyword included in the post's URL?
Have you limited the length of your URL?
Did you add the target keyword to your title tag?
What external links have you included to boost authority?
Which internal links can you include that are relevant to the topic?
Step 7: Hit Publish and Modify Content Development Plans
Just because a piece of content is ready to publish doesn't mean it can actually be published. In this step, you add the content to your CMS—most likely, WordPress and format the content relevantly.
Step 8: Promotion
The work isn't over after you optimize and publish your content. You must promote your content to lead to more views and backlinks. A great way of content promotion is to use social media to gain engagement, views, and reposts.
Suggested blog:
The Scope of Content Development
Various industries such as science, film, marketing, education, fashion, and many other means of content creation practise content development. As online content has become the primary way to reach audiences, several businesses have developed their own content or outsource to create and develop effective content. Although many individuals develop content for various purposes, those that professionally create, develop, and manage content make sure their content has a strategic purpose.
Here are some definitive posts that build up the scope of content development:
Web content developer: A content developer is often responsible for creating and updating a company's website, developing a content strategy, and tracking web analytics.
Director of content: A director of content focuses on collaborating with managers to create content in line with the company's vision and suit the company's requirements.
Content strategist: A content strategist is the reviewer of the content, the profile will require you to have a thorough knowledge of the standards that the content has to reach upto. They work to recognize and cultivate insights about the audience and then use the information to develop content specially tailored only for them with the help of a marketing strategy.
Video content creator: A video content creator is the one creating compelling visual content that contributes information to digital media for a strategic purpose. The content falls under the infotainment front. This type also qualifies for Instagram content strategy.
Content marketing managers: Content marketing managers distribute content that increases brand awareness and web traffic through marketing online content across multiple web channels.
Social media content developer: Social media content developers specialize in creating content for social media channels to drive traffic to a company website, sell products, or create brand awareness.
Blogger: A blogger usually creates written content for websites in the form of blog posts, blog articles, blog content, copy, web articles, and web content. Bloggers also analyse their content and use content development to promote and market their content, services, or products.
Tools to use for Content Development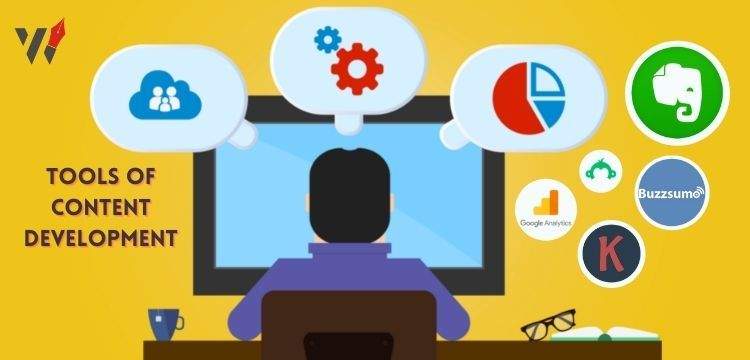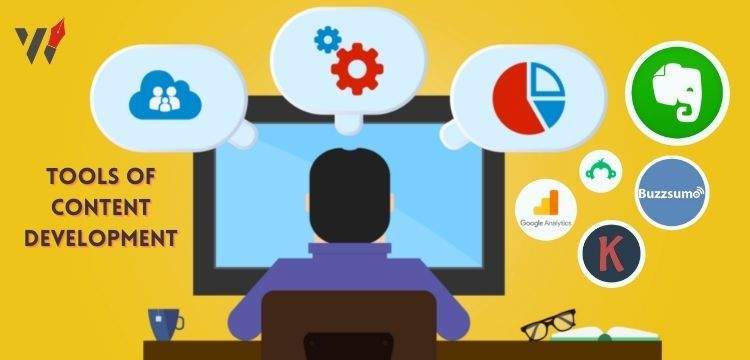 Here are some tools that you can use for developing your content:
Buzzsumo: Buzzsumo is a content marketing research tool that helps you analyze what content types and topics perform best for competitors. This tool allows you to see metrics such as backlinks, social shares, and influencers who share the content.
SurveyMonkey: SurveyMonkey allows you to develop and create your own surveys for your customers and prospects. It makes the research more personalised and suited as per your needs.You may use surveys in the analysis phase of content development.
Google Analytics: With Google Analytics you can track your goals, like form submissions or product purchases, but you can also set up behavioural events, like scroll-depth.
Evernote: Evernote is an app that can be your digital file cabinet, project management system, note-taking tool, and more.
Keyword Everywhere Extension: Keywords Everywhere gathers the "Related" and "People Also Search For" keywords from search engines like Google or Bing and lets you see the volume metrics within the search engine.
Ahrefs: The basic function of Ahrefs is to track how your traffic and keywords rank compared to your competitors' keywords and traffic. It's an easy to use option and is very user friendly.
Wrap Up
Developing content is considered an immaculate blend of content creation and strategic planning. The architecture of the content meets with the finest treatment or engineering by top professionals. This process sums up everything about content development.