Looking to enjoy new OTT Netflix releases in April 2021? You have come to the right place!
Netflix prides itself for serving up unique stories from its platform and it has lived up to its name so far, especially since the last couple of years. And it's momentum seems to only increase. This year saw a surge in releases from all around the world, with each program bringing something new to the plate. The upcoming month will similarly see some fresh movies and web series, so we are all packed for an interesting binging time ahead.
So if you are searching for some fodder material in your streaming list, then look no further. We have everything you need to know about the Netflix releases in April 2021, including the plot, cast, trailer, and release dates. And we have compiled them all for you to peruse at your disposal. So get your calendars ready and scroll away through this list of fun new Netflix releases in April 2021, because we have a busy month ahead!
---
NETFLIX RELEASES IN APRIL 2021
CONCRETE COWBOYS – FUN NEW NETFLIX RELEASES IN APRIL 2021
2 April, English
For a long time, there's been a real sort of mistelling of history around Black people and horses and cowboys and whatnot. Concrete Cowboys aims to change that and narrate the true history and heritage of the stables.
The film follows 15-year-old Cole from Detroit, who discovers the world of urban horseback riding when his mother sends him to live with his estranged father, Harp, in North Philadelphia. He discovers the city's vibrant urban cowboy subculture, which flourishes despite the surrounding poverty, violence, and encroachment of gentrification.
The film stars Idris Elba, Caleb McLaughlin, Jharrel Jerome, Lorraine Toussaint, Byron Bowers and Clifford "Method Man" Smith. Based on the real-life horsemen of the Pennsylvania area and the novel Ghetto Cowboy by author Greg Neri, the film marks the directorial debut of Ricky Staub, who has also penned the screenplay with Dan Walser. Elba and Philly native Lee Daniels are among the producers of the film.
It had its world premiere at the Toronto International Film Festival in September 2020 and this Netflix releases in April 2021 has been produced by Lee Daniels Entertainment in collaboration with Tucker Tooley Entertainment and Elba's Green Door Pictures.
---
WORN STORIES – FUN NEW NETFLIX RELEASES IN APRIL 2021
1 April, English
In this funny, heartfelt and moving docu-series, real people unpack the fascinating and quirky stories around their most meaningful pieces of clothing. This new docu-series among the fun new Netflix releases in April 2021 seeks to tell the stories of various clothes garments and the people that wear them.
A new co-production between Jenji Kohan and Morgan Neville, Worn Stories is a show about clothes and the people who wear them. Each episode follows different people and shows how their favorite piece of clothing can reveal so much about them in fun, touching, and hilarious ways.
Adapted from Emily Spivack's New York Times best selling book of the same name, it explores the often-overlooked memoirs in miniature living inside cherished articles of clothing from inspiring cultural figures and talented storytellers. By turns funny, tragic, poignant, and celebratory, each episode is based on a theme and features a mix of dynamic interviews, beautifully animated sequences, and archival footage to bring these captivating and often surprising stories to life. The eight-episode series offers new ways to think about our clothes, our selves, and our shared human experiences. WORN STORIES is a Netflix Original Documentary Series in association with Emily Spivack, Jenji Kohan, Tremolo Productions and Tilted Productions.
---
THE SERPENT – FUN NEW NETFLIX RELEASES IN APRIL 2021
2 April, English
If you are in the mood for a true crime, then follow along the true story of the notorious killer during the 70s who became the world's most wanted man.
Based on the crimes of the serial killer who murdered young tourists between 1975–1976, The Serpent traces Charles Sobhraj's reign of terror across the Asian "Hippie Trail" from 1975 to 1976 and Interpol's repeated (and unsuccessful) attempts to capture him. Part Catch Me If You Can, part Narcos, The Serpent is a crime thriller among the fun new Netflix releases in April 2021 that you won't want to miss.
It is the story of how the conman and murderer Charles Sobhraj was eventually caught and imprisoned.The eight-episode limited series will follow Charles and his girlfriend Marie-Andrée Leclerc as they pose as gem dealers and commit a series of crimes across Thailand, Nepal, and India. They would prey on Western tourists, whom Charles would defraud and murder after drawing them in with his dashing lifestyle and animal magnetism. These acts ultimately lead to them becoming chief suspects in a series of murders as Dutch diplomat Herman Knippenberg investigates the disappearance of a young couple and soon catches up with Interpol's most wanted man.
This Netflix releases in April 2021 stars Tahar Rahim as Charles Sobhraj, Jenna Coleman as his girlfriend, Marie-Andrée Leclerc; Billy Howle as Dutch Embassy diplomat Herman Knippenberg; Ellie Bamber as Knippenberg's wife, Angela; Amesh Edireweera as Sobhraj's accomplish, Ajay Chowdhury; Tim McInnerny as Paul Siemons.
---
THE WAY OF THE HOUSE HUSBAND – FUN NEW NETFLIX RELEASES IN APRIL 2021
8 April, Japanese
Follow along a day in the life of a househusband as everyday errands turn treacherous—possible only when you're the infamous gangster, Immortal Dragon!
Based on the incredibly popular manga series, the show among the fun new Netflix releases in April 2021 revolves around a comically serious ex-yakuza who leaves it all behind to become your everyday house husband.
Tatsu was a feared yakuza boss nicknamed "the Immortal Dragon" who single-handedly defeated a rival gang with a lead pipe. His name is known to strike fear in both hardened police officers and vicious criminals. But he retires from crime and suddenly disappears, only to resurface as a househusband so that he can support Miku, his kyariaūman (career woman) wife. Now equipped with an apron, Tatsu has given up violence and is trying to make an honest living as he applies the skill and intensity he possessed as a crime lord to housework and domestic tasks as a househusband.
While adapting to mundane household tasks, Tatsu finds that being a house husband has its own challenges, from the battlefield known as supermarket sales to failures in the kitchen, plus his frequent run-ins with former yakuza associates and rivals.
Kenjiro Tsuda, who had previously brought the main character to life through a series of live-action shorts, will be providing the voice for Tatsu in this fun new Netflix releases in April 2021. Other voice-cast includes Shizuka Itou as Miku, Tatsu's wife and Kazuyuki Okitsu as Masa, Tatsu's former lackey.
---
DAD STOP EMBARRASSING ME! – FUN NEW NETFLIX RELEASES IN APRIL 2021
14 April, English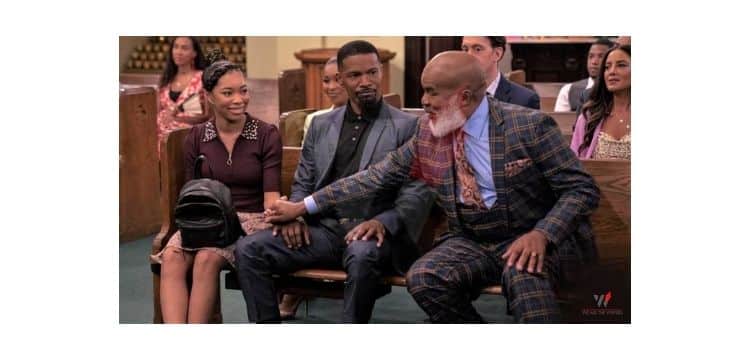 Name something more embarrassing to a teenage girl than the hilarious antics of her beloved dad who may sometimes try a little too hard. That's right, you can't. In this new addition to the fun new Netflix releases in April 2021, meet an overzealous single parent as he figures out fatherhood on the fly when his strong-minded teen daughter moves in with him.
Brian Dixon, a successful business owner of a cosmetic company and a bachelor, just unexpectedly became a full-time father to his teenage daughter Sasha. Determined to turn over a new leaf, Brian's going to need all the help he can get from his dad and sister — and Sasha's going to need all the help she can get learning how to fit into her new, lovingly imperfect home.
It is a relatable journey that is equal parts hilarious and emotional where we see Brian trying his best to understand Sasha and be there for her — and maybe sometimes going to extreme lengths to do so.
Created by Jamie Foxx, Dad Stop Embarrassing Me! is full of heart and humor and is inspired by the multi hyphenated star's real-life relationship with daughter Corinne Foxx, who also serves as executive producer. The multi-cam sitcom among the Netflix releases in April 2021 is directed by Ken Whittingham and includes Jamie Foxx, Heather Hemmens, David Alan Grier, Valente Rodriguez, Proscha Coleman and Kyla-Drew in the cast.
---
SHADOW AND BONE – FUN NEW NETFLIX RELEASES IN APRIL 2021
23 April, English
Netflix is pretty much synonymous with riveting fantasy dramas and the platform is once again trying its hand with another epic adaptation that has us all hyped up. Get ready for this fun new Netflix releases in April 2021!
Based on the popular Grishaverse novels by Leigh Bardugo, Shadow And Bone finds us in a war-torn world where a lowly mapmaker and orphan has just unleashed an extraordinary power that could be the key to setting her country free.
This fantasy-adventure series is set in the imaginary, Russian-inspired Kingdom of Ravka, where magic is real and the magical soldiers known as the Grisha serve in an elite army. Alina Starkov, a young soldier, inadvertently discovers an incredible power that could help unite her country. With the monstrous threat of the Shadow Fold looming, a swatch of unnatural darkness crawling with hellish monsters, Alina is torn from everything she knows to train as part of the Grisha.
However, as she struggles to hone her power, she finds that nothing in this lavish world is what it seems. There are dangerous forces at play, including a crew of charismatic criminals, and it will take more than magic to survive.
Developed by Eric Heisserer, the cast for this fun new Netflix releases in April 2021 includes Jessie Mei Li, Ben Barnes, Freddy Carter, Amita Suman, Kit Young and Archie Renaux.
---
MADAME CLAUDE – FUN NEW NETFLIX RELEASES IN APRIL 2021
2 April, French
Among the fun new Netflix releases in April 2021, the first film in almost 40 years will take on the incredible life of famous French brothel-keeper Madame Claude.
Madame Claude is an upcoming French Netflix Original biographical-drama directed by Sylvie Verheyde and based on the life of Madame Claude, the most famous French brother keeper. Upon release, Madame Claude will be the first French Original movie on Netflix in 2021.
The movie follows the story of Madame Claude, the owner of a flourishing brothel in 1960s Paris. She holds power and influence over the French criminal and political worlds. But her hold on her empire is threatened by an affluent young woman who joins her ranks.
Fernande Grudet, or better known as Madame Claude, was one of the most powerful and affluent brothel keepers of Paris, France in the 1960s. Setting up one of the most exclusive prostitution networks in Paris, her clientele ranged from powerful political figures to celebrities and members of the mafia. Some of the clients named by Grudet herself were the Shah of Iran, John F. Kennedy, and the former head of Fiat, Gianna Agnelli.
Written and directed by Sylvie Verheyde, the movie stars Karole Rocher, Garance Marillier, Roschdy Zem, Pierre Deladonchamps, Liah O'Prey and Paul Hamy.
---
ZERO – FUN NEW NETFLIX RELEASES IN APRIL 2021
21 April, Italian
Zero is a coming-of-age story about a young man who has the ability to become invisible and along with his friends has to fight to save their neighborhood.
This Italian 8 episodes series tells the story of a shy boy who used to feel invisible. But an extraordinary superpower takes over when he meets a group of friends intent on saving their neighborhood. He's not a superhero, but a modern hero who learns about his powers when the Barrio, the district of the Milan suburb from which he wanted to escape, is in danger. Zero will have to wear the uncomfortable clothes of a hero, despite himself and in his adventure, he will discover the friendship of Sharif, Inno, Momo and Sara, and perhaps even love.
This movie gives shape to an original and unique exploration of Milan and recountes a rich and varied world of under-represented cultures, to which significant contributions from the rap scene will be added. To mark the rhythm of a "street" story there is an important soundtrack featuring some of the greatest contemporary artists, both Italian and international.
The series is based on the novel "Non ho mai avuto la mia età" by Antonio Dikele Distefano and is directed by Paola Randi, Ivan Silvestrini, Margherita Ferri and Mohamed Hossameldin. The cast in this Netflix releases in April 2021 is made up of young Italian talents that includes Giuseppe Dave Seke, Haroun Fall, Beatrice Grannò, Richard Dylan Magon, Daniela Scattolin, Madior Fall, Virgina Diop, Alex Van Damme, Frank Crudele, Giordano de Plano, Ashai Lombardo Arop, Roberta Mattei, Miguel Gobbo Diaz and Livio Kone.
---
YASUKE – FUN NEW NETFLIX RELEASES IN APRIL 2021
29 April, English
From the visionary creator LeSean Thomas comes a brand new six-episode anime series set in Japan. Based on a real historical figure, it tells the story of the first African samurai in Japan, who climbed the ranks and became one of the greatest ronin in Japan.
In the real world, Yasuke was an African-American man who served under Oda Nobunaga. He went to Japan to live and work amongst the Japanese elite and became the first African samurai warrior. The story of the anime series will be set in an alternate and fantastical version of feudal Japan. It will follow Yasuke in a reimagination as he's pulled back into his violent samurai past, in order to protect a mysterious local child from bloodthirsty warlords attacking the village.
Yasuke is an exciting new project for anime fans, especially since Black heroes are underrepresented in anime. Following the Black Lives Matter protests of last year, numerous films and television shows have made efforts to include more representation of Black characters. Yasuke looks like it will be a source of positive representation and an exciting anime series that action fans will enjoy.
The show is created by LeSean Thomas and has been animated by MAPPA, a premier anime studio whose most recent work includes Jujutsu Kaisen. Also working on the show is director Takeshi Koike and LaKeith Stanfield who will provide the voice of Yasuke. Look forward to this fun new Netflix releases in April 2021!
---
THINGS HEARD AND SEEN – NETFLIX RELEASES IN APRIL 2021
30 April, English
Among the fun new Netflix releases in April 2021 , the upcoming thrillers seem to have a lot of potential. Arriving at the end of April, this chilling new horror Original looks to be worth the wait. It is a supernatural thriller, where the real horror of the story lies within a marriage. A marriage can be incredibly wonderful, and it can be incredibly frightening and scary, at the same time. The movie "Things Heard And Seen" seeks to dissect those very horrors of a marriage.
Based on the book by Elizabeth Brundage, All Things Cease to Appear, the film follows a couple who move to a historic hamlet in the Hudson Valley. Catherine, a talented young artist, and her husband decide to leave Manhattan, opting for a simpler life in a small rural town. However, it doesn't take long for things to unravel. Catherine starts to suspect that the history of their home harbors a dark secret. The couple also experience fear within their marriage. They have come to discover that it has a sinister darkness, one that rivals their new home's haunted history.
Written and directed by Shari Springer Berman and Robert Pulcini, the film also stars Natalia Dyer, Karen Allen, Rhea Seehorn, and F. Murray Abraham.
Part murder mystery, part ghost story, it's also a profound look at how past guilt forms the present, how what we yearn for is not always what we get, and how it's not only houses that can be haunted, but people as well.
---
NIGHT IN PARADISE – FUN NEW NETFLIX RELEASES IN APRIL 2021
9 April, Korean
This gangster movie originating out of South Korea is dubbed as a Noir Film that premiered at the 77th Venice International Film Festival and will now be making its way onto Netflix. This crime thriller will give you a taste of good plotting and grit with an array of exciting action scenes and bloodshed, in case you are looking for one. Night in Paradise revolves around a man who is on the run when he forges an unlikely friendship with his tour guide—a terminally ill young woman riding out the last days of her life.
Tae-Gu is an ace member of a crime gang. He decides to clean up his life and leave the crime gang for his sick younger sister and nephew. But due to his bloody past, another crime gang targets Tae-Gu. As a consequence, his younger sister and nephew are killed in a car explosion caused by the other crime gang. Tae-Gu exacts revenge on the person he believes is responsible. He then flees to Jeju Island. There, he meets Jae-Yeon, who doesn't have much time left to live. They both feel sympathy for each other and begin to bond. But good things only last for so long.
This noir film is directed by Park Hoon-jung and stars Um Tae-goo, Jeon Yeo-been, and Cha Seoung-won.
---
JUST SAY YES – FUN NEW NETFLIX RELEASES IN APRIL 2021
2 April, Dutch
If you can handle flash mobs, thrown drinks and over-the-top acting, then I highly recommend adding Just Say Yes to your streaming queue, which takes rom-com cheesiness to a whole new level. Co-directed by Dutch filmmakers Appie Boudellah & Aram van de Rest in their first feature together, this comedy follows a woman who has been dreaming about her dream wedding for years but things don't always go as planned.It stars Jim Bakkum, Noortje Herlaar, Nienke Plas, Tino Martin, Kim-Lian van der Meij, Josylvio, Pip Pellens and many others.
Incurable romantic Lotte has been planning her perfect wedding for years but sees her dream shatter in one million little pieces when the groom decides to cancel at the last minute — just as her self-absorbed sister gets engaged to her boss.
A cross between Runaway Bride and Bridesmaids, this movie is bound to make any wedding fiasco seem minor in comparison. A romcom among the fun new Netflix releases in April 2021 that documents the events leading up to the canceled nuptials, along with the aftermath Lotte must face as an abandoned bride. She reconnects with her friends to figure out what's next. But what happens when her ex is back, just as she finds herself in a new romance? Looks like amusing girl-power Dutch romance fun!
---
THUNDER FORCE – FUN NEW NETFLIX RELEASES IN APRIL 2021
9 April, English
For more doses of comedy, we have Thunder Force in this list of fun new Netflix releases in April 2021. Directed by Ben Falcone, this superhero comedy is expected to poke fun at comic book movie tropes while delivering some good-hearted laughs. In a world terrorized by super villains, one woman has developed the process to give superpowers to regular people. But what happens when they turn out to be two most unlikely recipients?
Lydia reunites with her childhood best friend, Emily Stanton, who she previously had a falling out with. Emily is a successful scientist that has developed a genetic platform that grants ordinary people superpowers. After being told not to touch anything, McCarthy accidentally takes the only formula for super strength, unwillingly creating the first real-life superhero team along with Emily, whose superpower is invisibility. Now, it is up to Thunder Force to battle the super-powered Miscreants and save Chicago from the clutches of The King. When a new villain known as "The King" arrives in town, it's up to the Thunder Force to step up and save Chicago from the wretches of evil.
The last scene in the trailer gives viewers a sneak peek at the Crab Man, who will most likely join forces with Lydia and Emily in their attempt to save Chicago from the super powered Miscreants. Along with Melissa McCarthy and Octavia Spencer in the leads, the fun new Netflix releases in April 2021 also stars Pom Klementieff, Melissa Leo, Tyrel Jackson Williams, Sarah Baker and Melissa Ponzio.
---
RIDE OR DIE – FUN NEW NETFLIX RELEASES IN APRIL 2021
15 April, Japanese
Netflix's Japanese original content has been on the rise over the past few years. As a result, there's high hopes for this upcoming film among the fun new Netflix releases in April 2021. This LGBT thriller brings you a complex tale of extreme love & hate. Ride or Die follows two women on their escape journey who have gone beyond the boundaries of right and wrong, love and hate.
Based on Ching Nakamura's comic "Gunjo", this movie centers around Rei Nagasawa, a lesbian woman in her 20s, and her former classmate Nanae Shinoda. When Rei and Nanae meet for the first time in 10 years, Rei is shocked by Nanae's appearance. She suffers from brutal domestic violence by her husband and her whole body is covered with bruises from his abuse. Having loved Nanae since high school, Rei kills Nanae's husband for her. However, Nanae is filled with disgust and fear toward Rei for having gone as far as committing murder for her, but Rei accepts everything for the sole purpose of saving Nanae.
While seeking love from one another, both Rei and Nanae find themselves struggling with incompatible emotions. Both want to love, but feel disconnected by their fraying emotions and their circumstances.
Directed by Ryuichi Hiroki, this fun new Netflix releases in April 2021 stars Kiko Mizuhara and Honami Sato in the lead roles.
---
Snabba Cash – NETFLIX RELEASES IN APRIL 2021
7 April, Swedish
In 2010, Swedish director Daniel Espinosa broke out in Hollywood with Snabba Cash, a gritty international crime thriller starring a then-up-and-coming Joel Kinnaman. That film spawned a trilogy and launched both their careers. Now Netflix has picked up the baton and has crafted a slick new TV series that serves as something of a semi-sequel and set in the same world.
This crime series among the fun new Netflix releases in April 2021 reimagines the Swedish Film Trilogy of the same name and follows the events of the trilogy after 10 years. It's about a young woman trying to make it big in the world of business but
Stockholm is now a buzzing environment where the craving for status and money is stronger than ever and the entrepreneurial jet set as well as the criminal world has become even more brutal, chaotic and ruthless. The action this time follows Leya (Evin Ahmad), a young single mother trying to make it big within the startup scene in the world of business who becomes entangled in the criminal world when she finds herself up against it.
Dreams come at a cost. When the entrepreneurial start up scene and the criminal worlds of Stockholm collide, loyalty, friendships and business partners will all be tested in the never-ending quest for easy money.
Based on Jens Lapidus's 2006 novel, the series star Evin Ahmad, Alexander Abdallah, Ali Alarik, Olle Sarri, Dada Fungula Bozela, and Jozef Wojciechowicz, with Jesper Ganslandt directing four episodes and Måns Månsson directing the remaining two.
---
Well, that is it for the upcoming month! I am sure this list of fun new Netflix releases on April 2021 will be more than enough for you to last throughout your monthly binging sessions. And I am even more sure that you will still be coming back for more. Don't worry, we will have everything prepared. Till then, see you next month!