Building a solid SEO marketing strategy requires adequate planning and preparation. You have to find the proper keywords that are relevant to your topic of content and use them wisely. Apart from that, there are certain SEO techniques that you can apply or SEO tools that you can use. This blog highlights HOW SEO STRATEGY BENEFITS SEO MARKETING ? These SEO techniques will give you a detailed plan as to how you can grow your website's traffic. Read on to find out more.
WHAT IS SEO MARKETING?
SEO Stands for SEARCH ENGINE OPTIMIZATION. In the world of digital marketing and content promotion, Search Engine Optimization and SEO marketing are some highly used terms. But what does it actually refer to? An SEO marketing strategy is defined as the process of development, detailing, and setting priorities to increase search engine results. It is also known as "SEO technique" or "search engine optimization strategy".
The main goal behind developing a dependable SEO strategy in digital marketing is to grow organic website traffic. The best way to do that is by providing valuable information to your target audience in an SEO optimized way. People also search for SEO Copywriting services and SEO tools to help them with their digital marketing.
DEFINITION OF SEO MARKETING STRATEGY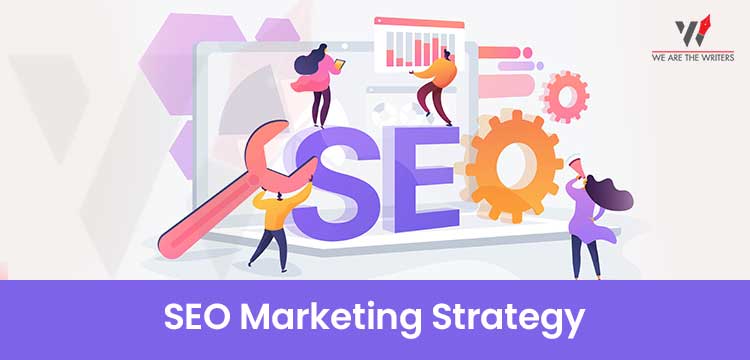 In today's age of digital marketing and content promotion, it is crucial to have an SEO plan in place. This is because it keeps you focused on your target when developing content.
There can be two types of mindsets while creating content. One is, developing content based on your assumptions about what people want (where your chances of going wrong increase). The second type of approach is based on creating content that people are actively seeking. This second type of approach deals with formulating SEO marketing strategy and will give you the best results.
BENEFITS OF SEO STRATEGY IN DIGITAL MARKETING
A great SEO strategy displays your brand to visitors at every point of the buyer journey. This is one of the main benefits of an SEO strategy. Also, as a result of this, your business becomes a trustworthy and recognized resource for customers.
Search engine optimization is a crucial component of digital marketing. SEO marketing will raise your website's visibility and keep you ahead of your competitors. It improves the visibility of a website, user traffic, conversion rate, and return on investment.
BEST SEO STRATEGY TO FOLLOW IN 2021
The content that you create must be structured in a readable and searchable way. To do so, you must adhere to a set of guidelines. These aid search engines in locating and presenting your website or blog to viewers. The best strategies for SEO marketing are listed below.
Establish your organization's aims, expectations and create a buyer persona.
Conduct keyword research and subject research analysis.
Find the right keywords and use them in your Website Page URLs.
Optimize for On-page SEO.
Conduct a technical SEO audit to boost the ability to crawl and the overall performance of the page.
Do a user experience (UX) audit to improve the user experience.
Increase the authority of crucial pages by building backlinks to them.
ESTABLISH YOUR ORGANIZATION'S AIMS, EXPECTATIONS AND CREATE A BUYER PERSONA
The first step in building an SEO strategy is to establish the company objectives and goals. Before you embark on a large SEO campaign, you must first outline your intentions and benefits. This is because your SEO efforts will fail to generate a return on investment (ROI) if you don't set targets for your business.
After establishing the company goals, it is now time to move on to the buyer persona. You have to ask yourself some fundamental questions in order to understand and create a buyer profile for your dream customer. They are:
Who is your dream customer? What are their pain points or challenges in life?
What is their age, income, gender or geographic location?
How can your product or service help them find a solution to their problems?
When you have the answer to these questions, you will be able to create a buyer persona. Begin by determining your desired marketing outcomes, and then change direction to determine your strategic goals.
CONDUCT SEO KEYWORD RESEARCH AND SUBJECT RESEARCH ANALYSIS
Based on the outcomes of your surveys regarding the challenges your ideal customers face in their lives, include proper keywords. For example, Sasha is unable to find cheap dog food anywhere. You, on the other hand, have a couple of discounted rates for the dog food that you sell. You can include keywords in your content like "cheap dog food" or "dog food discounts" to appear on Sasha's search results.
Any effective SEO approach starts with SEO keyword research. This may seem self-evident. But it is critical to generate content and web pages that your target audience seeks out. The next strategy on our list of SEO marketing strategies is to focus on topic clusters. Choose a niche and research relevant topics on the same and write high-quality content based on those. You can also use Google Trends to search for the trending topics and write on those.
Topic clusters have a lot of potentials. You may cover the entire range of SEO keyword group, from high-volume head phrases to highly particular long-tail keywords. Internal linking shows search engines your range of coverage and passes acquired link value between quality content.
FIND THE RIGHT SEO KEYWORDS AND USE THEM IN YOUR WEBSITE PAGE URLS
When it comes to choosing the best SEO strategies for 2021, we cannot afford to overlook the right keywords. For a huge amount of keyword-related data, use strong, comprehensive SEO tools like Ahrefs, Moz, and SEMrush. Utilize keyword research tools such as KWFinder, KeywordTool.io, and Soovle. Also, remember to look into long-tail keywords along side the head terms.
Another great way to look for the right keywords is to check Google Search Console. This will help you determine which keywords are already driving organic traffic and where you can improve. Examine Google's first and second pages to check your search intent or purpose. Check out Google Search Trends to see if there are any emerging trends or sensations. To get comparable term ideas, use Google's autocomplete and the "people also ask" sections. Never forget to include keywords in your Website Page URLs as they are extremely important SEO strategies.
OPTIMIZE FOR ON-PAGE SEO
In your internal links, employ keyword-rich anchor text. Analyze your website carefully (crawling). Remember to perform an SEO audit and map out your website's framework. URLs, page titles, and meta descriptions should all be updated for On-Page SEO strategy in digital marketing.
We already covered it in the previous point but this is important for On-Page SEO – ensure that your keyword is included in your website URL. Make sure to use your focus keyword as well as the related keyphrases throughout the page. Keep track of each page's keywords and categories.
Another mistake that most beginners make is to overstuff their content with SEO keywords. Don't overuse keywords as it will only result in spam. The search engines will automatically defer from showing your website or blog at the top of search engine results.
IMPORTANT SEO TOOLS THAT HELPS TO BUILD SEO STRATEGY
Benifits of having SEO TOOLS when building your Seo stretagy is to look into the ability of various web pages to rank at the top of search engine results pages. They provide data on backlinks and keywords, as well as knowledge of several internet based SEO competitors. These is one essential thing to have while doing digital marketing. SEO tools will help you strengthen your SEO marketing strategy in 2021.
Screaming Frog
Google Search Console
Google Analytics
Web Developer Toolbar
WebPagetest
Ahrefs Webmaster Tools
Google Page Speed Insights
Google Mobile-Friendly Testing Tool
Moz Keyword Explorer
Answer the Public
CONDUCT A TECHNICAL SEO AUDIT
Benifits to conduct a technical SEO audit, it helps to boost the website crawlability and the overall performance of the page. For example, a crawl report might help you find crawl issues in your website content. Examine the HTTPS status codes and check the status of your XML sitemap.
Internal roadblocks and development limitations can ruin crucial technology advancements,. This will require SEO teams to rely on link building rather than laying the groundwork. As a result, crawling, link equity distribution, and user experience are all affected by technological concerns. As a result, search engines are less likely to give your site a high ranking.
Check to see if your website is mobile-friendly. It is an important factor to be considered when it comes to building an SEO marketing strategy. The cannibalization of keywords should be examined. Get rid of similar or too many identical keywords in your website content. Check the time it takes for the webpage to load and work on reducing it by optimization. Perform a web search on Google to see if your website is visible on the first page of the search engine result pages (SERPs).
PERFORM A USER EXPERIENCE (UX) AUDIT TO IMPROVE THE USER EXPERIENCE
Google has shifted its focus to sites that provide excellent user experiences across a variety of devices and platforms. Despite the fact that traditional ranking parameters still reign supreme, search engine optimization (SEO) is progressively converting into user optimization. Keeping that in mind, collaborate with your software developers to ensure that your website is simple and intuitive to use. Make sure that there are no broken links. Ensure that each link works and directs your visitors to the next piece of information they require.
When it comes to SEO marketing strategy, you should select the focus keywords and related keywords that are relevant to the search intent. This way, you can create engaging content according to your customer's needs. You can also provide meta data to assist Google's understanding of the content that you have written.
When you optimize your website for conversions, you focus on leading users to a specific objective. This may be an action such as signing up for your email list or purchasing one of your products. You want to provide your viewers exactly what they want, just like Google does. Build trust between you and your customers that they can depend on you for valuable content easily and effectively.
Understanding how to optimize your content for both SEO marketing and conversions while doing digital marketing achieves two goals at the same time. And the benifits are : it advances both the intentions and better interactions between your website and search engines.
INCREASE THE AUTHORITY OF CRUCIAL PAGES BY BUILDING BACKLINKS TO THEM
As part of your digital marketing or content promotion strategy, you must include guest posting. You can make a name for yourself by guest blogging your way up the ranks. When you have relevant knowledge about a certain topic, find discussion forums and engage with other bloggers there. You can also include links that will take the readers to your website on such forums as Quora or Facebook Groups.
Increased domain authority can be aided by more backlinks and increased visitors. It's critical to concentrate on providing a fantastic resource for users. This increase in traffic and reputation will be followed by an increase in backlinks. It's simple to identify high-authority websites that accept guest articles by searching for "write for us" and a relevant phrase in Google. You should just keep in mind that these should be high-authority sites with a large following.
Each of these SEO strategies has been proven to deliver the best results. You may also want to read some SEO techniques to boost your SEO strategy.
HOW TO APPLY SEO STRATEGY IN DIGITAL MARKETING?
To stay on top of the SERPs, set aside some time each month to update old blog entries. Include new and up-to-date material in these blogs. Add new, important keywords as well. You can also get back to any SEO techniques that were not addressed previously, such as missing image alt text.
Basically, the benifits of the SEO strategy for 2021 sums up three main points. They are:
Provide your audience with the most valuable content that is available.
Create a great user experience on your website.
Prioritize material that has a high perceived value i.e. write on the topics that are gathering more searches.
For reference as to how to create good website content, you can refer to our blog on Website Content Writing.
FINAL THOUGHTS
The goal of an SEO marketing strategy is to provide high value and importance to visitors. You can hire an SEO expert to do the heavy lifting for you. Or, you can simply use your rational thinking and work your way through the SEO techniques mentioned in this blog. Building a proper SEO marketing strategy will not only acquire new customer leads for you, but also increase brand awareness and reputation. This will ultimately lead to a great marketing success.