We know you won't even read this and directly skip on to the " how to create quality Instagram content " section directly. Well, fair enough. Nobody has enough time to read each wording a blog contains. Recent studies show that the average time span of internet users today is somewhere near around 8 seconds. That's not a lot!
Considering this it is very difficult for digital marketers to create content that will successfully reach their audience. Digital marketing platforms like Instagram, Facebook, Pinterest, LinkedIn, etc. are on hype today. This guide will help you out to create authentic content on Instagram. So let's get started…
A brief about Instagram
We know this section will probably be skipped because who doesn't know about Instagram in this digitalized era! However, let's have a quick overview of how this platform is good for your business or brand.
Instagram is owned by Facebook and has a user base of over 1 billion people. It is a social media platform with amazing features, namely- insta stories, IGTV videos, reels, and also a shopping platform with many e-commerce brands. 
Talking about the benefits it provides to businesses, there are many.
Many eyeballs are available on the platform daily and with a strategy, it's easy for a business to succeed.
Be it a small business or a large company, this platform has its doors open for all.
Through its Shop Tab, you can directly make money from Instagram
Insta stories: the easiest way to connect your target audience.
The use of hashtags will increase your digital presence.
You can check on your competitors.
It provides you with complete liberty to be as creative as one can be.
Insta ads increase your reach.
If you seek, advantages are many. You just need to be consistent, creative, and of course adhere to a specific strategy. Make sure your Instagram content is something valuable to your audience. 
Suggested Blogs:
Types of content you can post on Instagram
When your goal is to grow, you want to reach the maximum number of people out there. But you often get confused about what to post and what not to. Which type of content will be liked by your audience, which is the best time to post on Instagram, and other queries.
Well, I completely understand. But don't fret! Here are common types of content that work well on our favorite social media platform.
BTS
BTS stands for Behind-The-Scenes. Such posts give the audience insights into how everything works. It allows you to show off your brand's personality while also contributing to its story. Make sure you're providing more than enough behind-the-scenes content if you're a small or local firm. Make them feel that they are part of it.
Quotes
Whoever your audience is, there's something with quotes that excite people. How many times have you stopped scrolling to read a quote? I am sure multiple times. The best ones are inspirational or facts kinds of posts. Inspirational posts are suitable in the entrepreneurial space.
Insta Stories
The beauty of Instagram Stories is that you may publish as many as you want without interfering with your main feed. This frees you up to be more imaginative with your content in order to captivate your audience. You can give a sneak peek into your upcoming posts, be it live sessions or product launches, or any announcement.
Testimonials
What people think about your brand or product is what your potential customers want to know. Reviews are very important as they influence others to try your brand once. This will increase your trustworthiness while also tempting folks to inquire about your services. Make sure you put actual public reviews and not self-generated ones.
Your business story
Tell folks about your company's backstory. What led you to choose your niche, your educational background, your values, and your career ambitions when you first started? But, please, don't put everything in one post.
Other than the above mentioned there are various other types of content that you can use to enhance your brand's presence. You can also use IGTV videos, videos to post in the feed, reels (your niche-related content), advice posts, posts featuring influencers, giveaways (with limited time), insta polls, memes, open to all questions in your feed, and so on.
Suggested Blogs:
How to create quality content on Instagram ?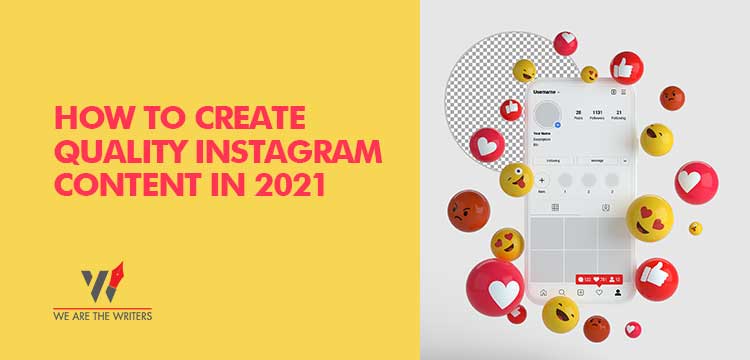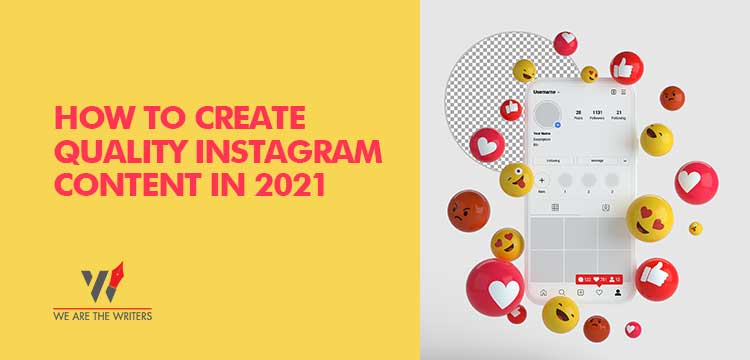 You cannot imitate or borrow ideas from what other firms do when it comes to creating high-quality content that boosts your followers and reaches. Only by displaying the originality of your business, you will be able to succeed. When it comes to content, what works for one company may not work for another. Each company has its own goals and plans, which must be followed.
Going with the new trends is also an important factor to increase your presence. Before you use Instagram for your business you must know what to post, the best time to post on Instagram, the frequency of your posts, and a few more.
Want to know the ways to create unique and good content? Keep scrolling. Just a few minutes attention and you can take your business to heights.
Draft a calendar for the month
A monthly calendar will help you create and publish posts in order. It will help you remain consistent and build an attractive feed. Plan how will you post, fix how often you will be posting. It is recommended to post one post a day or even alternatively initially. You can change the frequency later when your audience grows.
Know what your audience wants
Examine how your content is working for one week. Understand the way your target audience is reacting to your posts. Check which profiles they commonly follow on Instagram, and what they want to gain from using the social media platform. To get a sense of who is following your brand, read their profiles. Are they customers or businesses? Do they work in the same fields or have similar job titles? Do they have children or are they empty-nesters? You can use all you've learned to generate content that your audience will enjoy.
Use Instagram Insights
Measuring your performance is very important. It gives you an idea of where and how you need to make improvisations. Evaluating what material resonates and does not connect with the target audience is the quickest way to create captivating content. You may track crucial indicators like follower engagement, following growth, and hashtag success, among other things, by using the insights feature or the finest Instagram analytics tool.
Captions should be attractive
Remember we first told you about the attention span? Since it's so low, nobody will read your long essay-like captions. Your captions should be short, compelling, and unique. It will take a little practice to come up with an engaging caption. If you can detect patterns relating to alternative caption styles and post-interaction or reach, monitoring Instagram statistics can also assist you to enhance your captions. Even if you are writing lengthy captions, make sure it is worth their reading time.
Don't stick to one Instagram content type
We have mentioned quite a few types of content you can post to boost your business. Choose among them. Don't stick to just one. Nobody likes to check out monotonous things when they are scrolling. They will get bored. This will lead to more unfollows and ultimately less engagement. Therefore, to avoid all this make use of all types of ideas you can possibly use.
Use trendy hashtags
Hashtags are like salt added to every dish being cooked. Without that last pinch of salt, it's tasteless. Similarly, without hashtags, your posts will go nowhere. You can boost the reach of your Instagram posts by using hashtags, which means you can expand your audience and generate greater interaction. Instagram posts can have up to 30 hashtags, while Instagram stories can have up to 10. Each piece of content can have anywhere from zero to the maximum number of hashtags. The Internet has many hashtag generator tools that are trending, and yes they are trustworthy.
Use the comments section to engage with folks
Engagement is a vital indicator for determining the attraction of content on Instagram. In fact, providing the material that appeals to a large number of people is a fantastic strategy to land on Instagram's Explore tab. Responding to follower comments on a frequent basis is one strategy that encourages individuals to participate with content on a regular basis. Try to answer as many comments as possible. Your audience should not feel ignored. How happy you feel when your comment on any page is liked or replied back! You feel important, right? Make them experience the same feeling.
Be active
If you want conversions, sales, more followers, and high engagement you have to be very active and consistent on the platform. Your page should not look left out. Even if you are not posting daily, don't let the day go empty. Some or the other activity should always be happening on your page. Besides, being active will help you continuously examine your competitors and your progress or decline. You will be able to keep yourself up to date with the latest trends and use the same for your page.
Sit with a weekly report in front of you after applying all the above tips. Analyze what went well and where you lacked behind. Count the increase in followers, count the number of unfollows. See which of your content has the highest reach. Understand what did it contain that all your other posts didn't. You are your own critic. See where you need to improvise and the areas of change. Try the revised version next week.
Suggested Blogs:
Best time to post on Instagram
Now that we know the types and ways you can post quality Instagram content, you must now know the right timing. When scheduling Instagram posts you must give particular attention to the time frame. As images are the lifeblood of this wildly popular app, displaying your individuality at particular times of the day and week is critical to maximizing interaction. You may schedule your postings at below timings for maximum effectiveness:
Midnight
6:00 am- 8:00am
3:00 pm
8:30 pm
Saturdays and Sundays
Conclusion
Content is the king. You can construct an Instagram content framework that helps you to polish your brand's image, create an active community, and accomplish more ambitious targets with some planning. Make your efforts worthy! (Source: Iconosquare)