Festivals are a powerful method to demonstrate pride in one's background, culture, and customs. They are supposed to be shared with loved ones to celebrate key moments and feelings in our life. US festival, every nation has their own traditions and festivals celebrated to continue their cultural legacy. Just like any other nation, banks, academic institutions, post offices, etc. are closed on US festival holidays.
Festivals play a vital part in our social life by providing structure and connecting us to our families and backgrounds. They provide a welcome break from our mundane, monotonous daily routines and provide motivation to recall the essential things and events in our lives. Cultural heritage, knowledge, and traditions are passed down through the generations through festivals.
Suggested Blogs:
Major US festival holidays list for 2022: the most celebrated ones
| | | |
| --- | --- | --- |
| Name of the festival | Date | Day |
| New Year's Day | January 1 | Saturday |
| President's Day | February 21 | Monday |
| Memorial Day | May 30 | Monday |
| Labor Day | Sep 5 | Monday |
| Independence Day | July 4 | Monday |
| Columbus Day | Oct 10 | Monday |
| Veterans Day | Nov 11 | Friday |
| Thanksgiving Day | Nov 24 | Thursday |
| Christmas | Dec 25 | Sunday |
| Kwanzaa | Dec 26- Jan 1 | Sunday – Saturday |
US Festival holidays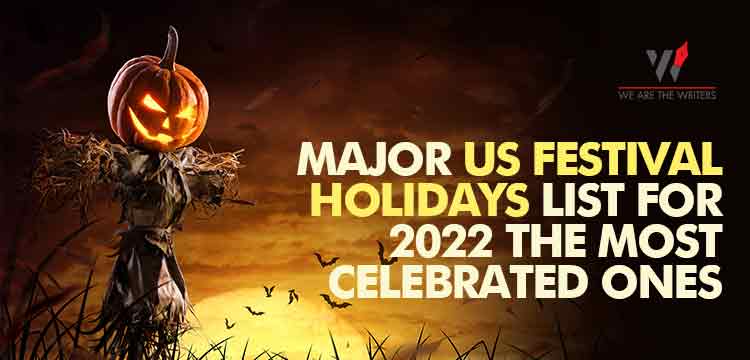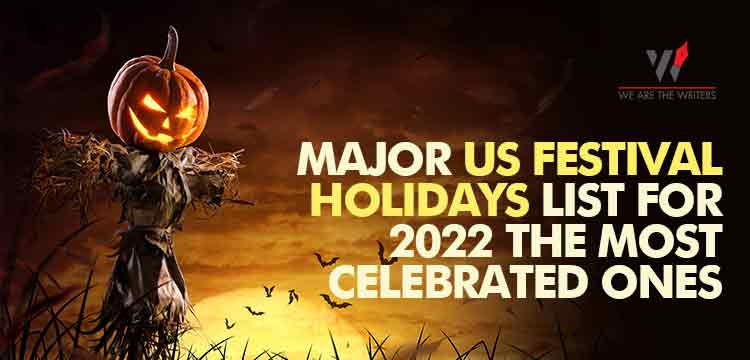 Let us learn more about the US festival holidays…
New Year's Day- Celebrated on January 1st every year, this day is a federal holiday. On New Year's Day, government offices, organizations, schools, and many businesses in the United States are closed. Public transportation does not operate on a regular timetable. Lights, parties, and special activities, many of which are broadcasted, mark the start of New Year's Day in the US at midnight.
President's Day- Washington's Birthday is an official commemoration of George Washington's life and accomplishments as the first president of the United States. The day honors former presidents of the United States. Presidents' Day is one of the national holidays in the U.S. which always results in a long weekend because it occurs on Monday (the third Monday in the month of February). Many stores hold sales on this day.
Independence Day- The yearly festival of national independence in the United States is known as Independence Day, commonly known as the Fourth of July or July 4th. It celebrates the Continental Congress's adoption of the Declaration of Independence on July 4, 1776. Fireworks displays on July 4th depict the three primary colors of the American flag: red, white, and blue.
Labor Day- Labor Day was originally observed in the United States in 1882, and it became an official federal holiday in 1894. The first Monday in September is the holiday. Outings and marches are popular ways to commemorate the day, but there's more to it than that. Labor Day is a holiday dedicated to honoring working men and women. The first Labor Day procession was held in New York City on September 5, 1882. The first Monday in September was chosen by the labor unions since it was midway between Independence Day and Thanksgiving.
Columbus Day- In many parts of the United States, Columbus Day is a national holiday, while in others, it is not. Since Columbus Day is still a national government holiday, several government agencies are closed. Church services and other festivities are held in some American cities to commemorate the nation's discovery. Special church services, parades, and huge celebrations are held in various towns and cities. The New York and San Francisco events are particularly remarkable. Columbus Day is known as Discoverers' Day in Hawaii, however, it is not a statutory holiday.
Veteran's Day- Veterans Day is observed every year on November 11 in the United States. The signing of the armistice that ended World War I combat between the Allies and Germany in 1918 is commemorated on this day. On Veterans Day, veterans are honored for their contribution to the United States. In 48 states and one federal district, Veterans Day is observed as a day off for the general public, with schools and most companies closed.
Thanksgiving Day- Thanksgiving Day is an American holiday observed on the fourth Thursday in November. It commemorates the Pilgrims' supper with the Native Americans and is set aside as a day to spend with family and give thanks. The majority of families celebrate with a lavish lunch and, on rare occasions, a religious service. Many countries celebrate this event in a different way or have a distinct holiday based on the same ideas. The Thanksgiving feast is the most generally observed custom. Turkey, mashed potatoes, dressing, cranberry sauce, corn, sweet potatoes, and pumpkin pies are typical, but many feasts vary by family and culture.
Christmas- Christmas Day is observed in a variety of ways. It is frequently blended with pre-Christian winter festival rituals. Most beautify their houses, pay visits to family and friends, and give presents throughout the festive season. Many people decorate their homes and yards with lights, Christmas trees, and other decorations in the days or even weeks leading up to Christmas Day. It is customary to prepare a special feast for family or friends, which usually includes turkey and a variety of other celebratory delicacies, and to exchange gifts with them.
Kwanza- Kwanzaa is only a week celebration that honors African culture and heritage. Every year, it occurs between December 26 and January 1. This commemoration was established by Maulana Karenga, an African-American activist, and it was initially observed between December 1966 and January 1967. Lights are lighted and beverages are spilled during the ceremonies. The ceremonial pouring of a drink as an offering to a god is known as libation. The libations are poured into a wooden unity cup during Kwanzaa.
Memorial Day- Memorial Day, previously Decoration Day, is a national holiday in the United States commemorating those who have died in the country's conflicts. It is observed on the last Monday in May. It began during the American Civil War when locals would place flowers on the graves of soldiers who had died in battle. More than a half-dozen locations have alleged to be the holiday's beginnings.
Other celebrated US festival list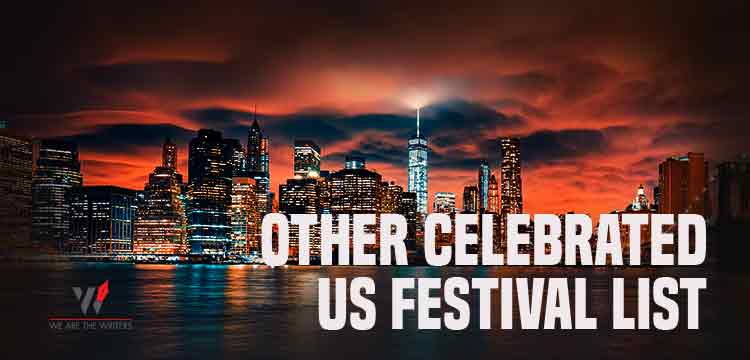 | | | |
| --- | --- | --- |
| Name of festival | Date | Day |
| Martin Luther King Day | January 17 | Monday |
| Valentine's Day | February 14 | Monday |
| St. Patrick's Day | March 17 | Thursday |
| April Fool's Day | April 1 | Friday |
| Good Friday | April 15 | Friday |
| Easter | April 17 | Sunday |
| Passover | Evening April 15- Evening April 23 | Friday- Saturday |
| Mother's Day | May 08 | Sunday |
| Father's Day | June 19 | Sunday |
| Halloween | October 31 | Monday |
Other US festival lists
These festivals are not federal holidays but are among the most celebrated US festival list. All the festivals have their own significance and are celebrated across the entire U.S. with enthusiasm and joy every year. Some people like to celebrate it in the exteriors while some take it as an advantage to spend some "family time". Irrespective of how the festivals are celebrated, the entire nation brightens up with happiness.
Suggested Blogs:
Wait! We aren't done yet. After the US festival holidays, let's have a quick glance at upcoming music festivals in the US. Check them out and wishlist your favorites now!
Upcoming music festivals in US 2022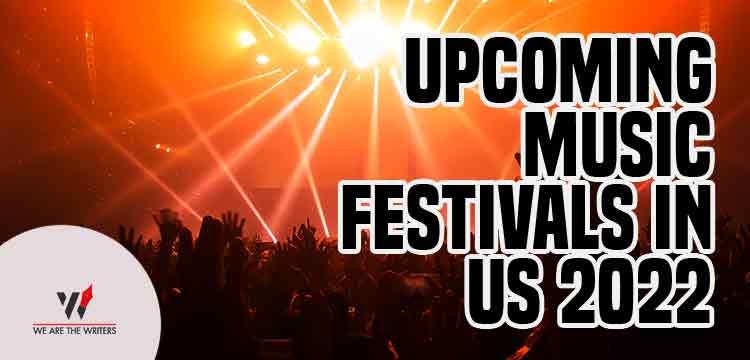 | | | |
| --- | --- | --- |
| Name | Date | Place |
| Wobbleland 2022 | January 14-16 | San Francisco, CA |
| ILLFEST 2022 | February 18-19 | Austin, TX |
| Innings Fest 2022 | February 26-27 | Tempe, Arizona |
| Big Ears 2022 | March 24-27 | Knoxville, TX |
| Ultra Festival Miami 2022 | March 25-27 | Miami, FL |
| Sunfest 2022 | April 28-May 1 | West Palm Beach, FL |
| EDC Vegas 2022 | May 20-22 | Las Vegas, NV |
| Delfest 2022 | May 26-29 | Cumberland, MD |
| Electric Daisy Carnival Las Vegas | May 20-22 | Las Vegas |
| Pitchfork Music Festival | July (date not confirmed) | Chicago, IL |
| Boston Calling Music Festival | May 27-29 | Boston, MA |
| Firefly Music Festival | not confirmed | not confirmed |
| Lollapalooza | July 28- July 31 | Chicago, IL |
| Coachella | April 15- April 24 | Indio, California |
Upcoming music festivals
Does it end here? No. There are plenty of other upcoming music festivals in the US. Moreover, Arts, food, and wine festivals are also many in number.
However, please note that the dates might vary considering the situation.