Every marketer requires quality data- to rank high on Google. Increasing your rank or maintaining it depends on- how you optimize your blog content (SEO). When the user enters a query into the search engine, Google displays the top 10 search results in its data. A web page needs to be search engine optimized to get a place in the top ten ranks. It is possible through proper keyword research to include relevant keywords in your blog content. But inserting unresearched keywords does not help you rank higher on the search result page. In-depth and well-researched data from online tools might help your keyword research methods and strategically rank higher on Google.
Read about 4 Key SEO Benefits for Business: 4 KEY SEO benefits for business | How to write SEO Friendly content
How to analyze a keyword ? | Keyword research methods
Before selecting a keyword for your blog, some essential information about the keyword needs to be accessed. This information gives details about keywords and helps you to develop a content strategy. Keep reading to understand the five things you need to check before finalizing your keyword.
Search Intent
Search Intent or audience Intent is the objective behind a search question. It helps to understand the purpose of a search query and helps to give a result that fits as an answer to that query. There are four types of search intent:
Information intent
When the user asks a query in the search bar- to obtain information related to a topic. It is called the Informational intent of the user. Many content strategists focus on information intent as it builds an organic connection with the reader by helping them find answers to their queries.
Navigational intent
When users need to traverse to specific blog content, they have a navigational intent. Answer questions with navigational queries only with the blog content the user intends to navigate to. A marketer should make sure that the content is ranking for the correct query so that a dedicated user searching for the website name should be able to find it at the top of the search result page.
Transaction intent
A user looking to buy a product online has a transactional intent. It is a type of search query where the user requires a product to buy right away and is not looking for information or How-to articles.
Commercial intent
A user who wants to research a product before making a transaction has a commercial intent. For example, users surf e-commerce platforms to read detailed product descriptions.
Competitor analysis
Competitor analysis is a type of analysis that helps you to find content strategies about your competitors. And it points out the content gaps you should aim to target. Content gaps are keywords not used by your competitors or your business blog. The keywords in content gaps have a high potential that helps to rank your web page at the first position directly.
Search volume
If 2000 people are searching for ' Burger', the search volume for this keyword is 2000. Search volume gives you data about the target keyword and helps you compare the search volume with other keywords. In this way, you can search for target keywords easily from a list of keywords available.
Keyword difficulty
The keyword research tools calculate keyword difficulty (KS%) in percentage. It provides the difficulty level of ranking for a keyword. For example, ranking for a broad keyword like ' Burger' is more challenging than ranking for a specific keyword like ' French chicken Burger'. Higher the KD%, the harder it is to rank for the keyword.
Keyword Relevance
The relevance indicates whether your blog ranks for the correct queries. When a blog article ranks for the wrong keywords, the user might not find it valuable. And the website is tagged as clickbait if this happens many times. To avoid this, calculate the relevance of your keywords in the latest search results queries using keyword research tools.
Read our blog about Keyword Research and its Secret: THE ARTS OF KEYWORD RESEARCH ? A BEGINNER'S SECRET!
5 best free keyword research tool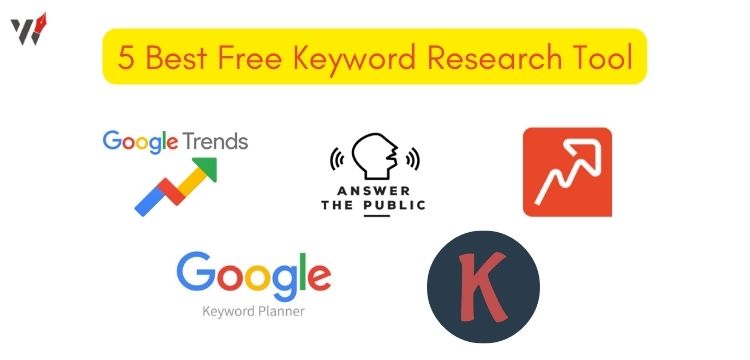 Google Keyword planner
Google Ads provides us with a tool for every digital marketing need, but its Keyword Planner tool is the most useful. It helps you research keywords- as per your location or region and gives you insightful data for Paid ads. The keyword tool is trustworthy, and all the data is shown directly to you from Google's past databases. A Google Ads account is required to use the Keyword Planner. Also, remember that it is- best used when running Paid Ads campaigns.
Rank Tracker
Rank Tracker is the best tool to obtain multiple variations of a single keyword. Tools like a long-tail tool, question generator, and keyword ranking data are available on Rank Tracker. It also provides a Google search console and Google Ads keyword planner integration.
Answer the Public
Answer The Public lets you access raw data about the search queries in the form of questions. It provides you with all the questions users search for on Google. The design and display of the results on 'Answer The Public' are very informative. It categorizes the equations according to who, when, where, and so on. There is a limit to the number of searches you can do. So, strategize and then search on Answer the Public.
Google Trends
Google Trends gives you information collected from the year 2004. The most important feature is its graph display, as a marketer can get the data for a keyword from the past 15 years. No other tool can do this because Google has more data than any other tool or software. The comparison feature is insightful too. Compare two keywords and get search volume to finalize one keyword for your blog.
Keywords Everywhere
If you want to find keywords and their search volume while you browse, then Keywords Everywhere lets you do it. It is a free extension that provides you with data on the Google search result page. You can download the keyword list without leaving the Google site. Additionally, Keywords Everywhere provides you with the search volume of keywords in Google autocomplete. So, you can search and research at the same time.
Know more Keyword Research tools for blog: BEST KEYWORD RESEARCH TOOLS
Conclusion
For executing a marketing strategy successfully, the best marketing tools on the internet are a must. Each free keyword tool mentioned above has its benefits that provide unique data related to keywords. Finding the best tool for your blog can be tiresome. But once you start using software or research tools, you will be able to choose the best among them for your needs.
Keyword research tools help you get your blog content in front of people. It is why you should develop an SEO strategy before writing your blog. Next time you start planning for your blog content, get the keywords data from the research tools and then create the blog.
FAQS
How do I use Google for keyword research?
Using Autosuggest, you can research keywords using Google. First, you need to type your keyword in the Google search bar. Do not click the search icon but list all the related queries Google displays in the search bar. It is the easiest and most accurate way to collect top ranking keywords related to your niche.
Is there a free tool for keyword research for SEO?
Some of the best free tools for keyword research tools are-
Google search console: Best to get Short-tail keywords related to your niche.
Rank Tracker- To compare the best SEO keywords from a 100+ keyword list.
Answer The Public: The best tool to find keywords in question format.
Google trends: Find location/region-specific keywords easily.
Keywords Everywhere: Best to research keywords while browsing.
How do I research keywords with the help of Google keyword planner?
Google keyword planner is the ultimate source to get a keywords list and research for paid ads campaigns (PPC). To research keywords on Google Keyword Planner follow the steps below-
Get a Google Ads account.
Click on Tools and settings.
Go to the planning section and click on Keyword planner.
Type the keywords and click on Get results.
Now, you have access to the top keywords in your region.
What are some of the best keyword research tools for digital marketing?
Here are the top 10 best keyword research tools for digital marketing-
Google search console
Ahrefs
Semrush
Moz pro
Ubersuggest
Soovle
Keywords Everywhere
Google trends
Rank Tracker
Google Ads keyword planner
References
[1] Mayank Nagpal, J. Andrew Petersen,(2021), Keyword Selection Strategies in Search Engine Optimization: How Relevant is Relevance?, Journal of Retailing.
[2] Tusar, Md. Fazlul Karim, (2008-09), Google's keyword analysis tool and compares its various metrics for finding the most popular search terms on the web.
http://dspace.bracu.ac.bd/xmlui/handle/10361/735
[3] K. P. Raghuvashi, (2014), An Empirical Study on the Meta- Search Engine Optimization Technique Based on Keyword.