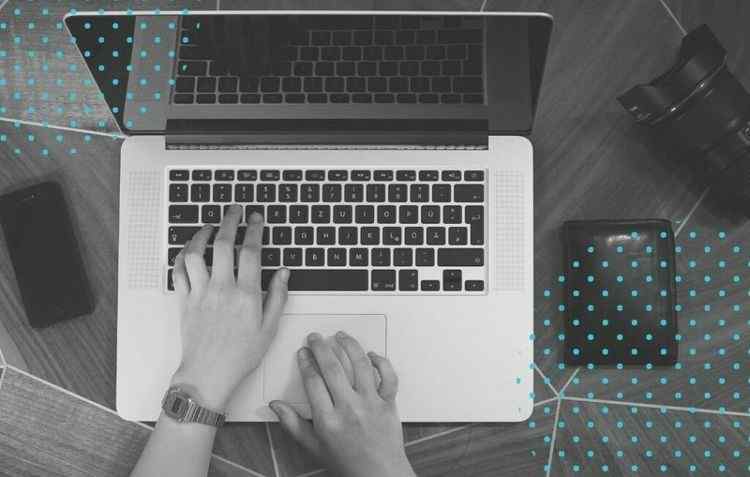 A marketer's skill set must include knowing how to write a press release. It's no surprise that mastering how to write a press release is beneficial to your business or brand. Writing a press release (PR) is not an easy task though.
The press release has its own set of formatting guidelines, language, and audience. You simply need to learn the fundamentals of how to write a press release. Thereafter, you have absolute freedom to be creative while adhering to the rules.
In a tech world like today, where everything is online, a press release can be a powerful tool. Realizing how to deck your PR games right can allow you to gain the attention of journalists, the media, and, finally, your clients and customers. Ultimately, the profit is yours!
Now you know how important it is to learn how to write a press release. So, without further ado, let's go straight into a quality read on how to write a press release.
What is a press release?
Press releases aren't the same as features. And these are not casual pitches. Then what is a press release? Luckily we have an exact answer to this question.
A press release is also known as a news release or media release. It is an official announcement that a company issues to the news media and beyond. The main purpose of a press release is to inform the public about an organization's new developments, product launches, etc.
In a nutshell, press releases are formal, official announcements about anything new or noteworthy about you, your company, a speaking gig, or something similar. Press release template online can help you understand it better.
While action verbs should be in the headline, the first paragraph should answer the 4Ws(who, what, why, and where). A quote and intelligible wording should also be included in the press release.
Customers and potential customers can read your press releases because they are in the public domain. Instead of viewing a press release purely as a means of gaining media attention, consider it as a great piece of marketing content.
Suggested Blogs:
• HOW TO WRITE A PRESS RELEASE
• What is a press release ? [PR example + PR templates]
Types of press releases
By now you must have got the answer to your question of what is a press release. Before we proceed to know how to write a press release, let's gain a little more knowledge. You are free to announce any type of news related to your organization using press releases.
Scroll down to know the various types of press releases.
Introducing new products- When you launch a new product, you want obviously want to inform your customers. A product launch press release can do that for you with ease. This press release will focus on the product's specifications, pricing, availability, and any other information that consumers may find useful.
Any event- Regardless of whether your event is private or public, a press release is always beneficial. If your event is private you can issue a press release informing the public about the occurrence of your event. If your event is public, a press release will bring more and more people to it. Press releases are a vital part of event marketing since they help you get coverage from news outlets and other media. You should have good learning of how to write a press release for an event.
Rebranding- When there's a drastic change in your branding, it's better to inform the public using a press release. Rebranding is a challenging task for any company to undertake, and it may sometimes lead to instability and discomfort. Announcing the branding with a press release that includes specifics on what is changing, the reason for the change, the dates the changes take effect, and quotes from the leadership team is one way to make the transition go more seamlessly.
Leadership change- A change in leadership is akin to a change in branding. When a company's CEO changes, new decisions concerning the organization's direction are likely to follow. Journalists and some consumers are interested in learning more about this accomplishment.
Announcing awards- Your company has achieved something it deserves. Won't you feel like bragging? Press releases announcing accolades and successes help to establish your company as a thought leader in your field. A press release like this would include information about the company and why they were given the award, as well as facts about the award and the event.
Other than that, product updates, mergers, and acquisitions, any news regarding the company, executive promotion, hiring are also types of press releases.
How to write a press release?
Back to the first question- how to write a press release? We have covered all the important aspects like what is a press release, types of press releases. Moreover, you can also refer to the press release template in order to make it uncomplicated. The steps below can also help you understand how to write a press release for an event.
Have a look at how to write a press release guide and emancipate yours soon!
Choose your audience- Keep in mind that the viewpoint that will catch the interest of a specialist magazine's readers will be considerably different from that of a local newspaper. In reality, separate versions of your release should be written for the various audiences you're aiming for.
Remember that you're not only reaching out to potential readers but also journalists. Writing good press releases won't get you anywhere if you don't do your homework and target the incorrect journalists.
Get your structure right- As mentioned before, a press release template can make things easier for you! To deliver a great press release it's important that you follow the press release structure.
Following is what a press release should include:
Headline: The first impression is the last impression. To be successful, your press release must have a striking headline. It'll be the first thing they read, and depending on that, they'll decide whether or not they want to read the rest of the piece.
Lead: answer the 5Ws. The lead is the second most critical element of crafting a press release. It answers the important questions: what the news is about, who is involved, when and where it happened, and why it is important.
Source: If your press release is reliant on outside sources, do remember to mention them.
Give details: Details are nothing but the basic information that is required to determine why the piece is newsworthy.
Include quotes: Quotes can simply make your writing more fascinating and reading, therefore including them in your press release should be a yes.
Contact information: For reporters to contact you, you must add your media contact information. Include your email address and phone number so that they have a way to contact you if they need to.
Boilerplate: Wondering how to end your press release? Use a boilerplate. Your boilerplate is a standardized version of who you are and what you stand for. When you write a boilerplate, you're basically distilling facts, company ambitions, and marketing objectives into a single paragraph. Moreover, you can also use your company logo.
Recheck everything
After drafting the press release according to the standardized structure recheck everything from start. Make sure you have positive answers to the following questions:
Does your piece have all the above components?
Is your press release under 200-400 words?
Is it newsworthy?
Is your heading catching attention?
Select a press release format
A lousy packaging with an amazing gift- a terrible combination. We all are obsessed with appearances. The first impression always counts and therefore you should make sure you follow a good press release format.
You can consider the following formats:
PDF
Plain text
Modern press release format
Learn more about press release templates How to Write a Press Release Plus Free Templates
Press release template
We are almost there in the learning process of how to write a press release. Have a look at the following press release template to be more clear in the concept.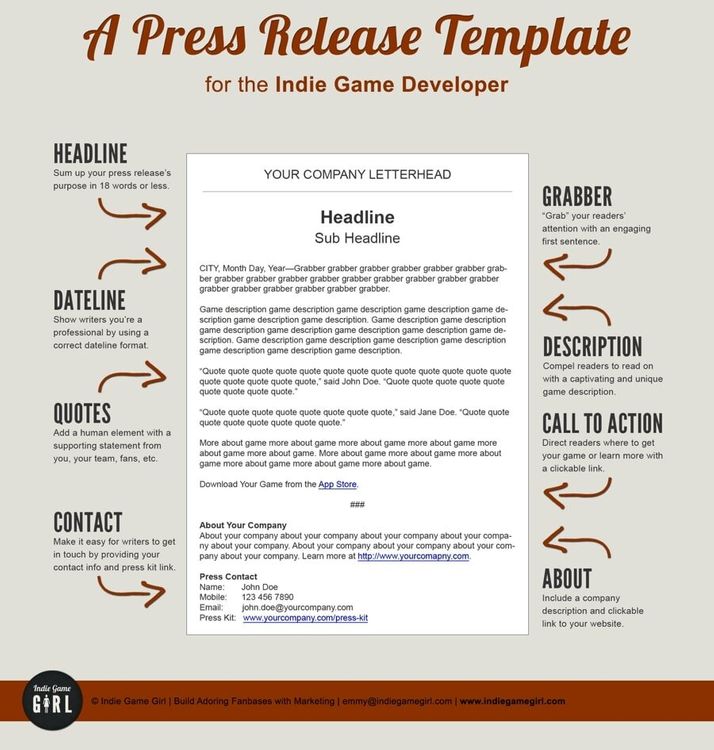 Additionally, I have included a few examples which may give you an idea of how to write a press release.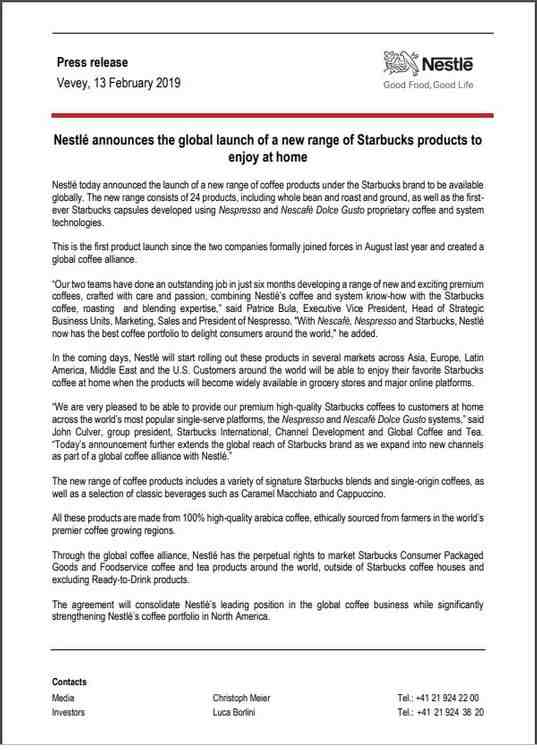 Conclusion
Knowing how to write a press release is really only half the battle. Once you're finished with production, it'll be time to focus on distribution.
To ensure that your press release reaches the maximum amount of distribution you need to consider a few tips. Reach out to journalists, use your contacts, deliver your PR both online and offline, avoid publishing your press release during peak hours.
To sum up, with the press release template and a few examples you are almost ready to write your next release!