Pay Per Click advertising can be overwhelming at first. It is because of the diverse factors that influence the outcome of a PPC ad. Moreover, a start-up must continue to focus on conversions and customer retention in order to maintain the company. On the internet, there are a plethora of options to advertise. A start-up needs to choose a better way to reach their customers, and for this, they have to opt-out of PPC advertising. But the risk demotivates the marketer because PPC advertising requires a lot of planning, and it needs to align with the business goal. To understand the process to run PPC ads, we need to understand the types of PPC ads and their functions.
Know more about PPC and its Fundamentals: What Is PPC? Know the Fundamentals of Pay-Per-Click Marketing
Types of PPC advertising
Paid search advertising
Paid ads appear above and below the organic search results. Google indicates paid ads by a tag called 'Ad' on the search result. You need to set up a Google ads account. Then the advertisers need to choose keywords for which they want their search ad to appear on the Google results page. The ad copy needs to be added to the paid ad campaign along with keywords.
A maximum amount is set up which indicates the maximum amount that a user pays when the ad is clicked. The number of times a search ad appears depends upon many factors. A high valued brand will have more chances to appear at the top followed by the other brands.
Read about Paid Advertisement vs Content Marketing: Paid Advertising vs Content Marketing
Display advertising
Display ads allow advertising on websites and other platforms that a customer uses. These kinds of ads are displayed to users who have shown interest in the products earlier. The conversion rate and engagement with the ad are low as compared to the search ad as these ads are displayed to an interested user. A brand can use display advertising to increase publicity and promote the brand to all types of users. Advertisers have been using the display ad format for launching new products and also increasing their brand awareness. A display ad can be created using google ads and ad roll.
Shopping advertising
Shopping ads are only created by e-commerce websites and stores that sell products online. The product image along with the prize and the product name is displayed in the ad. Users with a transactional intent easily buy these products without searching.
Shopping ads have a high conversion rate as compared to other types of ad formats. It is because of the descriptive image display of the ad. Google ads and Microsoft advertising are the most commonly used ad platforms to set up and run shopping ads successfully.
Paid social media advertising
Adverts specifically curated for social media users are under the Paid social media ads format. These ads are only displayed on social media accounts. Almost all the major social media platforms offer paid advertising options. Instagram and Facebook make advertising on the platforms very smooth and further help in automating certain aspects of the ads.
Instagram advertising is possible through Facebook manager tools and software. All the campaigns for Instagram and Facebook can be planned and executed in one place. Instagram and Facebook let you display a video ad as well as an image ad.
Know about SMM and Best 6 types of SMM: What is Social Media Marketing ? Best 6 types Of SMM
How to set up your first PPC campaign?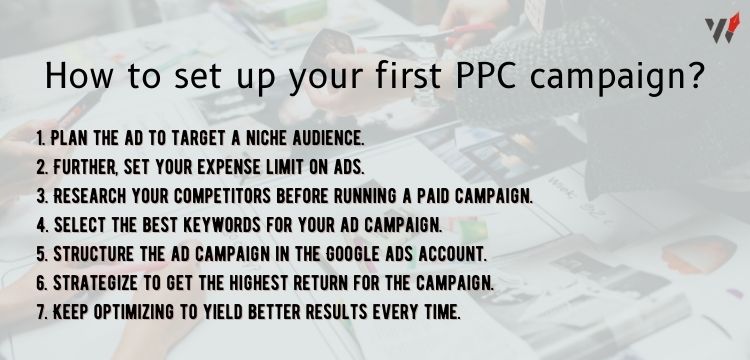 Here are the steps to follow when creating a PPC campaign
1. Plan the ad to target a niche audience.
2. Further, set your expense limit on ads.
3. Research your competitors before running a paid campaign.
4. Select the best keywords for your ad campaign.
5. Structure the ad campaign in the Google ads account.
6. Strategize to get the highest return for the campaign.
7. Keep optimizing to yield better results every time.
Top 8 formulas used in PPC advertising
Cost per Click(CPC)
To calculate how much would you pay if a PPC ad is clicked by a user.
Clickthrough rate(CTC)
It helps you determine the performance of your paid ad online. To calculate the Clickthrough rate divide the number of clicks on your ad by the number of times it was displayed.
Cost per Conversion(CPC)
The cost a company or brand spends to acquire a customer through Paid advertising. It is calculated by the cost spent on paid ads to the number of conversions.
Conversion rate(CVR)
Conversion rate is the number of interactions to the number of conversions that have resulted from a paid campaign.
Cost per engagement(CPE)
A ratio that calculates how much you spent on a PPC ad by dividing the amount spent by the number of engagements received.
Return on ad spend(ROAS)
Calculates the revenue generated as compared to the expenditure.
Impression to conversion ratio
It is the ratio of the number of conversions to the number of impressions.
Average order value
In google analytics, the average order value denotes the average amount for a transaction. To calculate the average order value, divide the total revenue by the total number of orders you receive.
Read about PR Advertising: Introducing on What is PR | PR and Advertising in 2022
Conclusion
It's important to not skip any step as PPC campaign results depend upon a lot of factors and setting up a good strategy is crucial. Advertisers and marketers use different strategies for PPC campaigning. You can target the ad towards specific niche users like users based on demographics or even device targeting. A constant update of keywords is mandatory because the advertisers keep on bidding and optimizing their ad strategies. In case you don't change an existing ad campaign regularly, it will result in diminished growth and the campaign will suffer due to this effect.
FAQS
How should a start-up get clients from PPC advertising?
Study the prospects to find out their interests and needs from the products and services you are selling. It is better to conduct interviews before planning to implement paid advertising campaigns. A user understanding should provide with you their needs and their queries which act as the keywords you want to target in PPC advertising. Focus on developing a creative and attractive landing page that displays your services.
Is PPC advertising a waste of money?
No. A well-planned PPC campaign is strategic and brings in leads and conversion consistently. The components of a PPC campaign are- Audience selection, campaign format in ads account, type of ad(based on user profile), Landing page, Keywords, Bidding, and pricing. If you are a beginner in this field, focus on search ads first and develop and monetize them. After you become efficient at handling search ads, you can run campaigns for shopping and display ads. A step by step approach is necessary for having a clear understanding of PPC ads.
Should start-ups invest in PPC advertising?
Yes, PPC ads can boost traffic and in turn increase your business. A user visits at least one website every day and marketing or advertising on these websites using PPC- display ads can help you to get leads for your business. Start-ups need to focus on search ads and display ads to develop a brand value for the new venture.
How to do PPC advertising as a beginner?
If you are running a start-up or are a beginner in the PPC ads field, then don't spend money on display ads or social media ads but focus on search ads. Search ads are easy compared to other ad types and provide a lot of data which makes you progress as an advertiser. Do not classify the ad campaign as failed if there are no conversions as search ads are most of the time meant for promotion and publicity.
References
[1] Arnold, D. (2014). PPC Marketing for Beginners. Spruce Goose Enterprises.
[2] Kapoor, K. K., Dwivedi, Y. K., & Piercy, N. C. (2016). Pay-per-click advertising: A literature review. The Marketing Review, 16(2), 183-202.
[3] Kennedy, K., & Kennedy, B. B. (2008). A small company's dilemma: using search engines effectively for corporate sales. Management Research News.
[4] Mangani, A. (2004). Online advertising: Pay-per-view versus pay-per-click. Journal of Revenue and Pricing Management, 2(4), 295-302.
[5] Rani, P. Uma, and D. Padma Losani. "Magnitude of SEO and PPC Technology in E-commerce." Eurasian Journal of Analytical Chemistry 13, no. Engineering & Science SP (2018): 152-157.